Nike Advanced Golf Schools, Georgia Southern University
Statesboro, Georgia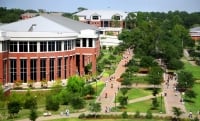 Click to enlarge and view gallery »
US Sports Camps is proud to bring back Nike Advanced Golf Schools at Georgia Southern University in 2014. Our staff will be led by three collegiate coaches including Georgia Southern Head Coach, Larry Mays.
The atmosphere is competitive and the focus is placed squarely on improvement. All aspects of golf, both mental and physical, are addressed. Georgia Southern boasts one of the nation's premier practice facilities and we have one of the best golf staffs leading the camp to provide every camper with an unforgettable learning experience. Campers will also play at Forest Heights Country Club.
Larry Mays will be accompanied by Berry College Men's Head Coach, Brian Farrer, and Lee University Women's Head Coach, John Maupin. Farrer and Maupin direct the Nike Golf Camp at Berry College and are excited at the opportunity to host an advanced program.
Highlights Include
Instruction from collegiate coaches and current/former college players
Small group instruction with low student/teacher ratio of approximately 4:1
Daily course play with focus on improving all aspects of competitive play
Discussions on tournament preparation, club-fitting, practice routines, opportunities for college golf
Nike amenity package including a hat, one dozen golf balls, camp workbook, water bottle, bag tag and other great prizes
Bennett-Ramsey Golf Center
The 25-acre facility consists of a team clubhouse, a dedicated practice putting green, a three-green short-game area, a two-tiered practice tee, a driving range and three practice holes. The Howard House clubhouse, named in honor of Mr. Arthur Howard and his family, totals 6,000 square feet. Included within the clubhouse are coaches' offices, a locker room, a conference room, a kitchen, a team lounge area, an indoor putting lab, a club repair area, a computer and study area for student-athletes and a 'Hall of Fame' entry way.
Forest Heights Country Club
The Forest Heights Country Club Golf Course is recognized as one of the finest in the Southeast. Forest Heights is the site of the Annual Southeastern Amateur Golf Tournament. Our Club is the proud host to the Chris Schenkel/E-Z Go Invitational, and has hosted the Southern Conference Tournament, the GA. State Golf Association Four-Ball Tournament, and many more.
Meet your coaching staff
Camp Director
Brian Farrer
Brian Farrer enters his 10th season as head golf coach at Berry College. He has had a successful run as the head coach of the Vikings, as the team has never dropped out of the top-25 since he began coaching. Prior to becoming the head coach, Farrer spent a year as Scott Pierce's assistant with the Vikings, working with a team that placed second in the NAIA. In that role, Farrer helped lead the Vikings to their second straight national runner-up finish.
Coach
Larry Mays
In 12 seasons as head coach, Larry Mays has re-established the Georgia Southern golf program as a perennial power in collegiate golf. After a 12-year drought from appearing in postseason play, Mays has taken the Eagles to nine NCAA Regional Championships, advancing to the NCAA Championship four times, all since taking over the program in 2001.
Only the sixth coach in program history, Mays has coached six Southern Conference Freshman of the Year award winners and two SoCon Player of the Year recipients, most recently Logan Blondell in 2009.
Coach
John Maupin
Maupin came to Lee from one of the strongest NAIA golf and academic programs in the south. He was a member of the Berry College squad from 2003-2007 and served as a team captain. He was named to the Dean's List in 2007 and was selected to the All-Conference and All-Region teams. Over his four year career, Maupin took part in three NAIA National Tournaments.
During his four year tenure as Lee University head golf coach, Maupin has directed the Lee women's program to 12 tournament titles and the men's program to seven tournament victories. In addition, the past four years have seen the Lady Flames program produce five NAIA All-Americans, two SSAC Player of the Year winners, 13 First Team All-SSAC members and seven NAIA Scholar-Athletes. During the same time period under Maupin's watch, the men's program has produced five NAIA All-Americans, four NAIA Scholar-Athletes, 10 First Team All-SSAC members, one SSAC Player of the Year and two SSAC Male Student-Athlete of the Year winners.
Learn more about Nike Advanced Golf Schools, Georgia Southern University
Nike Advanced Golf Schools are golf-intensive and create the ideal environment for the advanced player ready to take their game to the next level. The seminars provide the aspiring junior golfer the opportunity to receive information about tournament preparation and college golf recruitment and success. Campers will hear first hand accounts of how members of our staff established themselves throughout various stages of their development. The importance of goal setting, time management, and hard work will be stressed as these are key elements to attaining success in golf and life. Campers are highly encouraged to attend these sessions with questions as the seminars are designed to be interactive and conversational in nature.
Program Options
The Overnight camp fee includes golf instruction, green fees, housing and meals. Does not include extra spending money. The Extended Day fee includes all the above except lodging and breakfast.
Transportation
Nike Golf Schools and Jr. Camps does not provide transportation to and from airports, bus depots or train stations. The packet we send to registered campers in the spring offers suggestions on shuttle services for each specific camp.
Supervision
Campers are supervised 24 hours a day. The staff lives in the dormitories/resort accommodations with the campers and participates in evening activities. Drugs, alcohol and tobacco are strictly prohibited, and constitute, along with general misconduct, grounds for dismissal from camp without a refund.
Registration Packet
A detailed camper registration packet containing check in location, health/release forms, emergency contact info, and a list of things to bring will be emailed to all registered campers in the Spring.
Sample Daily Schedule
7:00am

Wake up/breakfast

8:30am

Daily discussion at practice facility and skills demonstrations from staff covering each facet of the game

9:00-11:30am

Instruction - station rotation, putting, chipping, pitching, bunker play and the full swing

Noon

Lunch

1:00-5:00pm

Course play with staff. Tournament setting with focus on improving all aspects of competitive play

6:00pm

Dinner/relaxation

7:00-9:00pm

Evening session: discussions on tournament preparation, college golf, mental toughness. Non-golf activities such as movies, video games, other sports games.

10:00pm

Lights out
Read camper reviews