May 2015 TBD Peak Performance Swim Camp
Willemstad, Curaçao
NEW clinic on gorgeous Curaçao island in the south Caribbean on May 29-31!
A Holistic Approach To Competitive Swimming
Open to swimmers ages 8-18 and suited for all levels of competitive swimming. from intermediate and elite-level age group to senior level.
The clinic curriculum is a mental, technical, and physical blend based on our unique holistic philosophy. Although shorter in duration than our week-long camp, this 3-day Super Clinic features highlights from our challenging PEAK 1 camp curriculum. Swimmers are assigned to lanes based on their ability not age.
From a mental standpoint, swimmers will be introduced to the ideal training mindset, as well as the ideal racing mindset based on a number of individual criteria. From a technical standpoint, swimmers will be taught the same start, stroke, and turn technique used by the world's top swimmers. From a physical standpoint, our in-water training sets and dry-land training sets will challenge each swimmer to the fullest.
All-together the Super Clinic includes: 6 challenging in-water training sessions, 3 dry-land training sessions, and 3 mental conditioning sessions.
To learn more about the Peak Swim Camp Structure please visit - swimcamp.com/swim-camp-structure/
Day Camp Amenities
• Nike & PEAK gift pack
Meet your coaching staff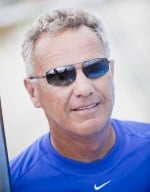 Camp Director
Nick Baker
Nick Baker cofounded the original Peak Performance Swim Camp in 1996. In 2005 he branched out on his own and founded the present-day version. His vision was to create a holistic camp with a focus on developing the whole swimmer from a mental, technical, and physical perspective.
Nick Baker has been involved in competitive swimming since 1961. He swam competitively for 11 years (and qualified for the Olympic Trials in the 200M Breaststroke), coached club swimming for 21 years, and has exclusively run swim camps for the past 18 years. He started his coaching career in Canada in 1972, and moved to the United States in 1993 to run a competitive swim camp at the International Swimming Hall of Fame in Ft. Lauderdale, Florida.
Read Full Bio
The camp's one-of-a-kind holistic approach and positive coaching style was created by Coach Nick Baker, founder and head coach of Peak Performance Swim Camp. Following is a brief list of his swimming and coaching highlights:
• Qualified for Olympic Trials in the 200 breaststroke
• Twenty-one years as a club coach
• Coached at the World Junior Olympics in Madrid, Spain in 1991
• Attended the 1992 Olympics as the personal coach of Olympic Swimmer Lisa Flood
• Twenty years as an exclusive swim camp/private coach
• Author of two popular swimming-related books, 101 Winning Ways and The Swimming Triangle
• A featured writer for Swimming World Magazine
• Conducted more than 350 swim camps & clinics though out the US and 15 foreign countries
• More than 900 swimmers, from 40 countries, attended Peak Performance Swim Camp in 2013
• A featured clinician at numerous coaching clinics throughout the world
• In the past forty-one years he has had the opportunity to work with many elite-level swimmers, including: World Record Holders, Olympic Medalists, Olympic Finalists, Olympic Trial Qualifiers, NCAA Champions, Senior and Junior National Champions, Zone Champions, State Champions, Junior Olympic Champions, and more
Staff
A number of positive, enthusiastic and knowledgeable coaches will be on deck to assist Coach Baker.
Learn more about May 2015 TBD Peak Performance Swim Camp
Camp Details
Check-in
Check-in will take place from 7:15 AM to 7:45 AM on May 29.

Camp Finale
Clinic concludes at 3:00 PM on May 31. Our closing ceremony will be held at approximately 2:45 PM. Parents are invited to attend.
Camp Extras
THE SWIMMING TRIANGLE: Coach Nick Baker's second book is a unique, innovative, and essential guide to achieving superior mental, technical, and physical fitness in one of the world's greatest sports. Whether you're a coach or a swimmer, former Olympic coach Nick Baker's wholly integrated approach can help you maximize your true potential. In this book Coach Baker offers proven, results-oriented methods for gaining—and keeping—a competitive edge! Price: $25.00

101 WINNING WAYS: Written by former Olympic Coach Nick Baker, this book identifies 101 winning attitudes common to all great swimmers - including Michael Phelps. A must read for swimmers of all ages! Price: $15.00
A Day at Camp
8:00 am – 9:00 am Dry-Land
9:00 am – 11:30 am Swim
11:30 am – 12:00 pm Catered Lunch
12:00 pm – 1:00 pm Yoga or Mental Skills PLUS
1:00 pm – 3:00 pm Swim
Camp Pool Location
Sentro Deportivo Korsou (SDK)
Corrieweg / Bonamweg 49, Brievengat
Willemstad, Curaçao
Read camper reviews