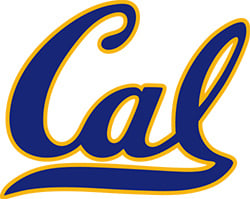 Cal Volleyball Camps
Improve Your Skills And Have Fun
at Cal Volleyball Camp
Join Coach McShane and his talented staff for an outstanding volleyball experience at UC Berkeley this summer.
With multiple programs to choose from, you are sure to find the camp to fit your needs. All sessions are divided by skill level on the first day. Training sessions boast an 8-to-1 campers to coach ratio to ensure each player receives individual instruction and attention. The youth and intermediate day programs are designed to provide a solid foundation for all aspects of the game. The advanced camp is designed for high school aged players with 3 years of club or high school experience. 
Cal also offers beach camps, please visit the link below for more information.
Camps are open to any and all entrants and only restricted by age and gender.
Highlights Include
Excellent training facilities
Six hours of daily instruction
1:8 coach to camper ratio
Players grouped by ability then age
Personal evaluations from your coach
Camp Coaches
Camp Director

Matt McShane

Matt McShane is back for his second stint on Cal's coaching staff, this time as the newly announced Head Coach.

View Matt McShane's Bio

⟩

Co-Director

Jennifer Dorr

Jennifer Dorr, a former award-winning standout setter at the University of Hawai'i at Manoa, enters her fifth season as an assistant coach for the Golden Bears. For the past two seasons, Dorr has directed the program's summer camps, overseeing and promoting the camps which draw about 400 players each summer. 

View Jennifer Dorr's Bio

⟩

Coach

Spencer McLachlin

Spencer McLachlin, an experienced international volleyball player, came to Cal in 2017 after one year at UCLA for the 2016 season as assistant coach for the men's volleyball team. 

View Spencer McLachlin's Bio

⟩
Top
Camp Details
Youth Day Camp
The Youth Day camp is designed for young players, ages 8-14, who are just starting out or in the first year of learning the basic skills for volleyball. Campers get a jumpstart for their volleyball skills with a solid base to build upon after camp. 
Intermediate Day Camp
The Intermediate Day Camp is a full-day camp designed for intermediate players, ages 10-17. Campers receive instruction on all volleyball skills - Attacking, Setting, Passing, Defense, Serving, and Blocking in a variety of individual, small group and team settings. All Intermediate sessions are designed for players of all skill levels. 
Advanced Overnight Camp
The Advanced Skills camp is designed for advanced players looking to receive technical and tactical instruction and feedback to improve their skill set in all areas of the game. The camp incorporates fundamental skill instruction in combination with advanced training techniques, specific positional training, and match preparation sessions. Sessions are designed to run like the Cal college practices.  Players are asked to have three years of club or high school playing experience.
Advanced Day Camp session just added July 20-22! 
Show Less

See More

Camp Details
Day Camps
Youth: July 6-8 (Thursday-Saturday)
Intermediate I: July 9-11 (Sunday-Tuesday)
Intermediate II: July 16-19 (Sunday-Wednesday)
Intermediate III & Advanced II: July 20-22 (Thursday-Saturday)
Check-in: Campers arrive at 8:00AM on the first day of camp
Check-out:  4:00pm each day
Camp runs from 9:00am-4:00pm daily. Lunch is not provided. Campers should bring a sack lunch with them each day. Pizza is sold each day for $2 a slice.
Overnight Camp
Advanced: July 12-15 (Wednesday-Saturday)
Overnight and commuter options available
Check-in: 2:00-3:30pm at Unit 3 Dorms
Volleyball instruction begins at 4:00pm.  Dinner will be the first meal.
Check-out: Graduation is at 11:30am on the last day at Haas Pavilion.
Extended Day Camper Schedule: Wednesday 3:30pm-9:00pm, Thursday & Friday 8:45am-9:00pm, Saturday 8:45am-12:00pm
INSTRUCTION
Ratio: 1:8
Players Grouped by: skill then age
Evaluation: Written by coaching staff
Facility: Haas Pavilion
Equipment Needed: kneepads, water bottle, lunch & snacks, shoes, athletic clothes - shorts/tees
DAY CAMP SCHEDULE
8:45AM             Arrive & Check-in
9:00-12:00       Camp Session
12:00                Lunch
1:00-4:00         Camp Session
4:00                  Pick up
Top
Great atmosphere

I would ten out of ten recommend this to any one who wants to go beyond the level of High School and Club volleyball! The best part is that the Assistant coaches get really involved with the teams! Such a great atmosphere and the staff and players are just amazing!! 

— Cal Camper '16

Well organized

Cal Nike camp was an excellent camp for all levels.  All the camper's energy was high and coaches instructed them with enthusiasm and passion. Well organized by staff and great location! 

— Camper '15

Great coaches

Experienced and relatable coaches, intense competition, wonderful people, and tons of reps. incredible experience, would recommend to any volleyball player looking to interact with new players and coaches and get lots of practice over the summer.

— Parent of a camper '15
Show Less

See more

Reviews
Fun experience

They remember the campers, create a fun experience, are super positive and teach the kids where they are skill wise. I have been so impressed with how my child is remembered year after year.

— Parent of a camper '15

Liked the drills and scrimmages

Excellent combination of skills/drills, and scrimmage/play to apply the skills/drills. Coaches are very knowledgeable, and know how to impart their knowledge.

— Parent of a camper '15

Go if you want to improve

This camp is very fun but challenging. You definitely sweat a lot and learn a lot as you go. The coaches are super nice but they know how to give good advice for the whole team as well as one on one. You should go to this camp if you want to improve or keep your skills up.

— Camper '14

Can't wait to do it again

I had such a great time at the Cal Berkeley camp, I can't wait to do it again next summer. I'm so happy I learned to hit, set & block better and I really feel I have a better understanding of the game. I can't wait to try my new skills out on the court back at school:) I was really inspired by the Berkeley team coaches. I've always felt a little awkward cuz of my height ( I'm tall for my age), it was really awesome to see how tall the real players are and how athletic and strong they are. Thank you for the fun experience!

— Camper '14

Loved the Coaches

Personally, the coaches are one of my favorite parts when I go to camp. I've never had coaches who care about you so much and want you to improve. They take so much time to instruct us on everything.

— Camper '14

Great camp

They have excellent coaches and instruction. They create a sense of camaraderie amongst the players and they care for each student individually. They are always available to answer questions for me as a parent if I have any and they are very easy to reach if I need to contact them immediately.

— Parent of a camper '14
Top
Camp Dates & Prices
This program has concluded for the season.
Please Join our email list to be notified when this program is available for registration.
For additional camp information and dates
call us at

1-800-645-3226
we would be happy to help you.