Nike Soccer Camp with Player ONE Performance - UC Santa Cruz
Nike Soccer Camp with Player ONE Performance - UC Santa Cruz
34

Reviews
Average Rating
Stars
Experience the Unique, Player-Centric Approach to Training
Player ONE Performance and Nike Soccer Camps come together to offer a camp experience sure to improve our campers' skills and provide lots of fun in Santa Cruz for this summer!
ABOUT PLAYER ONE PERFORMANCE: Formed in 2017, Player ONE Performance has firmly established itself as Northern California's premier club neutral, supplemental training and camp program. Offering personalized, energetic, detail orientated sessions, P1P has attracted players of all levels, boasting a training client list that includes MLS Professionals, MLS Allstars, US National Team Members, D1 College National Champions, Youth National Champions, along with youth players of all ages and abilities.
With a newly created curriculum, formed over 18 years of youth coaching, P1P has the perfect camp product for all players who genuinely desire to improve their game and leave the camp a better player. An intensive focus on technique, movement, goal-scoring, game intelligence, and mental preparation, will provide the player with everything they need to leave the camp feeling confident and prepared.
Highlights Include
Nike Soccer Camp T-Shirt
A brand new, modern coaching curriculum
Low Camper to Coach ratio 12:1
Daily social media content (videos, live stories, pictures)
Nike prizes and giveaways
Camp Coaches
Camp Director

Ben Maxwell

A native of Scotland, Ben Maxwell has been coaching in the USA for 13 years. Ben has coached in 10 states, and has been settled in California for 10 years. In his time in California, Ben has proven to be one of the top youth soccer coaches, notably when it comes to the long term technical development of the player.

View Ben Maxwell's Bio & Soccer Tips

⟩
Camp Details
SECURE YOUR SPOT!
Due to local and state regulations, we anticipate having to reduce our enrollment numbers significantly this year. You can expect high demand on these first-come-first-serve camper spots. With that in mind, we encourage you to register now!
CAMP INFO:
Camp Dates:

2024 Dates Coming Soon. Join Priority List!

Ages: 9-18
Gender: Coed
Options: Extended day (9:00am-9:00pm) and Overnight**
Check-in & out locations:

Check-in: Cowell College at UC Santa Cruz, Checkin is at Cowell College Circle from 12:30-1:30pm (First session starts at 3pm)
Check-out: at 12pm on the final day of camp

Meals: Lunch & Dinner are provided for extended-day campers
*Daily check-in starts 15 minutes before camp start time
**View Overnight camp information below
PREPARE FOR CAMP: COMPLETE YOUR PRE-CAMP CHECKLIST
To view your customer account, complete your mandatory forms, pay balance dues, and review important camp information, visit Pre-Camp Checklist.
All necessary camp information is on this page. If there are any imperative changes prior to camp start, registered campers will be notified via email and this webpage will be updated!

WHAT'S INCLUDED IN THE FEE?
Instruction: Training from the Player One Performance coaching staff.
Meals & Housing: Dormitory housing on campus and all meals are provided.
Supervision: Staff members reside in rooms strategically placed throughout the dorm to provide optimal supervision and participate in all activities
Camp T-shirt: All campers receive a Nike Soccer Camps t-shirt and a chance to win prizes
Evaluation: Written by coaching staff
INSTRUCTION, EQUIPMENT, & FACILITY
Ratio: Low camper to coach ratio

Groupings: Campers are grouped by age, ability, and experience

Equipment Needed: All campers must bring soccer cleats, shin guards, athletic shoes, and a water bottle. A further list of 'recommended items' will be in the Information Packet.

Facility: UC Santa Cruz

Medical Protocol: Most camps have an athletic trainer on-site to help with illness or injury. In case of an emergency, campers will be transported to the nearest hospital
EXTENDED DAY INFORMATION
Day Camp Hours: 9:00 am - 9:00 pm. Please note this is only for days 2 - 4. Extended day campers check-in at 12:30pm on day #1 and check-out from camp at 12pm on last day.
Daily Check-In & Out location: at Cowell College Circle or earlier on the field at 8:15-30pm
Meals: Lunch is provided for Day Campers. Lunch & Dinner is provided for Extended Day Campers
A closing ceremony will take place approximately 30 minutes prior to camp check-out on the last day. Parents are invited to attend! Departure immediately follows the closing ceremony.
OVERNIGHT INFORMATION
Check-in: First Day 12:30 pm -1:30pm. The first training session will start at 3:00 pm

Check out: Last day 12:00 pm on the last day following final games**

Meals: Day 1: Dinner | Days 2-4: Breakfast, Lunch, Dinner | Day 5: Breakfast

A closing ceremony will take place approximately 30 minutes prior to camp check-out on the last day. Parents are invited to attend! Departure immediately follows the closing ceremony.
HOUSING
The information below is based on previous years and is subject to change each year. Final housing information for this camp will be provided in the Information Packet, emailed to all campers closer to the camp's start date.

Number of Campers Per Room: TBD

Roommates: Rooms are assigned by age & roommate requests. Roommate requests must be mutual, If you don't have a roommate request, you will be placed in a room with someone near your age. It will be a great opportunity to meet someone new!

Linens: Not provided. Bring linens or sleeping bag, pillow, pillowcase, and a towel

Air Conditioning: Please refer to the Camper Registration Packet. A/C availability depends on our specific dorm assignment
CHECKLIST OF THINGS TO BRING:
Below is a suggested list of clothes, equipment, and personal items. US Sports Camps is NOT responsible for lost or stolen articles or money.

OVERNIGHT
Athletic clothing (1-2 pairs/day)
Soccer Cleats (no metal studs)
Shin guards
Water bottle
Sunblock
Comfortable off-court clothing (pants/shorts, shirts, sweatshirts, 1 pair/day)
Undergarments (1-2 pair/day)
Pajamas
Bathrobe
Flip flops
Laundry bag
Toiletries (shampoo, conditioner, bodywash, facewash, hairbrush, toothbrush, toothpaste, deodorant, etc.)
Personal items & medications
Eye mask, ear plugs (optional)
Washcloth and bath towel
Alarm clock
Fan (optional)
Bed sheets
Comforter or sleeping bag
Pillow and pillowcase
DAY CAMPERS
Athletic clothing
Soccer Cleats (no metal studs)
Shin guards
Water bottle
Sunblock
Small gym bag/backpack
SOCCER BALLS
Nike Soccer Camp Balls can be purchased during registration. Players can choose between a size 4 or size 5 ball, which will be passed out on the last day of camp. Please note that it is not required to bring a soccer ball to camp as they are provided by the staff for camp instruction.
TRANSPORTATION
Nearest Airport: San Jose International Airport is approximately 30 miles, San Francisco International airport is approximately 70 miles. Transportation is not provided. Campers are responsible for getting to and from camp on their own. There is no supervision before or after camp hours so please make arrangements to pick up your child on time.
TEAM DISCOUNT
If you have a group of 4 or more campers registering for the same camp, each camper is eligible for a $25 discount. If you have a group of 8 or more campers registering for the same camp, each camper is eligible for a $30 discount. please fill out the Team Discount - Soccer form with the name of your group and the names of each camper enrolling in the camp and we will create a unique discount code for your group.
MEDICAL PROTOCOL
Most camps have an athletic trainer on-site to help with illness or injury. In case of an emergency, campers will be transported to the nearest hospital.
COMPANY POLICIES
For information regarding our cancellation policy and all other company policies, please visit USSC Policies.
NIKE SOCCER CAMP FAQ
For general questions about our soccer camps please see our FAQ page.
***Camps are open to any and all entrants. Enrollment in our camps is limited only by age, gender, and capacity restrictions as specified by each camp.

WANT MORE DETAILS?
Click the button below to view program information, schedules, and more.
Show Less

See More

Camp Details
.
Sample Daily Schedule
7:30 am

Run/Breakfast

8:30 am

Video/Lecture

9:30 am

Field Session (Technical Skills Development)

12:00 pm

Lunch

2:00 pm

Field Session (Tactical Training)

5:00 pm

Dinner

6:30 pm

Field Session (Tournament Games)

9:00 pm

In dorms - evening activities

10:30 pm

Lights out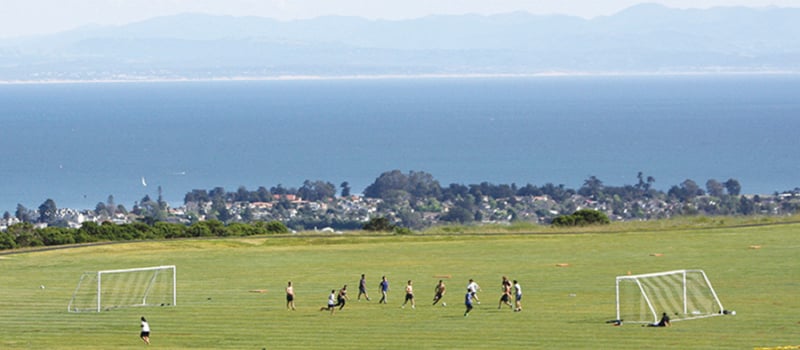 The University of California, Santa Cruz is located 35 miles from San Jose, on a beautiful coastal campus overlooking the Pacific Ocean. Surrounded by gorgeous views and towering redwoods, campers are inspired to develop their love of the game and improve their individual and team skills.
Camp Reviews
Overall Average Rating
Stars
Camp exceeded my expectations​.

— Anonymous

Excellent Experience

My daughter had an excellent experience at the Nike Soccer Camp. It was her first sleep over camp and she enjoyed it immensely. The staff was excellent.

— Paula C., Parent 2014

Life Changing

This was my son's 1st sleep away camp and he had a ball. It was life changing and he wants to do more camps next year. I think it was perfect

— Michael S., Parent 2014
Show Less

See more

Reviews
Loved the camp!

My son loved the camp! He came home asking if he can go back next year. The level of training is very high and very well done

— Thomas S., Parent 2014

Can I come back next year?

My 10-year old son Daniel attended Nike Soccer Camp for the first time this year. He loved the goalie training that he received and he felt that he really benefited by playing soccer with the older and more experienced teenage boys. Daniel's first words when we came to pick him up were "can I go again next summer?" Daniel's goalkeeping skills improved so much from his week at camp that his coach and other team parents inquired more about the Nike Camp. We are sending Daniel back again next summer. He had fun and learned a lot during his week.

— Gilly W., Parent 2013

Improved Skills!

Nike Soccer Camp was a great way to improve your skills, ability, and meet new friends. Every thing about the camp was great.

— Hayden M., Camper 2013

Great Goalie Training

Nike Soccer Camp helped better prepare me for high school soccer. I learned new dives and techniques and how to keep people safe as a goalkeeper.

— Jana M., Camper 2012

Ready to go Back!

Very good system and schedule, appropriate instruction levels, great personnel! Well done and the kids had a great time and are ready to go back.

— Gareth A., Parent 2012

Too much free time

Don't advertise a morning run or lecture and then follow another schedule. The advertisement made us believe it would be a lot more intense. Too much free time.

— Bonnie B., Camper 2016

Take it to the Next Level!

The Nike Soccer Camp was just what my son needed. After several years of AYSO Summer camps and club soccer during the spring, the Nike Camp kicked up the intensity, allowed him to play with boys of greater and equal skill, and gave me individual feedback on what he needed to work on to make it to the next level.

— Omar P., Parent 2011

Girls were babied

Did not like that the girls did drills the majority of the morning on the last day. They played a very short game and that was it. The boys played games the whole morning. My daughter was very frustrated about that. She felt like the boys got a much more rigorous workout in general and the girls were somewhat babied.

— Stefanie T., Parent 2016

Very Pleased!

The campers were very pleased with the dorms, very pleased with the food and pleased with the fact that they were always busy with activity. Well done and organized.

— Quint T., Parent 2011

Excellent Training

My daughter was one of the youngest campers during her week at camp, and I was a little worried about that, but she had a fantastic time. Great coaching, excellent training, and well run. She came home with some new tricks and new friends.

— Esmerelda P., Parent 2010

Knowledgeable and Encouraging Staff

I have two teens, it was their second time at Nike Soccer Camp. They both enjoy staying on campus, it's beautiful. The coaching staff are knowledgeable and encouraging.

— Albert Y., Parent 2010

Taught us a lot

This camp was a very enjoyable experience. I like how they hammered the fundamentals of soccer, and taught us a lot of new tricks. I also had fun when we would take breaks and play with our new friends after every session. The coaches were nice, serious about soccer, and really funny.

— Gina G., Camper 2010

Love the energy

My son had the most wonderful experience at the camp. It was his first time and he just loved it, the staff make him to feel at home. He had the chance to meet new people that he is currently keeping in touch as we live in Canada. He is coming back next year and he want to do both session. Love the energy of the staff. Thank you again.

— Fiona N., Parent 2009

Great setting

The setting was great, the daily schedule was perfect, and I loved getting to know all the other attendees. The activities were interesting, and I learned quite a bit.

— Wendy M., Camper 2009

Detailed Player Evaluation

My son had a great experience in the Nike soccer camp at UC Santa Cruz for the second time. He was very happy with the overall quality of the camp and would definitely consider returning next summer. I am impressed with the detailed player evaluation provided to each camper. I would highly recommend to motivated players.

— Annie C., Parent 2015

Training and Fun!

July 13, 2019: Coaches were excellent, great technical trainings and fun at same time. Great venue and all the kids were friendly.Ben and Player One Staff are the best around.

— Tom C. Parent

Top result!

August 3, 2018: The camp exceeded expectation, the campers were relatively the same age, skills varied, but attention was given to all the boys to help them improve. There was a good ratio of coaches to campers. My son said he worked very hard, and he felt we had got our money's worth from the instruction. Top result!

— Maryanne C. Parent

The coaching was great

August 6, 2018: Continued development of all skills through coaching and adequate competition. The World Cup challenge created an exciting and focused way to dig deep and push themselves. They were engaged and in touch with their teams.

— Diane L. Camper

We can't wait to come back

August 3, 2018: I learned better ball control and better shooting ability. I loved the World Cup games! Camp was great!

— Matthew C. Camper

Beautiful location in a perfect climate

August 3, 2018: The World Cup games in the evenings were definitely a highlight! Everything was great! Beautiful location in a perfect climate!!

— Nathan Z. Camper

He really enjoyed the scrimmages and making new friends!

My son learned new skill moves in dribbling and had a great time at camp.

— Yvette T., Parent 2017

Such a great experience!

I attended to US girls soccer program at UC Santa Cruz and not only was the field by the beautiful view of the bay but I got the see the nice campus itself. This program has taught me many things that I will use later on in life such as communication. I made friends from different backgrounds and met some amazing coaches. I am glad I got the opportunity to attend a great program. Thank you!

— Maria R., Camper 2017

Loved the College Experience

My daughter attended soccer camp at UC Santa Cruz, and I wanted to thank you for all you did to make her experience a great one! She has never been to an overnight camp before, so we were a little worried about having her 4 hours away from us, but she says she never even felt a pang of homesickness. She loved the busy schedule, the experience of living in a college dorm, and the soccer skills she was able to learn and reinforce. She also had lots of fun with the other campers. She came home confident and bubbling with plans to return next year. Whatever you are doing, keep up the good work -- she had a blast! Thanks again for taking care of our precious budding athlete!

— Stephen W., Parent 2015

Loved the experience

Perfect camp for anyone who loves soccer. My son really loved this experience! He enrolled with a friend, but also made new friends and looks forward to attending again next year!

— Lucy S., Parent 2015

Want to Return

My nephews both had an awesome time and want to return next year. They learned a lot of new techniques and raved about the camp, they even loved the food. The oldest said it was too short and both want to come back next year.

— Marion G., Parent 2015

Kudos to Coach Scheese

My daughter loved everything about the camp: training, coaches, other campers, location, meals, dorms, schedule, etc. She'd stay for a month if she could. Kudos to Emily and her team for equipping her with new skills, encouraging her game, and giving her a great week.

— Viola G., Parent 2015

Awesome Camp!

Great instruction, connection with the kids, effective blending of ages and abilities. Realistic and on-target advice for those really ambitious to play after high school. Good mix of individual and group attention.

— Gayle S., Parent 2015

I want to go back next summer!

June 28, 2019 The highlights of my camp experience were the skills training and advice the coaching staff gave me, and the friendliness of the coaches and other campers! It was awesome, I want to go back next summer.

— Mateo P., Camper

So Many Memories!!

July 13, 2019: My favorite part of camp was the World Cup event that was held at the end of the last two days of camp. Those were awesome!! I also loved being to have dorms at the camp in which you could socialize with friends. I also improve by skills in controlled touch, crossing and finishing, and shooting at the goal.

— Marcelo L. Camper

Soccer with New Friends

July 13, 2019: Devon had an amazing time at camp, she couldn't stop talking about it once she got home. She said she had such a fun time with her new friends. She also told us how the coaches were funny and very welcoming. She said she was not homesick at all, which she usually is.

— Kevin K. Parent

Great Camp!!

July 13, 2019: The highlights of my camp experience were the skills training and advice the coaching staff gave me, and the friendliness of the coaches and other campers! It was awesome, I want to go back next summer.

— Mateo P. Camper
SECURE YOUR SPOT – CAMPS SELL OUT!
Last year over 650 Sports Camps sold out, leaving 7,000+ campers on the waitlist. Due to high demand, early registration for our first-come-first-serve camps is strongly recommended.
Camp Dates & Prices
This program has concluded for the season.
Please Join our Priority List to be notified when this program is available for registration.