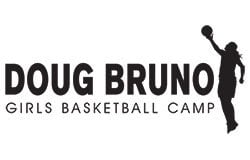 Doug Bruno Girls Basketball Camp at North Central College
Doug Bruno Girls Basketball Camp at North Central College
22

Reviews
Average Rating
Stars
Expert Instruction. Proper Discipline.
Loving the Game.
Since 1980, Doug Bruno Girls Basketball Camp has helped over 84,000 female athletes improve their game and confidence. Join this all-star coach line-up in summer 2024 at North Central College in Naperville, IL and focus on development techniques, self-discipline and game play tactics through personalized basketball intensive instruction.
Fundamentals Camp: This camp offers an opportunity for athletes of all abilities to participate in an exciting week of basketball training and game participation.

Shooting Camp: Improve your jump shot and free throw shooting! Camp features demonstrations, hours of individual instruction, drills, and competitions.
Highlights Include
Over 9 hours of daily basketball activity, drills, and demonstrations
A college prep experience: dorm life, responsibility, cultivation of communication
Receive two Doug Bruno Girls Basketball Camp t-shirts, a basketball, and other prizes!
Camp Coaches
Camp Director

Doug Bruno

Coach Bruno is a pioneer and crusader for women's basketball at all levels, and is entering his 34th season as the head of the DePaul University program for 2019-20. As an assistant coach for the USA Women's Basketball National Team since 2009, Bruno has helped lead the USA to its fifth and sixth straight golds in the 2012 and 2016 Olympics. In summer 2020, Coach Bruno will be stepping off the court, making way for onsite Director Beth "Spider" Roti who will be at camp each day. While Coach Bruno will still be an integral part of the camp, making an appearance at each session, his main focus will be overseeing the development and quality of the camp curriculum. Bruno was recently named one of the 12 finalists for induction into the Women's Basketball Hall of Fame.

View Doug's Bio

⟩

Camp Director

Beth "Spider" Roti

In Summer of 2020, Coach Roti took over as lead onsite Camp Director, having previously served as Camp Co-Director to Doug Bruno and an integral part of Doug Bruno for over 30 years. Roti is a former standout DePaul player and also served as Head Coach of Kishwaukee Jr. College. On top of that she was a multi-sport star athlete at Kaneland High School and DePaul University. Currently, Beth Roti is the JV Girls Basketball Coach at Lake Forest Academy.

View Beth's Bio

⟩
Camp Details
SECURE YOUR SPOT!
Please Note: Camp sessions SOLD OUT in 2023. You can expect high demand on these first-come-first-serve camper spots, so please be sure to register early.
2024 Camp Dates

Fundamentals l: June 9-12
Shooting: June 13-15
Fundamentals ll: June 16-19
Fundamentals lll: July 22-25
Fundamentals lV: July 26-29
Fundamentals V: July 30 - August 2

Camp Hours
Check-in: First day from 9:00am-10:30am at the ResRec Center. The ResRec Center is located at 440 S Brainard St, Naperville, IL 60540
Closing Ceremony: Last day between 6:30pm-7pm

Coach Bruno will be attending each session of camp in some capacity: attending games at night, directing a ball handling drill, critiquing player shooting form, etc. but he will not be at camp each day. Coach Roti will lead all on-court instruction including the full implementation of the Bruno Camp teaching curriculum.

LOOKING FOR MORE DOUG BRUNO CAMPS? Check out more camp options at Lake Forest Academy, led by the incredible Doug Bruno Basketball Camp staff!
OVERNIGHT CAMPERS
Campers will reside in the ResRec Center dorms on campus and will have two campers per room. Roommate requests can be submitted up to 48 hours prior to the first day of each camp session and assignments are finalized the day before each camp session. We will do our best to accommodate roommate preferences but cannot guarantee them. You will be contacted in advance should we have any questions regarding roommate requests. If you don't have a roommate request, you will be placed in a room with someone near your age. It will be a great opportunity to meet someone new!
Bathrooms: Shared
Linens: Not provided
Air-conditioning: Yes
Pool: No
Suggested Spending Money: $40-$60
Room Key Deposit: No deposit, but there will be a charge for $140 if the room key is lost.
SUPERVISION/"DORM MOM"
We have a ratio of twelve campers to one staff member during all phases of camp. Ours is a system of constant roll calling, so we always know each camper's schedule. The Bruno Camp employs a Dorm Mom to supervise our dormitories when your daughter is not in the gym. Our Dorm Mom is on duty and accessible by phone from 2 PM-midnight each day our camp is in session. Campers are supervised 100% of the time by our Doug Bruno Coaching staff, our Dorm Mom, and/or our support staff.
EXTENDED DAY CAMPERS
Extended Day Campers receive a full day of basketball instruction, lunch, dinner, and competitive games. Campers check in between 9AM-10:30AM on the first day and should arrive between 8:45AM-9AM each day after that. Camp concludes between 7:30PM-9:30PM (competitive games), varying by age group.
EXTRA NIGHT STAYOVER
Campers attending Fundamentals I, III, IV and Shooting are welcome to enroll for an extra night between sessions. This will be an additional cost of $45 per night and may be added during registration.
MEALS
Overnight Fundamentals Campers: Lunch and dinner are provided on Day 1. Breakfast, lunch, and dinner are provided on Days 2-3. Breakfast and lunch are provided on Day 4.
Overnight Shooting Campers: Lunch and dinner are provided on Sunday. Breakfast, lunch, and dinner are provided on Monday. Breakfast and lunch are provided on Tuesday.

All Extended Day Campers: Campers must eat breakfast at home. Lunch and dinner are provided daily.

BRUNO CAMP NIGHT WITH THE CHICAGO SKY

Campers will have the opportunity to attend a 2024 Chicago Sky Game! The cost is TBA per camper/ parent and includes supervised round-trip bus transportation and a game ticket. Parents will be able to sign their camper up for tickets on the first day of camp with a Sky representative. Campers and parents that purchase tickets will be seated in a special "Camp Bruno" section for the game with Bruno basketball coaches as chaperons. Transportation is provided. For more information, please visit: Chicago Sky. If you'd like to purchase tickets ahead of time and skip the line, contact Jordan Mendelson: at 312-994-5963, or [email protected].
ATHLETIC TRAINER
A professional athletic trainer is on-site at all times during each week of camp. All medical needs, such as injury treatment, knee and ankle wrapping, will be addressed daily. Campers on medication should register their condition and medication with the trainers on the first day of camp. Should, however, a camper wish to self-administer her medication, she may do so providing this is the prerogative of the camper's parents. In either case, it is imperative our trainers are aware of all medical conditions and medications.

COMMUNICATION
Cell phones and other portable electronic devices are not allowed at camp. Camp phones are available to all campers, if necessary, in the gym and in the dorms. The camp staff and dorm mom will have cell phones available for campers' social use. Please note, parents are not allowed to remove their kids from camp unless it is an emergency.
PRE-CAMP CHECKLIST
To view your customer account, complete your mandatory forms, pay balance dues, and review important camp information, visit Pre-Camp Checklist. All necessary camp information is on this page. If there are any imperative changes prior to camp start, registered campers will be notified via email and this webpage will be updated!
PACKING LIST
Below is a suggested list of clothes, equipment, and personal items. US Sports Camps is NOT responsible for lost or stolen articles or money.
● Athletic, on-court clothing
● Athletic shoes
● Water bottle
● Small gym bag/backpack
OVERNIGHT CAMPERS ONLY:
● Athletic clothing mentioned above
● Comfortable off-court clothing
● Flip flops
● Toiletries
● Personal items & medications
● Washcloth and bath towel
● Fan (optional)
● Pillow, pillowcase, bed sheets, comforter, or sleeping bag
CAMPER EVALUATION
Upon arrival, all participants are evaluated by the staff so that their own instructional needs can be addressed throughout the week. In addition, campers will be evaluated and then split up into smaller groups according to age and ability.
MEDICAL PROTOCOL
Most camps have an athletic trainer on-site to help with illness or injury. In case of an emergency, campers will be transported to the nearest hospital.
DOUG BRUNO BASKETBALL CAMP POLICIES
In addition to the US Sports Camps Company Policies, the following policies are in affect for Doug Bruno Basketball Camps. Upon checking in on the first day of camp, all campers that drove themselves to camp must turn in their car keys to the camp staff for the duration of camp. Campers are also not permitted to leave the camp premises for the duration of the camp. Campers are not permitted to order food to be delivered to campus, for example via delivery, Uber Eats, Grub Hub, etc. while at camp. For information regarding our cancellation policy and all other company policies, please visit USSC Policies.
TRANSPORTATION
Transportation is not provided by the camp to or from any airports. If you are flying to or from camp, we recommend using an airport shuttle service. Please schedule flights as close as you can to the check-in times on the first day and check-out times on the last day.
BASKETBALL CAMP FAQ
For general questions about our basketball camps please see our FAQ page.
*Please note, this information is subject to change.

Show Less

See More

Camp Details
Sample Daily Schedule
7:15 AM

Wake up call

7:30 AM

Breakfast

8:45 AM

Campers assemble in gym

8:45 AM

Bruno Coaching Staff meets players

9:00 AM

Bruno Coaching Staff reviews: Ball handling, Stationary dribbling, Offensive moves, Cross overs, Cross over pull back, Between the legs, Jump stop behind the back, Wrap around behind the back, and Passing

9:45 AM

All camp Cut Throat

10:15 AM

Bruno Coaching Staff teaches: Offensive moves, Triple threat, Pop backs, Shot fake, Jab fake, Footwork, Jump stop, Pivot passing

11:45 AM

Lunch

12:45 PM

Coaches demonstration game

1:15 PM

All camp cutthroat

1:45 PM

Bruno Coaching Staff teaches: Defensive stance, Footwork, Rebounding

2:15 PM

Afternoon session games

3:15 PM

1st College 5×5 game

3:40 PM

2nd College 5×5 game

4:05 PM

1st ABL 5×5 game

4:30 PM

2nd ABL 5×5 game

4:55 PM

1st WNBA 5×5 game

5:20 PM

2nd WNBA 5×5 game

5:00 PM

Dinner

5:45 PM

Evening session games

6:00 PM

1st College 5×5 game

6:30 PM

2nd College 5×5 game

7:00-9:00 PM

Optional Swimming

7:00 PM

College/ABL 3×3 Cut Throat

7:25 PM

1st ABL 5×5 game

7:55 PM

2nd ABL 5×5 game

8:25 PM

1st WNBA 5×5 game

8:55 PM

2nd WNBA 5×5 game

9:25 PM

WNBA 3×3 Cut Throat

10:30 PM

Bed Check/Lights Out
Located east of Merner Field House, the Res/Rec Center houses the dorms and gym facility. The Al B. Carius facility in the Res/Rec Center will be utilized for daily basketball instruction. Named for legendary North Central head men's cross country and track and field coach Al Carius, this state-of-the-art competition venue features a six-lane, 200-meter track, three pole vault runways and two long/triple jump pits as part of a 100,000-square-foot recreation facility which also includes an elevated walking track, four multipurpose athletic courts, locker and athletic training facilities and a fitness center.
Camp Reviews
Overall Average Rating
Stars
August 18, 2023: We loved the dribbling session to music, it's always fun! The girls look happy and engaged during this time- definitely keep this up!

— Anonymous

August 18, 2023: Our daughter loved the mix of ball handling skills, some shooting skills, some 3v3, and some 5v5 as it made the days more fun.

— Anonymous

July 31, 2023: My daughter had a very positive experience. She improved on her skills and met new friends along the way.

— Anonymous
Show Less

See more

Reviews
August 5, 2023: My daughter making new friends and embracing the camp lifestyle

— Anonymous

July 27, 2022: My daughter's favorite part was meeting new girls from around the area, and I'm merging in basketball!

— Anonymous

July 27, 2022: The skills my daughter learned and the improvement shown in just 4 days was impressive!

— Anonymous

July 28, 2023: Our daughter had a great time at camp. Her favorite part was the WBNA trip.

— Anonymous

July 31, 2022: My son enjoyed having dedicated time with coaches who can provide suggestions and insight..

— Anonymous

June 27, 2022: I enjoyed seeing how well the staff worked with the girls and being able to see her skills build daily.

— Anonymous

August 3, 2022: My daughter loved it and felt like her game could be improved with hard work and what she learned.

— Anonymous

June 17, 2023: My daughter gained confidence in many areas including independence, responsibility, and basketball!

— Anonymous

July 27, 2022: The friends my daughter made while learning new skills in a safe / positive environment. She was super jazzed.

— Anonymous

June 20, 2023: The highlight of this camp experience was meeting new people and learning new skills and how to practice them on your own at home.

— Anonymous

June 27, 2022: The highlight was my daughter getting comfortable being at a sleepaway camp without her big sister and her pushing herself outside of her comfort zone.

— Anonymous

June 20, 2022: My daughter had a great experience! Coming to see her play at the end, I already saw her improve her skills and have more confidence!

— Anonymous

August 5, 2022: Daughter loved all of it. This is her second time attending a Bruno camp and the amount of basketball she gets to play is what makes her want to come back.

— Anonymous

June 20, 2022: My daughter was able to attend with several friends and they all had a great experience. I thought the camp was well organized and the girls had a lot of fun.

— Anonymous

June 24, 2023: Providing the kids with an experience that not only teaches them skills but also gives them confidence and teaches them the value of putting in the extra work.

— Anonymous

August 8, 2022: My daughter's confidence grew from this experience, and the quality of the campers helped broaden her horizons. The power of competitive, confident girls all in one gym was incredible.

— Anonymous

July 28, 2023: After attending last year, I saw specific skills improve, and after watching her in the games at the end of this session I saw her improve even more! Very grateful for such a fun, well organized week of learning!

— Anonymous

June 20, 2022: This was my daughter's first overnight camp. She was nervous at the beginning. Those nerves were gone as soon as she arrived at camp. She loved everything about Doug Bruno Basketball Camp from the campers to the coaches to the hours of basketball played. She gained more and more confidence in herself and the sports each day she was there. She cannot wait to return!

— Anonymous

Loved the coaches

— Anonymous
SECURE YOUR SPOT – CAMPS SELL OUT!
Last year over 650 Sports Camps sold out, leaving 7,000+ campers on the waitlist. Due to high demand, early registration for our first-come-first-serve camps is strongly recommended.
Camp Dates & Prices
This program has concluded for the season.
Please Join our Priority List to be notified when this program is available for registration.