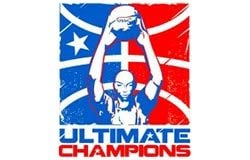 Nike Basketball Camp Team Sportsplex
Nike Basketball Camp Team Sportsplex
5

Reviews
Average Rating
Stars
Improve your game and have serious fun
at Nike Basketball Camps
Work on your offensive, defensive, and team play skills in Baton Rouge during summer 2024! Over the course of camp, you'll cover a wide variety of basketball drills tailored to players of all ability levels at Team Sportsplex, Louisiana's largest indoor basketball facility.
Highlights Include
Unique program emphasis each week
Excellent training facilities and coaching staff
1:12 staff to camper ratio
Multi Day and Single Day sessions options available
Extended Day available
Nike Basketball Camp T-shirt and prizes! (multi-day camps only)
Camp Coaches
Camp Director

TJ Jones

TJ Jones is the founder and lead skills director of Ultimate Champions Basketball Academy and is a National Nike Basketball Camp Director. Coach Jones has over 22 years of basketball experience as a player, coach and player development instructor.

View TJ's Bio & Basketball Tips

⟩

Staff

Ultimate Champions Basketball Academy

With over 22 years of training and coaching experience that covers all age groups and skills levels, Ultimate Champions has become one of the nation's premier basketball training academies.

View Ultimate Champions Basketball Academy's Bio

⟩
Camp Details
SECURE YOUR SPOT!
You can expect high demand for these first-come-first-serve camper spots, so please be sure to register early.
2024 OVERVIEW
Age Group: 5-16
Gender: All Genders
Programs: Complete Skills and Competiton Friday
Emphasis: Individual Skills, Team Skills, Competition
Camp Types: Day (Extended Day available)
Lunch: Lunch is not provided, please bring a sack lunch & snack to camp each day. No food or drinks will be available for purchase.
2024 CAMP DATES
Session I: June 24-27 - Complete Skills
Clinic I: June 28 - Competition Friday
Session II: July 22-25 - Complete Skills
Clinic II: July 26 - Competition Friday
Attend multiple sessions! Campers are encouraged to attend multiple sessions! Each program delivers something unique to help players excel in all areas of the game.
CAMP OPTIONS
Please note: Camp schedules and details may be subject to change. Upon arrival, all participants are evaluated by the staff and placed into groups based on age and ability level.
Complete Skills
Session I: June 24-27
Session II: July 22-25
Daily Hours: 9:00am-4:00pm, Monday-Thursday
Check-in: 8:30am on Monday
Closing Ceremony: 3:30pm Thursday
Check-out: 4:00pm Thursday
Lunch: Lunch is not provided, please bring a sack lunch & snack to camp each day. No food or drinks will be available for purchase.
Extended Day Fun Competitive Play: Extended Day Game Play is available from Mon-Thurs 4:00-5:00pm. (In Post-Camp Fun Competitive Play, Ultimate Champions will be offering skill-specific training catered to the need of each player. The focus is to find out the challenge area of each player and spend the entire session working to improve the challenge areas. It will run Monday-Thursday, from 4pm-5pm, and be $40 (for all 4 days). *Only available for Complete Skills campers.)
The Complete Skills Camp: If you love skill development and detailed instructions, your child will love our Complete Skill Camp! We will teach the game of basketball in three phases: explanation, demonstration and participation. During the explanation phase, We will explain and teach the concept of the new skill. After it is explained, it will be demonstrated from every angle. In this phase, along with coach, the campers will go through drills that will reinforce the new skill. Once it's demonstrated, campers will be participate in a competitive game to use the skill in "real time! Camper will be taught the foundations of shooting stationary and off the dribble, ball handing under pressure and on the break, the difference between rebounding and boxing out, how to play positions 1 through 5, how to read any defense, how to defend all five positions, and of course, how to mentally approach the game.
Competition Friday
Clinic I: June 28
Clinic II: July 26
Daily Hours: 9:00am - 4:00PM, Friday
Check-in: 8:30am
Check-out: 4:00PM
Lunch: Lunch is not provided, please bring a sack lunch & snack to camp each day. No food or drinks will be available for purchase.
Program: Competitive Game Play will be comprised of a multitude of competitive games along with dribbling and shooting competitions. Within the games, campers will be divided based on age and skill level. Note: Depending on the number of campers signed up for the clinic, some of these competitions might not be played. Friday Competitive Game Play will run from 9am-4pm, for $100.
WHAT'S INCLUDED IN THE FEE?
Instruction: Morning and afternoon training sessions
Lunch: Lunch is not provided, please bring a sack lunch & snack to camp each day. No food or drinks will be available for purchase.
Supervision: Campers are supervised by staff during camp hours
Camp T-shirt & Prizes: Campers at multi-day camps will receive a Nike Basketball Camp t-shirt and prizes. *multi-day camps only.Basketballs: Basketballs are provided for instruction during camp.

INSTRUCTION, EQUIPMENT & FACILITY
Ratio: 1:12 staff-to-camper ratio
Groupings: Campers are grouped by ability, age, and experience.
Equipment Needed: Players should have at least one pair of well-broken-in basketball (court) shoes. Campers do not need to bring their own ball. See Packing List for additional information.
Facility: Indoor courts
Medical Protocol: Most camps have an athletic trainer on-site to help with illness or injury. In case of an emergency, campers will be transported to the nearest hospital.


PRE-CAMP CHECKLIST
To view your customer account, complete your mandatory forms, pay balance dues, and review important camp information, visit Pre-Camp Checklist. All necessary camp information is on this page. If there are any imperative changes prior to camp start, registered campers will be notified via email and this webpage will be updated!
PACKING LIST
Below is a suggested list of clothes, equipment, and personal items. US Sports Camps is NOT responsible for lost or stolen articles or money.
● Athletic, on-court clothing
● Athletic shoes
● Water bottle
● Packed lunch and snacks
● Small gym bag/backpack

Ultimate Champions Philosophy
In order to be successful there has to be a strong foundation. If a builder is building a house, he must have a strong foundation in order for the house to stand properly over time. Well, the same is for basketball. There must be a strong foundation in fundamentals for continuous individual improvement. In addition to an emphasis on skill development, camp will also aim to improve each players athleticism and explosiveness.

CAMPER EVALUATION
Upon arrival, all participants are evaluated by the staff so that their own instructional needs can be addressed throughout the week. In addition, campers will be evaluated and then split up into smaller groups according to age and ability.
MEDICAL PROTOCOL
Most camps have an athletic trainer on-site to help with illness or injury. In case of an emergency, campers will be transported to the nearest hospital.
COMPANY POLICIES
For information regarding our cancellation policy and all other company policies, please visit USSC Policies.
TRANSPORTATION
Transportation is not provided by the camp to or from any airports. If you are flying to or from camp, we recommend using an airport shuttle service. Please schedule flights as close as you can to the check-in times on the first day and check-out times on the last day.
NIKE BASKETBALL CAMP FAQ
For general questions about our basketball camps, please see our FAQ page.
*Please note, this information is subject to change.

Show Less

See More

Camp Details
Sample Daily Schedule
9:00 AM

Stretching

9:15 AM

Ball-Handling

9:45 AM

One on One Moves

10:30 AM

Defensive Work (stance, movement, communication, desire)

11:00 AM

Shooting Work (foot alignment, shoulder alignment, balance, selection, technique)

11:30 AM

3 on 3, 4 on 4, 5 on 5

12:00 PM

Lunch

1:15 PM

Stretching/Warm-Up

1:30 PM

Ball-Handling

2:00 PM

Passing

2:30 PM

Guest Speaker/lecture

3:00 PM

Offensive & Defensive Fundamentals

3:20 PM

Shooting Skills Competition

4:00 PM

Dismissal
Team Automotive Group, the Baton Rouge Basketball and Volleyball Association (BRBVA) and BREC partnered to build a new, 30,000 square-foot recreational complex. The Team Automotive Group Sportsplex is in the heart of Baton Rouge at BREC's Perkins Road Community Park. It is the largest indoor basketball facility in Baton Rouge and the largest indoor volleyball facility in Louisiana. In addition to being a premier basketball and volleyball complex, it is used for other purposes including BREC summer camps, cheerleading competitions and recreation activities for seniors. The facility houses 3 tournament play basketball courts, 4 youth basketball courts, 12 basketball half courts and 5 competition volleyball courts.
Camp Reviews
Overall Average Rating
Stars
June 27, 2022: Our son started last year with this camp and had never played basketball. He joined a team directly after finishing the camp & hasn't stopped playing since. It taught & gave him a love for the game!

— Anonymous

June 24, 2022: My son is a great player but needs to gain more confidence. Your coaches helped him find himself and he earned MVP!

— Anonymous

August 14, 2023: My son said he learned so much and improved so much. He feels more confident in his skills.

— Anonymous
Show Less

See more

Reviews
July 22, 2022: Fun camp with good skills learned - safety seemed to be a strong priority which was great.

— Anonymous

Great one-on-one time.

— Anonymous
SECURE YOUR SPOT – CAMPS SELL OUT!
Last year over 650 Sports Camps sold out, leaving 7,000+ campers on the waitlist. Due to high demand, early registration for our first-come-first-serve camps is strongly recommended.
Camp Dates & Prices
This program has concluded for the season.
Please Join our Priority List to be notified when this program is available for registration.