Golf Tip
Golf Tip: Putting Control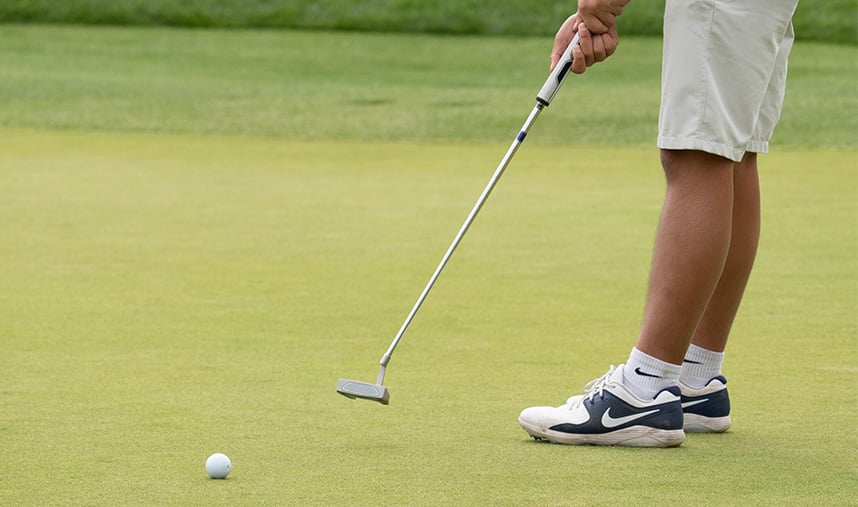 Putting is arguably the most challenging part of golf. Finding the right line, distance and correct speed are crucial during your short game. If you can control your putting speed, the ball will lie close to the hole and make for a better opportunity to sink the ball. Use these tips below to understand putting control and how to better practice your short game. If you enjoy reading tips like these, check out our Nike Junior Golf Camps!
Short Putts:
Short putts are typically within the 10 foot range of the hole. With short putts, your goal is to sink the ball. Getting a solid grip and limiting your backstroke will help reach the hole. Do a couple of practice swings to gauge the correct speed in order to get the ball in or as close to the hole as possible. A simple way to practice short putts is to line up balls in a circle around the hole, roughly 3-5 feet away. Try to sink each ball. This will help create a routine in your short putt speed control.
Middle Length Putts:
Middle length putts typically take two strokes to sink your ball. The goal is to get the ball in front of the hole to make an easy second putt. Finding a speed that allows you to get near the hole without undershooting or overshooting is key to your golf game. To practice, find a line to aim toward and place a mark on the green between you and the hole. Use practice shots to see if you can reach your marker without going past the hole. This practice method will help you find the perfect speed for your middle length shots.
Long Range Putts:
Long range putts are about 30 or more feet in length. The goal here is to control your putt and accelerate through the ball. Try to get your ball as close to the hole as possible so you can sink it in two. You will want your putt to be long and smooth to get that perfect distance you are looking for.
About Nike Junior Golf Camps
Nike Junior Golf Camps is a division of US Sports Camps, Inc (USSC). Headquartered in San Rafael, California, USSC is America's largest sports camp network and the licensed operator of Nike Sports Camps. The company has offered summer camps in the U.S. since 1975 with the same mission that defines it today: to shape a lifelong enjoyment of athletics through high-quality sports education and skill enhancement. Nike Junior Golf Camps offers junior overnight and day camps, as well as advanced player camps at over 130 locations nationwide. Since 1994, more than 200,000 junior golfers have participated in the camps.

Share This