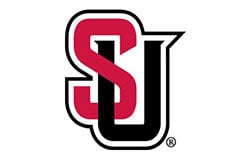 Nike Girls Basketball Camp Seattle University
Nike Girls Basketball Camp Seattle University
17

Reviews
Average Rating
Stars
Improve your game and have serious fun
at Nike Basketball Camps
Join Head Coach Skyler Young and the Redhawks staff for drills, skills and a whole lot of fun! Attend the Complete Skills Camp to focus on individual skill development, competitive scrimmages, and game tactic understanding or join the Seattle University ID Camp for high-intensity training that mimics a Division 1 college practice atmosphere. These summer 2023 camps sell out fast so be sure to sign-up early!
*Due to NCAA regulations, as of of 7/28/23, the ID Camp at Seattle University has moved to Saturday August 5th.*
The Seattle University Complete Skills Camps help players develop athletically, refine fundamental basketball skills and enhance their skill set at the post, wing or guard position. This camp is open to all ability levels, entering grades 5-12.
The Seattle University ID Camp is designed to simulate a high intensity basketball practice. This is a fast-paced and highly competitive camp for entering grades 9-12.

Highlights Include
Instruction from Seattle University coaches and players in a fun environment.
Daily emphasis on fundamentals, individual skill development, team play, and leadership skills.
Exposure to developmentally appropriate strength and conditioning training and techniques.
Camp Coaches
Head Coach

Skyler Young

Skyler Young was named the sixth head women's basketball coach in Seattle University program history on April 19, 2023.

View Skyler's Bio

⟩
Camp Details
*DUE TO NCAA REGULATIONS, AS OF 7/28/23, THE ID CAMP HAS BEEN MOVED TO SATURDAY, AUGUST 5TH.*




2023 DATES

Complete Skills I: July 24-28
ID Camp: August 5
Complete Skills II: July 31-August 4



COMPLETE SKILLS CAMPS
5th-6th Grade Check-in: Monday between 8:30AM-9AM on 1st floor of Redhawk Center & will go to the South Court
7th-12th Grade Check-in: Monday between 8:30AM-9AM on 2nd floor of Redhawk Center & will go to the North Court
Closing Ceremony: Friday at 4:20PM. Check-out following at 5PM. Friends and family are highly encouraged and welcomed to attend.
Daily Hours: MON-FRI 9am-5pm
Meals: Lunch will not be provided, please bring a packed lunch. Lunch will be eaten outside, rain or shine.
*Due to covid restrictions, camp is not open to spectators Monday-Thursday however any spectators may attend the full day of camp on Friday yet must wear a mask at all times.
*A discount is offered for enrolling multiple children from the same family. First child=$500, second child=$450, third child=$400. Please call us at 1-800-645-3226 if you are eligible for this discount. Please note, the sibling discount only applies to the complete skills camps.
ID CAMP
The 2023 Seattle University ID camps are designed to simulate a high intensity basketball practice. This is a fast paced and highly competitive camp for campers entering grades 9-12. Campers will be instructed by SU Coaches and current/former student-athletes and will get a glimpse of a Division I college practice atmosphere while having fun! All campers receive a camp t-shirt.
Check-in: Saturday at 12:00pm
Check-out: Saturday at 4:00pm
*Any spectators may attend the full day of camp and must wear a mask at all times.
2023 ID Camp Schedule
12:00pm: Registration/Check-in
1:00pm: Introductions/Dynamic Warmup
1:15pm: Individual Skill Instruction/Footwork
1:45pm: Full Court Transition Offense Drills
2:15pm: Position Work
2:45pm: Shooting Drills
3:00pm: 5 on 5 games
3:45pm: NCAA Education Session
4:00pm: Departure


COVID GUIDELINES
· All camps to have a COVID Safety Plan, detailing measures specific to the facilities that they operate in, including which onsite staff have medical training, measures that will be taken in the event of a positive case, circumstances that will require medical assistance, and what to do in the event of an outbreak. COVID Safety Plans need to be publicly available for review by campers and their families and local health jurisdictions.
COVID vaccinations are recommended for all onsite staff prior to camp
No vaccine required
Campers do NOT have to wear masks
Parents or spectators on Friday must wear a mask
We WILL do a wellness check prior to camp

PRE-CAMP CHECKLIST
To view your customer account, complete your mandatory forms, pay balance dues, and review important camp information, visit Pre-Camp Checklist. All necessary camp information is on this page. If there are any imperative changes prior to camp start, registered campers will be notified via email and this webpage will be updated!
PACKING LIST
Below is a suggested list of clothes, equipment, and personal items. US Sports Camps is NOT responsible for lost or stolen articles or money.
● Athletic, on-court clothing
● Athletic shoes
● Water bottle
● Packed lunch and snacks
● Small gym bag/backpack

CAMPER EVALUATION
Upon arrival, all participants are evaluated by the staff so that their own instructional needs can be addressed throughout the week. In addition, campers will be evaluated and then split up into smaller groups according to age and ability.
MEDICAL PROTOCOL
Most camps have an athletic trainer on-site to help with illness or injury. In case of an emergency, campers will be transported to the nearest hospital.
COMPANY POLICIES
For information regarding our cancellation policy and all other company policies, please visit USSC Policies.
TRANSPORTATION
Transportation is not provided by the camp to or from any airports. If you are flying to or from camp, we recommend using an airport shuttle service. Please schedule flights as close as you can to the check-in times on the first day and check-out times on the last day.
NIKE BASKETBALL CAMP FAQ
For general questions about our basketball camps, please see our FAQ page.
*Please note, this information is subject to change.

Show Less

See More

Camp Details
Sample Daily Schedule
9:00 AM

Warm-up/Stretch

9:15 AM

Dribble Series

10:00 AM

Full Court Drills

10:30 AM

Drill Stations

11:00 AM

3 on 3

11:30 AM

Full court games

12:00 PM

Lunch

1:30 PM

Free Throw, Two Ball, 1 on 1

2:00 PM

Lecture

2:45 PM

Offensive Team Drills

3:30 PM

Defensive Team Drills

4:15 PM

League Games

5:00 PM

Dismissal
Seattle University is located downtown in Seattle's Capitol Hill district. Campers will train in the Redhawk Center, which is on 14th and Cherry. Seattle Universities recreation center features over 180,000 sq. ft. of recreational, fitness and athletic space.
Camp Reviews
Overall Average Rating
Stars
August 8, 2022: My kid enjoyed refining their skills, Getting to work with college players and being recognized for a couple of awards.

— Anonymous

August 7, 2023: My daughter got even more excited about basketball.

— Anonymous

July 29, 2023: My daughter learned a lot at the camp and has improved her skills

— Anonymous
Show Less

See more

Reviews
July 29, 2022: My daughter had a blast and definitely picked up some good skills.

— Anonymous

August 7, 2023: Coach was very personable, friendly, encouraging and taught kids alot

— Anonymous

July 29, 2023: Coaches and the detailed report card on skills and opportunities to improve game.

— Anonymous

August 1, 2023: Alina had so much fun, she did not want camp to end. I saw real improvement in her skills.

— Anonymous

July 30, 2023: My daughter had a great experience and improved her skills and confidence playing ball.

— Anonymous

August 7, 2023: Seeing my child's skills improve and the excitement she had every morning walking into the gym.

— Anonymous

July 29, 2022: I liked the mix of drills and scrimmages with mixed aged groups and the friendliness and energy of the coaches.

— Anonymous

August 4, 2023: My daughter had a lot of fun. The coaches were engaging and she felt like she improved her skills.

— Anonymous

August 15, 2022: The highlights were probably the talent show and the tournament on the last day, because they were both really fun and it was fun competing.

— Anonymous

August 5, 2023: Definitely being able to play with different people at different levels of their basketball career. It was a good time for me to grow and help others grow as well.

— Anonymous

August 4, 2023: Coach Mir was the best. She was Fair, kind and fun. My daughter said she got more play time than other times and thought that helped her improve. For that I am grateful she met such a good coach.

— Anonymous

July 30, 2023: The positivity and mentorship of the SU coaches and players. Emphasizing gratitude, attitude, and culture- "striving to get 1% better every day". Our girls get so little of this in the select programs they play in, and I deeply appreciate that the SU team prioritized culture and attitude, which is so important in developing players.

— Anonymous

August 21, 2022: I had high expectations, and you met every single one of them. My daughter came away with more skills, and confidence in her game. It was great for her to have so many role models to look up to. She can't wait to go back! On her birthday (yesterday), she took me out to the Seattle U quad just to show me where she had lunch each day, because the camp was so fun.

— Anonymous

My son enjoyed the interaction with the staff and other kids

— Anonymous
SECURE YOUR SPOT – CAMPS SELL OUT!
Last year over 650 Sports Camps sold out, leaving 7,000+ campers on the waitlist. Due to high demand, early registration for our first-come-first-serve camps is strongly recommended.
Camp Dates & Prices
This program has concluded for the season.
Please Join our Priority List to be notified when this program is available for registration.