Nike Cross Country Camp at Elmhurst University
Nike Cross Country Camp at Elmhurst University
25

Reviews
Average Rating
Stars
Serious Fun
2024 Dates Announced!
The Nike Cross Country Camp at Elmhurst University offers middle & high school XC runners the opportunity to learn and develop as a more competitive XC runner.

A combination of distance and speed training, along with drills that work on improving running mechanics and efficiency, are utilized to help each runner prepare for his or her upcoming XC season.

Highlights Include
TOP HIGH SCHOOL COACHING BY CHARLIE KERN
TWO TRAINING SESSIONS PER DAY
DAY TRIP TO CHICAGO TO RUN ALONG LAKE MICHIGAN AND EXPLORE THE BEAUTY OF THE CITY
INFORMATIVE AND INSPIRATIONAL GUEST SPEAKERS
MOVIE NIGHT
NIKE RUNNING CAMP T-SHIRT
Camp Coaches
Camp Director

Charlie Kern

Charlie Kern has been coaching since 1991. Coach Kern is currently the head boys track and cross country coach at York High School in Elmhurst, IL. He has coached conference, sectional, state and national championship teams. Charlie has coached at the club, middle school, high school, and junior college levels.

View Charlie's Bio & Cross Country Tips

⟩

Coach

Eric Dettman

Coach Dettman has worked with the Lincoln running programs for the past six years and has taken over as the head coach of the track and field and cross country programs over the past 2 years. During his time at Lincoln, he has coached three State trophy cross country teams, 13 All-State athletes, and one State champion.

View Eric Dettman's Bio

⟩

Coach

Matt Paisley

Matt Paisley is the head cross country coach at Thunder Ridge High School in Highlands Ranch, CO. Coach Paisley has been coaching XC since 1993.

View Matt Paisley's Bio

⟩
Camp Details
SECURE YOUR SPOT!
You can expect a high demand on these first-come-first-serve camper spots, so please be sure to register early.

Mini clinics are taught by staff and guest speakers to help campers learn applicable training theory, drills, and functional core strength.

2024 OVERVIEW
Dates: July 11-14, 2024. Join Priority List to be the first to know when registration opens!
Age Group: 12-17
Gender: Co-ed
Camp Type: Overnight, Extended Day
Meals: All meals are provided at the on-campus dining facility. Extended Day campers do NOT receive breakfast
CAMP SCHEDULE
Check-in: Thursday 11:00am-1:00pm for all campers
Check-out: Sunday 11:00am for all campers
Extended Day Camper Schedule: Thursday 1:00pm-9:00pm, Friday-Saturday 9:00am-9:00pm, Sunday 9:00am-11:00am
All Campers should arrive at camp, prepared to run on Sunday, the 1st day of camp.
PREPARE FOR CAMP: COMPLETE YOUR PRE-CAMP CHECKLIST
To view your customer account, complete your mandatory forms, pay balance dues, and review important camp information, visit Pre-Camp Checklist.
All necessary camp information is on this page. If there are any imperative changes prior to camp start, registered campers will be notified via email and this webpage will be updated!

HOUSING
Dorm: Assigned at check in
Campers Per Room: 2
Roommates: Guaranteed if requested 14 days prior to camp
Bathrooms: Shared on floor
Linens: Not provided
Air Conditioning: Yes
Key Deposit: $80 - check payable to US Sports Camps
Medical Facility: An athletic trainer is on-site and a hospital is two miles from campus
Staff members reside in campers' quarters and participate in all activities.

WHAT'S INCLUDED IN THE FEES:
Overnight Campers: Features several instructional sessions per day, three hot meals, and lodging in University residence halls. An evening recreation program is also included.
Extended Day Campers: This option offers the same features as the resident camp minus lodging & breakfast (Extended Day Campers should eat breakfast before daily check-in).
INSTRUCTION, EQUIPMENT & FACILITY
Ratio: 1:10
Grouped by: age, ability, current mileage, and XC experience
Equipment needed: Campers should bring at least two pairs of broken in running shoes. Racing flats/spikes are optional. Please be sure to properly mark your equipment, so that it can be easily identified.
Facility: Elmhurst University, local roads and trails
TRANSPORTATION
Transportation is not provided. Campers are responsible for getting to and from camp on their own. There is no supervision before or after camp hours so please make arrangements to pick up your child on time.

Nearest Airport: Chicago O'Hare or Chicago Midway
CHECKLIST OF THINGS TO BRING:
Below is a suggested list of clothes, equipment and personal items. US Sports Camps is NOT responsible for lost or stolen articles or money.
ALL CAMPERS:
Extra Athletic clothing
1-2 pairs of broken in running shoes/ event spikes
Non-running shoes
Water bottle
Sunblock
Small gym bag/backpack
Extra spending money (suggested $40)
OVERNIGHT CAMPERS ONLY:
Athletic clothing mentioned above
Comfortable non-running clothing
Underwear and socks
Pajamas/sleepwear
Flip flops
Toiletries
Personal items & medications
Washcloth and bath towel
Alarm clock
Swimsuit and towel
Flip-flops
Pen and paper for notes during guest speakers
Cell phone (if you have one)
Fan (optional)
Pillow, pillowcase, bed sheets, comforter or sleeping bag (linens are NOT provided)
Laundry detergent
MEDICAL PROTOCOL
Most camps have an athletic trainer on-site to help with illness or injury. In case of an emergency, campers will be transported to the nearest hospital.
COMPANY POLICIES
For information regarding our cancellation policy and all other company policies, please visit USSC Policies.
NIKE CROSS COUNTRY CAMP FAQ
For general questions about our Cross Country camps please see our FAQ page.


Show Less

See More

Camp Details


Sample Daily Schedule
7:00 am

Wake up

7:30 am

Morning run & core development

8:30 am

Breakfast & free time

10:00 am

Mini clinics

12:00 pm

Lunch

2:00 pm

Mini clinic

3:00 pm

Afternoon workout/run

5:30 pm

Dinner

7:00 pm

Evening activities

10:30 pm

Lights out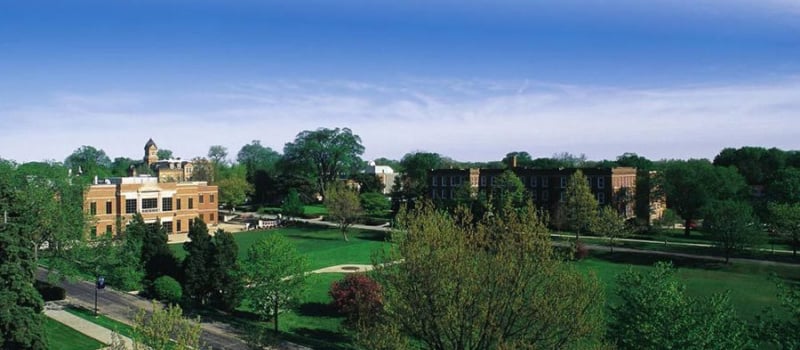 Conveniently located just 17 miles outside Chicago, Elmhurst University is an ideal location for summer training. Crushed limestone paths and grass running surfaces are within a short distance from campus. Campers have access to running on the Elmhurst University track and artificial turf soccer field.
Camp Questions & Answers
Can I come to camp alone or do I have to be a member of a team?
We welcome individual campers and teams. If you come to camp by yourself, we place you in a dorm room with another single camper, similar in age. It's a great place to meet new friends who share your enthusiasm for the sport and to have FUN!
Are the campers supervised throughout the camp?
Yes, campers are supervised by the coaches and staff. Staff members reside in the same dorms as the campers and provide supervision during instruction, dining times, evening activities, and in the dorm.
All staff members complete criminal and sex offender background checks before working the camp.

How many campers are placed in a dorm and do you accommodate roommate requests?
When you register for the camp, you have an option to submit a roommate request. If you would like to add a roommate request after registering for a camp, please feel free to give us a call or send us an email. We accommodate all roommate requests, made before 2 weeks before the start of camp. Campers who do not submit a roommate request will be placed in a dorm with other runners, similar age and same gender.

Show Less

See More

Questions & Answers
Does the Health & Release Form need to be signed by a doctor?
Our Health & Release Form does not require a doctor's signature. This online form is required to be filled out accurately, signed by the parent (guardian), and completed before your first day of camp.

Camp Reviews
Overall Average Rating
Stars
A wonderful week for him

Coach Zion's ability to connect with each camper 9n different levels. The respect and positive attitude and most of all discipline towards each activity was emphasized. This was my camper's first sleep away camp and the6 made friends, improved running form and realized their running talent. Running on the VCT(Virginia Creeper Trail) for the tempo runs was new as my camper had not done tempo runs and they loved it! It was educational, bonding, hard work that we are doing it again next year and bringing along new runners with us.

— Parent of Attendee from This Camp in 2022

City trip was a highlight

June 20, 2018: A huge highlight was being able to run with Coach Kern along the lakefront as well as to receive a few minutes of individual coaching from him. He was encouraged that he was able to have a few minutes with Coach Kern to go over his foot fall. Connor loved seeing the play at York- a fun addition. The city trip was a highlight, as well, so thank you for fitting that in despite the weather. The classroom time was very good, as well. As we consider sending both of our kids next summer as varsity high school runners, the individual attention from a member of the coaching staff would be hoped for. It's wonderful that the numbers are growing- but along with that it would be great to have some individual attention so that they are leaving camp with personalized learning— appropriate for the price point of the camp. Charlie and Laura Kern were wonderful— as were their kids. An honor to be with them!

— Jill P. Parent

Entirely new attitude and outlook

My daughter is anticipating the upcoming cross country season with an entirely new attitude and outlook. It was a great camp!!

— Steve F., Parent 2014
Show Less

See more

Reviews
One of the best camps I've ever attended

This is one of the best camps I've ever attended. Working hard and becoming a better runner is mixed with becoming a better person, meeting friends and having so much fun.

— Patrick M., Camper 2014

Prepared for the upcoming season

I had a wonderful experience at camp. The days were filled with many fun activities that kept you going and learning. Going to the city was also a great experience with the group. I made new friends and feel much more prepared for the upcoming season.

— Mickey E., Camper 2014

Could use more personalized advice

Could give us more personalized advice on technique and core development like stretching, lifting, things we can do when camp is over.

— Tiffany L., Camper 2015

Motivational

I would definitely recommend this camp to any runner who needs help with form or needs some motivation, or even just to run and have a good time. I learned a lot about training and how to improve my running.

— Garrett H., Camper 2014

Phenomenal experience!

This camp was awesome! All of the coaches were outstanding. Nike did a great job with gathering the staff. Everyone was friendly and fun, but they also challenged me to give my best effort. I feel as if I learned more in just a few days than I had in all my previous years of running combined. What a phenomenal experience!

— Alanna M., Camper 2015

Friendly environment

Lots of fun, pushes you no matter what level you run at, learn more than anywhere else, friendly environment with all you can eat food

— Matt J., Camper 2015

So much fun

This was 2nd year. I love it. Look forward to it all winter. Great running, great coaching, and so much fun. It's also good hard running!

— Quintton L., Camper 2015

Loved it

This was my daughter's first running camp and she loved it. She learned so much from both coaching and staff. She also made great friends that she has stayed in touch with. She can't wait until next summer.

— John R., Parent 2015

Exposed me to new techniques

This camp really helped me with things my high school coaches didn't expose me to. I've noticed myself become a much better runner and competitor after working with Coach Kern at the Nike Running Camp

— Laura N., Camper 2015

Valuable running experience!

Nike running camp is an excellent way to run over the summer. Whether it be to get back into shape or to retain your fitness, all ability levels are covered at camp. Campers learn extremely valuable tips and skills to become a better runner, and have much fun while doing it. All runs are fun and interesting, and enable you to bond with both other campers and staff. Overall it is just a great camp.

— Wendy H., Camper 2016

null

2023: My son loved the motivational talks and the other activities. The running was important and expected, but the other aspects exceeded his expectations.

— Parent

I loved the mini clinics

June 11, 2018: The best parts of camp for me were dancing to country songs, the nice people, the games, runs, mini clinics, and the food. The trip into the city was fun too.

— Jane A. Camper

She really liked the experience of being with other runners from the area

June 11, 2018: She really liked the experience of being with other runners from the area. She would have liked more team building stuff but understand it's hard when not everyone is coming to camp with their team. The city trip and all the friends she made were her favorite parts I think.

— Rita G. Parent

Jack had a lot of fun at this camp

June 11, 2018: His favorite activity was the Lakefront Run, and he found the Long runs fun as well. Jack had a lot of fun at this camp and learned a lot as well.

— Angela W. Parent

Lots of content that he could incorporate directly into his training

June 11, 2018: The Running was great, but the extra activities really added a fun component. Jason said there was a lot of content that he could incorporate directly into his training. Also, that he really enjoyed coach Kern's running stories while out on a run. Thanks!

— Tom D. Parent

Keeps coming back

October 18, 2019: This is his 3rd year and he always wants to go back. He has fun making new friends and all the activities throughout the 4 days. TJ always has a fun time and it prepares him to get ready for the XC summer training.

— Tina G. Parent

Trip to Chicago

October 18, 2019: Really enjoyed the trip to Chicago as well as one on one conversations with coaches and counselors.

— Marcus G. Parent

Great balance

October 19, 2019: Great balance of work and play. Exposing them to new experiences like running on the city lakefront was a highlight! Also liked the increased intensity on the 3 mile run. Loved the facilities...said it was clean and food was good.

— Marnie V. Parent

null

2022: The highlights were running with, playing games with, and getting advice from camp counselors, who were amazing people and coaches.

— Camper

Loved the field trip to Chicago

2022: The train trip to Chicago and getting to run on the lakefront was amazing!

— Camper

null

2022: Our son was inspired and motivated. He made friends and had fun!

— Parent

null

2023: The coaching staff was super! We would have enjoyed a longer camp stay.

— Parent
SECURE YOUR SPOT – CAMPS SELL OUT!
Last year over 650 Sports Camps sold out, leaving 7,000+ campers on the waitlist. Due to high demand, early registration for our first-come-first-serve camps is strongly recommended.
Camp Dates & Prices
This program has concluded for the season.
Please Join our Priority List to be notified when this program is available for registration.