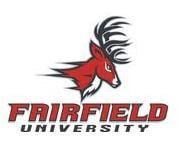 Nike Swim Camp at Fairfield University
Nike Swim Camp at Fairfield University
30

Reviews
Average Rating
Stars
2024 Dates & Prices Coming Soon!
Come join Fairfield University Head Swimming Coach, Jacy Dyer, for the Nike Swim Camp at Fairfield University! Coach Dyer and her staff will focus on providing a well-rounded and balanced camp experience that teaches swimmers the necessary skills to enjoy a lifetime of success in swimming.
Fairfield University is situated on a beautiful, 200-acre campus with picturesque views of the Long Island Sound and located just one hour from New York City. Registration will be limited to 36 campers per session. Both sessions are expected to sell out quickly so we encourage you to register early!

The Nike Swim Camp at Fairfield University is open to any and all entrants. For your safety and benefit, we recommend you have competitive swimming experience (e.g. U.S.S. age group, national qualifiers, high school swimmers, or summer league swimmers) and can swim at least 50 meters in all four competitive strokes: fly, back, breast and freestyle.
Highlights Include
Stroke technique refinement for competitive swimming
Low camper to staff ratio
Small group and individual stroke analysis/instruction
Every camper receives a Nike Camp T-shirt and Nike Swim Cap
Every camper is eligible to receive merit-based prizes during camp
Camp Coaches
Camp Director

Jacy Dyer

Jacy Dyer was named the Head Coach of the Fairfield University men's and women's swimming and diving programs in August, 2022.

View Jacy Dyer's Bio

⟩

Coach

Keaton Burke

Keaton Burke has joined the Fairfield University men's and women's swimming and diving coaching staff as an assistant coach beginning with the 2022-23 season. The announcement was made by Head Coach Jacy Dyer on Thursday.

View Keaton Burke's Bio

⟩
Camp Details
SECURE YOUR SPOT!
You can expect a high demand on these first-come-first-serve camper spots, so please be sure to register early. Campers train each day in the eight-lane, 25-meter Alumni Pool. Located in the University's Leslie C. Quick RecPlex, the Aquatics Center is the home of the Stags swimming and diving programs.
2023 OVERVIEW
Dates: June 26-29
Age Group: 8-17
Gender: Coed
Camp Type: Day Camp

Schedule: 9:00am-4:00pm, Monday-Thursday
Check-In: 8:30am at the Leslie C. Quick RecPlex
Lunch: Lunch is provided each day.

Program: The Stroke Technique program is designed to provide competitive swimmers with a better understanding of swimming fundamentals. Stroke refinement along with constructive feedback will be the focus of the camp and allows each participant to gain a greater knowledge of proper stroke mechanics and ways to improve themselves individually.
CAMP ADDRESS
Fairfield University
Leslie C. Quick RecPlex
Loyola Drive
Fairfield, CT 06824

Click Here For Directions
CAMP CHECK-IN/CHECK-OUT
Check-in: Monday, June 26th
Check-in Monday at 8:30am at the Leslie C. Quick RecPlex.
Check-out: Thursday, June 29th
There will be a brief closing ceremony at 3:30pm at the pool. ALL CAMPERS must depart immediately following the closing ceremony.
There is no supervision before or after camp hours so please make arrangements to drop off and pick up your child on time.

MEALS
Lunch is provided each day. Please bring a healthy snack each day.
WHAT'S INCLUDED IN THE FEE?
Instruction: Morning and afternoon training sessions
Supervision: Campers are supervised by staff during camp hours.
Camp T-shirt & Prizes: Campers will receive a Nike Swim Camps t-shirt and prizes.
INSTRUCTION, EQUIPMENT & FACILITY
Ratio: 1:10 staff-to-camper ratio
Groupings: Campers are grouped by age, ability, and experience.
Equipment Needed: Please bring your water swimsuit, swim cap, googles and towel(s)
Facility: Fairfield University Aquatics Center Alumni Pool
Medical Protocol: Most camps have an athletic trainer on-site to help with illness or injury. In case of an emergency, campers will be transported to the nearest hospital.
PREPARE FOR CAMP: COMPLETE YOUR PRE-CAMP CHECKLIST

To view your customer account, complete your mandatory forms, pay balance dues, and review important camp information, visit Pre-Camp Checklist. All necessary camp information is on this page. If there are any imperative changes prior to camp start, registered campers will be notified via email and this webpage will be updated!

CHECKLIST OF THINGS TO BRING
Below is a suggested list of clothes, equipment, and personal items. US Sports Camps is NOT responsible for lost or stolen articles or money.

Items:

Healthy Snacks each day
Dryland training Gear (running shoes, t-shirt, athletic shorts, sweatshirt)
Backpack
Swimsuit
Swim Cap(s)
Goggles
Towel
Water bottle
Sunscreen
Hat or Visor
Sunglasses
Sandals/flip flops
Signed Heath & Release forms and waivers (forms completed online do not need to be printed and turned in at camp)
The State of Connecticut requires a copy of camp participants' most recent physical and record of immunizations, shots, etc., in addition to the US Sports Camps health and release form.
TRANSPORTATION
Transportation is not provided. Campers are responsible for getting to and from camp on their own. There is no supervision before or after camp hours so please make arrangements to pick up your child on time.
COMPANY POLICIES
For information regarding our cancellation policy and all other company policies, please visit USSC Policies.
NIKE SWIM CAMP FAQ
For general questions about our swim camps please see our FAQ page.

Show Less

See More

Camp Details
DAY CAMP AMENITIES
• Nike Camp T-shirt & Nike Swim Cap
• Camp hours: MON-THURS 9AM-4PM
• Lunch included each day

DISCOUNTS AVAILABLE
TEAM DISCOUNT: If five or more campers register together, each camper is eligible for a $25 discount. Please have a team contact reach out directly to the USSC office at 1-800-645-3226 to receive a discount code to identify your group. Campers may then register through the website at their convenience and apply the coupon code during check-out.
Sample Daily Schedule
8:50 am

Day Campers arrive, stretch

9:00 am

Opening Comments and Discussion

9:15 am

Pool Session 1

11:00 am

Dry Land and Flexibility Exercises

Noon

Lunch, rest and free time

2:00 pm

Pool Session 2

4:00 pm

Day campers depart
Fairfield University
Located in the New England region of the United States, Fairfield University is situated on a pastoral campus offering scenic views of Long Island Sound. Rolling hills, sprawling lawns, picturesque ponds, and bucolic wooded areas make it a setting ideal for camp.
Camp Questions & Answers
How are swimmers grouped at camp?
Upon arrival at Fairfield, campers are placed in groups with other swimmers having similar abilities and goals. Our camp staff will do their best to accommodate your needs, keeping in consideration your experience and desire to improve.
Show Less

See More

Questions & Answers
Camp Reviews
Overall Average Rating
Stars
He really enjoyed interacting with coaches and college players.

— Anonymous

Highly recommend this camp!

July 14, 2016: The Nike Swim Camp had a lot of activities and workouts that had us working hard. It helped me with a lot of my technique and my different strokes. I learned a lot about how my different strokes could have been changed to be better for a faster swim. I do recommend this camp.

— Cael D. Camper

Thank You!

June 19, 2013: Thank you. My daughter never wants camp to end!

— Kirk H. Parent
Show Less

See more

Reviews
Awesome Improvements

June 23, 2013: I noticed some great improvements in my son's swimming. His breaststroke and free seemed to have really improved. He says he really enjoyed camp and would return next year.

— Katie S. Parent

Great influence on my kids!

June 23, 2013: My son and daughter thoroughly enjoyed the Nike Swim Camp at Fairfield. I was very impressed with the personalities and expertise of the camp staff. They were a great influence on my children and provided a fun, positive learning experience.

— David K. Parent

Best camp!

June 29, 2013: The Nike Swim Camp was a tremendous learning experience both in and out of the pool.

— Will S. Camper

Very impressed!

June 25, 2014: I was very impressed with the knowledge and expertise of the swim counselors. They were a great influence on my daughter.

— Clive D. Parent

Awesome!

June 26, 2014: The small group instruction is the best way to learn. It is fun being with other campers and coaches who are able to work with us one-on-one when needed. Awesome camp!!

— Jody G. Camper

Definitely be back!

July 2, 2014: My daughter was very impressed with the coaching staff and how they took a personal interest in each swimmer. We will definitely be back next year!

— Jennifer J. Parent

Thanks so much!

June 20, 2015: My daughter had an amazing time. She informed me that she's "definitely going back next year!" Thank you so much!

— Fiona H. Parent

Very pleased!

June 22, 2015: This was our first Nike Camp and my daughter was very pleased with her experience. The training was "just enough", not too overwhelming and more importantly the campers were nice, friendly and inviting. My only criticism would be "we wanted the program to be longer".

— Kevin S. Parent

Awesome!

June 23, 2015: Nike swim camp was an extremely fun and effective way for my son to perfect his technique, while also growing his love for the sport. He met many fellow swimmers from across the state, and remains friends with them now.

— Chris F. Parent

Very happy!

June 23, 2015: Very happy, loved the Nike Swim Camp and can't wait to go back next year!

— Justin L. Camper

Will be back next year!

June 25, 2016: The one week of Nike Swim Camp with Janelle Atkinson was a great experience for my 13 year old. The tips she gave her on every stroke and her starts/ turns has made a dramatic difference! She will be back next year for sure!

— Melissa V. Parent

Good instruction!

June 29, 2016: The staff was super friendly and nice. The food was delicious, says my 11 year old. Good instruction!

— Molly H. Parent

friends for a lifetime!!

July 17, 2021: This is my son's 3rd year @ the Nike Swim Camp.. He LOVES it. It's like a family @ Fairfield University! The camp overall is well planned with things to do, great staff, and amazing stories! As team captain of his high school swim team he is making all efforts to have his team partake in the wonderful experience he has had at the Nike camp and encourage them to join in on the fun! Thank you to everyone through the years that made my son more amazing at swim and of being part of a priceless experience and friends for a lifetime!!

— Celia D., Parent

Memorable experience!

June 25, 2017: The highlights of camp were staying overnight, making new friends, and learning new techniques. Dryland games were fun too. Already noticeable improvement in stroke technique and speed! Thank you for a memorable experience.

— Alex P. Camper

Noticeable improvement!

June 25, 2017: Highlights include free time actvitied and focus on her stroke improvement. Watching her in the last day camp meet I saw noticeable improvement. This cmap was very good for her technique and confidence in the pool. She will be going to more Nike swim camps!

— Amanda A. Parent

Start as a team, finish as a team!

June 27, 2017: Our camper learned many skills and techniques this week. She loved meeting new friends and loved her new motto: "start as a team, finish as a team"

— Elise V. Parent

Great dryland workouts!

June 28, 2017: My son seemed to enjoy the whole camp. He enjoyed hanging out the boys (even though a small portion of the campers were male). He liked dry land even though he said it was harder than he typical does.

— Sarah F. Parent

Great camp!

June 28, 2017: Wonderfully fun & challenging. The coaches were amazing & knowledgeable. My daughter had an absolute blast and learned so much from just 4 days. We can't thank the coachs & camp enough!

— Adam D. Parent

Noticeable improvement!

June 28, 2017: Each one of my son's strokes improved dramatically in a very short time. He also had a great time and could see his hard work payoff almost immediately!

— Jay H. Parent

Great experience!

June 30, 2017: At first my son was concerned there would be too much swimming. Once he got there, he found that the coaches and overall staff made the days go quickly and he had a great experience. He enjoyed training with a variety of ages and I think swimming with the older kids camp him a chance to push himself. He will go again next year, maybe even as an overnighter. it was a great experience for him.

— Jessica S. Parent

Loved it!

July 12, 2017: My daughter loved the technical work on strokes. There was a nice balance of work and fun and although she went with some swim team friends, she came home with some new friends as well! It will be fun for her to see them at club meets in the future.

— Gary P. Parent

Wonderful Time!

July 14, 2017: This was my daughter's first experience at a sleep-away camp and she had a wonderful time. She met new friends and said it was the most intense work-out she's ever had. The drills were broken down step-by-step which enabled her to grasp it more quickly and apply the techniques. The coaches were very encouraging and gave real-time feedback. It was just the right level of direction for her. She met a really nice group of girls -- which elevated the experience for her. It gave her a real sense of independence. I hope they run this program next year (same dates and location) as I would definitely send her back.

— Samantha B. Parent

Can't Wait To Go Back!

July 2, 2018: My 10 year old daughter loved the Nike Swim Camp! Her new friends made it fun and enjoyable while working on her swim strokes. It was her first time attending this camp and she already wants to return next year for two weeks and the sleepover!

— Laura S., Parent

Loved Every Second of Camp!

July 23, 2019: I loved every second of this camp! I learned so many tips to help all of my strokes. I can't wait to use what I learned in my upcoming swim season in the fall. I also can't wait to go back next year!

— Logan M. Camper

Thanks for a great 4 days! 

July 9, 2021: My son had a great time, with take always each day. Although butterfly isn't his preferred stroke he felt he made great improvements. Enjoyed watching the time trials at the end.. wish the time boards were working because of course he couldn't remember his times! He looked great though and had fun. Wish there was another session! Thanks for a great 4 days!

— Michelle T., Parent

wishes camp didn't have to come to an end

July 9, 2021: My son had fun, learned some new techniques. He enjoyed the interaction with his coaches and wishes camp didn't have to come to an end. The one thing he truly missed this year was the sleepover experience and it seems like he didn't have many other kids at a similar experience level. Overall he loved it and will be back again next year.

— Michelle H., Parent

looks forward to coming every year!!

July 2, 2021: Although she was disappointed this year wasn't "sleep-away" swim camp, she came home every day smiling and talking about everything she did that day. She had fun, she was challenged and she learned a couple new techniques to better her strokes. Thank you Nike Swim Camp - she looks forward to coming every year!!

— Jennifer M., Parent
SECURE YOUR SPOT – CAMPS SELL OUT!
Last year over 650 Sports Camps sold out, leaving 7,000+ campers on the waitlist. Due to high demand, early registration for our first-come-first-serve camps is strongly recommended.
Camp Dates & Prices
This program has concluded for the season.
Please Join our Priority List to be notified when this program is available for registration.