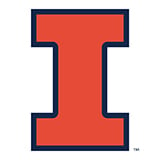 Nike Tennis Camp at University of Illinois
Nike Tennis Camp at University of Illinois
20

Reviews
Average Rating
Stars
Improve your game and have serious fun
at Nike Tennis Camps
We are excited for the Nike Tennis Camp at the University of Illinois to return this summer! The University of Illinois Tennis Camp is among the top junior tennis camps in the Midwest. Join Fighting Illini Head Coaches, Evan Clark, and Brad Dancer, for an unforgettable tennis camp experience in Champagne-Urbana!
This junior tennis camp in IL offers overnight and day tennis camp options for boys and girls, ages 9-18, of all ability levels. Campers will work hard, make new friends and have a lot of fun.
Highlights Include
Instruction from Fighting Illini Head Coaches Evan Clark and Brad Dancer
5-6 hours daily tennis training with drilling and match play
Fun variety of off-court activities for overnight campers
Camp Coaches
Co-Director

Evan Clark

In June of 2016, Evan Clark was named head coach of the Illinois women's tennis team. Clark served as the program's interim coach throughout the 2015-16 season and had been with the Fighting Illini since December 2014 in an assistant role.

View Evan's Bio

⟩

Co-Director

Brad Dancer

Head coach Brad Dancer enters his 19th season on the staff and 18th as head coach of the Illinois men's tennis team. Dancer became Illinois' 19th head men's tennis coach on June 28, 2005, after serving his first year on the staff as an associate head coach under Illini legend Craig Tiley.

View Brad's Bio

⟩
Camp Details
2023 CAMP DATES

June 11-15
June 15-19
June 19-23
June 23-27
CAMP PROGRAMS
We offer Overnight and Day (8:30am-4:00pm) camp options for boys and girls, ages 9-18, with All Skills and High School programs.
Upon arrival, all participants are evaluated by the staff so that their own tennis instruction needs can be addressed throughout the week.
All Skills Program: The All Skills program is designed for tennis players of any skill level and background. Campers will learn fundamentals and improve upon their game.
High School Session: The high school program is provided for players ages 13-18 currently on their high school team and wanting to move up the ladder or those planning on making the high school team.
CAMP SCHEDULE
Check-in: All campers will check in from 1:30pm-2:30pm on the first day of camp (6/11,6/15,6/19,6/23) at ISR Hall.
Check-out: Camp graduation will begin at 11:00am at Atkins Tennis Center on the last day of camp (6/15, 6/19,6/23,6/27). Parents, please meet your campers at Atkins Tennis Center. Camp graduation will finish by 11:30am and then the parents will take their campers back to the dorm to get their belongings.
Day Camp Schedule: 9:00am-4:30pm during the camp session (refer to check-in and check-out times for the first and last day of camp)
WHAT'S INCLUDED IN THE FEE?
Instruction: Daily tennis training, morning and afternoon sessions
Overnight campers: Dormitory housing on campus and all meals are provided
Supervision: Staff members reside in rooms strategically placed throughout the dorm to provide optimal supervision and participate in all activities
Camp T-shirt & Prizes: All campers receive a Nike Tennis Camps t-shirt and prizes
MEALS
Overnight Campers: All meals are provided
Day Campers: Lunch is provided
INSTRUCTION, EQUIPMENT & FACILITY
Ratio: 5:1 camper-to-coach ratio
Groupings: Campers are grouped by age, ability, and experience
Equipment Needed: All campers must bring a tennis racquet, tennis shoes, and a water bottle
Facility: Atkins Tennis Center: 20 lighted outdoor courts, 6 indoor courts
Inclement Weather Plan: Indoor courts are available for use as needed

Medical Protocol: Most camps have an athletic trainer on-site to help with illness or injury. In case of an emergency, campers will be transported to the nearest hospital
HOUSING
The information below is based on previous years and is subject to change each year. Final housing information for this camp will be provided in the Camp Information Packets, and emailed to all campers closer to the camp's start date.
Dorm: ISR (Illinois Street Residence) Hall
Dorm Address: 1012 W Illinois St, Urbana, IL 61801
Number of Campers per Room: 2, no triples available
Roommates: Rooms are assigned by age & roommate requests. Roommate requests must be mutual and received no later than 14 days before the start of camp. If you don't have a roommate request, you will be placed in a room with someone near your age. It will be a great opportunity to meet someone new!
Linens: Bed linens are provided (sheets, blanket, towel, facecloth, and pillow)
Air Conditioning: The dorms do have A/C. Campers are still encouraged to bring a fan
Dining Hall: ISR Dining Hall
EXTRAS
Evening Activities: May include movie night, tournament night, and swimming
Weekend Stayovers: Not offered at this location
TRAVEL
Nike Tennis Camp does not provide any transportation to/from camp from the airport, train stations, or bus depots. If you fly into camp, we recommend that you fly directly to the General Wayne A. Downing Peoria International Airport, which enjoys daily jet service from Atlanta, Chicago, Denver, Detroit, and Minneapolis-St. Paul, and St. Louis and schedule a public shuttle from the airport to camp. For info on shuttles, visit the airport's ground transportation website at http://www.flypia.com/parking.....
The University of Illinois is within three hours' driving distance from Chicago or St. Louis and is also accessible by air. The O'Hare & Midway bus service provides transportation between major Chicago airports and the University of Illinois campus.
PREPARE FOR CAMP: COMPLETE YOUR PRE-CAMP CHECKLIST
To view your customer account, complete your mandatory forms, pay balance dues, and review important camp information, visit Pre-Camp Checklist. All necessary camp information is on this page. If there are any imperative changes prior to camp start, registered campers will be notified via email and this webpage will be updated!
CHECKLIST OF THINGS TO BRING
Below is a suggested list of clothes, equipment, and personal items. US Sports Camps is NOT responsible for lost or stolen articles or money.
Athletic, on-court tennis clothing

Tennis Racquet(s)

Tennis shoes (no running shoes)

Sweatshirt/warm-up jacket and pants

Water bottle*

Sunscreen**

Signed Health & Release forms and waivers (forms completed online do not need to be printed and turned in at camp)
OVERNIGHT CAMPERS ONLY:
Athletic clothing mentioned above (1-2 pairs/day)

Comfortable off-court clothing (pants/shorts, t-shirts, sweatshirts 1 pair/day)

Undergarments (1-2pair/day)

Pajamas

Shower flip flops

Toiletries (shampoo, conditioner, body wash, face wash, hairbrush, toothbrush, toothpaste, deodorant, etc.)

Personal items & medications

Washcloth and bath towel

Fan (optional)

Bed sheets (if linens are not provided)

Comforter/blanket (if linens are not provided)

Pillow/pillow case (if linens are not provided)

Please pack campers with some spending money for evening activities!
COMPANY POLICIES
For information regarding our cancellation policy and all other company policies, please visit USSC Policies.

NIKE TENNIS CAMP FAQ
For general questions about our tennis camps please see our FAQ page
SWING VISION
Maximize your camp experience with SwingVision, an iPhone app that provides the following benefits when you record your play: watch a full match in 20 minutes with the dead-time automatically removed, view stats like shot placement, court positioning, shot speed, and consistency for each shot type, filter to particular shot or point types and easily create highlight videos of certain points or shots, access video analysis, and stats immediately after you finish recording, all on unlimited cloud storage.

Camp Code: TNXRUI
Show Less

See More

Camp Details


Sample Daily Schedule
8:30am

Stretching, Camp Meeting at Courts

8:45am

Tennis Instruction

10:00am

Break

10:15am

Tennis Instruction and Drills

11:45am

Lunch, Rest, Optional Tennis

1:15pm

Tennis Program, Match Play

2:45pm

Break

3:00pm

Tennis Program, Doubles and Drills

4:00pm

Conclusion of Daily Tennis Program

4:15pm

Groups or Private Extra Help, Optional Tennis

5:00pm

Rest, Shower, Dinner

7:15pm

Evening Activity

9:00pm

Extended Day Campers Depart

9:30pm

Overnight Campers to Rooms

10:15pm

Lights Out
Overall Average Rating
Stars
Loved the campus experience, the tennis instruction and the coaching staff

June 28, 2019: Our daughter had a great week, as a high school player, she loved the campus experience, meeting new friends that she laughed with all week: but she loved the tennis and coaching staff the most~U of I had a great coaching team, motivating and organized… they really helped her improve in 4 short days, and she left feeling confident and strong!

— Gretchen P. - Parent

Facilities were exceptional and all the camp activities were well organized

July 1, 2019: Our daughter really enjoyed the staff and how positive they were. She also thought the food was great. The facilities were exceptional and the camp activities were well organized! Thanks for another great year!

— Sean M. - Parent

Had a great time and the instruction was fantastic

July 19, 2019: Can't say enough about it. He had a great time and the instruction was fantastic. For his first overnight experience, it couldn't have been better.

— Mike S. - Parent
Show Less

See more

Reviews
Counselors were fun

June 16, 2018: Counselors were fun and worked well with kids on improving skills.

— Akhilesh B. - Parent

Really fun experience for my son

June 22, 2018: The coach made this a really fun experience for my son. She was very encouraging and supportive of him. He feels more confident about his forehand.

— Abigail A. - Parent

Team activities were awesome

July 08, 2018: The team activities were awesome. I suggest more non-tennis activities after dinner (swimming, team building, etc...).

— Sean M. - Parent

It was a lot of fun

July 24, 2017: It was a lot of fun. But, she thinks more drills that fine tune skills is needed. We thought there would be more individual feedback for improving skills. So, more individual feedback for improvement is needed. Liked the team competition. The food was good. Like meeting new friends.

— Gloria H. Parent

Watched the Pro Circuit Tournament

July 25, 2017: Watching the Pro Circuit Tournament was exciting because I saw the level of tennis I want to reach for college.

— Andrew M. Camper

Loved the coaches

July 25, 2017: She loved the coaches and the games.

— Rishi. Parent

Thoroughly enjoyed it

July 26, 2017: My son's first overnight, away from home camp and he thoroughly enjoyed it. I felt comfortable as a parent because any safety questions I had were clearly addressed in the camp info, and the camp was well organized. And what a great location! He was able to get a taste of the University experience.

— Stacey A. Parent

Wants to return next year

August 1, 2017: My son really enjoyed the camp and definiltey wants to return next year.

— Kinnari S. Parent

Different experience than other location

July 26, 2017: This is our second Nike Tennis camp, completely different from last year in Sedona at a resort with 15 campers. So, I know I'm not comparing apples to apples. :) All our kids had a great time, and we appreciated the coaches enthusiasm and efforts to make the entire week fun for all. But I do think there could have been more individual help with skill training or even tournament training. Perhaps if there were more coaches or less games that didn't involve tennis. Perhaps some serving training or strategy around tournament play if they needed to rest their feet. I don't think any of my kids felt like their skills or insights improved, other than from just basic time on court. But overall, I appreciate the quality of excellence in standards that Nike keeps. One son went to a Nike Lacrosse camp this summer and loved it. We will likely look for another tennis camp again next summer, closer to home in Denver.

— Sonya D. Parent

Made lots of friends

August 2, 2017: Made lots of friends, food was good, dorms were good, coaching staff was nice

— Kristen A. Parent

"blown away" by how fun his experience was

July 30, 2015: My 9 year old son, Jack, was "blown away" by how fun his experience was. He had just turned 9 and was away from home for the first time being an overnight camper. The staff did an amazing job chaperoning Jack and had great non-tennis activities to make his experience even more fun. Jack greatly improved his tennis game, but most importantly he advanced himself socially.

— Victor H. Parent

very nice staff

July 30, 2015: The staff were very nice and considerate to the campers.

— Chris V. Parent

My son loved the Nike tennis camp

July 25, 2015: My son loved the Nike tennis camp. He can't wait to go again next year and my other sons also want to attend. One suggestion on the website for the University of Illinois camp is to put specific information about when and where to pick up the camper. We signed up late and didn't receive the packet, so there was nowhere for me to find the information needed up pick up. I quick and easy change to the website is all that's needed. Thank you.

— Karol M. Parent

This camp was the BEST!

July 25, 2015: This camp was the BEST! U of I's tennis facility was top notch, but the best part were all the coaches. So much fun!!!

— Claire S. Camper

learned a lot

7/24/2015 - Roberta made great friends and learned a lot.

— Bridget S. Parent

wonderful experience

7/23/2015 - Wonderful experience and I can't wait to do it again!

— Maureen M. Camper

better skill groupings

7/10/2015 - I wish I would have been paired more by ability. I would prefer to be with kids my level or better. The rest was good!

— Brad M. Camper
SECURE YOUR SPOT – CAMPS SELL OUT!
Last year over 650 Sports Camps sold out, leaving 7,000+ campers on the waitlist. Due to high demand, early registration for our first-come-first-serve camps is strongly recommended.