Nike Tennis Camp at Bradfield College, near London
Nike Tennis Camp at Bradfield College, near London
1

Review
Average Rating
Stars
Improve your game and have serious fun
at Nike Tennis Camps
Nike Tennis Camps UK delivers top notch day and residential summer camps for boys and girls, ages 10-17 of any skill level. Bradfield College, near London, is one of Britain's great private schools leading in academic and sporting excellence.
Stay at the prestigious Bradfield College and improve your tennis with our world-class coaching team on a performance camp. Choose a 6- or 13-night camp and either a Total Tennis Camp or opt to combine tennis training with English language lessons on the Tennis and English programme. These camps are suitable for those who play regularly at school or club level and are not suitable for beginners.
Highlights Include
31 hours per week of coaching, structured match play, workshops and seminars
Coaching designed and led by former Association of Tennis Professionals (ATP) and International Tennis Federation (ITF) players
1 excursion on a 6-night camp and 3 excursions on a 13-night camp
A Nike kit pack
Coaches work on ratios between 1:4 and 1:6 on court
Camp Coaches
Co-Director

Gill Lemore

Tennis Director | USPTA Qualified Professional | PTR France Qualified Instructor & LTA Level 4 performance coach

View Gill Lemore's Bio

⟩
Camp Details
We offer residential Summer camps for kids, ages 10–17, who are competing regularly at school and/or club level with 1-week and 2-weeks options. The camp program is suitable for intermediate and advanced tennis players.
2023 CAMP DATES
- 6 Night Camps (Monday-Sunday)
3 Jul - 9 Jul
10 Jul - 16 Jul
17 Jul - 23 Jul
24 Jul – 30 Jul
31 Jul - 6 Aug
7 Aug - 13 Aug
14 Aug - 20 Aug
- 13 Night Camps (Monday-Sunday)
3 Jul - 16 Jul
10 Jul - 23 Jul
17 Jul – 30 Jul
24 Jul - 6 Aug
31 Jul - 13 Aug
7 Aug - 20 Aug
BRADFIELD COLLEGE
Bradfield College has an excellent reputation amongst English private schools for its impressive sports facilities and prime location in the Berkshire countryside, just an hour from London. The school has its own indoor tennis centre as well as extensive outdoor courts. Alongside fantastic sports facilities, there is a grand dining hall in the main school building as well as modern classroom facilities, acres of grounds and sports pitches and a 25 metre swimming pool.
CAMP PROGRAM

Our high-performance program aims to take players to 'the next level' through an elite squad training atmosphere. These camps are most suited to junior players who are competing regularly at school and/or club level. Strong players are challenged tactically, technically and physically, while developing players will learn to master grip, spin, movement, power and consistency. Coaches, working on a 1:6 ratio will use demonstration, practice and feedback - including video - to improve technique. Fitness and conditioning drills put emphasis on footwork balance and speed.
Expect plenty of short-set matches and competitive challenges on court, including "beat the coach"! Our tennis coaches are experienced in coaching players of all ages, language levels and abilities. They are energetic and passionate about youth development, ensuring the camp is a challenging and fun environment.
An assessment on the first day of the camp groups players by age and ability. The coaches tailor the programme to get the best out of each player, improving their tennis skill on court. Off-court, workshops teach players about psychology, physical and mental preparation, tactics and self-profiling.
Each player receives a personal assessment from the coaching director together with a development plan from their coach.
COACHING
The coaching team is led by former ATP and WTA professionals who have designed the programme to work on all aspects of the game and get the best out of every player. Programmes for developing and advanced players are designed to simulate an elite training environment. Players are assessed and grouped by ability on the first day. They then work in groups of 6 or less per coach. Sessions focus on skills such as spin, shot selection, power and agility, challenging players technically, tactically and physically.
Supporting the on-court training is a series of workshops designed to develop players' psychology and all-round athleticism. Topics such as fitness, nutrition and hydration, physiology and psychology, tactics and match preparation.
WHAT'S INCLUDED IN THE FEE?

Total Tennis Camps
Up to 26 hours a week of coaching and structured match play as well as workshops and seminars
Tennis + English Camps
Up to 17 hours a week of coaching and structured match play
13-14 hours a week of English language lessons
All Camps
1 excursion on a 6-night camp and 3 excursions on a 13-night camp
Full board accommodation at Radley College
A Nike gift pack
24/7 male and female pastoral care staff
Evening activities programme
A certificate of attendance
ENGLISH LANGUAGE LESSONS
Curriculum uses CLIL approach used in top schools worldwide
Includes general English and sports-focused English topics
Average of 12 students per class, maximum of 14
Highly qualified, native-level English teachers
Project work
Helps students prepare for IGCE, IELTS, Trinity, Cambridge, ESB, GESE and CAE exams
English report to take home
EXCURSIONS
6-night camps attend either:
Oxford City visit and sightseeing tour
Thorpe Park Theme Park
Students on 13-night camps will attend the above excursions as well as:
London City visit and sightseeing tour
HOUSING
Final housing information for this camp will be provided in the Information Packets, emailed to all campers closer to the camp's start date.
Location: Bradfield College
Campers Per Room: Single, twin and triple bedrooms with private and shared bathroom facilities. Campers will also be able to do their laundry twice a week for no additional cost
Amenities: Grade 1 3G football pitch, gym and fitness centre, players' lounge with TV, table tennis and games consoles
Free Laundry Facilities: On-site
Free Wifi: Yes
HEALTH & RELEASE FORMS
All registered campers are required to have a parent or legal guardian fill out US Sports Camps' mandatory Health & Release Forms online before arrival at camp. This camp does NOT require a doctor's signature on the forms.
CAMP INFORMATION PACKET

A detailed Camp Information Packet containing check-in location and address, on-site staff contact information, a checklist of things to bring, site-specific forms, and more will be emailed to all registered campers prior to camp. To check if your Camp Information Packet is ready, click here.

TRANSPORTATION INFORMATION
Closest Airports: London Heathrow (32 mi) | London Gatwick (61mi)
AIRPORT TRANSFERS
Nike Tennis Camps offers airport transfers to/from London Heathrow and London Gatwick for an additional fee. These can be booked directly at [email protected] once you have booked a camp. Transfers can only be booked for flights that arrive in the UK between 9:00am and 4:00pm on the camp start date and depart the UK between 11:00am and 7:00pm on the camp end date.

Unaccompanied Minor (UM) or Airport Assistance is a service offered by most airlines whereby airline staff supervise and escort a child during their flight and through the parts of the airport that our staff don't have access to. We recommend using this service for all children traveling alone under the age of 14. Please inform us of your airport transfer booking if you are using this service by emailing [email protected] at least 4 weeks before the start of the camp.

ADDITIONAL QUESTIONS
If you have any questions, please fill out our inquiry form at eurosportscamps.com/contact or email [email protected].
These Nike Tennis Camps are operated by CMT Learning Ltd. in the UK. Nike and the Swoosh design are registered trademarks of Nike, Inc. and its affiliates are used under license. Nike is the title sponsor of the camps. US Sports Camps, Inc. is a marketing and registration service for these camps, and it and Nike have no control over the operation of the camps or the acts or omissions of CMT Learning.

Camp Code: TNXRBC

Show Less

See More

Camp Details


Sample Daily Schedule
07:30

Fitness & stretch

08:00

Breakfast

09:30

Tennis session on court (with video analysis)

12:30

Lunch

14:00

Tennis session on court

17:00

Dinner

19:30

Tennis sessions / Seminars / Activities

22:00

Lights out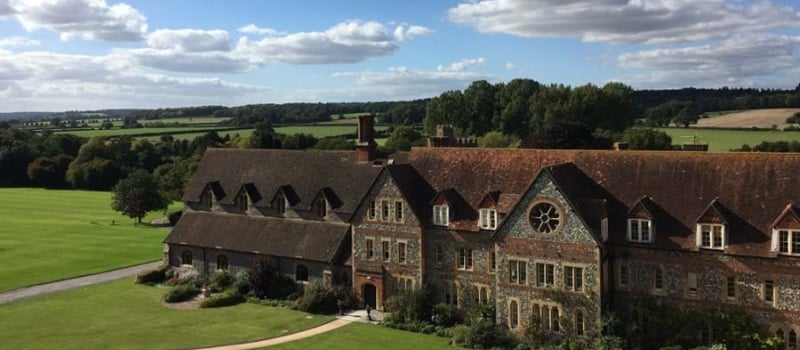 Located in the heart of the beautiful Berkshire countryside, yet only 45 minutes from London Heathrow, Bradfield College is an LTA-approved tennis centre and one of Britain's finest private schools. As well as outdoor court surfaces, Bradfield's tennis development centre has 3 indoor competition-standard hard courts.
Camp Reviews
Overall Average Rating
Stars
We will be back next year

— Anonymous
SECURE YOUR SPOT – CAMPS SELL OUT!
Last year over 650 Sports Camps sold out, leaving 7,000+ campers on the waitlist. Due to high demand, early registration for our first-come-first-serve camps is strongly recommended.
Camp Dates & Prices
This program has concluded for the season.
Please Join our Priority List to be notified when this program is available for registration.