Nike Tennis Camp at Emory University
Nike Tennis Camp at Emory University
34

Reviews
Average Rating
Stars
Improve your game and have serious fun
at Nike Tennis Camps
Nike Tennis Camps is back at Emory University this summer! Our summer camp offers the ultimate combination of athletics and fun! With a great mix of match play, drill work, and strategy sessions, it is one of the best tennis camps in Georgia.
With instruction from Emory University's Head Men's Tennis Coach, John Browning, our summer tennis camps in Atlanta deliver new tennis skills and the inspiration and self-confidence to continue improving after camp.
Highlights Include
Tennis training from Emory Head Men's Tennis Coach, John Browning and his experienced staff
5-6 hours of daily tennis instruction; Low camper to staff ratio
All campers receive a Nike Tennis Camp t-shirt and prizes
Camp Coaches
Camp Director

John Browning

John Browning is the fourth person in NCAA history, for any division, to win a national team championship as a coach and player. He did the former with Emory University in 2003, the first in school history, and the latter with California-Santa Cruz in 1989. He brings years of experience as both a coach and player to the court.

View John Browning's Bio & Tennis Tips

⟩

Camp Director

Ian Melnik

Ian Melnik joined the Emory men's tennis program as an assistant coach in September of 2021.

View Ian's Bio

⟩
Camp Details
2023 CAMP DATES
June 19-23
June 26-30
July 10-14
July 17-21
CAMP PROGRAMS
We offer Full Day (9:00am-4:00pm) and Half Day (9:00am-12:00pm) camps for campers ages 5-17. Each day will include morning and afternoon tennis sessions consisting of instruction, drills and match play. Demonstrations will divide each session into different segments. Upon arrival, all campers are evaluated and placed in one of three instructional programs.
Beginners: Learn the fundamentals for all strokes, including proper grips, stroke mechanics, footwork, movement, and balance. Introduce match play. For players ages 5-10 who are just learning the sport we offer a "QuickStart" or "10 and Under" program. This program provides a positive introduction to tennis fundamentals and low key match-play situations for younger campers. Balls are low-compression so they are easier to hit, allowing kids to get to the ball and develop optimal swing patterns. Racquets are sized for smaller hands for better grip and control. Courts are smaller and easier to cover so that kids can focus on developing tactical and technical skills—with more success and less frustration.
Intermediate: Strengthen strokes to develop more power and control. Examine match-play strategies to help improve competitive skills.
Advanced: Refine stroke production, increase power, and improve match play skills through advanced drills, physical training, and singles and doubles competition. The Tournament Training Program is geared towards tournament-level and ranked players looking to improve their tournament results, learn winning strategies, and work on mental toughness.
CAMP SCHEDULE
Check-in: All campers check in Monday at 8:30am at the tennis courts.
Check-out: Full Day campers check out at 4:00pm on Friday. Half Day campers check out at 12:00pm on Friday
Day Camper Schedule: Monday 8:30am-4:00pm, Tuesday-Friday 9:00am-4:00pm
Half Day Camper Schedule: Monday 8:30am-12:00pm, Tuesday-Friday 9:00am-12:00pm
BEFORE & AFTERCARE
Before care: 8:00am-9:00am ($10 per person, payable at camp. Arrangements can be made at camp check in)

After care: 4:00pm-5:00pm ($10 per person, payable at camp. Arrangements can be made at camp check in)
MEALS
Day Campers: Day campers should bring their lunch each day or they can purchase a lunch in the cafeteria. Half day campers depart before lunch.
WHAT'S INCLUDED IN THE FEE?
Instruction: Daily tennis training, morning and afternoon sessions
Supervision: Staff members provide optimal supervision and participate in all activities
Camp T-shirt & Prizes: All campers receive a Nike Tennis Camps t-shirt and prizes
INSTRUCTION, EQUIPMENT, & FACILITY
Ratio: 5:1 camper-to-coach ratio
Groupings: Campers are grouped by age, ability, and experience
Equipment Needed: All campers must bring a tennis racquet, tennis shoes, and a water bottle
Facility: Campers will utilize Emory's indoor and outdoor tennis facility
Medical Protocol: Most camps have an athletic trainer on-site to help with illness or injury. In case of an emergency, campers will be transported to the nearest hospital
PREPARE FOR CAMP: COMPLETE YOUR PRE-CAMP CHECKLIST
To view your customer account, complete your mandatory forms, pay balance dues, and review important camp information, visit Pre-Camp Checklist. All necessary camp information is on this page. If there are any imperative changes prior to camp start, registered campers will be notified via email and this webpage will be updated!


CHECKLIST OF THINGS TO BRING
Below is a suggested list of clothes, equipment, and personal items. US Sports Camps is NOT responsible for lost or stolen articles or money.
Athletic, on-court tennis clothing
Tennis Racquet(s)
Tennis shoes (no running shoes)
Sweatshirt/warm-up jacket and pants
Water bottle*
Sunscreen**
Signed Health & Release forms and waivers (forms completed online do not need to be printed and turned in at camp)
COMPANY POLICIES
For information regarding our cancellation policy and all other company policies, please visit USSC Policies.
NIKE TENNIS CAMP FAQ
For general questions about our tennis camps please see our FAQ page.

TRAVEL
Nike Tennis Camp does not provide any transportation to or from the camp from airports, train stations, or bus depots. If you fly into camp, we recommend that you fly into Hartsfield-Jackson Atlanta International Airport and schedule a shuttle from the airport to camp.

SWING VISION
Maximize your camp experience with SwingVision, an iPhone app that provides the following benefits when you record your play: watch a full match in 20 minutes with the dead-time automatically removed, view stats like shot placement, court positioning, shot speed, and consistency for each shot type, filter to particular shot or point types and easily create highlight videos of certain points or shots, access video analysis, and stats immediately after you finish recording, all on unlimited cloud storage.
Camp Code: TNXDEU
Show Less

See More

Camp Details
Sample Daily Schedule
9:00am

Stretching/Tennis instruction begins/Drills

10:15am

Break

10:30am

Tennis instruction/Drills

Noon

Lunch/Rest (Half Day Campers Depart)

1:30pm

Mental Training

2:00pm

Match Play/Team Tennis

4:00pm

Campers Depart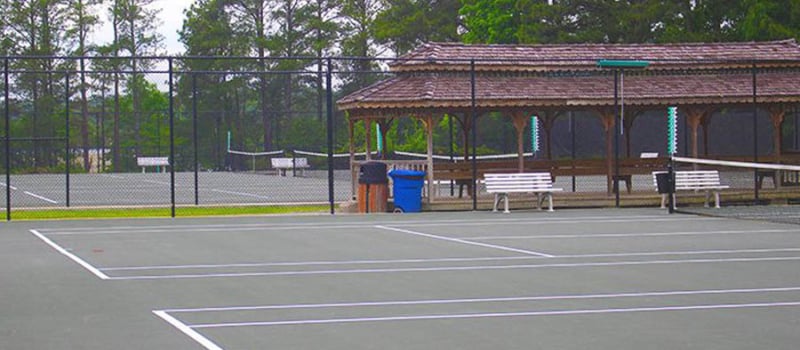 Overall Average Rating
Stars
Every year i get much better, plus the staff and coaches are amazing!

July 27, 2019: I've been going to the Nike Emory camp since 8th grade. Every year I get much better, getting to know the staff and coaches are amazing. This was my last year since I'm a rising senior and I'm so glad that the head coach is offering me a counselor spot next year, it's a dream come true. Loved every year. Thank you!

— Patrick M. - Camper

excellent job of balancing fun with real tennis instruction

July 27, 2019: Our son had a great time with the coaches and could name all of them within a day! The camp did a great job of rotating campers/coaches which is always exciting for a child and also a nice challenge as they gain all sorts of feedback. Both of my children have begged to go more weeks next summer. This camp does an excellent job of balancing fun with real tennis instruction so the students feel they are there to work hard but parents also feel their money is well spent.

— Jaclyn M. - Parent

Made friends and learned tennis!

July 15, 2019: Our daughters camp experience was excellent. She left home with zero tennis experience & knowledge & came back with a lot. She was glad to make friends and learn tennis.

— Firoz R. - Parent
Show Less

See more

Reviews
Superb Experience

July 6, 2019: My son had a superb experience. Despite being one of the youngest ones there he was challenged and treated superbly well. I attempted to pick them up after a half day on the Fourth of July, and my son insisted he wanted to stay for the rest of the camp. The coaches are great, and are well suited and trained to teach children. I'm very impressed and will continue to send my son to Emory Nike Tennis Camp.

— Guillermo E. - Parent

Loved the experience

July 21, 2018: My children were scared to attend a new environment outside of their normal park. They loved the experience so much, we are now attending a second week.

— Roger M. - Parent

Perfect

July 28, 2018: Everything was just perfect.

— Zhao L. - Parent

Looking forward to next year

September 14, 2018: She was very enthusiastic after camp and has continued to pursue her interest in the sport. The camp was top notch she is looking forward to next year.

— Kimberly P. - Parent

Loved his experience

July 24, 2017: He felt that there was really attention being given to HIS playing, and changes and recommendations given specific to him. That doesn't always happen at camps. The only downside were how few campers were there overnight. I would have liked to know that up front. It makes the downtime drag a bit. It felt more like a daycamp that had overnight as an afterthought. That said, he loved his experience.

— Jennifer W. Parent

High level of competition

July 24, 2017: High level of competition.

— Kay G. Parent

Learned new serve technique

July 25, 2017: Learned a new serve technique which he is applying even today. Improvement of overall game. Provide healthier food and beverage options. Provide a variety of food choices each meal.

— Rachel C. Parent

Plan to return next summer

August 8, 2017: This was my third year at Emery Tennis Camp. The staff was amazing, very friendly, inspiring and fun to work with. The camp has great program with well-structured activities that are enjoyable yet productive. I made plenty of friends, and I was able to compete and have fun with other good players on the courts. I plan to return next summer!

— Joann W. Camper

Became better players

July 28, 2017: All three of them had a great time and became better, more confident tennis players.

— Lori P. Parent

Great time at camp

July 28, 2017: He had a great time at camp, thought very highly of all the coaches, and feels like he has improved his tennis skills.

— Lisa P. Parent

had an absolute blast

August 3, 2016: Our girl had an absolute blast at camp with really, really good tennis! We so totally appreciate Coach Browning and his team!

— Lee J. Parent

Need to improve groupings

August 2, 2016: My kids felt they were in groups either too easy or too difficult for them. There needed to be an intermediate group in between.

— Jordan H. Parent

enjoyed the experience

July 31, 2016: My daughter enjoyed her experience!

— Angel W. Parent

fun and effective coaching

7/28/2016 - Coach Chris A was amazing! He was the nucleus of the camp- he is very knowledgeable, fun, and administered very fun and effective coaching...will see you next year!

— Carolyn S. Parent

instructors were very professional

7/28/2016 - The camp was very good and the instructors were very professional and instructive.

— David O. Camper

Coach Browning and his team are amazing

7/27/2016 - Coach Browning and his team are amazing. Can't find any better!

— Michael A. Parent

frustrated

7/27/2016 - My daughter felt frustrated because she was kept on a lower court then she should have been, and she was never given an opportunity to move up to a higher court throughout the entire week.

— Haley S. Parent

great

7/27/2016 - The director and staff were great!

— Caroline C. Camper

game and confidence level improved significantly

7/13/2016 - My daughter LOVES this camp and hated that it had to end. She is already making plans for the next year! Those weeks were very motivational for her and inspiring. Her game and confidence level have improved significantly. Coaching stuff was extremely personable and professional, sharing their passion for tennis. Coach Browning is an excellent coach and director. The accommodations were great. Thank you… it is truly the BEST CAMP and experience!!! 5 stars

— Joann W. Parent

improve the food

7/10/2016 - Please improve the food at Emory.

— Michael A. Camper

absolutely loved this camp

7/8/2016 - My daughter absolutely loved this camp! Thank you!

— Liz P. Parent

Learned a lot of new things

7/8/2016 - Learned a lot of new things and reinforced others. Fun camp!

— Kavi J. Camper

use indoor courts for extreme heat

8/2/2015 - During extreme heat, indoor tennis courts could be used more.

— Mary L. Parent

will absolutely be doing this camp again

8/1/2015 - This was my 6 year old son's first real experience with tennis as well as camp without other children that he knew. He LOVED it and even begged to switch from 1/2 day program to the full day. We will absolutely be doing this camp again as much as possible next summer and I am thrilled that he is excited about learning to play tennis!

— Page H. Parent

could not have been any happier with her experience at camp

7/31/2015 - My daughter is 8 years old and attended your overnight camp last week. We were very nervous how she would deal with not only her first experience at a sleep away camp but also being the youngest overnighter by far. By all accounts, she could not have been any happier with her experience at camp and in turn so are we. While we thought it might be too much tennis for her, her week at camp only served to fuel her passion and enjoyment for the sport. She is excited to get back out on the court and ready to go back to camp for another week. I know the social aspects of the camp were perhaps the most challenging for my daughter. All in all she was very happy with her experience with the older kids;The quote of the week as far as I am concerned was, "because I am a pee wee everyone is taking care of me". I can not say enough about you and your counselors for making her week so great and truly thank all of you for your hard work and concern for my little girl.

— Melissa D. Parent

had fun and I got a good workout

7/31/2015 - I liked competing for and winning the awards. I improved my serve. Do you offer private lessons or matches so I can practice throughout the year? Thank you for the camp and thanks for teaching me the tennis lessons. I had fun and I got a good workout every day. I made a new friend. Please put me on your list to come back next year.

— Kan D. Camper

Awesome camp counselors

7/31/2015 - Awesome camp counselors!!

— Henry R. Camper

good value for the price

7/29/2015 - Well organized and safe. Definitely worth to attend. Overall good value for the price.

— Joann W. Parent

great supervision

7/23/2015 - My daughter developed a finger infection during camp and the staff was very attentive to her needs and kept me abreast of what was going on. Additionally, they attended to her daily until the infection was clear. It was a great experience and kept me at ease knowing that my child was under great supervision. Thank you!

— Keisa C. Parent

Coach B is the best

7/23/2015 - Love Coach Browning and the entire team. Coach B is the best!

— Michael A. Camper

Staff was very friendly and cooperative

7/22/2015 - Great time at camp. Staff was very friendly and cooperative. I got injured my ankle and stopped playing. Got a lot of support from everyone.

— Andrew R. Camper
SECURE YOUR SPOT – CAMPS SELL OUT!
Last year over 650 Sports Camps sold out, leaving 7,000+ campers on the waitlist. Due to high demand, early registration for our first-come-first-serve camps is strongly recommended.