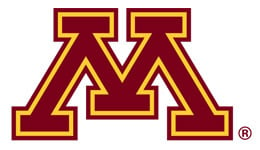 Nike Tennis Camp at University of Minnesota
Nike Tennis Camp at University of Minnesota
31

Reviews
Average Rating
Stars
Improve your game and have serious fun
at Nike Tennis Camps
Improve your game and have fun this summer at our Day tennis camp in Minnesota! Women's Tennis Coach, Catrina Thompson, and Head Tennis Pro, Dana Young, invite boys and girls from the Twin Cities, Midwest, and beyond to come to learn from the best.

Campers will receive technical tennis instruction and drilling and compete in supervised matches at UMN's beautiful 22-court facility, plus enjoy a variety of evening social activities to enhance the summer camp experience.
Highlights Include
Instruction from Minnesota's Head Women's Tennis Coach Catrina Thompson and Head Tennis Pro Dana Young
5-6 hours of tennis/day, low camper to staff ratio
Match play, drill work, strategy sessions & fun off-court activities
All campers receive a Nike Tennis Camps T-shirt
Camp Coaches
Camp Director

Dana Young

Dana is entering her eleventh year as the Co-Director of the Nike Tennis Camp at the University of Minnesota.

View Dana's Bio

⟩

Camp Director

Catrina Thompson

Catrina Thompson was hired as the head women's tennis coach in the summer of 2017. Thompson was an assistant at Notre Dame for three years before coming to Minnesota. She helped the team advance to the NCAA tournament each year and coached three different individual NCAA qualifiers. During her tenure at Notre Dame, Thompson coached five All-ACC honorees and contributed to the Irish extending their consecutive NCAA appearances streak to 22 straight seasons.

View Catrina's Bio

⟩
Camp Details
2023 CAMP DATES
June 12-15 (Monday-Thursday | All Skills | Tournament Training)
June 19-22 (Monday-Thursday | All Skills | Tournament Training)
June 26-29 (Monday-Thursday | All Skills | Tournament Training)
*This camp program is open to any and all entrants, limited only by age and number of campers.
CAMP PROGRAMS
We offer Day Only camps (8:45am-5:00pm) for boys and girls, ages 9-18, with All Skills and Tournament Training programs. All sessions are open to players of all abilities. Upon arrival, all participants are evaluated by the staff so that their own instructional needs can be addressed throughout the week.
All Skills Program: The All Skills program is designed for tennis players of any skill level and background. Campers will learn fundamentals and improve upon their game.
Tournament Training Program: The tournament training program is geared towards kids ages 10-17 who are tournament-level and ranked players looking to improve their tournament results, learn winning strategies, and work on mental toughness.
CAMP SCHEDULE
Check-In: All campers check in on Monday between 8:15am-8:45am in the lobby of the Baseline Tennis Center.
Check Out: All campers check out at 5:00pm daily. Pick-up location is at the back gate of the outdoor tennis courts which is located on 5th Street SE. The kids will be waiting for pick-up by 5:00 each day. Two of our coaches will be waiting with the kids until 5:15. At 5:15, all kids that have not yet been picked up will move to the lobby of the Baseline Tennis Center.
Day Camper Schedule: Monday 8:40am-5:00pm, Tuesday-Thursday 8:45am-5:00pm
PARKING
For Baseline Tennis Center parking information, please visit https://www.baselinetc.com/.
MEALS
Lunch is NOT included. Campers must bring their lunch and refrigeration will be provided.
WHAT'S INCLUDED IN THE FEE?
Instruction: Daily tennis training, morning and afternoon sessions
Supervision: Staff members provide optimal supervision and participate in all activities
Camp T-shirt & Prizes: All campers receive a Nike Tennis Camps t-shirt and prizes
INSTRUCTION, EQUIPMENT, & FACILITY
Ratio: 5:1 camper-to-coach ratio
Groupings: Campers are grouped by age, ability, and experience
Equipment Needed: All campers must bring a tennis racquet, tennis shoes, and a water bottle
Facility: The Baseline Tennis Center features 22 courts, 10 indoor and 12 outdoor

Inclement Weather Plan: We have 10 indoor courts in addition to our 12 outdoor courts, so rain won't slow us down!

Medical Protocol: Most camps have an athletic trainer on-site to help with illness or injury. In case of an emergency, campers will be transported to the nearest hospital
TRAVEL

Nike Tennis Camps do not provide transportation to/from camp from the airport, train stations, or bus depots. If you fly into camp, we recommend that you fly into Minneapolis/St. Paul International Airport and take a taxi from the airport to camp.
PREPARE FOR CAMP: COMPLETE YOUR PRE-CAMP CHECKLIST
To view your customer account, complete your mandatory forms, pay balance dues, and review important camp information, visit Pre-Camp Checklist. All necessary camp information is on this page. If there are any imperative changes prior to camp start, registered campers will be notified via email and this webpage will be updated!
CHECKLIST OF THINGS TO BRING
Below is a suggested list of clothes, equipment, and personal items. US Sports Camps is NOT responsible for lost or stolen articles or money.
Athletic, on-court tennis clothing

Tennis Racquet(s)

Tennis shoes (no running shoes)

Sweatshirt/warm-up jacket and pants

Water bottle

Sunscreen

Signed Health & Release forms and waivers (forms completed online do not need to be printed and turned in at camp)
COMPANY POLICIES
For information regarding our cancellation policy and all other company policies, please visit USSC Policies.

NIKE TENNIS CAMP FAQ
For general questions about our tennis camps please see our FAQ page
SWING VISION
Maximize your camp experience with SwingVision, an iPhone app that provides the following benefits when you record your play: watch a full match in 20 minutes with the dead-time automatically removed, view stats like shot placement, court positioning, shot speed, and consistency for each shot type, filter to particular shot or point types and easily create highlight videos of certain points or shots, access video analysis, and stats immediately after you finish recording, all on unlimited cloud storage.
Camp Code: TNXRMN
*This camp program is open to any and all entrants, limited only by age and number of campers.
Show Less

See More

Camp Details


Sample Daily Schedule
8:45am-9:30am

Demo and Warm-up

9:30am-11:30am

Instruction / Drills / Games

11:30am-12:30pm

Lunch

12:30pm-5:00pm

Dual Matches / Net Play Drills / Games
Overall Average Rating
Stars
A lot of fun at camp!

July 11, 2021: Olivia had a lot of fun during the various games and tournaments during camp. She liked the match play aspect a lot and really enjoyed being able to hit with her friends during breaks.

— Sara W., Parent

Loved making new friends at camp

July 6, 2021: Anna loved making new friends and the fun, positive interaction with all the coaches.

— Tom B., Parent

Had a great time at camp

July 2, 2021: Antonio had a great time. Enjoyed the feedback from coaches. 2nd year he has done it and he was very happy to have done it again.

— Sandra A., Parent
Show Less

See more

Reviews
Great overall!

July 2, 2021: Annie did two weeks of camp this year and loved it. Great tennis, great people, great atmosphere. Can't wait to come back next year!!!

— Kim V., Parent

Coming back next year!

July 2, 2021: Paige was nervous about the length of the camp, but each day she came home and was excited for the next day! She was sad when it was over, and plans to return next year! Thanks for such a positive tennis experience!

— Suzie H., Parent

Sad camp was ending!

July 2, 2021: Selma improved her serve and got more experience playing singles. She enjoyed competing as a team. And most importantly, she had so much fun. She was really sad the camp was ending. Bravo!

— Ellen V., Parent

All around improvement

July 2, 2021: The team tournaments were super fun and always playing different people with different strengths and weaknesses made me improve as a player. I loved the constant instruction on strategies and stroke improvement to help me succeed in the match.

— Owen D., Camper

More camp please!

July 2, 2021: Joshua loves the camp. He wishes this camp went all summer, even though it was longer than his normal daily tennis sessions, it was such a good mix of instruction and fun that he never got tired of it. In fact, each week it ended, he begged me to sign him up for another.

— Rachel T., Parent

By far the best tennis camps my kids have been to

June 28, 2019: This is my son's final year. He has been to this camp 9 times, truly a highlight of his summer every year. He loves the tennis, but more importantly, all the staff. I was surprised that he even wanted to go this year (summer after his senior year in High School), but he said he wouldn't miss it. This is something he will always remember and tell his kids about. I will continue to rave about this camp anytime anyone asks, it is by far the best tennis camp my kids have been to. Thank you.

— Rachel L. - Parent

Professionally run tennis camp that worked on essentials

July 2, 2019: Our son felt that the camp leaders were encouraging and very helpful. He is a beginner and learned a lot in just a short time. His evaluation included very specific direction that we (parents) can follow as we play tennis with Luke. We have played tennis with him several times since the end of camp - he definitely wants to keep learning and improving. The camp is very well run and the camp leaders very helpful and knowledgeable. This camp was what we were looking for - a professionally run tennis camp that worked on essentials - not a place to park our kid for a week.

— Kim P. - Parent

I can't even begin to tell you all the great things my son said

June 29, 2018: I can't even begin to tell you all the great things my son said. He is 17 so there is not a lot of sharing at this age and he came home excited to tell us about his roommate (the best he has had in the 5 years he has been there), the coaches, the college coaches that were helping him get a feel for college life, the competition, everything. It was great! He comes back with so much passion for the sport even after playing for hours a day that we can't get anywhere else (and we have tried). They work the kids in a way that is inspiring them to do more without making them feel like it is a job or too much work.

— Rachel L. - Parent

Loved every minute

July 03, 2018: She loved every minute of her time at camp at the U of M. She enjoyed the drills and the competition between the different teams - including the ping pong, capture the flag, and other non-tennis activities. She loved meeting campers from around the region and got a lot out of her interactions with the coaches. She played a tournament two weeks before camp and then on the weekend after camp and the difference was noticeable. She incorporated some of the skills she worked on in camp and some of the strategies that were discussed. She has played or practiced every day since returning and has worked on the new skills she learned at camp.

— Krista A. - Parent

Best camp ever

May 22, 2018: This is the best camp my daughter Sandra has ever attended!! and she has been in many camps - in Minnesota for the last 2 summers and a lot around Europe, where we moved from in 2015. They are the best on all the levels: the tennis skills our children acquire in a week are impressive; all the coaches are role models, great at interacting with kids but also motivating them, the facilities are top notch!! Sandra can't wait to go again every summer!! Congratulations to Geoff and Dana, who are the beating heart of this camp!!

— Camelia A. Parent

Increased confidence and skill

June 30, 2017: This was my daughter's Second year there. Nike tennis camp continues to be my daughter's favorite summer camp. She reconnects with friends at camp, enjoys meeting new coaches, is challenged by all players - specially since she was one of the younger ones, but most importantly she increases her confidence and skills in tennis. She is planning on returning for another 2 weeks with her friends next year.

— Margarita C. Parent

Definitely coming back next year!

July 01, 2017: It's very fun learning different techniques and meeting new people. We really appreciate the coaches and their enthusiasm for the game. They really connect with the kids and are excellent role models. No suggestions - it's great and we're definitely coming back next year again!

— Jenni R. Parent

Felt good about tennis skill

July 01, 2017: My daughter is 16 and said it was the first time a tennis coach made her feel good about her tennis skills

— Michelle S. Parent

Will be back next year!

July 3, 2017: Playing at the baseline tennis center was awesome. My daughter learned the rules of tennis and improved her game, especially serving. The coaches were great and she had a lot of fun with the other kids. She liked the variety of activities throughout the day. Skyball has now become a regular activity after a family game of tennis at our local courts. This has been the best tennis instruction experience my child has had. We'll be back next year!

— Debra B. Parent

Enjoyed the connections to the coaches

July 18, 2017: Owen really enjoyed the connections to the coaches and meeting players from all over the Midwest. He also learned some valuable tips he has used throughout the summer.

— Jennifer L. Parent

A lot of fun

July 3, 2017: My daughter loved the balance of tennis with non-tennis activities. The games and competitions made it a lot of fun.

— Laura B. Parent

already planning for next year!

July 8, 2016: My daughter enjoyed everything about the camp! We will be back - she's already planning for next year!

— Karin D. Parent

Love this camp

July 7, 2016: Very accommodating. Love this camp. Great camp bonding experiences.

— Molly S. Camper

highly recommend this camp

July 6, 2016: This was a very fun camp and I had a lot of fun in all of the activities (on-court and off) and I feel like I improved overall. I would highly recommend this camp to anyone interested in tennis.

— Dan R. Camper

Could not ask for better staff

July 2, 2016: I really enjoyed the staff! Could not ask for better!

— Matthew S. Camper

really enjoyed it

7/1/2016 - My son really enjoyed it. Feedback was helpful. He had a lot of good competition.

— Meenakshi C. Parent

energy from the instructors was great

6/30/2016 - My daughter really enjoyed camp. Even though they were long days and we had a lengthy drive, she never complained and was always ready to go. She came home tired each day but always happy. She liked how each instructor would focus on a certain skill and how she would get to work in the different types of hits. She enjoyed playing with her fellow teammates. She found that the energy from the instructors was great and very encouraging. The only complaint she had was that she moved to the regular ball too quickly. She didn't know how to control the ball and so was hesitant to take any big swings. She started in orange and moved along to regular ball and green dot ball.

— Margarita D. Parent

Should make it a Monday through Friday camp

6/30/2016 - The one improvement I would recommend is making it a Monday through Friday camp. We are limited to all-day camps, because my wife and I both work during regular business hours. Weekends are family time. So starting on Sunday cuts into family time. Also, we then have to make special arrangements for child care on Friday. Making it a Monday through Friday camp, like all of the other camps we enroll them in, would be a great improvement.

— Eric N. Parent

great experience

7/1/2015 - Had a great experience. Kids and staff are great.

— Paula W. Parent

directors and staff were great

6/27/2015 - The directors and staff were great on every level. Answer every question and spend the time to explain and accommodate my son. The only problem I had was the level of the kids in the camp, but I do understand that this is an open camp for all levels. My son enjoyed it but the lack of competition didn't help him to improve. Coaches were great on all levels.

— Nina M. Parent

great experience

6/27/2015 - Camp was a great experience. My only remark is that my daughter had to play Australian doubles the entire week because there was not an even number if kids. Perhaps the kids could have rotated partners so she could have had a chance to play with a partner and not alone every day.

— Susan C. Parent

hope to attend next year

6/26/2015 - It was a great camp. We hope he can attend next year.

— Jeffrey S. Parent

loved the camp, issues with food

6/25/2015 - Overall my daughter loved the camp. Her biggest complaint was the food that was provided. Apparently the cook staff did not have enough of the main (hot dishes) available and they had to either "run" to get their food first and if they didn't get there in time, then they had to wait for the cook to make more....this resulted in eating very fast as there is only 30 minutes allocated to meal time. My daughter had to eat the salad bar frequently so she could get a meal in time. Please provide either a better cooking staff, more food or more time to eat in the future.

— Cynthia L. Parent
SECURE YOUR SPOT – CAMPS SELL OUT!
Last year over 650 Sports Camps sold out, leaving 7,000+ campers on the waitlist. Due to high demand, early registration for our first-come-first-serve camps is strongly recommended.
Camp Dates & Prices
Programs: Jr Camp - All Skills, Tournament Training
Age Group: 9 - 18
Gender: Co-Ed
* Pricing is subject to change based on availability. Enroll today to secure current rates.
Programs: Jr Camp - All Skills, Tournament Training
Age Group: 9 - 18
Gender: Co-Ed
* Pricing is subject to change based on availability. Enroll today to secure current rates.
Programs: Jr Camp - All Skills, Tournament Training
Age Group: 9 - 18
Gender: Co-Ed
* Pricing is subject to change based on availability. Enroll today to secure current rates.