Volleyball Tip
Presented by Rob Machan, Camp Director
Nike Volleyball Camp at Sacred Heart University
Presented by Josh Davis, Camp Director
Presented by Emily Hayes, Director
Presented by Audrey Goldsberry, Camp Director
Nike Volleyball Camp at Southeastern University
How to Stay Healthy and Get Stronger During the Volleyball Offseason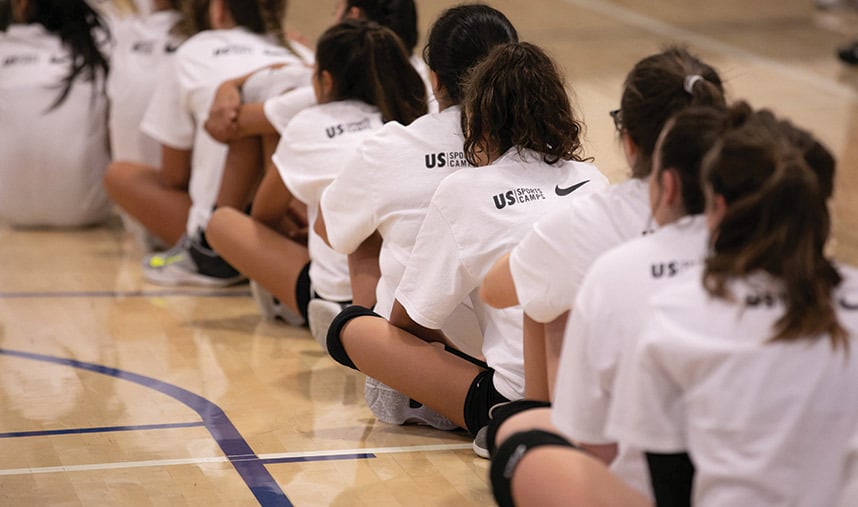 During the volleyball offseason it is important to remain at the top of your game. This is the time where you can work on certain techniques or mechanics, through individual work or volleyball camps, to make sure your serve is spinning, you are in top shape, or your hit is hard and accurate. Below is some helpful advice from Nike Volleyball Camp Directors on how to ensure you remain in top volleyball shape during the offseason.
Maintain a balance diet and hydrate.
It is very important to make sure you are still drinking plenty of water and eating a well-balanced diet. For hydrating, you should drink a half ounce to an ounce of water for every pound of body weight. Eat lean proteins such as chicken or fish and continue to consume plenty of fruits and vegetables. Healthy fats like coconut oil and avocado oil are also great sources of nutritious food. If you eat great, and continually drink water, your body will feel more energized and prepared for any volleyball training.
"Athletes need to remember that what they eat and drink has a direct effect on their performance," says Rob Machan, Head Volleyball Coach at Sacred Heart University. "Players need to keep fueling their bodies with the proper nutrition in and out of season."
"At a young age, keep eating a well-balanced diet with protein, starches, and good fats after any workout you do," states Josh Davis, Linfield College Head Volleyball Coach.
Have a training plan
It is important to make sure that you have a training plan for your offseason. This could include going to the gym, practicing reps with a friend on the court, or even cross training," as Emily Hayes, Lewis and Clark College head volleyball coach recommends.
"If possible, meet with a strength and conditioning coach to be evaluated and work on improving your personal athleticism weekly," says Rob Machan, Sacred Heart University Volleyball Coach. Doing so, will allow you to have a training plan geared to what you need to work on in the offseason.
Keep practicing fundamentals
Practicing your fundamentals during the offseason is very important for keeping your mechanics in top shape. Just practicing hitting, setting, passing, or serving a couple of times every day could really help you maintain muscle memory.
"I am a big advocate on quality over quantity. It can be common to want to take a ton of reps, but I believe the key to staying healthy and seeing improvement is to make every rep is a quality rep", says Audrey Goldsberry, Southeastern University Head Volleyball Coach "Practicing and having visual and verbal feedback will help you correct the small things that tend to be overlooked."
"Maintain reps. Maybe it's just because I was a setter, but I believe that you need to set a ball almost every day, or at least go through the motion, because your hands lose that soft touch so quickly!" states Emily Hayes, Lewis and Clark College head volleyball coach.
Read more helpful volleyball tips and find a Nike Volleyball Camp near you.
Share This