Nike Track & Field Camp at Delaware State University
Nike Track & Field Camp at Delaware State University
9

Reviews
Average Rating
Stars
Get better this summer!

Want to be the best? You must learn from the best! At the Nike Track & Field Camp at Delaware State University, Dover, we understand the importance of proper training and educating young runners.
The purpose of this camp is to provide middle & high school track & field athletes with event-specific skills and drills that will prepare campers for any T&F program. We cover the basic principles of training. Our goal is to help athletes build a firm foundation in the technical aspects of their events for their upcoming track season.

All campers are required to complete the Delaware State University Waiver/Release Agreement, which will be provided in Camp Information Packet.

Highlights Include
Overnight and Commuter (Day & Extended Day) Options
Track & Field training program
Open to athletes ages 12-18
Individual and group instruction.
Nike Running Camps T-shirt
Specific training for all skill levels. All events offered, including Pole Vault.
Camp Coaches
Camp Director

Gwen Harris

The DSU graduate returned to her alma mater after serving 11 years as head women's track and field coach at the University of Pennsylvania. Harris was just the second coach in program history of the Quakers' women's track and field program.

View Gwen's Bio

⟩
Camp Details
SECURE YOUR SPOT!
Please Note: This camp SOLD OUT in 2023. This Track & Field Camp is designed as a comprehensive training camp program which a focus on track & field fundamentals including drills, pacing, strength endurance, speed and core strengthening as well as the mental edge training necessary for top athletic performances.
We work with middle & high school T&F athletes of all abilities, to help you get better and have fun!
2024 OVERVIEW
Dates: June 23-27, 2024
Age Group: 12-18
Gender: Co-ed
Camp Type: Overnight, Day
Meals: All meals are provided at the on-campus dining facility. Day campers do NOT receive breakfast or dinner. Wednesday, June 28 is Pizza Night, to pre-fuel for the track meet on Thursday!
CAMP SCHEDULE
Check-in: (Overnight only) Sunday, 1:00 PM-2:30 PM
Check-out: (All campers) Thursday, 12:00 PM
Day Camper Schedule: Monday-Wednesday, 8:30 AM-4:00 PM; Thursday, 8:30 AM-12:00 PM
Overnight campers should be prepared for activity following check-in on Sunday. The first session will start at 3:00pm sharp.
PREPARE FOR CAMP: COMPLETE YOUR PRE-CAMP CHECKLIST
To view your customer account, complete your mandatory forms, pay balance dues, and review important camp information, visit Pre-Camp Checklist.
All necessary camp information is on this page. If there are any imperative changes prior to camp start, registered campers will be notified via email and this webpage will be updated!
HOUSING
Dorm: Tubman-Laws Hall Tubman-Laws Hall (desu.edu)
Campers Per Room: 2
Roommates: Rooms are assigned by age & roommate requests. Roommate requests must be received no later than 14 days before the start of camp. If you don't have a roommate request, you will be placed in a room with someone near your age. It will be a great opportunity to meet someone new!
Linens: Not provided
Air Conditioning: Yes
Key Deposit: $70 check made out to US Sports Camps
Staff members reside in campers' quarters and participate in all activities.
WHAT'S INCLUDED IN THE FEES:
Overnight Campers: Features several instructional sessions per day, three hot meals, and lodging in residence halls. An evening recreation program is also included.
Day Campers: This option offers the same features as the resident camp minus lodging, breakfast, and dinner (Day Campers should eat breakfast before daily check-in).
INSTRUCTION, EQUIPMENT & FACILITY
Ratio: 1:10
Grouped by: age, ability, and experience
Equipment needed: Campers should bring at least two pairs of broken in running shoes. Racing flats/spikes are optional. Please be sure to properly mark your equipment, so that it can be easily identified.
Facility: Delaware State University Alumni Stadium
CHECKLIST OF THINGS TO BRING:
Below is a suggested list of clothes, equipment, and personal items. US Sports Camps is NOT responsible for lost or stolen articles or money.
ALL CAMPERS:
Extra Athletic clothing
1-2 pairs of broken-in running shoes/ event spikes
Non-running shoes
Water bottle
Sunblock
Small gym bag/backpack
Extra spending money (suggested $40)
OVERNIGHT CAMPERS ONLY:
Athletic clothing mentioned above
Comfortable non-running clothing
Underwear and socks
Pajamas/sleepwear
Flip flops
Toiletries
Personal items & medications
Washcloth and bath towel
Alarm clock
Swimsuit and towel
Flip-flops
Pen and paper for notes during guest speakers
Cell phone (if you have one)
Fan (optional)
Pillow, pillowcase, bed sheets, comforter or sleeping bag (linens are NOT provided)
Laundry detergent
TRANSPORTATION
Transportation is not provided. Campers are responsible for getting to and from camp on their own. There is no supervision before or after camp hours so please make arrangements to pick up your child on time.
MEDICAL PROTOCOL
Most camps have an athletic trainer on-site to help with illness or injury. In case of an emergency, campers will be transported to the nearest hospital.
COMPANY POLICIES
For information regarding our cancellation policy and all other company policies, please visit USSC Policies.
NIKE TRACK & FIELD CAMP FAQ
For general questions about our Track & Field camps please see our FAQ page.
Show Less

See More

Camp Details
Sample Daily Schedule
7:00am

Breakfast (Overnight Campers)

8:30am

Arrival & Check-In (Day & Extended Day Campers)

8:45am

Camp Announcements

9:00am

Camp warm-ups and drills

9:30am

Stretch and water break

9:45am

Event Group Training

11:00am

Water break

11:15am

Core / Stability

12:00pm

Lunch

1:15pm

Breakout session

2:30pm

Conditioning / Cardio

3:30pm

Pool / Active Recovery / Rest

4:00pm

Check Out + Departure (Day Campers Only)

5:00pm

Free Time / Dinner

7:00pm

Camp Activities

9:00pm

Check Out + Departure (Extended Day Campers Only)

9:30pm

Bed Check (Overnight Campers)

10:00pm

Lights Out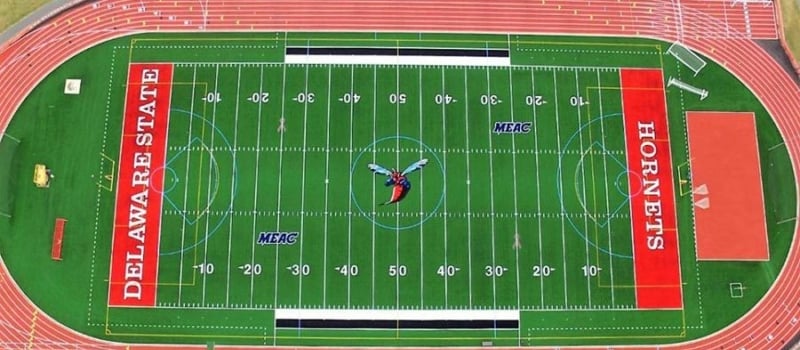 Alumni Stadium is a 7,193-seat multi-purpose stadium in Dover, Delaware. It is home to the Delaware State University Hornets football team and outdoor men's and women's track and field teams. The facility opened in 1957.
Camp Questions & Answers
Are the campers supervised throughout the camp?
Yes, campers are supervised by the coaches and staff. Staff members reside in the same dorms as the campers and provide supervision during instruction, dining times, evening activities, and in the dorm. All staff members complete criminal and sex offender background checks before working the camp
Does this camp have medical personnel on staff?
We have a certified athletic training on-site and a doctor on-call at all times in case of a training injury or medical ailment/emergency.

How many campers are placed in a dorm and do you accommodate roommate requests?
Most rooms are doubles though we do have some singles and triples. When you register for the camp, you have an option to submit a roommate request. If you would like to add a roommate request after registering for a camp, please feel free to give us a call or send us an email. We accommodate all roommate requests, made before 2 weeks before the start of camp, if placed in a double room dorm. If we must place the camper in a single, we will room them side by side. Campers who do not submit a roommate request will be placed in a dorm with other runners, similar age and same gender.

Show Less

See More

Questions & Answers
Do the dorms have air-conditioning?
Dorms are not air-conditioned. Please bring a fan.
Can you accommodate special dietary needs?
Campers dine in the school cafeteria which offers a variety of different meal options that are sure to accommodate most campers' dietary needs. In the case that a camper possesses extreme dietary restrictions, please reach out to school's Dining Services to make the proper accommodations.
Can I come to camp alone or do I have to be a member of a team?
We welcome individual campers and teams. If you come to camp by yourself, we place you in a dorm room with another single camper, similar in age. It's a great place to meet new friends who share your enthusiasm for the sport and to have FUN!
Does the Health & Release Form need to be signed by a doctor?
Our Health & Release Form does not require a doctor's signature. This online form is required to be filled out accurately, signed by the parent (guardian), and submitted online before the first day of camp.
My child does multiple events; will there be opportunities for her to train on multiple skills during camp?
Yes campers can train with multiple event groups
My child is new to the sport, do you accept athletes who are beginners in the sport?
We bring the best out of campers of all skill levels. All we require is a positive attitude.
Camp Reviews
Overall Average Rating
Stars
July 1, 2022: My daughter enjoyed the balance of training with social/recreational activities. She also loved the coach

— Anonymous

July 1, 2023: Seeing all the parents attend the track meet on the last day to see the development of there child.

— Anonymous

June 30, 2023: My daughter really loved the dorm and the food was good. Track meet on the last day was fun.

— Anonymous
Show Less

See more

Reviews
July 6, 2023: The welcoming staff and the amazing organized check in and check out process.

— Anonymous

July 1, 2022: Watching my daughter PR in the triple jump at the end of camp mini meet.

— Anonymous

July 6, 2023: Meeting new people learning different things to help with my skill

— Anonymous

June 30, 2023: [Highlights included] seeing the track meet and to hear my child say she will return.

— Anonymous

July 5, 2023: Learning the importance of stuff that I overlooked previously.

— Anonymous

He loves this camp!​

[The highlights were] running with, playing games with, and getting advice from camp counselors, who were amazing people and coaches.

— Parent of Attendee from This Camp in 2022
SECURE YOUR SPOT – CAMPS SELL OUT!
Last year over 650 Sports Camps sold out, leaving 7,000+ campers on the waitlist. Due to high demand, early registration for our first-come-first-serve camps is strongly recommended.
Camp Dates & Prices
This program has concluded for the season.
Please Join our Priority List to be notified when this program is available for registration.