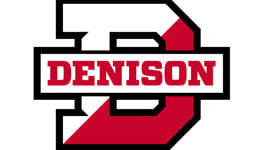 Nike Volleyball Camp at Denison University
Nike Volleyball Camp at Denison University
18

Reviews
Average Rating
Stars
Improve your game and have serious fun
at Nike Volleyball Camps
This college volleyball camp in Granville, Ohio is designed to give players the opportunity to improve their skills and take their game to the next level! Campers will train under Head Volleyball Coach at Denison University, Carter Cassell, for high-level coaching and a great camp experience.
Our summer volleyball camp offers All Skills, Position Specific, and Advanced programs that are designed to have campers leave feeling prepared for the upcoming 2023 volleyball season. Girls, ages 10-18, will receive top-notch instruction with intensive drills, game situations, and positional work.

Highlights Include
All Skills, Advanced and Position Specific programs
Instruction from collegiate coaching staff and players
Morning and afternoon training sessions
1:10 staff to camper ratio
Nike Volleyball Camps T-shirt & prizes! (multi-day camps only)
Camp Coaches
Co-Director

Carter Cassell

Carter Cassell is the Women's Head Volleyball Coach at Denison University.

View Carter's Bio

⟩

Assistant Coach

Jasmine Brown

Jasmine Brown is the Assistant Volleyball Coach at Denison University.

View Jasmine's Bio

⟩
Camp Details
SECURE YOUR SPOT!
You can expect high demand on these first-come-first-serve camper spots, so please be sure to register early.

2023 OVERVIEW
Age Group: 10-18
Gender: Girls
Programs: All Skills , Serving/Passing, Attacking, Setting, and Advanced
Camp Type: Day
Lunch: Lunch is not provided. Please bring a sack lunch each day.
2023 CAMP DATES
June 26-28: All Skills (Ages 10-16)
July 17-19: All Skills Camp (Ages 10-16)
July 20: Serving/Passing Clinic (Ages 10-18)

July 21: Attacking Clinic (Ages 10-18)
July 22: Setting Clinic (Ages 10-18)
July 24-26: Advanced Camp (Ages 14-18)
Attend multiple sessions! Campers are encouraged to attend multiple sessions! Each program delivers something unique to help players excel in all areas of the game.
CAMP OPTIONS
Please note: Camp schedules and details may be subject to change. Upon arrival, all participants are evaluated by the staff and placed into groups based on age and ability level.

ALL SKILLS CAMP

Session I: June 26-28
Session II: July 17-19
Age Group: 10-16
Daily Hours: Monday-Wednesday, 9:00am-3:00pm
Check-in: 8:30am-9:00am on Monday
Lunch: Lunch is not provided. Please bring a sack lunch each day.
Program: The All Skills program is designed to improve the fundamental skills needed for volleyball; passing, setting, serving, attacking, blocking, and individual defense. Campers can expect instruction on offensive and defensive skills through team play.
POSITION SPECIALTY CLINICS
Serving/Passing Clinic: July 20 (Thursday)
Attacking Clinic: July 21 (Friday)
Setting Clinic: July 22 (Saturday)
Age Group: 10-18
Daily Hours: 9:00am-3:00pm
Check-in: 8:30am-9:00am
Lunch: Lunch is not provided. Please bring a sack lunch.
Program: The Position Specialty program is geared towards players wanting to hone their skills in a specific position. Campers can choose to attend the Serving/Passing Clinic, Attacking Clinic, and/or Setting Clinic to receive specialized training on the latest techniques.
ADVANCED CAMP
Dates: July 24-26
Age Group: 14-18
Daily Hours: Monday-Wednesday, 9:00am-3:00pm
Check-in: 8:30am-9:00am on Monday
Check-out: 3:00pm on Wednesday
Lunch: Lunch is not provided. Please bring a sack lunch each day.
Program: The Advanced program is geared toward high school and club-level players (ages 14-18/grades 9-12) with 2-3 years of competitive experience. This intense, challenging program stresses position play, advanced team techniques, physical conditioning, and a higher level of competitive play. Campers will receive elite instruction that will elevate and refine their technique and take their skills to the next level.
WHAT'S INCLUDED IN THE FEE?
Instruction: Morning and afternoon training sessions
Lunch: Lunch is not provided. Please bring a sack lunch each day.
Supervision: Campers are supervised by staff during camp hours.
Camp T-shirt & Prizes: Campers at multi-day camps will receive a Nike Volleyball Camps t-shirt and prizes. *1-day clinics excluded.
Volleyballs: Volleyballs are provided for instruction during camp. Campers may purchase a Camp Volleyball at the time of registration, which will be given out on the last day of camp. Fun tip: Have your camp friends sign your ball before you leave!
INSTRUCTION, EQUIPMENT & FACILITY
Ratio: 1:10 staff-to-camper ratio
Groupings: Campers are grouped by ability, age, and experience.
Equipment Needed: Players should supply their own kneepads and have at least one pair of well-broken-in volleyball (court) shoes. Campers do not need to bring their own ball.
Facility: Mitchell Recreation and Athletic Center
Medical Protocol: Most camps have an athletic trainer on-site to help with illness or injury. In case of an emergency, campers will be transported to the nearest hospital.
CAMP DIRECTOR'S NOTE TO CAMPERS
"My coaching philosophy and the foundation of our program is based on the holistic growth and complete development of our student-athletes. I enjoy directing this camp because it allows us an opportunity to grow the game and work with those who are passionate about the sport of volleyball and have the desire to improve." - Carter Cassell
PREPARE FOR CAMP: COMPLETE YOUR PRE-CAMP CHECKLIST

To view your customer account, complete your mandatory forms, pay balance dues, and review important camp information, visit Pre-Camp Checklist. All necessary camp information is on this page. If there are any imperative changes prior to camp start, registered campers will be notified via email and this webpage will be updated!

CHECKLIST OF THINGS TO BRING
Below is a suggested list of clothes, equipment, and personal items. US Sports Camps is NOT responsible for lost or stolen articles or money.
Athletic, on-court clothing (t-shirts, shorts)
Indoor volleyball shoes, well broken-in
Outdoor athletic shoes
Knee pads
Water bottle*
Sunscreen**
Small gym bag/backpack
Packed lunch and snacks
Spending money
COVID PPE (as required by state/local guidelines)
Signed Health & Release forms and waivers (forms completed online do not need to be printed and turned in at camp)
TRANSPORTATION
Transportation is not provided. Campers are responsible for getting to and from camp on their own. There is no supervision before or after camp hours so please make arrangements to pick up your child on time.
COMPANY POLICIES
For information regarding our cancellation policy and all other company policies, please visit USSC Policies.
NIKE VOLLEYBALL CAMP FAQ
For general questions about our volleyball camps please see our FAQ page.
TEAM/GROUP DISCOUNTS
If you have a group of eight or more campers registering for the same camp, each camper is eligible for a discount. Please have someone contact the US Sports Camps office at 1-800-645-3226 with the names of each camper in the group and we will create a unique discount code for your group. Campers may then register individually through the website at their convenience and apply the offer code during check out. *Discount amount varies by program. Please call for details.

Camps are open to any and all entrants, limited only by number, age, grade level and/or gender.
SCHOLARSHIPS
We cannot offer scholarships due to NCAA regulations. Our affiliation with NCAA coaches and schools puts us in a position where any scholarship money can be seen as an inducement to a future collegiate athlete. This puts our coaches and our host universities in jeopardy of damaging their status with the NCAA and incurring penalties at the hands of their organizing body.
Show Less

See More

Camp Details
.
SAMPLE SCHEDULE
9:00am

Campers arrive

9:00am-12:00pm

Training Session I

12:00pm-1:00pm

Lunch

1:00-3:00pm

Training Session II

3:00pm

Campers depart
Denison University's campus is located in Granville, OH about 30 miles east of Columbus.
Camp Questions & Answers
Can I sign up for more than 1 session/program?
Absolutely! Campers are encouraged to attend multiple sessions. Each program delivers something unique to help players excel in all areas of the game. Many campers will attend more than one session to further refine their skills, compete against new players, or choose a session with a different program focus.
Show Less

See More

Questions & Answers
Overall Average Rating
Stars
Can't wait for next year

July 18, 2021: "Delaney loved camp and wants to do it again next year. Please inform us when we can sign up!"

— Mandy F., Parent

Thank you for a fabulous camp experience

July 22, 2021: "My daughter loved this camp. She attended a different camp this year also, and she would say, "It was Okay," each day when she got in the car. When I picked her up from your camp, she was bubbly and telling me all about the things they had done and how much fun she had. Thank you for a fabulous camp experience."

— Tammie T., Parent

She thought the coaches were great!

July 22, 2021: "Bella appreciated how each day built on the next and that she was able to work on and improve her serve and serve receive as well as her timing. She thought the coaches were great and she improved."

— Alex F., Parent
Show Less

See more

Reviews
Great job!

July 24, 2019: She liked how they moved her with girls on skills and not age. She really liked the camp everyone was nice and she made great friends.

— Melissa R. Parent

She worked hard

July 22, 2019: She learned a lot of great footwork and was able to get many reps in a high-level environment.

— Dawn Z. Parent

Positive camp atmosphere

July 20, 2019: She enjoyed how the coaches worked with her when she needed guidance on different aspects of the game. She enjoyed the atmosphere and the other girls that were participating.

— Grace E. Parent

She improved a lot

July 19, 2019: The camp pushed her to limits she didn't think she could reach. It taught her new skills and it helped her overall performance on the court.

— Amanda J. Parent

Thank you!

July 18, 2019: She enjoyed playing with friends and learning to block and attack. The coaching staff was really nice and helpful to her.

— Andrea C. Parent

Great camp

July 18, 2019: The coaching staff was personable and engaged, while the players at the camp were positive and fun!

— Renee A. Parent

Great coaching

July 23, 2018: She loved how it was very much a skill training camp and not a lot of playing games on the court. She loved it when they corrected her if she was not doing the correct movements, and the encouragements that the coaches would say. She also had a great time making new friends from all over.

— Trish T. Parent

Loved the dorms!

July 18, 2018: The coaches gave great advise and my daughter improved her skills. Staying in the dorm with all the girls was fun and helps the girls learn to get along with different people.

— Tamara P. parent

encouraging staff!

July 22, 2017: Great location and friendly/encouraging staff! Was excited to learn new drills and games.

— Emilee B. Camper

Great coaching!

July 21, 2017: Highlights included fun friends, great coaching, and new learned skills!

— Annie H. Camper

Increased confidence in the sport!

July 19, 2017: Ella won the red award which she was soooooooo happy about it gave her confidence that she was a good player, thank you so much for that! She did mention that swimming in the pool would have been nice. Thanks for all you have done for her this past few days!!

— Eve H. Parent

Loved everything!

July 19, 2017: My daughter loved everything about this camp. She said the staff was great and she learned a lot from attending this camp!

— Wendy S. Parent

Helped improve her skills!

July 19, 2017: This was her second year. It allows her to be independent. She made some new friends (girls she's played against in club ball). She felt she improved her hitting (she's an OH) and let her explore setting.

— Tracy U. Parent

Learned new skills and met new people

July 17, 2016: As a first year camper I really enjoyed meeting new people, staying in the dorms, and learning new skills. Would definitely go back!

— Sandy P. Camper

Improved my skills

July 20, 2016: I would really recommend this camp to anyone who wants to improve on their volleyball skills. I really liked the facilities and the staff, and I would totally do it again.

— Emma H. Camper
SECURE YOUR SPOT – CAMPS SELL OUT!
Last year over 650 Sports Camps sold out, leaving 7,000+ campers on the waitlist. Due to high demand, early registration for our first-come-first-serve camps is strongly recommended.