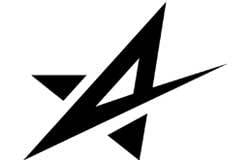 NBC Basketball Overnight Camp at Colorado Christian University
NBC Basketball Overnight Camp at Colorado Christian University
1

Review
Average Rating
Stars
Join NBC Camps this summer at Colorado Christian University for top-notch basketball training. NBC Camps are full of energy, intensity and encouragement to help you reach your goals in basketball and life.
Located just outside of Denver, Colorado Christian University is the perfect place to elevate your game with NBC Camps. Work with coaches who are dedicated toward helping you develop your ball handling skills, improve your basketball IQ, and correct common shooting errors. NBC's basketball training curriculum also includes a focus on hard work, leadership, self-discipline, and self-confidence.

Highlights Include
Total basketball skill development
6 to 10 hours of basketball training per day
Personal assessment of athletic and basketball skills
An atmosphere of intensity, great fun, respect, Christian values and a commitment to hard work and skill mastery
Amazing basketball events, games and tournaments, awards, personal evaluations and camp workbook
Camp Coaches
Coach

NBC Basketball Coaching Staff

NBC Camps coaches are known for their hard work, great attitude, and commitment to helping you reach your potential on and off the court.

View NBC Basketball Coaching Staff's Bio

⟩
Camp Details
2024 NBC COLORADO BASKETBALL CAMPS
Boys Complete Player Basketball Camp
Dates: June 16-19, 2024
Age Group: Boys 13-17 years old

Girls Complete Player Basketball Camp
Dates: June 30 - July 3, 2024
Age Group: Girls 12-17 years old

Complete Skills Junior Basketball DAY Camp
Dates: June 11-13, 2024
Age Group: Boys and Girls 9-12 years old
Check-in Time: 12:00pm
Closing Program: 11:00am-12:00pm
Day Camps
Complete Skills Junior Basketball Day Camp
Dates: June 11-13, 2024 | Age Group: Boys and Girls ages 9-12
*registration for the day camp will be on the day camp page
PREPARE FOR CAMP: COMPLETE YOUR PRE-CAMP CHECKLIST
To view your customer account, complete your mandatory forms, pay balance dues, and review important camp information, visit Pre-Camp Checklist.
All necessary camp information is on this page. If there are any imperative changes prior to camp start, registered campers will be notified via email and this webpage will be updated.
DAILY TIMES & CAMP INFORMATION
OVERNIGHT CAMP SCHEDULE
First day check-in begins at 12:00pm
Last-day check-out at at 12:00pm
EXTENDED DAY CAMP SCHEDULE
First day: 12:00pm-9:00 pm. Dinner provided.
Middle days: 9:00 am-9:00 pm. Lunch and dinner are provided.
Last day: 9:00 am-12pm.
Extended-day campers DO NOT sleep on campus or eat breakfast on campus.
CAMP DESCRIPTIONS
Complete Player Camps focus on the crucial keys to becoming a great player. We break our teaching into four focus areas: Individual offense, defense, shooting, and team skills. Campers are separated into teaching groups and teams based on their age and ability. Complete Player Camps are highly recommended and emphasize extensive skill development, intensity, enthusiasm, leadership, and team.

ROOMMATES & HOUSING
Roommates for this site need to be requested at least two weeks before camp begins. If you have no preference, we will match you with a camper of the same gender and similar age. Contact [email protected] if you need to add a roommate request.
Housing - The information below is subject to change each year.
Air conditioning: Yes, but welcome to bring a fan.
Lost Key Fee: Yes
Campers per room: 2 per room
Bathrooms: Campers share a common bathroom
Supervision: boys and girls are separated into different dorms or different floors with coaches of the same gender staying in the dorms for supervision.
INSTRUCTION, EQUIPMENT & OTHER
Ratio: approximately a 1:10 staff to camper ratio
Groupings: Campers are grouped by age, skill, and experience.
Equipment Needed: Players should supply their own athletic equipment and have at least one pair of well broken-in basketball (court) shoes. Campers do need to bring their own ball (clearly labeled with their name). Visit our Camp Packing List for a full list of what to bring. NBC Camps is NOT responsible for lost or stolen items.
Medical Protocol: Most camps have an athletic trainer on-site to help with illness or injury. In case of an emergency, campers will be transported to the nearest hospital.
Allergies/Dietary Restrictions/Medical Concerns: please include this on your registration so campus staff and camp staff can be prepared for your camper's arrival and meals.

TRANSPORTATION
Transportation is not provided. Campers are responsible for getting to and from camp on their own. There is no supervision before or after camp hours so please make arrangements to pick up your child on time.
CANCELLATION, REFUND & PAYMENT POLICIES
Review the NBC policies here.
MORE GENERAL OVERNIGHT CAMP INFORMATION
Click "See More Camp Details"
NBC BASKETBALL GEAR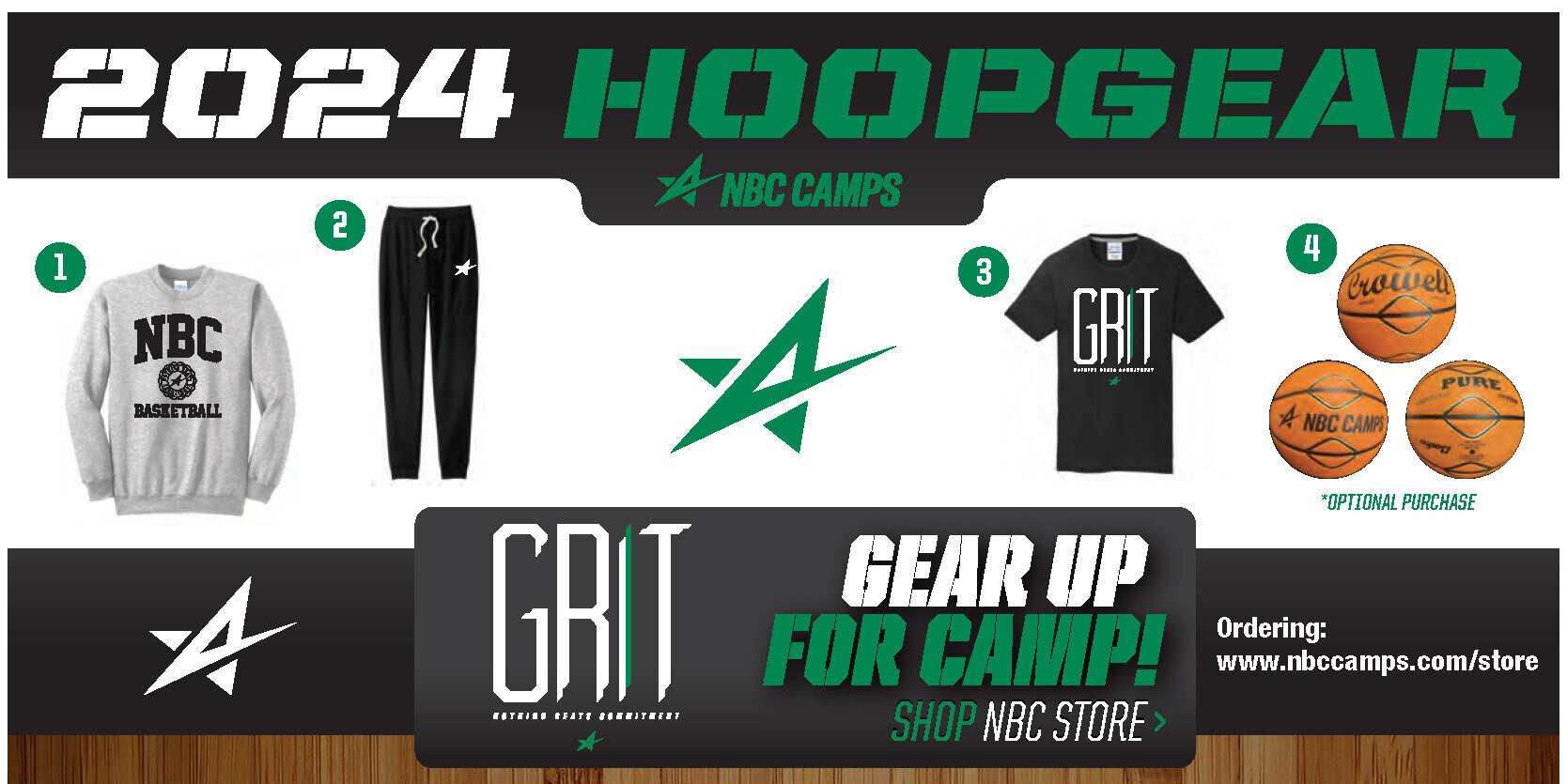 Get NBC gear at a discounted cost and pick it up at camp when you arrive. Essential Fleece Crewneck Sweatshirt, "GRIT" performance blend shirt, and cotton/poly fleece joggers - $125. Hoopgear price includes shipping, handling and tax. Add the custom NBC Baden Pure Shooting Crowell basketball or purchase separately - $45. Add gear during your online registration or call 800-406-3926 to add gear to your existing registration. To find out more about NBC Hoopgear visit the Hoopgear Page.


Show Less

See More

Camp Details
Sample Daily Schedule
7:00 am

Wake Up

7:30 am

Breakfast

8:00 am

Ball Handling

9:00 am

AM Session: full court transition, post and guard stations, shooting stations, 5 man motion offense, inbound plays/ games and tournaments

12:00 pm

Lunch

1:30 pm

PM Session: offensive attack moves, defensive positioning, court awareness/ 3v3 and 5v5 games

5:00 pm

Dinner

6:30 pm

Evening Program and Leadership Groups

8:00 pm

Night Basketball Event

10:00 pm

Lights Out
ABOUT THE FACILITY
Colorado University is located at the edge of the Rocky Mountains in Lakewood, a suburb ten minutes west of Denver. Colorado Christian is a NCAA Division II school competing in the Rocky Mountain Athletic Conference.
You can request a roommate before camp begins. When you sign up for camp, you can add your request to your online registration or call the NBC Central Office to add the request. If you have no preference, we will match you with someone of the same gender and similar age. Three room apartment style dorms-sleep two to a room, with 2 shared bathrooms for 6 people. There is air-conditioning, but you are welcome to also bring a fan.
The main gym will be used for games and teaching stations as well as the Intensity station. Some off-site gyms may be used for additional training sessions.The cafeteria facility provides an all-you-can-eat salad bar with fresh fruit, hot entrees with beverage, sandwich and cereal stations.
Camp Questions & Answers
IS THERE AN NBC CAMP STORE?
Some weeks of camp will offer a camp store, others will not. We encourage purchasing the NBC Hoopgear at www.nbccamps.com/store when you register to get the latest NBC gear! During all weeks of camp, there are vending machines around campus that offer snacks and beverages for purchase.
Do campers go offsite at NBC Basketball Camps at Colorado Christian University?
For larger camps at CCU, a group of athletes will be bused offsite using a professional busing company to a gym 10 minutes from the CCU campus.
Do you have more FAQ questions that give me more information about NBC Basketball Camps?
Yes we do! To answer even more questions about NBC Colorado Christian Basketball Camps such as what to bring and registration/cancellation policies, please visit general camp FAQs at https://www.nbccamps.com/faq.
Show Less

See More

Questions & Answers
Camp Reviews
Overall Average Rating
Stars
SECURE YOUR SPOT – CAMPS SELL OUT!
Last year over 650 Sports Camps sold out, leaving 7,000+ campers on the waitlist. Due to high demand, early registration for our first-come-first-serve camps is strongly recommended.