Nike Smoky Mountain Running Camp
Nike Smoky Mountain Running Camp
16

Reviews
Average Rating
Stars
UNITE | INSPIRE | RUN
2024 DATES ANNOUNCED!
Unmatched summer training and top quality coaching define the NIKE Smoky Mountain Running Camp. Immerse yourself in running, meeting new friends and fun evening activities, for a week or two or three in the beautiful mountains of Asheville, North Carolina!

Highlights Include
Top notch high school and college coaching.
Guest Speakers
Comprehensive running camp experience: featuring daily runs in the National Forest, informative breakout sessions and talks given by nationally recognized guest speakers.
Superior facilities: beautiful campus surroundings, state-of-the-art facilities and Wellness Center.
Middle school running program with specific youth curriculum. The High School Program offers a different curriculum from the Middle School Program.
Round trip bus transportation is available from select locations.
Camp Details
SECURE YOUR SPOT!
The NIKE Smoky Mountain Running Camp puts an emphasis on teaching runners the wisdom of the hard/easy training philosophy developed by the late, great U of Oregon Coach and Nike Co-Founder Bill Bowerman, allowing each group to train at their individualized paces based on their current fitness level, over-all ability, and general goals.
The instruction is serious, the training is right for this time of the summer, and there will be opportunities to make new friends.

You can expect a high demand on these first-come-first-serve camper spots.
2024 OVERVIEW
Dates:

June 30-July 5, 2024 (Middle School Session Offered)
July 7-12, 2024
July 14-19, 2024

Age Group: 13-17 (High School); 11-13 (Middle School Session ONLY)

Gender: Co-ed
Camp Type: Overnight
Check-in: Sunday, 1:00 PM-3:00 PM
Check-out: Friday, 11:30 AM
Check-in/Check-out Location: Highsmith Student Union
Meals: All meals are provided at the on-campus dining facility.
All Campers should arrive at camp, prepared to run on Sunday, the 1st day of camp.
We have modified our high school program and created a separate curriculum and activity schedule that will be offered concurrently with the high school schedule. We feel extremely confident that this will provide a satisfying experience for these younger runners.
Pre-Existing Conditions:
The NIKE Smoky Mountain Running Camp offers an extremely challenging athletic training program. Running on wild forest trails offers pitfalls, challenges and wild life.
Please DO NOT come to camp if you have any pre-existing injuries, are not completely healthy and ready to run a minimum of 20-25 miles during camp.
We discourage campers with bee sting allergies from attending our program. If you choose to attend, you must carry an epinephrine pen at all times and understand that on some of our trails, if anything goes wrong, we cannot get you to medical help within the half hour. Please study the waiver carefully.
PREPARE FOR CAMP: COMPLETE YOUR PRE-CAMP CHECKLIST
To view your customer account, complete your mandatory forms, pay balance dues, and review important camp information, visit Pre-Camp Checklist.
All necessary camp information is on this page. If there are any imperative changes prior to camp start, registered campers will be notified via email and this webpage will be updated!
HOUSING
Dorm: Assigned at check-in
Campers Per Room: 2
Roommates: Rooms are assigned by age & roommate requests. Roommate requests must be received no later than 14 days before the start of camp. If you don't have a roommate request, you will be placed in a room with someone near your age. It will be a great opportunity to meet someone new!
Bathrooms: Shared within Suites
Linens: Not provided
Air Conditioning: Yes
Key Deposit: Please bring 2 checks to camp, payable to USSC. One for $100 (key card) and the second for $25 (meal card). Checks will not be cashed unless the camper loses the card. At the end of camp, the checks will be returned upon the return of each card.
Staff members reside in campers' quarters and participate in all activities.
WHAT'S INCLUDED IN THE FEES:
Overnight Campers: Features several instructional sessions per day, three hot meals, and lodging in residence halls. An evening recreation program is also included.
Stay-Over Session Option:
If you are attending more than one week of camp, the cost for the weekend stay‐over is $175 for housing and meals. You cannot stay through the weekend prior to the start of your first camp session and following the end of your last camp session.
Extra Activities:
Nightly skits, games, talent show, scavenger hunt, volleyball, pool, plus Thursday dance party!
INSTRUCTION, EQUIPMENT & FACILITY
Ratio: 1:10 staff to camper ratio
Grouped by: age and ability
Evaluation: by coaching staff
Equipment: Campers should bring at least two pairs of broken in running shoes. Spikes/racing flats are optional. Please be sure to properly mark your equipment, so that it can be easily identified.
Facility: UNC Asheville Track & Field facility, Smoky Mountains National Park, local roads/trails
CHECKLIST OF THINGS TO BRING:
Below is a suggested list of clothes, equipment and personal items. US Sports Camps is NOT responsible for lost or stolen articles or money.
ALL CAMPERS:
Athletic clothing
1-2 pairs of broken in running shoes/ event spikes
Non-running shoes
Water bottle
Sunblock
Comfortable non-running clothing
Underwear and socks
Pajamas/sleepwear
Toiletries
Personal items & medications
Washcloth and bath towel
Alarm clock
Swimsuit and towel
Flip-flops
Pen and paper for notes during guest speakers
Cell phone (if you have one)
Fan (optional)
Pillow, pillowcase, bed sheets, comforter or sleeping bag (linens are NOT provided)
Extra spending money (suggested $40)
Laundry detergent
TRANSPORTATION
Transportation is not provided. Campers are responsible for getting to and from camp on their own. There is no supervision before or after camp hours so please make arrangements to pick up your child on time.
Airport Shuttle:

Asheville North Carolina Airport (30 minutes from campus).
Preferred Flight Arrival (Sunday): 10:00am – 1:00pm
Preferred Flight Departure (Friday): 2:00pm – 4:00pm
Shuttle Bus service from Asheville Airport is offered at $50 (one-way or round-trip) and is operated by UNC Asheville.
SMRC staff will meet campers upon arrival at Asheville Airport, after exiting from Baggage Claim, and travel with campers to UNC Asheville; campers will be accompanied from UNC Asheville to Asheville Airport upon departure to ensure a safe check-in.
Please provide all flight information (Airline, Flight #, departure city), as well as mobile phone number of camper when you register for the Airport Shuttle Bus.
Atlanta Charter Bus Information:

Sign up early, don't miss the bus!
Buses are offered ($125 One-Way or Roundtrip) from select location in the Greater Atlanta Metropolitan Area.
Campers taking bus receive lunch prior to departure from UNC Asheville to Atlanta.
SMRC staff will meet campers at bus check-in, and will accompany campers to UNC Asheville and on return to Greater Atlanta Metropolitan Area.
Bus schedule and availability will be solely based on demand.

For more details and to make reservations, please sign-up during registration, email us at ru[email protected], or call US Sports Camps (800-645-3226).

MEDICAL PROTOCOL

Most camps have an athletic trainer on-site to help with illness or injury. In case of an emergency, campers will be transported to the nearest hospital.
COMPANY POLICIES
For information regarding our cancellation policy and all other company policies, please visit USSC Policies.
NIKE CROSS COUNTRY CAMP FAQ
For general questions about our Cross Country camps please see our FAQ page.
MORE INFO
Follow us on Instagram! @nikesmrc
Show Less

See More

Camp Details
Sample Daily Schedule
7:00am

Breakfast

8:30am

Guest speaker in auditorium

9:45am

Group run in National Forest

11:45am

Lunch in campus cafeteria

12:30pm

Free time

1:00pm

Trainer available

2:00pm

Breakout sessions of varying topics

4:00pm

Learn-by-doing at campus track in groups

5:00pm

Dinner in campus cafeteria

6:00pm

Free time

6:15pm

Trainer available

7:00pm

Recreation Activity

10:00pm

Curfew

10:30pm

Lights out!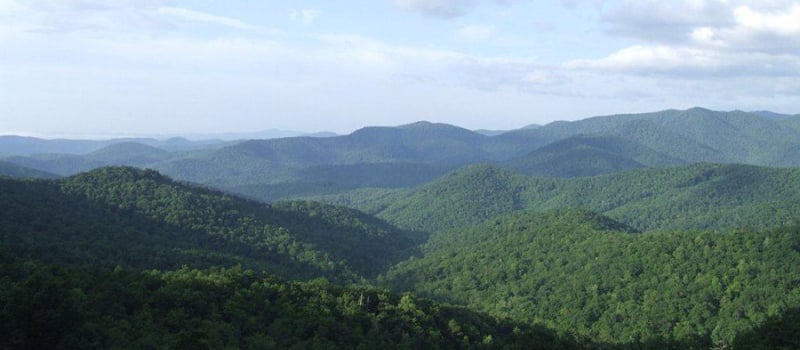 Located at the University of North Carolina Asheville, in the beautiful Smoky Mountains, the camp is one of the oldest in the country.
The Smoky Mountain Running Camp operates on National Forest System Lands and are authorized under Special Use Permit by the Pisgah National Forest.
Campers will also have the opportunity to train at the newly renovated Karl Straus Track & Field Facility. The new track complex, updated in Summer 2023, is a state-of-the-art 400m track that will be utilized for home meets for the UNC Asheville Bulldogs.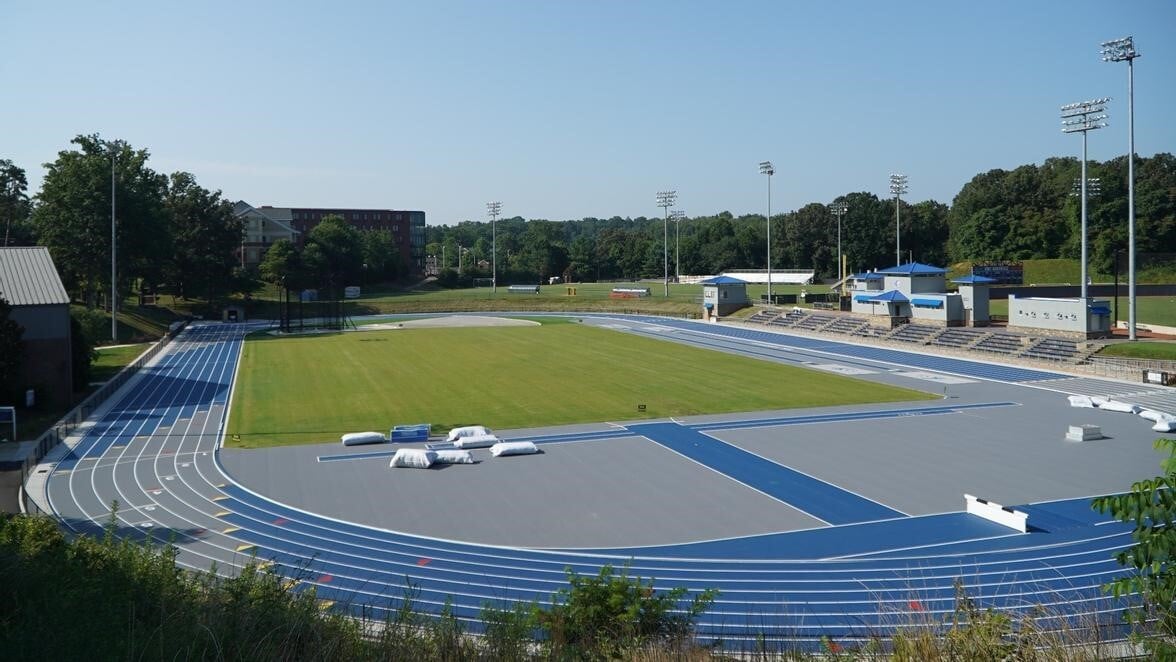 Camp Questions & Answers
When and where will the check-in and check-out take place for the Smoky Mountain Running Camp?
All campers check in to camp between 1:00 pm and 3:00 pm at the Highsmith Student Center on Sunday, first day of camp. Follow the signs on campus to registration.
Check out takes place on Friday at 11:30 am, the last day of camp, following Graduation Ceremony.

How are runners placed in their running groups?
Groups are based on a combination of current weekly mileage and fitness level, Personal Best(s), XC experience, and geographic location.
A change in groups can be accommodated if staff members leading those groups feel it is needed.
What happens if it starts to rain during camp?
All campers receive their full running program each day weather permitting. In the threat of severe weather, we adjust our schedule for the outdoor training runs.
Show Less

See More

Questions & Answers
What are some of the evening activities that are planned for the campers?
Fun and exciting after evening activities are an important part of the SMRC experience and are carefully planned by the staff. Evening activities include a talent show, dance, a scavenger hunt, outdoor volleyball games, corn hole, ultimate Frisbee, and more.
Does the Health & Release Form need to be signed by a doctor?
Our Health & Release Form does not require a doctor's signature. This form will be available on-line and is required to be filled out accurately, signed by the parent (guardian), and completed before your arrival on the first day of camp.
Does the UNCA Dining Services accommodate special dietary needs?
Campers will again dine in the UNCA campus cafeteria in 2022, offering a variety of different meal options that are sure to accommodate most campers' dietary needs. There are many food stations offered, from Juice Bar, omelette and stir fry stations, and unlimited salad bar.
In the case that a camper possesses extreme dietary restrictions, please reach out to UNCA's Dining Services to make the proper accommodations.
Are the campers supervised throughout the camp?
Yes, campers are supervised by the coaches and staff. Staff members reside in the same dorms as the campers and provide supervision during instruction, dining times, evening activities, and in the dorm. All staff members complete criminal and sex offender background checks before working the camp.

Can I come to camp alone or do I have to be a member of a team?
Smoky Mountain Running Camp welcomes individual campers and teams. If you come to camp by yourself, we place you in a dorm room with other single campers, similar in age. It's a great place to meet new friends who share your enthusiasm for the sport and to have FUN!
How many campers are placed in a dorm and do you accommodate roommate requests? Does the dorm have AC?
Campers are housed in double rooms, in air-conditioned dorms. When you register for camp, you have an option to submit a roommate request. If you would like to add a roommate request after registering for a camp, please feel free to send us an email. We strive to accommodate all roommate requests, made 2 weeks before the start of camp.

Is it possible to add an extra week if my child wants to extend his stay? Is there a weekend stay-over option?
Double your training = Double your fun! Campers may register for multiple sessions if space is available. Weekend stayovers for in between sessions are available for an additional fee of $150 per weekend stay.

Does SMRC have medical personnel on staff?
We have a certified athletic training on-staff and a doctor on-call at all times in case of a training injury or medical ailment/emergency.

How many miles will we run each day?
High School athletes will run twice a day. Once in the morning at the North Carolina Arboretum trails and once in the afternoon at the UNC Asheville track. The morning run is more of a distance run and the afternoon track session is an opportunity to work on specific training paces. Actual distances vary based on runners mileage and ability.


Middle School athletes run once or twice per day, depending on their training background, using the same locations and facilities as High School athletes. Normally, MS athletes run twice a day every other day, but staff monitor MS running volume based on current training and camper running experience/background.
Camp Reviews
Overall Average Rating
Stars
July 18, 2022: My daughter, Maddie Gump, had an AMAZING experience at SMRC!! She loved her counselors and made a lot of new friends! She also ran extremely well and won Queen of the Hill on the last day. She said she felt great, supported, and confident. Thank you! You exceeded our expectations!!

— Anonymous

July 16, 2022: My son has had a wonderful experience and confidence soaring compared to his experience from another camp last year. He's still at camp for another week and didn't want to come home. So that's a positive.

— Anonymous

July 16, 2022: My girls came back happy and motivated. They enjoyed the Olympic level speakers and talking to CITs in college. They also gained knowledge from talking and working with trainers on their specific issues

— Anonymous
Show Less

See more

Reviews
July 23, 2022: I greatly enjoyed meeting and speaking with coaches and councilors with college experience. I had a lot of fun with new people and look forward to doing it again next year.

— Anonymous

August 14, 2023: Meeting and getting to be around many like minded people in a running community. Lots of fun, quality workouts, and keeping busy for a week. The food was great too!

— Anonymous

August 14, 2023: My son truly had the time of his life. He met new friends, challenged and pushed himself to new limits, and did it independently without me being there.

— Anonymous

August 15, 2023: Definitely running with amazing fun people along your side that are especially your skill level. The scenic trails also has to been mentioned!

— Anonymous

August 15, 2023: comradery in the training and activities; felt encouraged to be a leader; he got individualized attention; opportunity to ask questions

— Anonymous

August 14, 2023: My son learned a lot during his camp week, however the new friends he met were 100% the highlight for him.

— Anonymous

July 16, 2022: Our son loved the experience: the running, the other campers, the activities, the speakers

— Anonymous

August 14, 2023: Kevin enjoyed everything about the camp. He cannot wait to come back next year.

— Anonymous

July 23, 2022: Making new friends and learning a lot to improve running skills.

— Anonymous

July 23, 2022: Meeting and spending time with other runners, running the trails

— Anonymous

August 21, 2023: I really liked the Track Workouts and the life long friends that I have now made. Some of the girls I met at camp over the last 3 years are now my best friends and I wouldn't trade that nor the knowledge I learned at camp for anything.

— Anonymous

August 15, 2023: My daughter made friends and improved her times. She also had options for gluten and lactose free food items

— Anonymous

Recommended this camp to friends!

[The highlight of camp was] watching my child's improvement just after the first session

— Parent of Attendee from a Similar Camp in 2022
SECURE YOUR SPOT – CAMPS SELL OUT!
Last year over 650 Sports Camps sold out, leaving 7,000+ campers on the waitlist. Due to high demand, early registration for our first-come-first-serve camps is strongly recommended.