Nike Girls Lacrosse Camp at The Pennington School
Nike Girls Lacrosse Camp at The Pennington School
13

Reviews
Average Rating
Stars
2024 Dates & Prices Coming Soon!
US Sports Camps is excited to offer the 2023 New Jersey Nike Girls Lacrosse Camp at The Pennington School. Located only 8 miles from Princeton, The Pennington School is an excellent collegiate preparatory school with outstanding athletic facilities. Campers reside in comfortable air-conditioned dorms on the beautiful Pennington campus and practice on fields located within walking distance.
At the Nike Girls Lacrosse Camp, our goal is to bring out the very best in every player we coach. To achieve this goal Rachel Perla and her staff will focus on providing a better understanding of the game of lacrosse in a fun and exciting manner. All skills and drills will be age appropriate and will help foster the fundamentals and demands of the sport in a positive way. Skills emphasized will include: stick work, shooting fundamentals, agility and fitness training, communication activities, multiple player concepts, game situations and team building.
Highlights Include
Complete Skills Camp for Girls Ages 10-15
Superior instruction from College Coaches
8:1 camper to instructor on field ratio
Daily emphasis on fundamentals, position training, drills and scrimmages
Team discounts available
Special goalie instruction and discounts available
Every camper receives a reversible Nike practice jersey
Nike and STX Prizes for outstanding play, sportsmanship and improvement
Camp Coaches
Camp Director

Rachel Perla

Rachel Perla enters her fourth season as the head coach of LVC's women's lacrosse team in 2024.

View Rachel Perla's Bio

⟩
Camp Details
SECURE YOUR SPOT!
You can expect a high demand on these first-come-first-serve camper spots, so please be sure to register early. Get ready for a week of focused, intensive training sessions lead by the UCCS coaching staff. Overnight and Commuter options available.
2023 OVERVIEW
Dates: Session I: July 10-13, Session II: July 31 - August 3
Age Group: 10-15
Gender: Girls
Camp Type: Overnight, Extended Day (commuter)
Check-in: Check-in takes place between 1:00-2:00pm on Monday (Session 1 - July 10 or Session II - July 31). There will be a camp orientation meeting at 2:00pm and parents are welcome to join their campers for this meeting. A detailed schedule for the week will be provided at that time.
Check-out: There will be a closing ceremony at the field on Thursday (Session I - July 13 or Session II - Aug 3) at 11:30am. Overnight campers check-out from the dorm immediately following.
Day Schedule: MON 2PM-9PM, TUE-WED 9AM-9PM, THURS 9AM-12 NOON **Times subject to change
Meals: All meals are included for overnight campers. Lunch and dinner is included for Extended Day Campers. Meals start with dinner on the first day and end with breakfast on the last day.
Program: This summer, The Pennington School is offering two sessions of overnight and extended day camp (9:00am-9:00pm) for ages 10-15. At Nike Lacrosse Camps we are committed to helping each camper become a better lacrosse player, and we hope all our participants leave camp having established new friendships and more passion for the game. Over the course of camp, your enthusiasm and self-confidence will grow along with your skills.
CAMP ADDRESS
The Pennington School
112 W Delaware Avenue
Pennington, NJ 08534
Click Here for Directions and Click for Google Maps
CAMP CHECK-IN
Session I - July 10th or Session II - July 31st
ALL CAMPERS: Check-in takes place between 1:00-2:00pm on Monday at the Campus Plaza. There will be a camp orientation meeting at 2:00pm and parents are welcome to join their campers for this meeting. A detailed schedule for the week will be provided at that time.
CAMP CHECK-OUT
Session I - July 13th or Session II - Aug 3rd
There will be a closing ceremony at the field on Thursday at 11:30am. Overnight campers check-out from the dorm immediately following.
2023 HOUSING
Dorm: TBD
Number of Campers Per Room: 2 per room
Roommates: Rooms are assigned by age & roommate requests. Roommate requests must be mutual and received no later than 14 days before the start of camp. If you don't have a roommate request, you will be placed in a room with someone near your age. It will be a great opportunity to meet someone new!
Bathrooms: Shared
Linens: Not included. Bring linens or sleeping bag, pillow, pillowcase, and a towel.
Air Conditioning: Yes
SUPERVISION
The staff reside in the dormitories with the campers and participate in all activities. Drugs, alcohol and tobacco are strictly prohibited, and constitute, along with general misconduct, grounds for dismissal from camp without a refund.

WHAT'S INCLUDED IN THE FEE?
Instruction: Morning, afternoon, and evening training sessions
Overnight campers: Dormitory housing on campus and all meals are provided.
Extended Day campers: Lunch and dinner is included for Extended Day Campers.
Supervision: Staff members reside in campers' quarters and participate in all activities.
Reversible Jersey & Prizes: Campers at multi-day camps will receive a Nike Lacrosse Reversible Jersey and prizes.
INSTRUCTION, EQUIPMENT & FACILITY
Ratio: 1:10 staff-to-camper ratio
Groupings: Campers are grouped by age, ability, and experience.
Equipment Needed: Please bring your cleats, protective goggles & mouthpiece, lacrosse stick(s), helmet and pads (Goalies)
Facility: The Pennington School Athletic Fields
Medical Protocol: Most camps have an athletic trainer on-site to help with illness or injury. In case of an emergency, campers will be transported to the nearest hospital.
PREPARE FOR CAMP: COMPLETE YOUR PRE-CAMP CHECKLIST

To view your customer account, complete your mandatory forms, pay balance dues, and review important camp information, visit Pre-Camp Checklist. All necessary camp information is on this page. If there are any imperative changes prior to camp start, registered campers will be notified via email and this webpage will be updated!

OVERNIGHT CAMPERS
Below is a suggested list of clothes, equipment, and personal items. US Sports Camps is NOT responsible for lost or stolen articles or money.

Checklist of things to bring:

T-shirts
Shorts
Cleats
Athletic Socks
Protective Goggles
Mouthpiece
Lacrosse Stick(s)
Goalies Must Have Full Protective Equipment
Comfortable Off-Field Clothes
Toiletries & Personal Items
Water Bottle
Sunscreen
Turf Shoes or Running Shoes for indoor activity
Alarm Clock
Extra Towels
Non-Perishable Snack Foods
Spending money (approx. $50)
Pillow & Pillowcase
Twin XL Sheets/Blanket or Sleeping Bag
No Fan Needed –Dorms Are Air Conditioned
Signed Heath & Release forms and waivers (forms completed online do not need to be printed and turned in at camp)
EXTENDED DAY CAMPERS
Checklist of Things to Bring: We recommend that all Extended Day Campers bring a daily pack with the following items: Along with your lacrosse equipment, we recommend that you bring a day pack with the following items: water bottle, weather appropriate clothing, cleats, and walking shoes.
Camp Schedule & Meals:
Monday: On the first day of camp, extended day campers should arrive at the check-in time dressed to play. All other days, the arrival time is 8:45am. Extended day campers depart at 9:00pm (lunch and dinner included). Drop off and pick up locations will be provided at check-in.
Tuesday & Wednesday: Extended Day Camper Hours - 9:00am-9:00pm. Lunch and dinner is provided.
Thursday: Extended Day Camper Hours - 9:00am-12:00pm. Check-out is immediately after the camp concludes at noon. Departure time may change depending on the event.
TRANSPORTATION
Transportation is not provided. Campers are responsible for getting to and from camp on their own. There is no supervision before or after camp hours so please make arrangements to pick up your child on time.
COMPANY POLICIES
For information regarding our cancellation policy and all other company policies, please visit USSC Policies.
NIKE LACROSSE CAMP FAQ
For general questions about our lacrosse camps please see our FAQ page.
Show Less

See More

Camp Details
OVERNIGHT CAMP AMENITIES
• 3 nights lodging • All meals
• Reversible Nike practice jersey
EXTENDED DAY CAMP AMENITIES
• Lunch & dinner
• Reversible Nike practice jersey
• Camp hours: MON 2PM-9PM, TUE-WED 9AM-9PM, THURS 9AM-12 NOON **Times subject to change

DISCOUNTS AVAILABLE
TEAM DISCOUNT: If five or more campers register together, each camper is eligible for a $25 discount. Please have a team contact reach out directly to the USSC office at 1-800-645-3226 to receive a discount code to identify your group. Campers may then register through the website at their convenience and apply the coupon code during check-out.

GOALIE DISCOUNT: To ensure each session has enough goalies for drills and scrimmages, all goalies automatically qualify for a special $50 discount. You can call 1-800-645-3226 to receive the goalie discount over the phone or you can indicate that you are eligible for the goalie discount in the "comments" field when registering via our secure website. Goalie discount cannot be combined with any other discount.
Sample Daily Schedule
7:30 am

Breakfast (Overnighters)

9:00 am

Stretching and Conditioning

9:30 am

Line Drills and Stations

10:30 am

Position Work

Noon

Lunch and rest

1:30 pm

1v1, 2v2, and fastbreaks

3:00 pm

Drill stations and scrimmaging

5:00 pm

Dinner and supervised free time

6:30 pm

Back to field for games

9:00 pm

Extended Day Campers depart

10:00 pm

Overnight Campers to rooms; Lights out!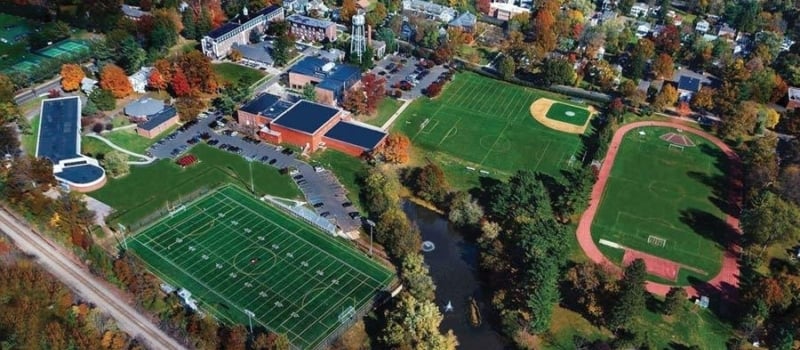 The Pennington School
Located just 40 miles from Philadelphia and 60 from NYC, Pennington is centrally located with easy access for our campers coming from across the Northeast. Campers will train each day at the Tom Liwosz Turf Field.

Camp Reviews
Overall Average Rating
Stars
This camp had a better ratio than most.​

— Anonymous

Great Camp!

August 3, 2018: My daughter had a great time! She met new friends, had great coaches, learned new moves and improved her skills in lacrosse. She also learned to be more independent and try new things.

— Kate L., Parent

We'll be back next year!​

August 12, 2017: My daughter loved her coaches and all the fun games and drills provided. She said the competition between the teams was really fun. With 14 girls from our Clearview team attending it was a great bonding experience for them! Erin has not put her stick down since the camp, it definitely instilled a stronger love for the sport! Thank you and we'll be back next year!

— Carol B. Parent
Show Less

See more

Reviews
Lots of fun!

August 12, 2017: I enjoyed everything about this camp! While you still had freedom, there were also certain rules which you were expected to live by which I very much expected. Camp staff was very friendly and thought me a lot. Overall a very organized set up and lots of fun!

— Avery T. Camper

Really enjoyed it!

August 10, 2017: I enjoyed the leadership skills we worked on and I feel more prepared to help my teammates if they need it. The stations were my favorite part of the day. The defense skills we learned I will definitely apply to games.

— Jessa S. Camper

Loved the coaches!

August 21, 2016: Loved the coaches and how they worked with the girls. My daughter camp home with new friends and new skills! She is excited to take all she learned back to her club team!

— Tom R. Parent

Top notch!

August 21, 2016: The skills, the personnel, and the venue is top notch. My daughter learned a lot.The coaches provided excellent safety and made parents feel good about leaving their campers for the week. Thank you for such a great week Nike!

— Joanna B. Parent

The best experience!

July 22, 2015: The Nike Girl's Lacrosse Camp was THE BEST EXPERIENCE my daughter had this summer. The directors and coaches are the most terrific motivators! My daughter loved the housing and fellowship. She had so much fun. We would do it again in a heartbeat and plan to recommend this camp to everyone we know.

— Julia M. Parent

Great camp!

July 20, 2015: Coach Lisa Ewanchyna was great and had such a positive interaction with the girls. My daughter had a great time and learned so much. I especially appreciated that the number of campers was kept to a manageable size, so it allowed for a great ratio of coaches to campers. It was a great experience for her and she will definitely attend camp again.

— Madeline V. Parent

Thanks so much!

July 20, 2015: August I really enjoyed my experience at camp. I made friends and was able to demonstrate my skills at a competitive level. I learned better throwing and shooting techniques that will help me as an attacker. I thank the counselors at The Lawrenceville School for their time and support.

— Wendy N. Camper

Excellent camp!

July 19, 2015: I have been coming to the Nike Girls Lacrosse Camps in New Jersey for years because of the fun atmosphere and great instruction. This year was no different. Excellent camp.

— Gianna M. Camper

Take your game to the next level!

July 18, 2015: The staff is fantastic! They assess the players and align by skill level. This allowed for appropriate instruction level. They will then train and teach you to find the next level to your game and they make it fun.

— Ashley B. Parent

It's a blast!

July 17, 2015: The camp is a great learning experience and focuses on teaching fundamentals as well as teaching you to become a better player. The campers and staff are great and care for the campers as if they are their own daughter. It's a blast!

— Emily L. Camper
SECURE YOUR SPOT – CAMPS SELL OUT!
Last year over 650 Sports Camps sold out, leaving 7,000+ campers on the waitlist. Due to high demand, early registration for our first-come-first-serve camps is strongly recommended.
Camp Dates & Prices
This program has concluded for the season.
Please Join our Priority List to be notified when this program is available for registration.