Nike Boys Lacrosse Camp at St. Mary's College of Maryland
Nike Boys Lacrosse Camp at St. Mary's College of Maryland
8

Reviews
Average Rating
Stars
2023 Dates & Prices Now Available!
Come join Head Men's Lacrosse Coach Jason Childs and his staff at the Nike Boys Lacrosse Camp at St. Mary's College of Maryland this summer and take your game to the next level! St. Mary's waterfront campus is located 70 miles southeast of Washington, D.C. and 95 miles south of Baltimore on a peninsula bounded by the Potomac River and the Chesapeake Bay.
At the Nike Boys Lacrosse Camp, our goal is to stimulate a love for the game by immersing you in the sport and giving you the kind of focused, intensive training essential to improvement. Over the course of camp, your enthusiasm and self-confidence will grow along with your skills.
Highlights Include
High School and Youth Skill Development Camp for Boys Ages 9-17
8:1 camper to instructor on field ratio
Daily emphasis on fundamentals, position training, drills and scrimmages
Team discounts available
Special goalie instruction and discounts available
Reversible mesh Nike practice jersey
Nike and STX Prizes for outstanding play, sportsmanship and improvement
Camp Coaches
Camp Director

Jason Childs

Jason Childs became the 10th head coach in the 42-year history of the Seahawk men's lacrosse program in August 2015. Childs brought 10 years of coaching experience at the NCAA Division I and II levels before taking the reins of his first Division III team.

View Jason Childs's Bio

⟩
Camp Details
This summer, St. Mary's College of MD is excited to host camp for boys ages 9-17. Our goal is to provide each camper with focused, intensive, position specific training sessions essential to improvement. We are committed to helping each camper become a better lacrosse player and we hope all participants leave camp having established new friendships and more passion for the game.

2023 OVERVIEW
Dates: July 17-20
Age Group: 9-17
Gender: Boys
Camp Type: Overnight, Extended Day (commuter)
Check-In: Check-in takes place between 1:00-2:00pm at Lewis Quad. There will be a camp orientation meeting at 2:00pm and parents are welcome to join their campers for this meeting. A detailed schedule for the week will be provided at that time.
Check-out: A closing ceremony will take place at the field at 11:00am on Thursday. Parents are invited to attend! Extended day campers depart from the field and overnight campers check-out from the dorm immediately following.
Extended Day Schedule: MON 2PM-9PM, TUE-WED 9AM-9PM, THURS 9AM-12 NOON **Times subject to change
Meals: All meals are provided for Overnight campers. Lunch and dinner are provided for all Extended Day (commuter) campers.
Program: The Advanced Skills/Complete Skills Camp is designed for high school/youth players (ages 9-18), and focuses on stick skills, position play, team concepts, and an overall intense level of competition.
CAMP ADDRESS
St. Mary's College of MD
Lewis Quad
47800 College Drive
St Mary's City, MD 20686
Click Here for Directions
2023 HOUSING
The information below is based on previous years and is subject to change each year.
Dorm: Lewis Quad
Number of Campers Per Room: 2 per room
Roommates: Rooms are assigned by age & roommate requests. Roommate requests must be mutual and received no later than 14 days before the start of camp. If you don't have a roommate request, you will be placed in a room with someone near your age. It will be a great opportunity to meet someone new!
Bathrooms: Shared
Linens: Not included. Bring linens or a sleeping bag, a pillow, a pillowcase, and a towel.
Air Conditioning: There is A/C in dorms. Campers do not need to bring a fan.
SUPERVISION
The staff reside in the dormitories with the campers and participate in all activities. Drugs, alcohol, and tobacco are strictly prohibited and constitute, along with general misconduct, grounds for dismissal from camp without a refund.

WHAT'S INCLUDED IN THE FEE?
Instruction: Morning, afternoon, and evening training sessions
Overnight campers: Dormitory housing on campus and all meals are provided.
Extended Day campers: Lunch and dinner are provided.
Supervision: Staff members reside in campers' quarters and participate in all activities.
Reversible Jersey & Prizes: Campers at multi-day camps will receive a Nike Lacrosse Camps Reversible Jersey and prizes.
INSTRUCTION, EQUIPMENT & FACILITY
Ratio: 1:10 staff-to-camper ratio
Groupings: Campers are grouped by age, ability, and experience.
Equipment Needed: Please bring your helmet, mouthpiece, cleats, lacrosse stick, gloves, and pads.
Facility: Athletic Fields
Medical Protocol: Most camps have an athletic trainer on-site to help with illness or injury. In case of an emergency, campers will be transported to the nearest hospital.
PREPARE FOR CAMP: COMPLETE YOUR PRE-CAMP CHECKLIST

To view your customer account, complete your mandatory forms, pay balance dues, and review important camp information, visit Pre-Camp Checklist. All necessary camp information is on this page. If there are any imperative changes prior to camp start, registered campers will be notified via email and this webpage will be updated!

OVERNIGHT CAMPERS
Below is a suggested list of clothes, equipment, and personal items. US Sports Camps is NOT responsible for lost or stolen articles or money.

Checklist of things to bring:

T-shirts
Shorts
Cleats
Athletic Socks
Helmet and Mouthpiece
Lacrosse Stick(s), Gloves, Pads
Goalies Must Have Full Protective Equipment
Comfortable Off-Field Clothes
Toiletries & Personal Items
Water Bottle
Sunscreen
Bathing Suit
Alarm Clock
Extra Towels
Non-Perishable Snack Foods
Spending money (approx. $50)
Pillow & Pillowcase
Twin XL Sheets/Blanket or Sleeping Bag
No Fan Needed – Dorms Are Air Conditioned
COVID PPE (as required by state/local guidelines)
Signed Heath & Release forms and waivers (forms completed online do not need to be printed and turned in at camp)
MD Camper History Form
EXTENDED DAY CAMPERS
Checklist of Things to Bring: We recommend that all Extended Day Campers bring a daily pack with the following items: Along with your lacrosse equipment, we recommend that you bring a day pack with the following items: water bottle, weather-appropriate clothing, cleats, and walking shoes.
Camp Schedule & Meals:
Monday: Extended Day Campers should arrive dressed and ready to play. You will be assigned a counselor and given a complete schedule of all events during the week. Extended Day Campers stay until 9:00pm. Dinner is provided.
Tuesday-Wednesday: Hours - 9:00am-9:00pm. Lunch and dinner are provided.
Thursday: Extended Day Camper Hours - 9:00am-12:00pm. Check-out is immediately after the camp concludes at 12:00pm.
TRANSPORTATION
Transportation is not provided. Campers are responsible for getting to and from camp on their own. There is no supervision before or after camp hours so please make arrangements to pick up your child on time.
COMPANY POLICIES
For information regarding our cancellation policy and all other company policies, please visit USSC Policies.
NIKE LACROSSE CAMP FAQ
For general questions about our lacrosse camps please see our FAQ page.

Show Less

See More

Camp Details
OVERNIGHT CAMP AMENITIES
• Lodging • All meals
• Reversible Nike practice jersey
EXTENDED DAY CAMP AMENITIES
• Lunch & dinner
• Reversible Nike practice jersey
• Camp Hours: MON 2PM-9PM, TUE-WED 9AM-9PM, THURS 9AM-12 NOON

Discounts Available
TEAM DISCOUNT: If five or more campers register together, each camper is eligible for a $25 discount. Please have a team contact reach out directly to the USSC office at 1-800-645-3226 to receive a discount code to identify your group. Campers may then register through the website at their convenience and apply the coupon code during check-out.
GOALIE DISCOUNT: To ensure each session has enough goalies for drills and scrimmages, all goalies automatically qualify for a special $50 discount. You can call 1-800-645-3226 to receive the goalie discount over the phone or you can indicate that you are eligible for the goalie discount in the "comments" field when registering via our secure website. Goalie discount cannot be combined with any other discount.
Sample Daily Schedule
7:30 AM

Breakfast (Overnighters)

8:50 AM

Extended Day Campers Arrive

9:00 AM

Stretching and Conditioning

9:30 AM

Line Drills and Stations

10:30 AM

Position Work

Noon

Lunch and rest

1:30 PM

1v1, 2v2, and fastbreaks

3:00 PM

Drill stations and scrimmaging

5:00 PM

Dinner and supervised free time

6:30 PM

Back to field for games

9:00 PM

Extended Day Campers depart

10:00 PM

Overnight Campers to rooms; Lights out!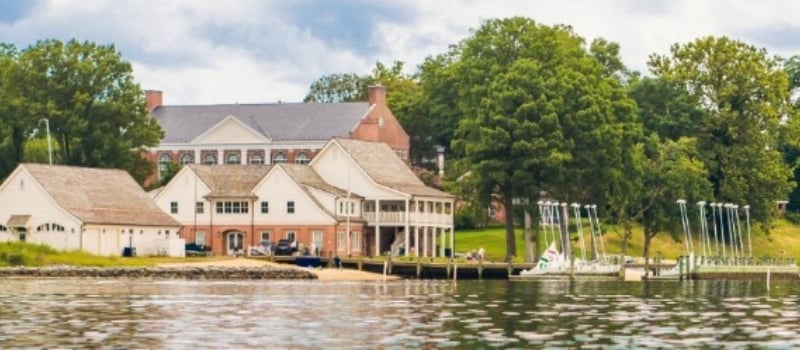 St. Mary's College of Maryland
St. Mary's waterfront campus is located 70 miles southeast of Washington, D.C. and 95 miles south of Baltimore on a peninsula bounded by the Potomac River and the Chesapeake Bay.
Overall Average Rating
Stars
Renewed His Love For Lacrosse!

July 30, 2019: My son was a bit down on lacrosse after playing his freshman year in high school. He said that camp brought back his love for the sport. He was originally put on JV. He asked to play on varsity with his friends and that happened easily. Thank you for that.

— Alexandra H. Parent

Amazing Camp!

July 23, 2018: My son came home raving about the experience - he was challenged, he learned a lot, he got to play against bigger kids, they played through the rain (which he liked!)... and even the food was good! Quite a compliment as he's a snob about food.

— Anna L. Parent

Super nice and helpful!

July 27, 2017: All of the coaches were informative, nice, and super-helpful. My son gained a massive amount of confidence and courage on/off the field and learned so much more about the sport he loves to play.

— James D. Parent
Show Less

See more

Reviews
These coaches did a great job!

July 27, 2017: Coach Childs and his other coaches were fantastic with all age groups but especially with the High Schoolers. Its hard to keep them going for 12 hrs. These guys seemed to keep them focused and rolling all day. My guys enjoyed every aspect of the camp and my guys have done the circuit of camps out there. Positive reinforcement from all the coaches really goes a long way with this age group. These coaches did a great job! The younger of the two will return next year. He was disappointed there wasn't another week.

— Sean O. Parent

Definitely go again!

July 27, 2017: I understand this was the first year for this camp was held at St Mary's college. The campus is very nice.....beautiful setting. I think it went very well. All the boys looked happy. I even over heard one ask his father if he could come back next year. My son ...who is 15 said he would definitely go again. Coach Jason Childs was a great host.

— Tim M. Parent

Enjoyed it all!

July 27, 2017: My son enjoyed every aspect of camp. He said he learned a lot of new skills and was given instruction on how to improve the skills he already had. He said his favorite part was playing games in the evening because he was able to use what he had learned during the skills sessions earlier in the day.

— Michelle B. Parent

Great learning experience!

July 27, 2017: Great learning experience. My son says that he was introduced to a number of skills and got to practice them a lot during camp.

— Todd G. Parent

Impressed!

July 27, 2017: Both my boys loved the non-stop activities that centered around lacrosse. They both have played this sport a long time and were impressed with new and creative drills.

— Jan L. Parent
SECURE YOUR SPOT – CAMPS SELL OUT!
Last year over 650 Sports Camps sold out, leaving 7,000+ campers on the waitlist. Due to high demand, early registration for our first-come-first-serve camps is strongly recommended.