May 31, 2012
NIKE Baseball Camps Congratulates The Whitworth Baseball Team On Its First Trip To NCAA Tournament
At the helm of this successful season for the Pirates was Whitworth Baseball head coach and NIKE Baseball camp director Coach Dan Ramsay. Ramsay guided his team to a winning season and to the NCAA Division III National Tournament.
San Rafael, CA (P.R. WEB) May 31, 2012 - The Pirates' season ended with a record of 31-16-1.  Whitworth smashed the previous school record for wins in a season and advanced to the NCAA Division III finals in its first trip to the DIII national tournament after winning the McMinnville Regional. The historic Division III World Series victory came 52 years after the Pirates claimed the NAIA title.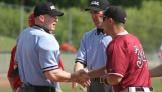 As his 4th season as head coach concluded, Coach Dan Ramsay set the stakes high for the following seasons. "More than anything we learned we belong here," Ramsay said.  "We feel like reaching Appleton should be a goal for our team from here on out and we definitely want to get back."
For the summer, Coach Ramsay will turn his attention toward directing the NIKE Baseball Camp at Whitworth University.  "NIKE Baseball Camps is lucky to have Dan Ramsay as one of our directors" Mike de Surville Vice President of US Sports Camps stated. "His proven track record this season, along with his unique coaching methods run parallel with our company's philosophy."
The Nike Baseball Camp at Whitworth provides focused, intensive training that is essential to improvement for all skill levels. Every facet of the game is covered with an emphasis on fundamentals to help players become valuable team members. For more information visit, https://www.ussportscamps.com/baseball/nike/whitworth-university.
About US Sports Camps
US Sports Camps (USSC), headquartered in San Rafael, California, is America's largest sports camp network and the licensed operator of NIKE Sports Camps. The company has offered summer camps since 1975 with the same mission that defines it today: to shape a lifelong enjoyment of athletics through high quality sports education and skill enhancement.
Players, Coaches, Parents and others interested in the 2012 Nike Baseball Camps can visit https://www.ussportscamps.com/baseball or call 1-800-645-3226.
###
Share This