February 29, 2012
NIKE Softball Camps Once Again Hosts Camp At Willamette University
NIKE Softball Camp at Willamette University with Coach Williams will run July 30-August 3
San Rafael, CA - NIKE Softball Camps offers locations nationwide for players ages 6-18 of all abilities and is pleased to announce its return to the Oregon location, Willamette University, July 30-August 3, 2012.
"We are thrilled to have confirmed our 2012 dates at Willamette University," states Mike de Surville, Vice President of US Sports Camps. "We look forward to the start of this camp and are confident that this location will be the premier softball camp in the state of Oregon."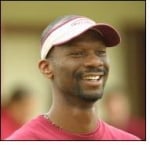 Directing the NIKE Softball Camp at Willamette University is longtime Head Coach, Damian Williams. He is entering his 14th season as the head softball coach at Willamette University. He has earned an overall record of 267-203 at Willamette. The Bearcats finished second in the NWC in 2010 with a 20-8 record. They earned a 28-12 overall record. It was the seventh time that Willamette has recorded 20 or more wins in a season with Williams at the helm.
Nike Softball Camps provide focused, intensive training that is essential to improvement for all skill levels. Every facet of the game is covered with an emphasis on fundamentals to help players become valuable team members. At each location, campers are broken into groups with other players of similar age, abilities and goals. Each camp director does their best to advance players to the next level, keeping in consideration each camper's experience and desire to improve.
About US Sports Camps
US Sports Camps (USSC), headquartered in San Rafael, California, is America's largest sports camp network and the licensed operator of NIKE Sports Camps. The company has offered summer camps since 1975 with the same mission that defines it today: to shape a lifelong enjoyment of athletics through high quality sports education and skill enhancement.
Players, Coaches, Parents and others interested in the 2012 Nike Softball Camps can visit https://www.ussportscamps.com/softball or call 1-800-645-3226.
###
Share This