April 23, 2012
Willamette Softball Guided By NIKE Softball Camp Director, Damian Williams, Ranked #8 In West Region
NIKE Softball Camps Congratulates long time camp director and Willamette softball head coach Damian Williams in leading his team to a top 10 ranking in the West Region of NCAA Division III Softball.
San Rafael, CA (P.R. WEB) April 23, 2012 - The Willamette University softball team was #8 in the West Region for the week of April 15-20th in the rankings released by the National Collegiate Athletic Association (NCAA). The Bearcats are 20-13 on the season, including 19-9 in the Northwest Conference.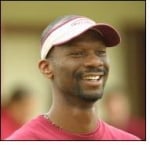 Leading this program to a successful year is Nike Softball Camp director, Damian Williams. Williams is responsible for three Nike Softball Camps this summer and plans to conduct his camps in a similar structure to his collegiate practices at Willamette.
"NIKE Softball Camps is lucky to have Damian Williams as a director for three of our locations" Mike de Surville Vice President of US Sports Camps stated. "Along with his proven track record and success at Willamette, Coach Williams has a coaching style that encompasses positivity and knowledge."
Coach Williams  is in his 14th season as the head softball coach at Willamette University. He has earned an overall record of 267-203 at Willamette. The Bearcats finished second in the NWC in 2010 with a 20-8 record. They earned a 28-12 overall record. It was the seventh time that Willamette has recorded 20 or more wins in a season with Williams at the helm.
Willamette is on track to have another strong finish in the NWC before Williams shifts his gears to directing NIKE Softball Camps this summer. His camp locations are Willamette University, Freedom Park Sports Complex, and South Campus Sports Complex. For more information on his camps please visit www.ussportscamps.com/softball.
About US Sports Camps
US Sports Camps (USSC), headquartered in San Rafael, California, is America's largest sports camp network and the licensed operator of NIKE Sports Camps. The company has offered summer camps since 1975 with the same mission that defines it today: to shape a lifelong enjoyment of athletics through high quality sports education and skill enhancement.
Players, Coaches, Parents and others interested in the 2012 Nike Softball Camps can visit https://www.ussportscamps.com/softball or call 1-800-645-3226.
###
Share This