February 09, 2010
James Madison University Announces New Head Coach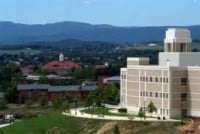 Lauren Sauer accepted the position of head coach of the JMU volleyball program. Identified in 2009 by the American Volleyball Coaches Association as one of the "30 best coaches in the country under the age of 30," Sauer comes to JMU following three years as assistant coach and recruiting coordinator at the University of Kentucky.
Sauer experienced a stellar four-year collegiate career at Georgia Tech, reaching the NCAA Championships all four years during her career, including trips to the quarterfinals in 2003 and the round of 16 in 2004. Tech won a pair of ACC regular-season championships (2003, 04) and also won the tournament championship in 2002.
Sauer was an AVCA honorable mention All-American in 2003, was named All-ACC in 2002 and 2003, and became one of just two players in Yellow Jacket history to earn ACC Rookie of the Year honors in 2001.
Coach Sauer and her staff will coach three sessions of spirited volleyball training.
Share This