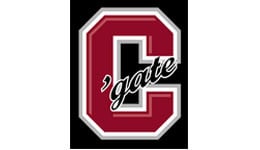 Bobby Pennington's Tennis Camp at Colgate University
Bobby Pennington's Tennis Camp at Colgate University
12

Reviews
Average Rating
Stars
Improve your game and have serious fun
at Nike Tennis Camps
This junior tennis camp in New York is held on the beautiful campus of Colgate University in Hamilton. A top summer tennis camp in NY, we offer exceptional overnight and day camps for kids with All Skills and Tournament Training programs.
Our NY tennis camps deliver technical tennis instruction and drilling from a top-notch coaching staff, supervised matches, and plenty of fun evening social activities.
Highlights Include
Instruction from Colgate Tennis Coach Bobby Pennington and his experienced staff
5-6 hours daily tennis instruction; 6:1 camper to staff ratio
Fun off-court evening activities for overnight campers
Camp Coaches
Camp Director

Bobby Pennington

Named head coach of both the men's and women's teams in July 2006, Pennington has coached a Patriot League Player of the Year, two Rookie of the Year honorees and 25 All-Patriot League performers.

View Bobby Pennington's Bio & Tennis Tips

⟩
Camp Details
2023 CAMP DATES

July 9-13 (All Skills | Sun - Thurs)
July 13-16 (All Skills & Tournament Training | Thurs - Sun)
This camp is open to any and all registrants of all skill levels
CAMP PROGRAMS
Upon arrival, all participants are evaluated by the staff so that their own instructional needs can be addressed throughout the week.
We offer Day (9:00am-4:00pm) and Extended Day (9:00am-5:30pm) and Overnight camps for kids, ages 9-18, with All Skills and Tournament Training programs.
All Skills Program: The All Skills program is designed for tennis players of any skill level and background. Campers will learn fundamentals and improve upon their game.
Tournament Training Program: The Tournament Training Program is geared towards tournament-level and ranked players looking to improve their tournament results, learn winning strategies, and work on mental toughness.
CAMP SCHEDULE - SESSION ONE (July 9-13)
Overnight Campers Check-in: Check in at 4:00pm on Sunday at 113 Broad Dorms
Full Day & Extended Day Campers Check-in: Check in at 8:45am on Monday at the tennis courts.
All Campers Check-out: Check-out for all campers is at 11:30am on Thursday at the tennis courts.
Day Camp Program: Monday-Wednesday 8:45am-4:00pm, Thursday 8:30am-11:30am
Extended Day Program: Monday-Wednesday 8:45am-5:30pm, Thursday 8:30am-11:30am
CAMP SCHEDULE - SESSION TWO (July 13-16)
Overnight Campers: Check-in at 2:00pm on Thursday at the dorms
Full Day & Extended Day Campers Check-in: Check-in at 5:00pm on Thursday at the dorms.
All Campers Check-out: Check-out for all campers is at 11:30am on Sunday at the tennis courts.
Day Camp Program: Thursday 5:30pm-7:00pm, Friday-Saturday 8:45am-4:00pm, Sunday 8:45am-11:30am
Extended Day Program: Thursday 5:30pm-7:00pm, Friday-Saturday 8:45am-5:30pm, Sunday 8:45am-11:30am
WHAT'S INCLUDED IN THE FEE?
Instruction: Daily tennis training, morning and afternoon sessions
Overnight campers: Dormitory housing on campus and all meals are provided
All Day campers: Lunch is provided (Except on check-in/out days)
Supervision: Staff members reside in rooms strategically placed throughout the dorm to provide optimal supervision and participate in all activities
Camp T-shirt & Prizes: All campers receive a Nike Tennis Camps t-shirt and prizes
INSTRUCTION, EQUIPMENT, & FACILITY
Ratio: 5:1 camper-to-coach ratio
Groupings: Campers are grouped by age, ability, and experience
Equipment Needed: All campers must bring a tennis racquet, tennis shoes, and a water bottle
Facility: Joseph Abrahamson Tennis Courts: 9 regulation outdoor courts, 4 indoor courts
Inclement Weather Plan: Indoor courts are available for use as needed. Some drills/games that will be played indoors are space invaders, Olympics, knockout, around the world, and triples. Campers may also have the option of a College seminar talk.

Medical Protocol: Most camps have an athletic trainer on-site to help with illness or injury. In case of an emergency, campers will be transported to the nearest hospital
COLGATE REQUIRED FORMS
In addition to US Sports Camps' online forms, the following required forms MUST be brought to camp on the first day. Campers will not be permitted without the below forms. These forms can be found in the customer portal.
Colgate Medical Form: This form requires either a physician's signature OR you may bring a copy of your camper's most recent physical and immunization record.
Colgate Meningoccal Response Form
Colgate Camp Sunscreen and Insect Repellents Permission Form
HOUSING

The information below is based on previous years and is subject to change each year. Final housing information for this camp will be provided in the Camp Information Packets and emailed to all campers closer to the camp's start date.
Dorm: 113 Broad Dorms
Number of Campers per Room: The 113 Broad Street Complex features single and double occupancy rooms with suites. Bedrooms in a suite share a bathroom.
Roommates: Rooms are assigned by age & roommate requests. Roommate requests must be mutual and received no later than 14 days before the start of camp. If you don't have a roommate request, you will be placed in a room with someone near your age. It will be a great opportunity to meet someone new!
Linens: Bed linens are NOT provided
Air Conditioning: The dorms do NOT have A/C. Campers are encouraged to bring a fan. Each floor has a small common lounge and laundry facilities are located in the basement.
TRAVEL
Nike Tennis Camp does not provide any transportation to/from camp from airports, train stations, or bus depots. If you fly into camp, we recommend that you fly into Syracuse Airport and schedule a shuttle/bus from the airport to camp.

MEDICAL STAFF
We have a hospital adjacent to our athletic facilities. We have a team of EMTs on campus 24/7 in accordance with Children's Camp regulations. They hold medications (campers can't keep medication in their rooms) and establish med times, complete paperwork required for the Department of Health, and submit illness and injury reports if necessary. They can provide treatment in emergency situations.

PREPARE FOR CAMP: COMPLETE YOUR PRE-CAMP CHECKLIST
To view your customer account, complete your mandatory forms, pay balance dues, and review important camp information, visit Pre-Camp Checklist. All necessary camp information is on this page. If there are any imperative changes prior to camp start, registered campers will be notified via email and this webpage will be updated!
CHECKLIST OF THINGS TO BRING
Below is a suggested list of clothes, equipment, and personal items. US Sports Camps is NOT responsible for lost or stolen articles or money.
Athletic, on-court tennis clothing

Tennis Racquet(s)

Tennis shoes (no running shoes)

Sweatshirt/warm-up jacket and pants

Water bottle

Sunscreen

Signed Health & Release forms and waivers (forms completed online do not need to be printed and turned in at camp)
OVERNIGHT CAMPERS ONLY:
Athletic clothing mentioned above (1-2 pairs/day)

Comfortable off-court clothing (pants/shorts, t-shirts, sweatshirts 1 paid/day)

Undergarments (1-2pair/day)

Swimsuit and towel (subject to change)

Pajamas

Shower flip flops

Toiletries (shampoo, conditioner, body wash, face wash, hairbrush, toothbrush, toothpaste, deodorant, etc.)

Personal items & medications

Washcloth and bath towel

Fan (optional)

Bed sheets (if linens are not provided)

Comforter/blanket (if linens are not provided)

Pillow/pillow case (if linens are not provided)
COMPANY POLICIES
For information regarding our cancellation policy and all other company policies, please visit USSC Policies.

NIKE TENNIS CAMP FAQ
For general questions about our tennis camps please see our FAQ page
SWING VISION
Maximize your camp experience with SwingVision, an iPhone app that provides the following benefits when you record your play: watch a full match in 20 minutes with the dead-time automatically removed, view stats like shot placement, court positioning, shot speed, and consistency for each shot type, filter to particular shot or point types and easily create highlight videos of certain points or shots, access video analysis, and stats immediately after you finish recording, all on unlimited cloud storage.

Camp Code: TNXRCG

Show Less

See More

Camp Details


Sample Daily Schedule
8:45am

Stretching, Camp Meeting at Courts

9:00am

Tennis Instruction

10:00am

Break

10:15am

Tennis Instruction and Drills

11:45am

Lunch, Rest, Optional Tennis

1:15pm

Tennis Program, Match Play

2:45pm

Break

3:00pm

Tennis Program, Doubles and Drills

4:00pm

Conclusion of Daily Tennis Program

5:30pm

Extended Day Campers Depart
Camp Reviews
Overall Average Rating
Stars
July 18, 2023: Highlight of the camp- was that they are multiple skill levels of players, and that campers were matched up accordingly to meet their individual needs. We also love the extended day, the ration was 2:1, players for every 1 coach.

— Anonymous

July 25, 2022: Receiving an assessment of her overall skills and learning exactly what she needs to do to improve her game. She also loves meeting new people!

— Anonymous

July 15, 2023: My son really enjoyed all aspects of it. It seemed challenging yet fun. Getting a taste of dorm living was a good experience, too.

— Anonymous
Show Less

See more

Reviews
July 14, 2023: Tennis focus, counselors expertise and excitement about tennis, friendly demeanor of other campers

— Anonymous

July 17, 2023: Re-connecting w/ campers from last year and the increase of # of campers from last year

— Anonymous

July 19, 2022: Everything! The coaches were outstanding and they kept the kids motivated non stop

— Anonymous

July 18, 2023: Making new friends. Reconnecting with friends from prior summers.

— Anonymous

July 18, 2023: Winning and getting prizes and cultivating friends and colleagues.

— Anonymous

July 25, 2023: Making friends and learning new skills

— Anonymous

July 18, 2023: Good coaching. Fun experience

— Anonymous

July 18, 2023: Awesome coaching staff

— Anonymous

Build confidence on and off the court

— Anonymous
SECURE YOUR SPOT – CAMPS SELL OUT!
Last year over 650 Sports Camps sold out, leaving 7,000+ campers on the waitlist. Due to high demand, early registration for our first-come-first-serve camps is strongly recommended.
Camp Dates & Prices
This program has concluded for the season.
Please Join our Priority List to be notified when this program is available for registration.