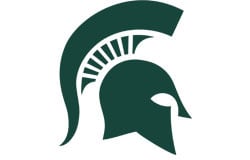 The East Lansing Nike Tennis Camp
The East Lansing Nike Tennis Camp
41

Reviews
Average Rating
Stars
Improve your game and have serious fun
at Nike Tennis Camps
The Nike Tennis Camp at Michigan State University offers top-notch tennis training and supervised competitive play for boys and girls of all skill levels. This tennis summer day camp in the Midwest is the perfect location for junior players to learn from some of the best coaches out there.
Our junior tennis camp in East Lansing, MI delivers a superb tennis program, including collegiate-style drilling, supervised match play, fitness sessions, and sports psychology talks.
Highlights Include
Instruction from Michigan State's Head Men's and Women's Coaches, Gene Orlando and Kim Bruno
5-6 hours daily tennis training; low camper to staff ratio
All campers receive a Nike Tennis Camp t-shirt and prizes
Camp Coaches
Co-Director

Gene Orlando

Gene Orlando guided the Spartans as the men's head tennis coach for 31 seasons. Coach Orlando retired in 2022 and is in his 24th year as a Nike Tennis Camp Director at MSU.

View Gene Orlando's Bio

⟩

Co-Director

Kim Bruno

Kim Bruno enters her fourth season as the head coach for the Michigan State women's tennis team. Kim was hired to the Spartan staff after 11 seasons at Northern Arizona University.

View Kim Bruno's Bio

⟩
Camp Details
2023 CAMP DATES
*Unfortunately, Michigan State University is not permitting residential camps on-site this summer. Camp will run as a DAY Camp only for 2023.
CAMP PROGRAMS
All sessions are open to players of all ability levels unless otherwise noted. Upon arrival, all participants are evaluated by the staff so that their own tennis instruction needs can be addressed throughout the week.
We offer Day Camp (9:00am-4:00pm) for boys and girls, ages 9-18, with All Skills and Tournament Training programs offered all weeks.
All Skills Program: The All Skills program is designed for tennis players of any skill level and background. Campers will learn fundamentals and improve upon their game.
Tournament Training Program: This is a special tournament training component designed for tournament-level or ranked players looking to improve their match play and strategy in a competitive environment.
CAMP SCHEDULE
Check-in: All campers check in on Monday between 8:00am-8:45am at the outdoor tennis courts at Lot 57. During the week, campers will be dropped off between 8:45am-9:00am.
MSU Outdoor Tennis Courts Address: 375 Wilson Rd, Lansing, MI 48823. Please park in Lot 57.
Check-out: Graduation is at 12:00pm on Friday, parents are encouraged to attend! Check-out immediately follows graduation.
Day Camp Program: Monday-Thursday 9:00am-4:00pm, Friday 9:00am-12:00pm
DIRECTIONS & PARKING
Please follow the directions in the camp information packet to the MSU IT Instructional Media Center. This will bring you to parking lot 57 where check-in will be. The outdoor tennis courts are next to Lot 57.
WHAT'S INCLUDED IN THE FEE?
Instruction: Daily tennis training, morning and afternoon sessions
Supervision: Staff members provide optimal supervision and participate in all activities
Camp T-shirt & Prizes: All campers receive a Nike Tennis Camps t-shirt and prize
MEALS
Lunch is NOT provided. Campers must bring their own lunch and snacks each day.
INSTRUCTION, EQUIPMENT, & FACILITY
Ratio: 5:1 camper-to-coach ratio
Groupings: Campers are grouped by age, ability, and experience
Equipment Needed: All campers must bring a tennis racquet, tennis shoes, and a water bottle
Facility: MSU features a massive 20-court outdoor complex lit for night play
Inclement Weather Plan: If rain occurs, campers will have access to MSU indoor practice facility for conditioning activities and will make up court time in the evening.
Medical Protocol: Most camps have an athletic trainer on-site to help with illness or injury. In case of an emergency, campers will be transported to the nearest hospital
TRAVEL

Nike Tennis Camps do not provide transportation to/from camp from the airport, train stations, or bus depots. If you fly into camp, we recommend that you fly into Lansing Capital City Airport and schedule a shuttle from the airport to camp and reserve a spot on a recommended shuttle from the airport. All shuttles leave right outside the airport terminals.
PREPARE FOR CAMP: COMPLETE YOUR PRE-CAMP CHECKLIST
To view your customer account, complete your mandatory forms, pay balance dues, and review important camp information, visit Pre-Camp Checklist. All necessary camp information is on this page. If there are any imperative changes prior to camp start, registered campers will be notified via email and this webpage will be updated!
CHECKLIST OF THINGS TO BRING
Below is a suggested list of clothes, equipment, and personal items. US Sports Camps is NOT responsible for lost or stolen articles or money.
Athletic, on-court tennis clothing

Tennis Racquet(s)

Tennis shoes (no running shoes)

Sweatshirt/warm-up jacket and pants

Water bottle

Sunscreen

Signed Health & Release forms and waivers (forms completed online do not need to be printed and turned in at camp)
COMPANY POLICIES
For information regarding our cancellation policy and all other company policies, please visit USSC Policies.
NIKE PICKLEBALL CAMP FAQ
For general questions about our pickleball camps please see our FAQ page
SWING VISION
Maximize your camp experience with SwingVision, an iPhone app that provides the following benefits when you record your play: watch a full match in 20 minutes with the dead-time automatically removed, view stats like shot placement, court positioning, shot speed, and consistency for each shot type, filter to particular shot or point types and easily create highlight videos of certain points or shots, access video analysis, and stats immediately after you finish recording, all on unlimited cloud storage.

Camp Code: TNXRMS
Show Less

See More

Camp Details


Sample Daily Schedule
9:00am

Stretching, Camp Meeting at Courts

9:30am-12:00pm

Tennis Session: Forehand and Backhand Technique, Point Play, Conditioning

12:00pm-1:00pm

Lunch at Outdoor Tennis Courts

1:00pm-4:00pm

Tennis Session: Serve and Return Technique, Singles Strategy, Point Play & Serving Drills

4:00pm

Pick Up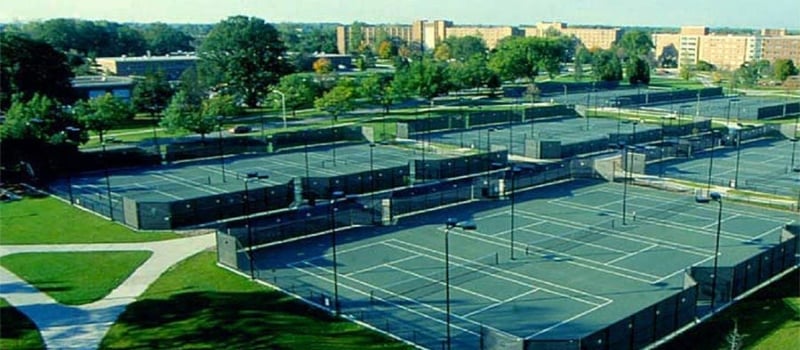 Overall Average Rating
Stars
Improved technique and skills at camp

July 23, 2021: This is Sophia's 4th year attending this camp, she would have gone last year but it was cancelled due to COVID. Sophia has been able to improve her playing technique and tennis game using the skills she has learned from this camp. They give a lot of information on game strategy, different types of game play and they make it fun! She thoroughly enjoys attending this camp with her friends while making new friends.

— Dorine K., Parent

Best in class

July 17, 2021: Very positive and fun team bonding was facilitated by the energetic staff that made him eager to return and improve each day, even though it was quite challenging physically. Coach O, Coach Bruno, and their assistants are absolutely best in class.

— Kristin P., Parent

Amazing experience!

July 7, 2021: My son loves the team environment and the excitement of the week of tennis! He loves the Davis Cup tournament, cheering on his teammates, and playing opponents. The coaches go above and beyond to make this an amazing experience for the athletes! The coaches made sure the camp was safe, informative, competitive, and fun! The feedback they provided at the camp was very valuable.

— Bridget M., Parent
Show Less

See more

Reviews
Enjoyed the training and competition

July 6, 2021: Will enjoyed the training and playing with others of similar skill

— Mike D., Parent

Made new friends while improving tennis skills

July 3, 2021: Jillian made lots of new friends while also improving her tennis skills. Although, this was Jillian's first year playing tennis, she learned proper technique and grips to help her throughout her time playing tennis.

— Cynthia M., Parent

Learned a lot and had fun

July 3, 2021: Matt learned a lot and had fun while doing it. He will be back next year.

— Danielle D., Parent

Will be back next summer for sure!

July 22, 2019: My son absolutely loved the amount of tennis played and matches, he enjoyed the staff and instructors and had so much fun but worked hard and felt it was such a wonderful experience, he wished we could have sent him to the following week the last scheduled tennis camp of the summer. He will be back next summer for sure! Thank you! We love Coach O!

— Jessica C. - Parent

Loved everything about the camp

July 22, 2019: My daughter loved everything about this camp and is already excited to do it again next year. She improved her tennis skills and is ready to show off those new skills to her regular tennis coach. She also loved the cafeteria for lunch and as the Mom I loved not having to pack a lunch. My daughter also enjoyed meeting new children who came from all over the country to attend this camp.

— Amber M. - Parent

Coaches are always encouraging and positive

July 12, 2019: This was our son's 4th year and he keeps coming back! He loves the opportunity to hit with kids he normally doesn't hit with, enjoys the social part of meeting new friends, the tournament experience and the team camaraderie. The coaches are always so encouraging and positive which is great to see on every court, engaged with the kids!

— Lynn B.- Parent

Loved competing at a high level

July 19, 2019: Our son was excited to play tennis all of the time, hang out with friends - play cards, and compete at a high level.

— Jennifer W. - Parent

Looking forward to many more years

June 28, 2019: This was our son's second year and he is looking forward to many more years. The experience of tennis team/camp experience, the college dorm/campus experience and working with Coach Orlando, Coach Bruno and their staff has been once again invaluable.

— Jill D. - Parent

Love everything about it

July 20, 2018: This is Buck's third year at camp and he loves everything about it. The staff does a great job building rapport with the players and helping them play great tennis.

— Julia K. - Parent

Incredibly organized

July 21, 2018: This camp was incredibly organized and the staff were so friendly and approachable.

— Ronald G. - Parent

Can't say enough nice things!

July 31, 2018: Both my sister and I have been going to the MSU Nike Tennis camp for over 6 years now. I can't say enough nice things about Coach Orlando and Coach Bruno. They run a fun, very busy camp. We love it! We always come back inspired to play tennis. Thanks Coach O and the entire MSU team!

— Madison A. - Camper

Days were very well planned

July 21, 2017: The days were very well planned out where specific skills were worked on each day and plenty of point playing was done. Being able to go swimming 2 nights was a hit with my son and friends as it was so hot outside.

— Jennifer G. Parent

Enjoyed meeting new people

July 22, 2017: Playing in tournaments and meeting new people. Lengthen water breaks a bit so that kids have time to re-apply sunscreen.

— Vaughn M. Parent

The camaraderie of this particular camp was exemplary!​

July 24, 2017: It would be very difficult to choose just one or two items, which our daughter loved most. She really enjoyed the instructors and the element of "fun" used in addition to the instruction. The camaraderie of this particular camp was exemplary!

— Kristine T. Parent

Will attend next year

July 24, 2017: Some of the highlights of Zhanna's experience of the camp were of course the tennis portion. Zhanna Liked how there were different groups and at each different station you worked on different skills for example serving, volleys and overheads, or playing small games. Another highlight for her was going to the arcade, swimming, and the dairy store. All the coachs are nice and they like to get to know the players and all the players are nice and encouraging to each other. Overall, Zhanna enjoyed the camp and will attend next year.

— Andrea D. Parent

Enjoyed camp

July 24, 2017: Despite all the rain they had over the 5 day camp, he enjoyed the evening activities planned. He really enjoyed the singles tournament and especially the feedback and information he received at the graduation.

— Carol D. Parent

Second year

August 1, 2017: This was Buck's second year at camp and he had a great time and learned more skills to improve his game.

— Julia K. Parent

great experience!

August 16, 2016: The camp was a great experience and an excellent way to practice the sport of tennis. With 20 beautiful courts, many experienced instructors, and free water and Gatorade to work with, this camp was more than worth it. Getting to experience staying on a college campus and sleeping in dorm rooms was a plus to the camp as well. Overall, it was a blast.

— Alexander K. Camper

camp was amazing

July 28, 2016: The camp was amazing and the staff was great! I only hope that next year we can get a discount on multiple weeks. My daughter wants to attend 3 weeks next year.

— Jean H. Parent

Check in process could improve

July 26, 2016: The check in process was difficult for my daughter. She got switched to a different room after she had already set up her room. That was the only negative thing she thought about the camp.

— Ngan D. Parent

big thank you!

7/22/2016 - Dear Mr. Orlando - I didn't have the pleasure of meeting you, but I wanted to say thank you not only for this video clip of my son, Alex, but for the invaluable training he received. I can't emphasize how very happy I am that my son was able to go to this tennis training camp. Alex loves tennis and luckily made the high school tennis team. Now he has more skills as he improves and tries to make varsity for next year. Feeling blessed that my son had this amazing opportunity! - Loli

— Loli K. Parent

Coaches were excellent

7/21/2016 - Coaches were excellent, fun, positive role models.

— Linda S. Parent

It was fantastic

7/21/2016 - It was fantastic and I made so many new friends and improved greatly. I'm so glad I went!

— Julia S. Camper

great food and counselors

7/21/2016 - Other camps such as the soccer camps had nicer and more well-kept dorm rooms and lobby area. The food was great. Lots of different things to choose from. The Counselors were great and very nice.

— Jaden B. Camper

great week!

7/21/2016 - Great Week - my daughter had a ball!

— Laurie D. Parent

impressed by responsiveness from coaches

7/21/2016 - Ryan had a great time and I was very impressed by the level of responsiveness from Coach Orlando and others involved in the program.

— Jessica W. Parent

We give this camp an A+!

7/21/2015 - My son enjoys this camp so much. The MSU staff are very professional and the kids at the camp have so much fun! The coaches are so enthusiastic and always motivated and positive. We give this camp an A+!

— Anna S. Parent

can't wait to go again next year

7/21/2015 - I had an absolute blast and met a lot of new people. I wish I could've stayed there for a longer period of time. I can't wait to go again next year.

— Claire S. Camper

Thank you to coaches and staff!

8/18/2015 - Lillie had a great time at camp and will be back next year, possibly for 2 weeks. Thank you to all of the coaches and staff!!

— Jennifer B. Parent

felt a tremendous amount of support from this camp

7/25/2015 - I really enjoy being a part of this camp. the past two summers have been very fun. This year I didn't play very good tennis, so that is the only reason I did not improve as much as I had hoped. However, I continue to come back to this camp because of the staff, especially Coach O. I have felt a tremendous amount of support from this camp and plan on being back next year. Thank You!

— Zach W. Camper

more awards

7/24/2015 - Should give out more awards, overall awesome, will be back!

— Summer B.

provided me with new insight and great experiences

7/23/2015 - I've come to this camp for the last three years, and each year provided me with new insight and great experiences. Thanks for the tennis and thanks for the memories.

— George M. Camper

Great experience and we will definitely be back!

7/13/2015 - This camp was awesome! My son's serving improved and he had fun. I liked the Facebook feed so I could see him in action. Great experience and we will definitely be back!!

— Patricia A. Parent

7/11/2015 - I loved the camp and can't wait to come back next year!

— Adnan A. Camper

Just perfect

7/11/2015 - Better than I thought. Great coaches, lots of tennis, new friends. Just perfect.

— Rachel D. Camper

each year the camp gets better and better!

7/11/2015 - This was my third year attending and each year the camp gets better and better! Well done Nike and well done MSU coaches and staff! It would be AWESOME if there were a discount extended for folks who wanted to do an additional week of camp or if a sibling were attending.

— Madison A. Camper

Coach Orlando is warm and approachable

7/10/2015 - Matthew had a great experience. He just signed up for a second week. Coach Orlando is so warm and approachable. We were thrilled with the camp.

— Gerald G. Parent

Excellent involvement from staff

7/10/2015 - Great coaches! Parents like the Facebook page. Excellent involvement from staff. They know their campers. Runs smoothly!

— Carolyn J. Parent
SECURE YOUR SPOT – CAMPS SELL OUT!
Last year over 650 Sports Camps sold out, leaving 7,000+ campers on the waitlist. Due to high demand, early registration for our first-come-first-serve camps is strongly recommended.
Camp Dates & Prices
Programs: Jr Camp - All Skills, Tournament Training
Age Group: 9 - 18
Gender: Co-Ed
* Pricing is subject to change based on availability. Enroll today to secure current rates.
Programs: Jr Camp - All Skills, Tournament Training
Age Group: 9 - 18
Gender: Co-Ed
* Pricing is subject to change based on availability. Enroll today to secure current rates.