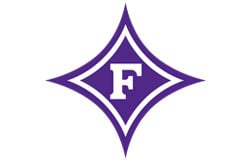 Nike Tennis Camp at Furman University
Nike Tennis Camp at Furman University
40

Reviews
Average Rating
Stars
Improve your game and have serious fun
at Nike Tennis Camps
Our South Carolina tennis camp at Furman University is a great way to take your game to the next level! As one of the best junior tennis camps in the South, players of all ages and abilities come to Greenville to enjoy this terrific summer camp.
Our junior tennis camps help boys and girls improve their game in a short period of time, providing players with a chance to play tennis for up to 5 hours a day, make new friends, and enjoy nightly group activities and great accommodations.
Highlights Include
Instruction from Furman Men's Tennis Coach JJ Whitlinger, Furman Women's Tennis Coach Michelle Dasso and their experienced staff
5-6 hours of daily tennis training; low camper to staff ratio
Fun off-court evening activities for overnight campers
Camp Coaches
Camp Director

J.J. Whitlinger

John (J.J.) Whitlinger was promoted to head coach of the Paladin Men's Tennis program in August of 2019.

View J.J.'s Bio & Tennis Tips

⟩

Camp Director

Michelle Dasso

Michelle Dasso was hired as the Furman women's tennis head coach in August of 2022.Prior to her time at Furman, Dasso served as the associate head women's coach at Duke from 2019-22, where she helped lead the Blue Devils to an ITA final national ranking of fourth in the spring of 2022. She also holds previous head coaching experience at both Campbell and Illinois. "Furman Athletics is honored to introduce Michelle Dasso as our new head coach for women's tennis," said Furman director of athletics Jason Donnelly at the time of Dasso's hiring. "Michelle brings extensive experience and success as both a coach and a standout player and is highly regarded within the tennis community. We are excited to welcome Michelle to our Furman family and look forward to building upon the tradition of excellence that has been established for Furman women's tennis."

View Michelle's Bio

⟩
Camp Details
2023 Camp Dates

- Directed by Michelle Dasso
- Directed by J.J. Whitlinger
June 25-29
July 9-13
July 16-20
This camp is open to any and all entrants (limited only by number, age, grade level and/or gender).
CAMP PROGRAMS
The objectives of our camp are to reach each camper's specific needs for development. Campers will work on drills that develop consistency, placement, and accuracy, as well as conditioning exercises to build speed, quickness, and endurance. Each session will include team play. All sessions stress the importance of a positive attitude and good sportsmanship.

Upon arrival, all participants are evaluated by the staff so that their own instructional needs can be addressed throughout the week-long tennis camp.
We offer Day (8:30am-4:30pm) and Overnight camp for kids ages 8-18. In addition to our All Skills program, we offer Tournament Training and High School Training during certain weeks.
All Skills Program: The All Skills program is designed for tennis players of any skill level and background. Campers will learn fundamentals and improve upon their game.

Tournament Training Program: The tournament training program is geared towards tournament-level and ranked players looking to improve their tournament results, learn winning strategies, and work on mental toughness.

High School Session: The high school program is provided for players ages 13-18 currently on their high school team and wanting to move up the ladder or those planning on making the high school team.
CAMP SCHEDULE
Check-in: Overnight will check in between 1:30pm-3:00pm on Sunday at the dorms. Day campers will check in between 2:00-3:00pm at Mickel Tennis Center.
Tennis Center Address: Mickel Tennis Center, 18844 Duncan Chapel Rd, Greenville, SC 29617
Check-out: An award ceremony will take place 11:00-11:30am on the tennis courts. After the ceremony parents will accompany their campers back to the dorms to collect their belongings and check-out. All campers must be checked out by 2:00pm. Parents are welcome to attend the award ceremony!
Day Camp Hours: Sunday 3:00pm-6:30pm, Monday-Wednesday 8:30am-4:30pm, Thursday 8:30am-12:00pm
WHAT'S INCLUDED IN THE FEE?
Instruction: Daily tennis training, morning and afternoon sessions
Overnight Campers: Dormitory housing on campus and all meals are provided
Day Campers Meals: Dinner is provided on Sunday in addition to lunch Monday-Wednesday
Supervision: Staff members reside in rooms strategically placed throughout the dorm to provide optimal supervision and participate in all activities

Camp T-shirt & Prizes: All campers receive a Nike Tennis Camps t-shirt and prizes
INSTRUCTION, EQUIPMENT, & FACILITY
Ratio: 6:1 camper-to-coach ratio
Groupings: Campers are grouped by age, ability, and experience
Equipment Needed: All campers must bring a tennis racquet, tennis shoes, and a water bottle
Facility: Campers will train at the Mickel Tennis Center and utilize the 13 outdoor courts and 4 indoor courts on campus.

Inclement Weather Plan: Indoor courts are available for use as needed
Medical Protocol: Most camps have an athletic trainer on-site to help with illness or injury. In case of an emergency, campers will be transported to the nearest hospital

HOUSING

The information below is based on previous years and is subject to change each year. Final housing information for this camp will be provided in the Camp Information Packets and emailed to all campers closer to the camp's start date.

- Session 1: Greer (South Housing)
- Session 2: Haynesworth (Lakeside Housing)
- Session 3-5: Chiles Hall (Lakeside Housing)
Number of Campers per Room: 2, no triples available
Roommates: Rooms are assigned by age & roommate requests. Roommate requests must be mutual and received no later than 14 days before the start of camp. If you don't have a roommate request, you will be placed in a room with someone near your age. It will be a great opportunity to meet someone new!
Linens: Campers must provide their linens (Twin XL)
Air Conditioning: Dorms DO have A/C. Campers are still encouraged to bring a fan
EXTRAS
Evening Activities: May include movie night, pizza night, and team acitivies
Weekend Stayovers: Not offered at this location
TRAVEL
Nike Tennis Camp does not provide any transportation to/from camp from airports, train stations, or bus depots. If you fly into camp, we recommend that you fly directly to the Greenville-Spartenburg International Airport in Greer, South Carolina.

PREPARE FOR CAMP: COMPLETE YOUR PRE-CAMP CHECKLIST
To view your customer account, complete your mandatory forms, pay balance dues, and review important camp information, visit Pre-Camp Checklist. All necessary camp information is on this page. If there are any imperative changes prior to camp start, registered campers will be notified via email and this webpage will be updated!
CHECKLIST OF THINGS TO BRING
Below is a suggested list of clothes, equipment, and personal items. US Sports Camps is NOT responsible for lost or stolen articles or money.
Athletic, on-court tennis clothing

Tennis Racquet(s)

Tennis shoes (no running shoes)

Sweatshirt/warm-up jacket and pants

Water bottle

Sunscreen

Signed Health & Release forms and waivers (forms completed online do not need to be printed and turned in at camp)
OVERNIGHT CAMPERS ONLY:
Athletic clothing mentioned above (1-2 pairs/day)

Comfortable off-court clothing (pants/shorts, t-shirts, sweatshirts 1 pairs/day)

Undergarments (1-2pair/day)

Swimsuit and towel (subject to change)

Pajamas

Shower flip flops

Toiletries (shampoo, conditioner, body wash, face wash, hairbrush, toothbrush, toothpaste, deodorant, etc.)

Personal items & medications

Washcloth and bath towel

Fan (optional)

Bed sheets (if linens are not provided)

Comforter/blanket (if linens are not provided)

Pillow/pillow case (if linens are not provided)
COMPANY POLICIES
For information regarding our cancellation policy and all other company policies, please visit USSC Policies.

NIKE TENNIS CAMP FAQ
For general questions about our tennis camps please see our FAQ page


Camp Code: TNXRFM
Show Less

See More

Camp Details


Sample Daily Schedule
7:15am

Wake-up, breakfast at the Furman University dining court

9:00am-12:15pm

Group sessions broken into three areas personal instruction, drills, and team play.

12:30pm-1:30pm

Lunch and rest

1:45pm-4:30pm

Group sessions broken into three areas personal instruction, drills, and team play.

4:30pm

Day Campers Depart

4:30pm-5:30pm

Free play tennis

5:30pm

Extended Day Campers Depart

5:30pm-7:30pm

Dinner and getting ready for evening activities

7:45-9:30

Evening Activity (movie night, pizza night, fun park night, miniature golfing)

10:00pm

Lights Out
Overall Average Rating
Stars
Highly recommend

July 23, 2021: Camp was well organized and had good balance of fun. Beautiful Furman campus. Handled all the constraints of having camp during Covid perfectly and safely. Would highly recommend. Thank you for making camp available and safe during this time.

— Jackie V., Parent

Strong experience all around

July 20, 2021: My daughter especially enjoyed the rotations each day (serving, drilling, live ball, and point play). The tennis instructors were fabulous, and genuinely worked to create a positive and fun environment for the campers, while helping them improve their game. We were grateful for a strong experience all around, and will certainly be back next summer!

— Christine B., Parent

Excited to attend again next summer!

July 16, 2021: My twins had an amazing time at camp and were wanting to go back again for the following week… They really loved their experience and are excited to attend next summer again!

— Lisa D., Parent
Show Less

See more

Reviews
Overall great experience

July 16, 2021: Aiden LOVES tennis so it is pretty easy for him to love any involvement! This makes it hard to say a highlight, but he (and I!) loved the staff and how he was always greeted by name. This made him comfortable which made the overall experience truly a great one!

— Lynelle D., Parent

Thanks for everything!

July 16, 2021: Everyone was nice and helpful and once they found out she was a leftie they paired her up with a leftie counselor. She is eager to learn and can't wait until next weeks! Thanks to all for all of your hard work, encouragement, teaching good sportsmanship and effort!

— Dara P., Parent

Can't wait to return next year

July 16, 2021: Elizabeth loved the counselors and said that she learned a lot especially her serve improved a lot. She had a blast and can't wait to return next year!

— Kristin P., Parent

Very impressed with camp

July 16, 2021: Peden had a great time at camp. Dorms were clean and safe, Food was good, and tennis was great!! She loved all the activities and the coaches. Very impressed with the camp and staff.

— Carole B., Parent

Loved the dorm experience

July 16, 2021: She loved living in the dorm and making new friends. She never once complained about playing 6 hours of tennis in 90+ degree heat. She said all the coaches were great and made it a lot of fun!

— Megan D., Parent

Coaches and facilities are awesome

July 2, 2021: Thomas has been to Furman Camp for 3 years, enjoys the competition, The coaches and the facilities are awesome including the indoors when rain!

— Brenda D., Parent

Thank you for a wonderful experience

July 2, 2021: Thank you so much for a wonderful experience. Hallie Anne had a wonderful time and enjoyed every minute. She appreciated the feedback and is looking forward to implementing it on the courts. The coaches and staff went above and beyond to make her feel comfortable and included. She met a lot of friends. Can not wait until next year. P.S. thank you for making her birthday extra special!!!

— Jennifer W., Parent

Loved the camp experience

July 2, 2021: Jace loved his experience at camp. There was good competition and instruction as well as a lot of fun activities off the court in the evening. He enjoyed making new friends as well as having a lot of bonding time with his current friends.

— Erika T., Parent

Good experience playing diverse players

July 2, 2021: Being from a small town, it was a good experience to be around players with more experience and all skill levels. My daughter especially liked the staff.

— Caroline W., Parent

Had an amazing camp and is begging to return!

July 19, 2019: Our daughter had an amazing time at camp and is begging to return next year! (We're happy to send her back.) She really enjoyed meeting new friends and the many social activities. The food on campus was also amazing. This was her first experience at a Nike Camp and she didn't know a soul when she arrived, and has left with many new friends.

— Julie C. - Parent

highlight of our summer!

July 12, 2019: This camp is the highlight of our summer. Our son learned lots of things that improved his game. He had tons of fun and made lots of new friends. The coaches really invested time in the kids! I felt like in a short time, they really got to know my kids!

— Chrystal S. - Parent

Loved all the tennis coaches and felt like she learned a lot!

June 28, 2019: Our daughter had a wonderful time. She loved all the tennis coaches and felt she learned so much more. She meet so many friends.

— Bernadette M. - Parent

Loved everything!

July 19, 2019: She loved everything! She said the food was terrific and there were many options to choose from—especially breakfast. She said she would come back again.

— Sharon G. - Parent

Good balance of instruction and fun

July 20, 2018: Enjoyed the good balance of tennis instruction and having other fun activities

— Jennifer A. - Parent

Loved the instructors!

July 20, 2018: Thomas was appropriately put in a skill group, loved the instructors, and learned a lot!

— Brendan D. - Parent

Had a fun learning experience

July 21, 2018: Enjoyed the counselors and their encouraging comments. Had a fun learning experience.

— Austin S. - Parent

Furthered his passion for tennis

July 21, 2017: He loved the counselors and developed great relationships with other campers. This camp furthered his passion for tennis - as soon as he got home from camp he went straight to the courts and played another two hours - on a 90 degree day!

— Allison H. Parent

Enjoyed the tips and instruction

July 21, 2017: My son's highlights were the instructors/staff, the food, the morning workout, which he said helped alleviate the soreness, and the tips and instruction he got. This camp led me to believe that the high school kids would be in their own group, yet it doesn't seem that this was the case.

— Wendy M. Parent

i love it

July 21, 2017: my forehand and serve improved greatly i loved it

— Rick Hewitt. Camper

Memorable experience

August 15, 2017: This was my son's first experience at an overnight camp and they made it memorable. I was very impressed with the presence and accessibility of the coach and other staff members. The coaches introduced themselves, got to know our family and helped us with luggage. I was also extremely happy with the counselors. My son's roommate was not there on check in day and the counselor called me to ask what would be best for my son. I was so grateful for her concern and kindness. We can't wait until next year!! Thank you!!

— Laurel F. Parent

Wonderful time

July 30, 2017: Lucy had a wonderful time and has already asked is she can come back next year.

— Nicole M. Parent

Very organized camp

July 26, 2017: The highlight of the camp was the coaches and their level of organization. We have attended many other tennis camps that could not measure up to this.

— Barbara J. Parent

so fun and she improved

July 31, 2016: Margaret LOVED tennis camp and definitely wants to return. She said it was so fun, AND she improved! Our goal as parents is to help our kids have fun with sports and physical activity so they will continue to be active for their entire lives. Thanks for helping us with this!

— Becca S. Parent

staff is amazing

July 29, 2016: This tennis camp was awesome !!!! The staff is amazing!!!! I will definitely be back!!!!!

— Cassidy G. Camper

great experience

July 27, 2016: Makensie was hesitant to attend because she was attending the camp alone and did not know anyone. By the end of the week, she was talking about going back next year with friends she had made while at Furman. She had a great time; really enjoyed the staff and counselors. It was a great experience for her to get out of her shell and to develop her game.

— Marita L. Parent

A+ experience

July 27, 2016: Great staff, great campus..... All around A+ experience!

— Clayton R. Camper

wrong t-shirt size

July 27, 2016: Was given the wrong size shirt. Was placed with players below my skill level.

— Annabelle W. Camper

loved it

July 27, 2016: Pate attended camp for the second year in a row. He loved it! He will attend again next year.

— William R. Parent

hopes to return next year.

July 13, 2016: Kessler had fun both on and off the court, and enjoyed all the staff that he got to interact with. He loves Furman University and Furman Tennis and hopes to return next year.

— Charles P. Parent

We will be back

7/22/2015 - I think my daughter's skills would have improved more if the camp had used the age appropriate balls for her to practice. I see how that is most likely not practical given the age ranges of kids, but I do think she would have increased her skill while applying the coaching instruction that she got at camp. I think she got real frustrated that her swing was affected by the type of ball. We will be back though, because she had such a great time and as she grows older the instruction will benefit her.

— Amy K. Parent

Did not want to leave

7/21/2015 - Loved camp!!! Did not want to leave!

— John K. Camper

counselors were very personable

7/21/2015 - I thought the counselors were very personable and interacted with the campers really well. They were a lot of fun to be with!

— Alec C. Camper

Fantastic experience

7/21/2015 - Fantastic experience!

— Dane H. Camper

No WiFi

7/21/2015 - Really wish the camp would provide WIFI services!! Most places do these days.

— Mattie J. Camper

wonderful camp and a great experience

7/6/2015 - It was a great experience for my daughter. thank you so much for running such a wonderful camp and a great experience. My only concern was that she is 14 and her roommate was 17-- that's too much of an age gap.

— Nancy M. Parent

7/2/2015 - Zack and Eli had a great time and they are so excited about tennis now. They also learned so much. They are already talking about next year!

— Ella E. Parent

fun activities at night

7/2/2015 - Had a great time and did a lot of fun activities at night!

— Gabi P. Camper
SECURE YOUR SPOT – CAMPS SELL OUT!
Last year over 650 Sports Camps sold out, leaving 7,000+ campers on the waitlist. Due to high demand, early registration for our first-come-first-serve camps is strongly recommended.