Nike Tennis Camp at Carthage College
Nike Tennis Camp at Carthage College
19

Reviews
Average Rating
Stars
Improve your game and have serious fun
at Nike Tennis Camps
We're thrilled to be back at Carthage College this summer hosting the Rod Schroeder National Tennis Camp under new leadership! This junior tennis camp in Wisconsin offers overnight and day camps with All Skills, Tournament Training, and High School programs.
After three years of assisting Carthage Head Coach Brady Lindsley, Illinois Tech Head Men's & Women's Coach, Erik Scanlan has taken over at the helm to maintain the history of these renowned camps. Running over 40 years, the Rod Schroeder National Tennis Camp is steeped in tradition and provides the ultimate combination of athletics and fun, both on and off the courts.
Highlights Include
Instruction from Illinois Tech's Head Men's and Women's Coach, Erik Scanlan and his experienced staff
Focus on 3 major concepts of the tennis game: technique, strategy, and mental game
5-6 hours daily tennis training
Low camper to coach ratio
Camp Coaches
Camp Director

Erik Scanlan

Scanlan brings a bevy of experience and energy to our Nike Tennis camp, which will accelerate the growth and abilities of all athletes participating.

View Erik's Bio

⟩
Camp Details
2024 CAMP DATES

CAMP PROGRAMS
We are offering two weeks of Overnight camp options for kids ages 9-17. This camp offers All Skills, Tournament Training, and High School programs.
All sessions are open to players of all abilities unless otherwise noted. Upon arrival, all participants are evaluated by the staff so that their own instructional needs can be addressed throughout the week. Throughout the week, the focus shifts between the technical, tactical, physical, and mental aspects of tennis. Mornings focus on the technique while afternoons are geared towards match-play situations.

All Skills Program: The All Skills program is designed for tennis players of any skill level and background. Campers will learn fundamentals and improve upon their game.

Tournament Training Program: The tournament training program is geared towards tournament-level and ranked players looking to improve their tournament results, learn winning strategies, and work on mental toughness.

High School Session: The high school program is provided for players ages 13-18 currently on their high school team and wanting to move up the ladder or those planning on making the high school team.
CAMP SCHEDULE
Check-in: Overnight check-in between 1:30pm-3:00pm on Sunday at Tarble Hall.

Check-out: All campers check out 1:00pm on Friday. A graduation ceremony will take place right before checkout at Smeds. All parents are invited to come!
WHAT'S INCLUDED IN THE FEE?
Instruction: Daily tennis training, morning and afternoon sessions
Meals: Our remodeled cafeteria now offers food-court-style dining with 5 different restaurant-type serving areas. Meals are served 3 times daily overlooking picturesque Lake Michigan. All meals are wholesome and nutritious. The campus Snack Bar, open evenings until 10:30, allows campers to grab a snack before bedtime.

Overnight campers: Dormitory housing on campus and all meals are provided
Supervision: Staff members reside in rooms strategically placed throughout the dorm to provide optimal supervision and participate in all activities
Camp T-shirt & Prizes: All campers receive a Nike Tennis Camps t-shirt and prizes
INSTRUCTION, EQUIPMENT & FACILITY
Ratio: 6:1 camper-to-coach ratio
Groupings: Campers are grouped by age, ability, and experience
Equipment Needed: All campers must bring a tennis racquet, tennis shoes, and a water bottle
Facility: Smeds Tennis Center: 10 outdoor courts
Medical Protocol: Most camps have an athletic trainer on-site to help with illness or injury. In case of an emergency, campers will be transported to the nearest hospital
HOUSING
The information below is based on previous years and is subject to change each year. Final housing information for this camp will be provided in the Camp Information Packets and emailed to all campers closer to the camp's start date.
Dorm: Tarble Hall
Number of Campers per Room: The Carthage administration has decided to allow campers to stay two per room upon prior consent from parents/guardians. In adherence to state and local guidelines, campers will be required to wear masks in all common areas (bathrooms, dining halls, lounge areas, etc) but will not be required to wear masks within their own dorm room or while on the court. We will accommodate roommate requests as well as pair up others two per room. If you are NOT comfortable with a double and prefer for your camper to stay in a single room, please let us know
Roommates: Rooms are assigned by age & roommate requests. Roommate requests must be mutual and received no later than 14 days before the start of camp. If you don't have a roommate request, you will be placed in a room with someone near your age. It will be a great opportunity to meet someone new!
Linens: Bed linens are NOT provided. Please bring sheets, blanket, towel, facecloth, and pillow (Twin XL)
Air Conditioning: The dorms do NOT have A/C. Campers are encouraged to bring a fan
EXTRAS
Evening Activities: Tennis is foremost in our schedule, but rest times and evening hours are filled with other leisure enjoyments. There are lounges for games of all sorts, pool tables, table tennis, and card games. Everyone becomes closely acquainted with each other, so these activities are full of laughter and fun. In addition, our program includes a movie night on campus and a bowling party!

Weekend Stayovers: Not offered at this location
Camp Store (New): The camp will have Gatorade, water, snacks, tennis accessories (grips, shock absorbers, etc..), and stringing ($20 per racquet) available at the "camp store" that will be open anytime we are on the Tennis court.
Campers are welcome to bring cash to use for this. There is also an Einstein's Bagels and convenience shop open on the campus which campers can go to for lunch. Recommended amount $25-$40
TRAVEL
Nike Tennis Camps do not provide transportation to/from camp from airports, train stations, or bus depots. If you fly into camp, we recommend that you fly into the Milwaukee or O'Hare Airport and take the airport shuttle from the airport to camp. Milwaukee Airport (45 min from campus) and O'Hare (1 hour from campus). Milwaukee is the easier airport to choose.

Airport Shuttle: Transportation to campus can be arranged through Go Airport Connection at 1-800-236-5450 or by fax at 414-769-0209. Reservations are required. www.goairportconnection.com. MKE approximate cost: $49 one-way, and $5 for each additional person. Chicago ORD approximate cost: $142 one way, $150 for 2 people person). There is a 5% discount if you book online.
PREPARE FOR CAMP: COMPLETE YOUR PRE-CAMP CHECKLIST
To view your customer account, complete your mandatory forms, pay balance dues, and review important camp information, visit Pre-Camp Checklist. All necessary camp information is on this page. If there are any imperative changes prior to camp start, registered campers will be notified via email and this webpage will be updated!
CHECKLIST OF THINGS TO BRING
Below is a suggested list of clothes, equipment, and personal items. US Sports Camps is NOT responsible for lost or stolen articles or money.
Athletic, on-court tennis clothing

Tennis Racquet(s)

Tennis shoes (no running shoes)

Sweatshirt/warm-up jacket and pants

Water bottle

Sunscreen

Signed Health & Release forms and waivers (forms completed online do not need to be printed and turned in at camp)
OVERNIGHT CAMPERS ONLY:
Athletic clothing mentioned above (1-2 pairs/day)

Comfortable off-court clothing (pants/shorts, t-shirts, sweatshirts 1 paid/day)

Undergarments (1-2pair/day)

Swimsuit and towel (subject to change)

Pajamas

Shower flip flops

Toiletries (shampoo, conditioner, body wash, face wash, hairbrush, toothbrush, toothpaste, deodorant, etc.)

Personal items & medications

Washcloth and bath towel

Fan (optional)

Bed sheets (if linens are not provided)

Comforter/blanket (if linens are not provided)

Pillow/pillow case (if linens are not provided)
COMPANY POLICIES
For information regarding our cancellation policy and all other company policies, please visit USSC Policies.

NIKE TENNIS CAMP FAQ
For general questions about our tennis camps please see our FAQ page
SWING VISION
Maximize your camp experience with SwingVision, an iPhone app that provides the following benefits when you record your play: watch a full match in 20 minutes with the dead-time automatically removed, view stats like shot placement, court positioning, shot speed, and consistency for each shot type, filter to particular shot or point types and easily create highlight videos of certain points or shots, access video analysis, and stats immediately after you finish recording, all on unlimited cloud storage.
Camp Code: TNXRSO
Show Less

See More

Camp Details


Sample Daily Schedule
7:00am

Wake up Call… Rise and Shine (Straighten up room)

7:00am-8:00am

Breakfast and fill up water bottles

8:00am-8:15am

Meet in front of Tarble Hall to be shuttled to the tennis courts and help coaches set up equipment

8:15am-11:00am

Morning Tennis (Strategy and Drills)

11:00am-11:15am

Shuttle to the dorms

11:15am-11:30am

Bank is Open

11:30am-12:45pm

Lunch

12:45pm-1:00pm

Shuttle to the courts

1:00pm-4:30pm

Afternoon Tennis (Mental Strategy & Match Play)

4:30pm-4:45pm

Shuttle to the dorms

5:00pm-6:00pm

Dinner

6:00pm-6:15pm

Shuttle to the courts

6:15pm-7:45pm

Evening Tennis (Serving & High Intensity Drills)

7:45pm-8:00pm

Shuttle to the dorms

8:00pm-10:00pm

Evening Activity

10:00pm-10:30pm

Wind down (Ger ready for bed)

10:30pm

Lights Out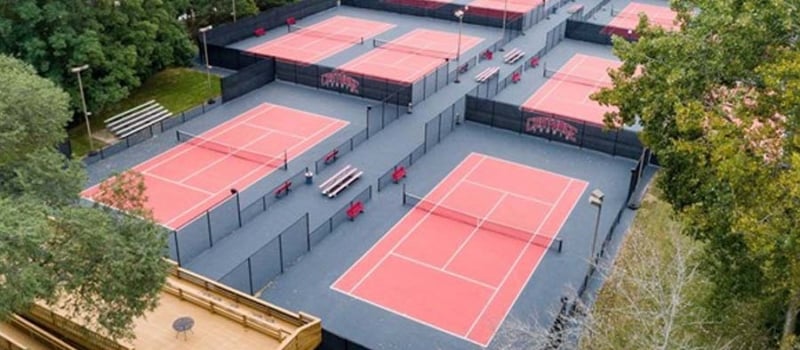 Camp Reviews
Overall Average Rating
Stars
July 18, 2023: How the counselors/coach make the learning fun exciting and enjoyable.

— Anonymous

July 29, 2023: Meeting new people and lots of tennis!

— Anonymous

July 29, 2023: Charlotte loved dorms and night tennis!

— Anonymous
Show Less

See more

Reviews
July 16, 2023: Lots of tennis, great staff and food and FUN

— Anonymous

July 29, 2023: Changed my daughters serve for the better

— Anonymous

July 15, 2023: My son improved his game and had a good time!!

— Anonymous

July 18, 2022: Eric is an exceptional coach and his support staff very skilled.

— Anonymous

July 30, 2023: My daughter making new friends, significantly improving her skills

— Anonymous

July 22, 2023: Great food options, organized and friendly staff, high quality tennis

— Anonymous

July 29, 2023: My Daughter won a very close match for her team to finish first place.

— Anonymous

July 16, 2022: The coaches and working with kids from all over with different skill levels.

— Anonymous

August 14, 2023: Son enjoyed the camp, made friends, played a lot of tennis, got to experience a week away

— Anonymous

July 22, 2023: The fact that child enjoyed his first overnight camp experience, and he would like to return.

— Anonymous

July 15, 2023: Erik is a great leader; instructors all friendly and knowledgable with great tennis experiences

— Anonymous

July 28, 2023: child had a wonderful time, making new friends, being independent while improving tennis skills!

— Anonymous

July 22, 2023: This was the first overnight experience, and the fact that kids said they would like to do it again.

— Anonymous

July 24, 2022: The personalized advice I got from counselors at the camp and the well designed activities at the camp that facilitated learning greatly.

— Anonymous

July 29, 2023: Rahael really enjoyed the camaraderie of the coaches. Poker nights, how to train your dragon and vigorous daytime tennis made for a great week.

— Anonymous

Skills have improved in just one week!

— Anonymous
SECURE YOUR SPOT – CAMPS SELL OUT!
Last year over 650 Sports Camps sold out, leaving 7,000+ campers on the waitlist. Due to high demand, early registration for our first-come-first-serve camps is strongly recommended.
Camp Dates & Prices
Programs: Jr Camp - All Skills, Tournament Training, High School
Age Group: 9 - 17
Gender: Co-Ed
* Pricing is subject to change based on availability. Enroll today to secure current rates.
Programs: Jr Camp - All Skills, Tournament Training, High School
Age Group: 9 - 17
Gender: Co-Ed
* Pricing is subject to change based on availability. Enroll today to secure current rates.