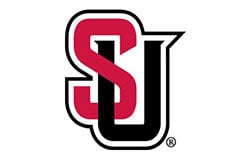 Nike Tennis Camp at Seattle University
Nike Tennis Camp at Seattle University
37

Reviews
Average Rating
Stars
Improve your game and have serious fun
at Nike Tennis Camps
The Seattle University Nike Tennis Camp in Washington is a great tennis day camp for boys and girls, ages 5-18, of all skill levels. Campers have the opportunity to hit tons of balls, improve their technique, and be challenged by their peers.
Our junior tennis camp in Seattle delivers the perfect mix of technical tennis instruction and drilling from a top-notch coaching staff, supervised match play, and fun free time to hang out with friends.
Highlights Include
Instruction from Seattle University's Head Tennis Coach Kristina Hollander
5-6 hours daily tennis training; low camper to staff ratio
All campers get a Nike Tennis Camp t-shirt and fun prizes!
New High Performance Clinic Option for Players Ages 13-18!
Camp Coaches
Camp Director

Kristina Hollander

Kristina Hollander enters her first season at Seattle U in 2020-21.

View Kristina's Bio

⟩
Camp Details
2023 CAMP DATES
June 17 (High Performance Clinic)
June 19-22
June 24 (High Performance Clinic)
June 26-29
July 3-6 *Camp will run on 7/4*
July 8 (High Performance Clinic)
July 10-13
July 15 (High Performance Clinic)
July 17-20
July 24-27
July 31-August 3
Camp is open to any and all entrants and only restricted only by age and number of campers.
CAMP PROGRAMS
All Skills Program: The All Skills Program is geared towards players ages 10-18 of all skill levels. This program is geared towards beginners through advanced players who love this sport. This program includes tennis drills, match-play sessions, and some strength & injury prevention training, conditioning for footwork, speed, agility, and endurance.
10 & Under Tennis Program: The 10&Under Tennis Program is geared towards players ages 5-10 who are just learning the sport. '10 & Under Tennis' follows the logic of other youth sports: balls bounce lower, move slower through the air and are easier to hit. Racquets are sized for small hands and courts are smaller and easier to cover. By using this format, the benefits are immediate, and very quickly little kids are rallying, playing, and excited to keep playing! This program includes tennis drills and match-play sessions.
High Performance Clinic: The High Performance sessions at Seattle U. are special high-intensity options for players looking to advance to the next level. Players will go through 3 hours of intensive training including specific work on essential areas such as strategy, match-like scenarios, and breaking down techniques for certain shots. A low ratio of 4 players to 1 coach will be maintained so that the high-quality coaching staff can provide optimal instruction throughout the strength, conditioning, footwork, and tennis drills. Players will have the opportunity to chat with coaches about the college experience, and professional level, or discuss any of their personal goals so we can help and advise what may be the best plan for them. These are 1-day clinics, 9:00am-12:00pm for players ages 13-18.
We offer Full Day Camps, Monday- Thursday (9:00am-4:00pm) for boys and girls, ages 5-18, with All Skills and 10&Under Tennis programs each week. New in 2023, we also offer High Performance clinics on Saturdays throughout the summer for high-level players ages 13-18.
CAMP SCHEDULE
Check-in: All campers check in at 8:30am on Monday's at the tennis courts. Check in rest of days closer to 9:00am. Parents are encouraged to drop off and pick up at the back entrance on 13th Ave. (the back entrance to the courts and soccer field).
Check-out: 4:00pm each day at the tennis courts.
Daily Schedule: Monday 8:30am-4:00pm, Tuesday-Thursday 9:00am-4:00pm
- High Performance Clinic
Saturday: Arrive at the courts at 8:45am for the clinic to start right at 9:00am. Campers will play from 9:00am-12:00pm.
MEALS
Campers will need to bring a lunch and snacks each day.
WHAT'S INCLUDED IN THE FEE?
Instruction: 5-6 of daily tennis training, morning and afternoon sessions
Supervision: Staff members participate in all activities
Camp T-shirt: All campers receive a Nike Tennis Camps t-shirt
INSTRUCTION, EQUIPMENT & FACILITY
Ratio: 5:1 camper-to-coach ratio
Groupings: Campers are grouped by age, ability, and experience
Equipment Needed: All campers must bring a tennis racquet, tennis shoes, and a water bottle
Facility: Campers will utilize Seattle University's outdoor tennis court

Parking: There is free 2 hour parking by the tennis courts (back-in angle parking is recommended to avoid parking tickets).

Inclement Weather Plan: In case of inclement weather, we will be using Friday as a make-up day
Medical Protocol: Most camps have an athletic trainer on-site to help with illness or injury. In case of an emergency, campers will be transported to the nearest hospital
INCLEMENT WEATHER PLAN
We DO NOT have access to indoor tennis courts for this summer. If the weather does not permit training outdoors, the director will reach out on the morning of camp. Campers will have the option of making up any missed days due to rain at any point during the summer.

Camp is open to any and all entrants, limited only by number, age, grade level and/or gender.
PREPARE FOR CAMP: COMPLETE YOUR PRE-CAMP CHECKLIST
To view your customer account, complete your mandatory forms, pay balance dues, and review important camp information, visit Pre-Camp Checklist. All necessary camp information is on this page. If there are any imperative changes prior to camp start, registered campers will be notified via email and this webpage will be updated!
CHECKLIST OF THINGS TO BRING
Below is a suggested list of clothes, equipment, and personal items. US Sports Camps is NOT responsible for lost or stolen articles or money.
Athletic, on-court tennis clothing

Tennis Racquet(s)

Tennis shoes (no running shoes)

Sweatshirt/warm-up jacket and pants

Water bottle

Sunscreen

Signed Health & Release forms and waivers (forms completed online do not need to be printed and turned in at camp)
COMPANY POLICIES
For information regarding our cancellation policy and all other company policies, please visit USSC Policies.
NIKE TENNIS CAMP FAQ
For general questions about our tennis camps please see our
FAQ page
SWING VISION
Maximize your camp experience with SwingVision, an iPhone app that provides the following benefits when you record your play: watch a full match in 20 minutes with the dead-time automatically removed, view stats like shot placement, court positioning, shot speed, and consistency for each shot type, filter to particular shot or point types and easily create highlight videos of certain points or shots, access video analysis, and stats immediately after you finish recording, all on unlimited cloud storage.
Camp Code: TNXDSE

Show Less

See More

Camp Details


Sample Daily Schedule
8:45am

Campers arrive

9:00am

Tennis Instruction

10:00am

Break

10:15am

Tennis Instruction and Drills

11:45am

Lunch, Rest, Optional Tennis

1:15pm

Tennis Program, Match Play

2:45pm

Break

3:00pm

Tennis Program, Doubles and Drills

4:00pm

Conclusion of Daily Tennis Program
Overall Average Rating
Stars
Want to go next year!

August 6, 2021: Sammy said he loved it and that he wants to go next year!

— Claire H., Parent

Had a great time at camp

August 6, 2021: Our boys had a great time at camp and improved their tennis game

— Rob C., Parent

Felt prepared for High School tennis after camp

July 23, 2021: Great skill building while having lots of fun! Our son really enjoyed it and felt it helped prepare him for high school tennis. Thank you!

— Joanna B., Parent
Show Less

See more

Reviews
Camp provided a good foundation

July 16, 2021: Tennis was a new sport for Luke and the camp piqued his interest, particularly through the excellent skills of the instructors. I am grateful that Luke got a good foundation and also saw what tennis looks like at a higher level.

— Ann A.. Parent

Coaches we fun and encouraging

July 16, 2021: The coaches were fun and encouraging. My son enjoyed the tennis games.

— Marlene P., Parent

Fun group activities

July 10, 2021: Great combo of learning basic tennis strokes and fun group activities that promoted form, endurance, and conditioning.

— Christine P., Parent

Loved it but needed more breaks

July 6, 2021: Lucas and Dylan overall had a great time. I'm not sure how much more break time they had outside of the hour long lunch break, it sounded like not much which I think was really tough especially when you're outside and constantly in the sun.

— Sophia S., Parent

Loved It

July 2, 2021: Oliver loved it! His tennis skills have improved dramatically over four days. He really enjoyed the games as well.

— Rachel L., Parent

Excellent coaches!

June 26, 2021: My twins loved this camp! Excellent coaches. Kept kids engaged and active!

— Rebecca P., Parent

Fun and positive experience

June 26, 2021: The camp gave him a great introduction to tennis. The coaches were supportive and encouraging making his experiences with the camp fun and positive.

— Yuki F., Parent

Sense of community at camp

June 26, 2021: It was very social and safe environment. There was a sense of community, and everyone was kind. Amelia felt that she improved her tennis skills considerably.

— Kristen B., Parent

Improved skills!

June 26, 2021: Logan really improved his skills especially his backhand and timing. Thanks!

— Victor C., Parent

Encouraging Environment

June 26, 2021: She came home very tired everyday but was looking forward to coming back next day. Such a encouraging environment for the first time tennis player!

— Akiko Y., Parent

Really benefited from the instruction

August 2, 2019: Our daughter really benefited from the instruction and great for her to see some female coaches. Nice blend of serious stuff--stroke work and conditioning, and prizes plus games.

— Alison T. - Parent

Excellent introduction to tennis

June 28, 2019: Our son liked playing the games. This was an excellent introduction to the sport for him and he wants to play more tennis.

— Miquette K. - Parent

Learned a great deal about tennis

June 23, 2019: He was able to learn a great deal about tennis - he had barely played previously and enjoyed the camp immensely.

— Galit E. - Parent

My son's 5th year at this camp

July 13, 2018: Super positive and fun, this is my son's 5th year at this camp, and he is having a blast. The head and assistant coaches from Seattle U are always participating and on the courts, and the college kids teaching are friendly, nice and positive.

— Leila W. - Parent

Loved the camp

July 27, 2018: My son loved the camp and that's all because of the staff

— Rachel G. - Parent

Thanks for a great experience!

August 10, 2018: Kids skills grew and they both came out of the experience with a stronger desire to take more tennis lessons. The "report card" was very helpful, and something we can take forward to other lessons/coaches. The kids really enjoyed the coaches - they made it fun! Thanks for a great experience!

— Kara H. - Parent

Point play was helpful

July 21, 2017: Practicing point play was helpful. One of the instructors was not helpful, but thr others were great.

— Paula B. Parent

Love the camp and coaches

July 28, 2017: Wish we have an option to play indoor half of a day. Playing outside in the sun all day is too much for my 5-year old boy, but he loves this camp and coaches and wants to stay for whole day camps.

— June G. Parent

Will be back next year!

July 29, 2017: This is Ravi's third year at Nike Tennis Camp. This year's staff and head coach are wonderful. He had a rough time last year a few days (tears at the end of camp) because everything was directed to an older group, but this year the ages of campers are more diverse, and the staff addresses all levels and ages. Well done, and very much appreciated. Ravi will be back for a few weeks next year!

— Jamie G. Parent

One of our favorites

August 11, 2017: This camp is one of my and my child's favorite each summer. We love the positive environment, encouragement to share in each other's successes, and great coaches.

— Eileen W. Parent

Great coaches

August 14, 2017: Ian, and Alex were really great coaches and my son enjoyed working with them

— Sally B. Parent

Really impressed

August 17, 2017: Really impressed with the organization and level of play

— Stacie K. Parent

coaches were amazing - mature, enthusiastic, kind, fun

August 31, 2016: The head coaches and on the ground coaches were amazing - mature, enthusiastic, kind, fun, showed positive role modeling all of the time, and were also excellent in their sport. Our son thrived there this summer and can't wait to go back next summer!

— Winston W. Camper

counselors were great

August 24, 2016: The report cards from Coach Reeb were very detailed. The counselors were great again this year, coaxing my hesitant child to join in the free form morning warm up.

— Eileen W. Parent

Great Camp, too expensive

July 4, 2016: Great camp, but too expensive. Can't return at that current rate which is too bad because my daughter really liked it.

— Hilary J. Parent

had a great time and learned a lot

June 30, 2016: My daughter had a great time and learned a lot and would like to sign up for the camp again!

— Trista C. Parent

coaches were nice, more match play

8/10/2015 - There was just a small group of higher level players, wish it was more competitive. It would have been nice for more match play. The coaches were all nice!!

— Philip R. Camper

improved a lot

8/10/2015 - My 5 year old had great fun and improved a lot during the camp.

— Celine J. Parent

My child had a lot of fun

7/23/2015 - My child had a lot of fun over the two weeks he was in camp. He's showing much more interest in tennis, and says that he has fun everyday. He can be overwhelmed by a large group of people, so it would have been nice to have a greeter of sorts, and a router, in that someone says hello to the campers and then directs them to a court or activity in progress, rather than having him watch for a while and try to figure out where to jump in. He just turned six, so maybe something to consider for the younger kids.

— Eileen W. Parent

wonderful tennis program with excellent teachers

7/31/2015 - Again, another very positive week of a wonderful tennis program with excellent teachers, coaches and staff. Thank you! Please offer an after school program!!!

— Roberta W. Parent

level of training is top notch

7/21/2015 - We loved this camp, the level of training is top notch and the coaches are nice. Our daughter wants to go back every summer.

— Mel O. Parent

cost too much, but good camp

7/21/2015 - While I thought the camp was very well run, cost was a concern. Would have considered two weeks, but was too pricey for the time. Having said that, it was a great first introduction to the sport for my kids.

— Mary L. Parent

coaches are awesome

7/21/2015 - The coaches are awesome. My son is so happy that despite migraines he wants to keep going! I wish that we could find these kind of coaches and training throughout the year!

— Roberta W. Parent

enjoyed the camp

7/15/2015 - My son enjoyed the camp. Your instructors made it fun which was great. Only part my son did not care for was that it was repetitive and he really wanted even more challenges. It would be cool if there was an advanced course to try out for. My son would definitely want to participate in that camp.

— Sandra K. Parent
SECURE YOUR SPOT – CAMPS SELL OUT!
Last year over 650 Sports Camps sold out, leaving 7,000+ campers on the waitlist. Due to high demand, early registration for our first-come-first-serve camps is strongly recommended.