Basketball Tip
Presented by Kyle Pottkotter, Camp Director
Nike Basketball Camp Gahanna Lincoln High School
One-Handed Shooting Tips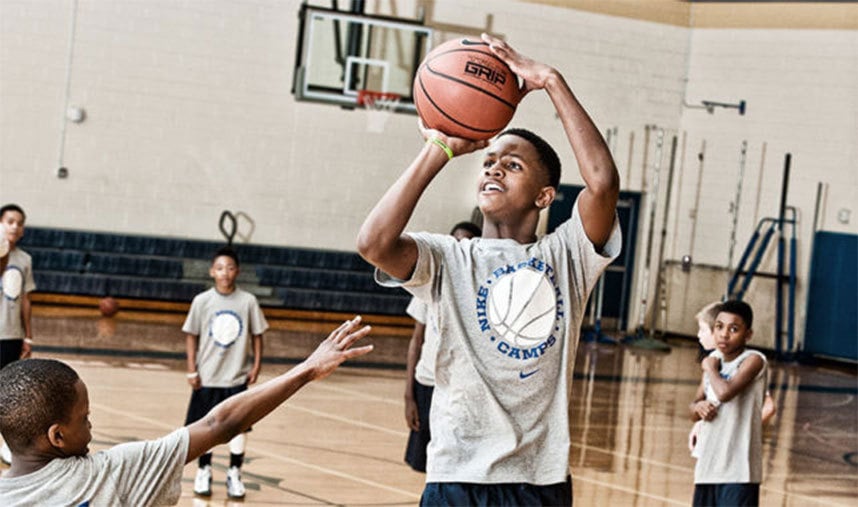 A basketball tip from Coach Kyle Pottkotter, Camp Director of Nike Basketball Camps in Ohio and Founder of One Five Sports.

I encourage players of all levels to begin any practice or game warm-up with basic one-handed form shooting from close range - typically right in front of the basket. It's especially effective for building correct fundamentals in young players, which is why we place such emphasis on shooting technique at all of our basketball camps.
One-handed shooting benefits:
·         Builds confidence and strength
·         Encourages correct alignment
·         Reinforces elimination of "off"-hand/thumb pushing into the shot
·         Provides repetition of correct release and follow-through
One-handed shooting also enhances your shot timing. Getting the ball in a set position above the elbow allows for a shorter shooting motion in comparison to dipping the ball or starting the shooting motion with the ball down by the waist. This shorter stance allows shooters to get to a release point more quickly. I tell players that at every level they move up in basketball, they'll have less and less time to get shots off. Developing the ability to get the ball above the elbow more quickly will allow them to get shots off faster.
You also want the legs to work in unison with the extension of the shooting arm. When players have the ball above the elbow at the start of their shooting motion, it allows the legs to still be lifting while the shooting arm is extending and the shot is released. Many times, shooters that "dip" the ball or start with a low set point will have already lifted out of their legs by the time the arm extends and the shot is released.
In closing, you can make great strides in your shooting technique by adjusting small details. Stay confident, persistent and follow these tips the next time you practice:
·         Warm-up at a close range, right in front of the basket
·         Keep shooting hand comfortably spread with the ball slightly off the palm without the hand being overstretch
·         Feet square to the basket
·         Bend knees and extend legs simultaneously as shot is released
·         Hold follow-through until ball hits the floor

Check out more basketball drills and tips and improve your game!
Share This