Volleyball Tip
The History of Beach Volleyball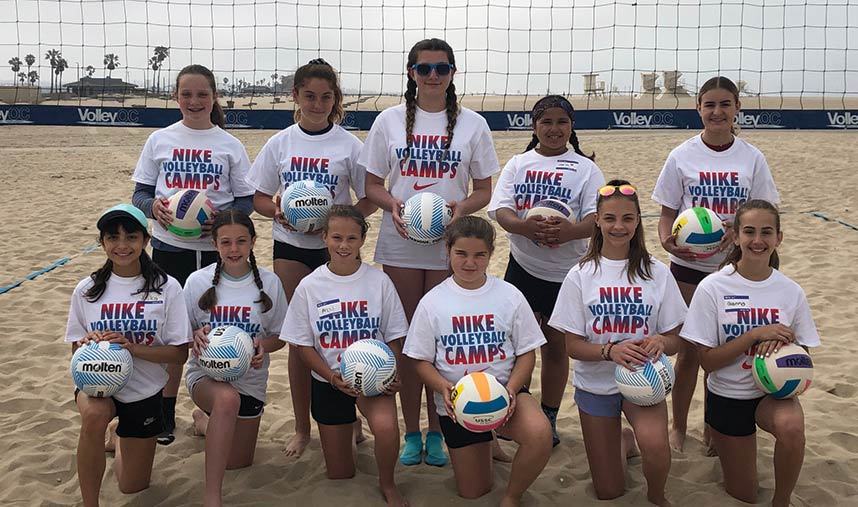 Beach volleyball is a modern day sport. The sport has grown in popularity within the last 30 years and is played by athletes around the world. We offer a variety of beach volleyball camps in Illinois, Virginia, Florida, and California for young athletes across the country to hone in on their skills. Volleyball campers will not only learn the techniques to be a great player but understand the roots of the sport.
History

It is noted that beach volleyball began in Hawaii around 1915. Although the original game was played in Hawaii, most credit Santa Monica in the mid 1920s for the creation of the current beach volleyball competition outline. Beach volleyball grew in popularity due to the ease of access to public beaches and inexpensive equipment. As the recreational game grew, formal competition formed and the game was played on a global scale. The first introduction to the world was in the 1992 Barcelona Olympics, but was officially anno8nced as an Olympic game for the 1996 Olympics.
Game Rules (Highlights)
A beach volleyball court is set up similar to an indoor court, but in smaller dimensions. Each team has two players on the court at a time. Unlike indoor volleyball, players are allowed to play in any position throughout the game. Rally point scoring is used in every set. Each match consists of the the teams competing for the best of three sets. The first two sets are scored to 21 and if a third set is required, the game is scored to 15. In opposition to indoor volleyball, coaching is not permitted during the match.
Notable Players
1. Karch Kiraly is the only beach volleyball player to win three Olympic gold medals.
2. Misty May-Treanor and Kerri Walsh-Jennings are two players that have made their mark on the sport. Both athletes have had many notable career moments, including their back to back Olympic gold medals.
3. Ricardo Santos is a Brazilian beach volleyball player who has also won multiple Olympic medals and FIVB awards.
Beach volleyball is an exciting game filled with a rich history! Check out some more volleyball tips to improve before your next summer camp.
Share This