Nike Jumps & Throws Camp at Rose-Hulman Institute of Technology
Nike Jumps & Throws Camp at Rose-Hulman Institute of Technology
1

Review
Average Rating
Stars
SERIOUS. FUN.
Join Coach Derick Lawrence and the Rose-Hulman Institute of Technology (RHIT) staff this summer at the Nike Track & Field Camp. This year, we will be offering separate Cross Country and Field Events Camps for High School athletes. For more information on the Cross Country camp, please view our Cross Country Camps page.

The Nike Jumps & Throws Camp focuses specifically on throwing events (Shot Put, Discus, Javelin) and jumping events (High Jump, Triple Jump, Long Jump, Pole Vault), led by the Rose-Hulman jumps and throws staff and student-athletes, offering training, as well as educational breakout sessions and fun activities.
Highlights Include
Collegiate Coaching by Derick Lawrence, Christy Sherman, and Emily Lawrence.
Nike Camp T-shirt to all campers.
Daily training, educational breakout sessions and guest speakers.
Training for ALL field events (including Javelin & Pole Vault)
Camp Details
SECURE YOUR SPOT!

You can expect a high demand on these first-come-first-serve camper spots, so please be sure to register early.

The Nike Jumps & Throws Camp at Rose-Hulman Institute of Technology (RHIT) helps High School athletes develop over the summer, while providing practical tools to help you prepare for the upcoming season.
Located in Terre Haute, Indiana, this camp provides a memorable camp experience of both great training and coaching, as well as having fun and meeting new friends.
This weekend camp combines a great training location, with a staff consisting of college coaches and athletes, providing a fun, engaging environment that helps foster a love of T&F, and a springboard for a successful upcoming season.
SESSION INFORMATION
Dates: 2024 Dates Coming Soon. Join Priority List!
Age Group: 13-17
Gender: Co-ed
Camp Type: Overnight, Day
Meals: All meals are provided at the on-campus dining facility. Day campers do NOT receive breakfast or dinner
CAMP SCHEDULE
Overnight Campers:
Check-in: (Overnight only) Friday, 6:00 PM-7:00 PM
Check-out: (All campers) Sunday, 4:00 PM
Day Camp Schedule: Saturday-Sunday, 8:30 AM - 4:00 PM
Day Campers:
Check-in: Saturday & Sunday, July 16 at 8:30am
Check-out: Saturday, 4:00pm
Check-out: Sunday, 4:00pm
Location:
Sports & Recreation Center- Rose-Hulman Institute of Technology
View the campus map here
PREPARE FOR CAMP: COMPLETE YOUR PRE-CAMP CHECKLIST
To view your customer account, complete your mandatory forms, pay balance dues, and review important camp information, visit Pre-Camp Checklist.
All necessary camp information is on this page. If there are any imperative changes prior to camp start, registered campers will be notified via email and this webpage will be updated!
EVENTS AVAILABLE
All Jumps (including pole vault)
All throws (including javelin)
WHAT'S INCLUDED IN THE FEES:
Overnight Campers: Features several instructional sessions per day, three hot meals, and lodging in University residence halls. An evening recreation program is also included.
Day Campers: This option offers the same features as the resident camp minus lodging, breakfast, and dinner (Day Campers should eat breakfast before daily check-in).
INSTRUCTION, EQUIPMENT & FACILITY
Ratio: 1:10
Grouped by: age, ability, track & field experience
Equipment needed: Campers should bring at least one pair of broken in running shoes. Event shoes/spikes are optional. Please be sure to properly mark your equipment, so that it can be easily identified.
Facility: RHIT Track & Field Complex
HOUSING
Dorm: Apartments West
Campers Per Room: 2
Roommates: Guaranteed if requested 14 days prior to camp
Bathrooms: Private in room
Linens: Not provided
Air Conditioning: Yes
Kitchen: In each room
Key Deposit: Lost room key or meal card,or cards not returned will result in a $50 replacement fee, which US Sports Camps will charge to the credit card
on the camper's account.
Staff members reside in campers' quarters and participate in all activities.
CHECKLIST OF THINGS TO BRING:
Below is a suggested list of clothes, equipment and personal items. US Sports Camps is NOT responsible for lost or stolen articles or money.
ALL CAMPERS:
Extra Athletic clothing
1-2 pairs of broken in running shoes/ event spikes
Non-running shoes
Water bottle
Sunblock
Small gym bag/backpack
Extra spending money (suggested $40)
OVERNIGHT CAMPERS ONLY:
Athletic clothing mentioned above
Comfortable non-running clothing
Underwear and socks
Pajamas/sleepwear
Flip flops
Toiletries
Personal items & medications
Washcloth and bath towel
Alarm clock
Swimsuit and towel
Flip-flops
Pen and paper for notes during guest speakers
Cell phone (if you have one)
Fan (optional)
Pillow, pillowcase, bed sheets, comforter or sleeping bag (linens are NOT provided)
Laundry detergent
TRANSPORTATION
Transportation is not provided. Campers are responsible for getting to and from camp on their own. There is no supervision before or after camp hours so please make arrangements to pick up your child on time.
The closest airport is Indianapolis International Airport (~1hr)
MEDICAL PROTOCOL
Most camps have an athletic trainer on-site to help with illness or injury. In case of an emergency, campers will be transported to the nearest hospital.
COMPANY POLICIES
For information regarding our cancellation policy and all other company policies, please visit USSC Policies.
NIKE TRACK & FIELD CAMP FAQ
For general questions about our Track & Field camps please see our FAQ page.
Show Less

See More

Camp Details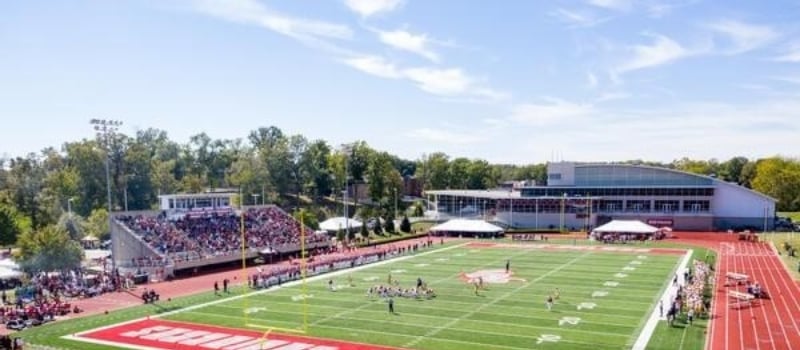 Cook Stadium/Brown Field/Welch Track at Rose-Hulman Institute of Technology
Camp Questions & Answers
Are the campers supervised throughout the camp?
Yes, campers are supervised by the coaches and staff. Staff members reside in the same dorms as the campers and provide supervision during instruction, dining times, evening activities, and in the dorm.
All staff members complete criminal and sex offender background checks before working the camp
Does this camp have medical personnel on staff?
We have a certified athletic training on-site and a doctor on-call at all times in case of a training injury or medical ailment/emergency.
How many campers are placed in a dorm and do you accommodate roommate requests?
Most rooms are doubles though we do have some singles and triples. When you register for the camp, you have an option to submit a roommate request. If you would like to add a roommate request after registering for a camp, please feel free to give us a call or send us an email. We accommodate all roommate requests, made before 2 weeks before the start of camp, if placed in a double room dorm. If we must place the camper in a single, we will room them side by side. Campers who do not submit a roommate request will be placed in a dorm with other runners, similar age and same gender.
Show Less

See More

Questions & Answers
Do the dorms have air-conditioning?
Dorms are not air-conditioned. Please bring a small fan.
Can you accommodate special dietary needs?
Campers dine in the school cafeteria which offers a variety of different meal options that are sure to accommodate most campers' dietary needs. In the case that a camper possesses extreme dietary restrictions, please reach out to school's Dining Services to make the proper accommodations.
Can I come to camp alone or do I have to be a member of a team?
We welcome individual campers and teams. If you come to camp by yourself, we place you in a dorm room with another single camper, similar in age. It's a great place to meet new friends who share your enthusiasm for the sport and to have FUN!
If you come as a team (5 or more Team Members), you can receive a $55 Team Discount per team member. Contact [email protected] for more details.
Does the Health & Release Form need to be signed by a doctor?
Our Health & Release Form does not require a doctor's signature. This form is required to be filled out accurately, signed by the parent (guardian), and submitted online before arrival on the first day of camp.
My child is new to the sport, do you accept athletes who are beginners in the sport?
Camp participants should have an interest and some experience in track & field. Only experienced athletes are permitted to participate in Pole Vault and Javelin.
Camp Reviews
Overall Average Rating
Stars
Camp exceeded my expectations​.

— Anonymous
SECURE YOUR SPOT – CAMPS SELL OUT!
Last year over 650 Sports Camps sold out, leaving 7,000+ campers on the waitlist. Due to high demand, early registration for our first-come-first-serve camps is strongly recommended.
Camp Dates & Prices
This program has concluded for the season.
Please Join our Priority List to be notified when this program is available for registration.