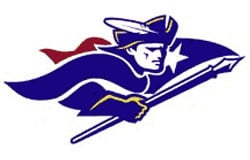 Nike Baseball Camp Southern New Hampshire University
Nike Baseball Camp Southern New Hampshire University
16

Reviews
Average Rating
Stars
Improve your game and have serious fun
at Nike Baseball Camps
The Nike Baseball Camp at Southern New Hampshire University in Manchester, NH is a spectacular camp for all youth baseball players. Campers are given high-level instruction throughout the day with a focus on hitting techniques, fielding, and base running. Each camper leaves eager to showcase their new skills and ready to return next summer!

Southern New Hampshire University's Head Coach Scott Loiseau along with the rest of the staff welcomes campers from ages 6-12. Campers are split up the age and ability. The aim of the camp is to develop both the skilled and non-skilled players, increasing the overall level of play and knowledge of the game. Emphasis is placed on fundamentals and team play. Space is limited so don't wait long to enroll!

Highlights Include
Nike Sports Camp T-Shirt, Wristband, Sticker, and Potentially Other Prizes!
Professional Instruction from Coach Scott Loiseau and Staff
Daily Emphasis on Fundamental Development and Team Play
Throwing Velocities Measured via Radar Gun
Hitting Exit Velocities Measured via Radar Gun
Multiple Games Played Daily
Low Camper to Coach Ratios
Excellent Training Facilities
Camp Coaches
Camp Director

Scott Loiseau

Scott Loiseau enters his first season as associate head coach with the Penn State baseball program. He was hired in July 2023.Loiseau has served as head coach at Southern New Hampshire University since 2016 and was head coach at SNHU from 2008-2014, separated by one year as recruiting coordinator at Oklahoma in 2015.

View Scott's Bio

⟩

Coach

Pat Austin

Pat Austin joined the SNHU baseball program as an assistant coach prior to the 2013 season. During the 2015 season, he served as co-interim head coach for the Penmen, guiding SNHU to a 31-14 mark and the program's fourth straight NCAA regional appearance. Austin was elevated to associate head coach in September 2017.

View Pat Austin's Bio

⟩
Camp Details
The camp accepts players at all skill levels ages 6-12. We stress fundamentals, strategy, and sportsmanship, but most of all, we stress fun. Through individual instruction, the Nike Baseball Camp helps campers become the best players they can be. Individual and small group instruction by position. All aspects of the game are covered from hitting, fielding, base running, along with team offense and defense. Games are played daily.

Please note: The following information may be subject to change.
2024 CAMP INFORMATION
Dates: July 15-18, 2024 | July 22-25, 2024
Age Group: 6-12
Camp Type: Day Camp
Schedule: Monday-Thursday | 9:00am-3:00pm
Check-In: Begins 30 minutes prior to the camp start time.
Meals: Lunch is not provided. Please bring a sack lunch to camp each day. Lunch is also available for purchase in cafeteria.
WHAT'S INCLUDED IN THE FEE?
Daily Baseball Instruction

Supervision: Campers are supervised by staff during camp hours

Nike Sports Camp T-Shirt, Wristband, Sticker, and Potentially Other Prizes!

INSTRUCTION & FACILITY
Ratio: 1:10 staff to camper ratio

Groupings: Campers are initially grouped by age and moved around accordingly based on skill level.

Facility: Outdoor Fields. Indoor facilities are available during inclement weather conditions.
PREPARE FOR CAMP: COMPLETE YOUR PRE-CAMP CHECKLIST
To view your customer account, complete your mandatory forms, pay balance dues, and review important camp information, visit Pre-Camp Checklist.
All necessary camp information is on this page. If there are any imperative changes prior to camp start, registered campers will be notified via email and this webpage will be updated!

CHECKLIST OF THINGS TO BRING:
Below is a suggested list of clothes, equipment and personal items. US Sports Camps is NOT responsible for lost or stolen articles or money.
Small gym bag/backpack

Athletic clothing: t-shirt, shorts, baseball pants (recommended)

Warm-up jacket

Hat

Cleats & sneakers

Baseball glove

Baseball bat

Helmet

Catchers gear (if applicable)

Sunscreen

Water bottle

Packed lunch and snacks
MEDICAL PROTOCOL
Most camps have an athletic trainer on-site to help with illness or injury. In case of an emergency, campers will be transported to the nearest hospital.

TRAVEL
Nike Baseball Camps does not provide transportation from airports, train stations or bus depots. If you have a child flying to camp, please arrange a shuttle or taxi service.
TEAM/GROUP DISCOUNT
If you have a group of campers registering for the same camp, each camper is eligible for a discount. Please have someone contact the US Sports Camps office at 1-800-645-3226 with the names of each camper in the group and we will create a unique discount code for your group. Campers may then register individually through the website at their convenience and apply the offer code during checkout. *Discount amount varies by program. Please call for details.

COMPANY POLICIES
For information regarding our cancellation policy and all other company policies, please visit USSC Policies.
NIKE BASEBALL CAMP FAQ
For general questions about our baseball camps please see our FAQ page.

Show Less

See More

Camp Details
Camps are open to any and all entrants, limited only by number, age, grade level and/or gender.

A Days Sample Schedule
9:00am

Day Introduction Split into groups

9:15am

Stretch/Throw/Throwing Competition

9:30am

Station 1 (Pitching/Hitting/IF/Catching Work)

9:55am

Station 2 (Pitching/Hitting/IF/Catching Work)

10:20am

Break

10:30am

Station 3

10:55am

Split into Games

11:0am

Game 1

11:50am

Recap Morning

12:00pm

Lunch

12:40pm

Pickle/Knockout

1:00pm

2 Stations (OF/Bunting)

1:05pm

Station 1

1:25pm

Station 2

1:45pm

Break

1:55pm

Split into Teams

2:00pm

Game 2

2:40pm

Game 3

3:20pm

Camp Wrap up
Penmen Field
Located on North River Road across from Webster Hall, the Southern New Hampshire University baseball field has undergone extensive renovations in recent years, the biggest being the addition of a new facility behind home plate prior to the 2016 season. The building houses permanent bathrooms and storage on the ground level, a press box and media suite on the second floor and a filming deck with a spectacular view of the field on the top level. In front of all that, the temporary seating behind home plate was removed and replaced with permanent seating for approximately 200 fans, including a total of approximately 75 chair-back seats directly behind home plate. Fully ADA-compliant, the front row of the seating bowl sits above the top of the backstop wall, ensuring a great view of the action. A new state-of-the-art Daktronics scoreboard was also installed in right field, while updated signage and banners, as well as a standings/lineup board, were added to the facility.
The field is kept in pristine condition by an underground irrigation system and dedicated field maintenance crew. A state-of-the-art Musco lighting system was installed prior to the 2012 season, allowing night games and the ability to host postseason competition. In 2010, the Penmen and Northeast-10 Conference logos were added in the backstop and along the outfield fence, while 2009 saw the Penmen logo added in centerfield. Baseball accommodations include a turtle-shell, a batting tunnel, large team dugouts, and home and visiting bullpens.
Camp Reviews
Overall Average Rating
Stars
July 20, 2023: This is my son's 3rd and final year at the camp as he will age out next year. I never have to beg him to get up and go but he is begging me to sign him up for one more week!!!! He's almost 13 and this is the only camp he has ever been so pumped about year after year !

— Anonymous

July 28, 2022: After each practice, my son would talk about how he feels he learned a lot. He explained the things he learned and different styles to try. The fact my 14 year old said unprompted that he is learning a lot made us happy.

— Anonymous

July 17, 2022: This was our son's 4th year at the SNHU Nike Baseball camp. He was happy to be back on the SNHU campus.

— Anonymous
Show Less

See more

Reviews
July 14, 2022: Our son loved the games/tournaments. He also loved being in the college campus and eating in the dining hall! We loved that there was an option for them to buy lunch.

— Anonymous

July 28, 2022: Ability to play consistently. We liked this camp because it was all about baseball and didn't have extra activities that were not related.

— Anonymous

July 22, 2022: Support from staff working to improve skills ~ recognizing when a camper was struggling and taking the time to reassure was outstanding.

— Anonymous

July 28, 2022: We did two weeks in a row - my son absolutely LOVED Coach Jake - he was amazing and made the cost well worth it.

— Anonymous

July 21, 2022: The kids were so excited when we picked them up, communication from staff about any changes was very helpful.

— Anonymous

July 24, 2022: Excellent communication with the director. Picking up my son and him telling me that he had an excellent time made us very happy.

— Anonymous

July 24, 2022: The camp provided my son the opportunity to further his skills in a friendly but competitive environment!

— Anonymous

August 1, 2022: The staff was great. My kids loved all the coaches. They made learning/practicing baseball fun.

— Anonymous

July 14, 2022: My son loved the energy , coaches and music played all day he had the best time!

— Anonymous

July 28, 2022: Fun atmosphere. Director and staff interaction with kids was always positive.

— Anonymous

July 20, 2023: Seeing the excitement of my son coming home each day!

— Anonymous

July 27, 2023: My son loved that there were so many games each day!

— Anonymous

Jayden loved each and everyday!

— Anonymous
SECURE YOUR SPOT – CAMPS SELL OUT!
Last year over 650 Sports Camps sold out, leaving 7,000+ campers on the waitlist. Due to high demand, early registration for our first-come-first-serve camps is strongly recommended.
Camp Dates & Prices
Programs: General Skills
Age Group: 6 - 12
Gender: Co-Ed
* Pricing is subject to change based on availability. Enroll today to secure current rates.
Programs: General Skills
Age Group: 6 - 12
Gender: Co-Ed
* Pricing is subject to change based on availability. Enroll today to secure current rates.