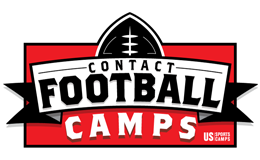 Nike Contact Football Skills Camp University of San Diego
Nike Contact Football Skills Camp University of San Diego
15

Reviews
Average Rating
Stars
Improve your game and have serious fun
at Nike Contact Football Camps
This Nike Contact Football Camp, located on the campus of the University of San Diego, is just minutes from downtown San Diego. Beautiful weather, great coaching, and excellent facilities make this camp a favorite for many young athletes. Camp Director, Jonas Jackson is dedicated to providing a positive camp experience for all involved.

During one of our most popular camps, athletes train at the position(s) of their choice focusing on skill development. The contact portion of the camp is entered gradually with controlled drills to the whistle, paying special attention to proper technique and safety. Participating campers dine daily at the USD's gourmet cafeteria and have access to many other campus training amenities.

Note: There is no rental equipment available. Each camper will need to bring their own equipment.
Highlights Include
Nike Sports Camp T-Shirt, Wristband, Sticker, and Potentially Other Prizes!
Professional Instruction from Coach Jackson and Staff
Daily Training to Develop Speed, Strength and Agility
Contact Drills and Scrimmages
Grouping by Age, Weight, and Ability
Discussions on Proper Technique and Concussion Safety 
Low Camper to Coach Ratios
Excellent Residential, Dining, and Training Facilities
Camp Coaches
Camp Director

Jonas Jackson

Jackson, joined the Panthers football coaching staff in July of 2022 where he serves as the Defensive Line Coach. Prior to PVAMU coach Jackson was on the staff at Delaware State.He most recently served as defensive line coach at NCAA Div. III (Albany State (Ga.) in 2019. In 2018 and '19, Jackson was an assistant at Your Call Football, an interactive competition in which participants call plays in real time for a series of live exhibition American football games with players, some of whom have played in the NFL or CFL. The participants watch the game via live streaming media and use a smartphone app to select the plays.

View Jonas's Bio

⟩
Camp Details
SECURE YOUR SPOT!
Please Note: Last year, this camp SOLD OUT at this location. You can expect high demand on these first-come-first-serve camper sports, so please be sure to register early. Join our priority list to be notified when this program is available for registration.
Nike Contact Football Camps feature skill development both offensively and defensively. At camp, "contact" is introduced in a slow, gradual progression before any actual "contact" is initiated. Practices will progress to be full pads towards the end of camp. Campers are divided according to age, weight, and ability.

Note: There is no rental equipment available. Each camper will need to bring their own equipment.
2023 CAMP INFORMATION
THIS PROGRAM HAS CONCLUDED FOR THE SEASON. PLEASE JOIN OUR PRIORITY LIST TO BE NOTIFIED WHEN THIS PROGRAM IS AVAILABLE FOR REGISTRATION.
Age Group: 8-18
Gender: Boys
Camp Type: Overnight | Extended | Day
Check-In: Begins 30 minutes prior to the camp start time.
Meals: All meals are provided for overnight campers. Lunch and dinner are provided for all Extended Day (commuter) campers. Lunch is provided for day campers.
CAMP TIMES
Check-in: 1:00pm on Friday for all campers at Valley B Dorms
Check-out: Graduation takes place at 1:00pm on Monday. Parents are invited to attend. Check-out will take place immediately after.
Day Camper Schedule: 1:00pm-9:00pm (dinner is included), Saturday-Sunday: 9:00-4:00pm, Monday: 9:00am-1:00pm
Extended Day Camper Schedule: Friday: 1:00pm-9:00pm, Saturday-Sunday: 9:00am-9:00pm, Monday: 9:00am-1:00pm
Please note: Camp schedules and details may be subject to change.
HOUSING
Dorm: Valley B Dorms

Campers Per Room: 2

Roommates: Rooms are assigned by age & roommate requests. Roommate requests must be received no later than 14 days before the start of camp. If you don't have a roommate request, you will be placed in a room with someone near your age. It will be a great opportunity to meet someone new!

Linens: Not included. Bring linens (Twin) or sleeping bag, pillow, pillowcase, and a towel.

Air Conditioning: n/a
WHAT'S INCLUDED IN THE FEE?
Daily Football Instruction

Supervision: Campers are supervised by staff during camp hours

Nike Sports Camp T-Shirt, Wristband, Sticker, and Potentially Other Prizes!

INSTRUCTION & FACILITY
Ratio: 1:10 staff to camper ratio

Groupings: Campers are initially grouped by age and moved around accordingly based on skill level.

Facility: Outdoor Fields. Indoor facilities are available during inclement weather conditions.
PREPARE FOR CAMP: COMPLETE YOUR PRE-CAMP CHECKLIST
To view your customer account, complete your mandatory forms, pay balance dues, and review important camp information, visit Pre-Camp Checklist.
All necessary camp information is on this page. If there are any imperative changes prior to camp start, registered campers will be notified via email and this webpage will be updated!

CHECKLIST OF THINGS TO BRING:
Below is a suggested list of clothes, equipment and personal items. US Sports Camps is NOT responsible for lost or stolen articles or money.

Small gym bag/backpack

Athletic clothing: t-shirt, shorts, pants

Warm-up jacket

Two jerseys (one light/one dark)

Helmet

Shoulder pads

Football Cleats (NO metal-tip cleats) & sneakers

Athletic supporter

Cup

Mouth guard

Sunscreen

Water bottle
OVERNIGHT CAMPERS ONLY:
Athletic clothing mentioned above

Comfortable off-field clothing: pants, shorts, shirts, sweatshirts

Undergarments

Pajamas

Flip flops

Toiletries

Personal items & medications

Washcloth and bath towel

Pillow, pillowcase, bed sheets, comforter or sleeping bag

Fan (optional)

Additional snacks/drink
MEDICAL PROTOCOL
Most camps have an athletic trainer on-site to help with illness or injury. In case of an emergency, campers will be transported to the nearest hospital.

TRAVEL
Nike Football Camps does not provide transportation from airports, train stations or bus depots. If you have a child flying to camp, please arrange a shuttle or taxi service.
TEAM/GROUP DISCOUNT
If you have a group of campers registering for the same camp, each camper is eligible for a discount. Please have someone contact the US Sports Camps office at 1-800-645-3226 with the names of each camper in the group and we will create a unique discount code for your group. Campers may then register individually through the website at their convenience and apply the offer code during checkout. *Discount amount varies by program. Please call for details.

COMPANY POLICIES
For information regarding our cancellation policy and all other company policies, please visit USSC Policies.
NIKE FOOTBALL CAMP FAQ
For general questions about our football camps please see our FAQ page.
Show Less

See More

Camp Details
Sample Schedule
Sample Daily Schedule
Day 1

12:00pm

Check in

2:00pm

Intro/Rules/Orientation

2:30pm

To field

3:00pm

Practice #1

5:30pm

Dinner

6:30pm

Evening Activity

7:00pm

Practice #2

8:30pm

Development Series

9:00pm

Day/Extended Day Campers Depart - Free Time

10:30pm

Lights Out

Days 2-3

7:00am

Wake up

7:30am

Breakfast - Transition to Field

9:00am

Practice #3 and 6

11:30am

Head to Lunch

1:00pm

Afternoon Activity

2:00pm

Practice #4 and 7

4:00pm

Day Campers Depart

4:30pm

Dinner

6:00pm

Transition to Field/Warm Up

7:00pm

Practice #5 and 8 - Competition

8:00pm

Development Series

9:00pm

Extended Day Campers Depart/Free Time

10:30pm

Lights Out

Day 4

7:00am

Wake Up

7:30am

Breakfast

9:00am

Practice #9 - Competition

11:30am

Head to Lunch

1:00pm

Practice #10/Final Competition

2:00pm

Final Check-out
Manchester Valley Athletic Field
Campers train daily on the Manchester Valley Athletic Field, which is a multi-purpose facility that serves as the practice field for the USD Football and Soccer programs, as well as Rugby, Intramurals, and recreational softball.
Campers move from non-contact drills to full contact in a gradual progression, culminating with our final day "live" scrimmage. Each camper practices with and learns from pros and coaches, as well as college coaches from top football schools across the country.

Camp Reviews
Overall Average Rating
Stars
July 18, 2023: Our son was able to immerse himself with kids and coaches who were very motivational and shared the same passion for football. He always had great things to share about his day and he's already talking about attending the next camp. He loved the comraderie and how encouraging everyone was. Overall a very positive experience for him and us as parents.

— Anonymous

July 18, 2022: Friendliness of the staff and the campers. I appreciate how the coaches were patient in training the players to learn and undo wrong skilled development and to correct it and show them the right way to a three man stand and catching.

— Anonymous

July 18, 2023: My son absolutely loved the camp, learned a lot, gained confidence, and made new friends. These memories will last him a lifetime. Thank you!

— Anonymous
Show Less

See more

Reviews
July 19, 2022: Organization, great coaches. Coaches were very enthusiastic, engaged, kept good pace in reps/water breaks/ game time simulation.

— Anonymous

July 18, 2023: Learning from professional and collegiate coaches is great for my sons growth and progression in the sport.

— Anonymous

July 28, 2022: The coaches and how excited they would get when a player would make a nice play on the field

— Anonymous

July 18, 2022: My son loved learning under this coaching crew. He was excited to get to camp every day!

— Anonymous

July 25, 2022: The position coaches including the student athletes from Whittier College were fabulous!

— Anonymous

July 19, 2023: Meeting the coaches and having them accept my son and believe that he could do it.

— Anonymous

July 18, 2022: Learning to tackle safely, making tackles, learning to play contract football. This is a great camp.

— Anonymous

July 21, 2022: Dorm living, instruction from coaches, friendliness of coaches and players

— Anonymous

July 25, 2022: Getting my kid out of his comfort zone and interacting with other kids was a veryhappy site to see.

— Anonymous

July 19, 2022: Offense and defensive linemen had lots of reps. Good competition. Great camp!

— Anonymous

July 18, 2023: The amount of instruction, repetition and skill development

— Anonymous

I loved the five on five games and steal the bacon!

— Anonymous
SECURE YOUR SPOT – CAMPS SELL OUT!
Last year over 650 Sports Camps sold out, leaving 7,000+ campers on the waitlist. Due to high demand, early registration for our first-come-first-serve camps is strongly recommended.
Camp Dates & Prices
This program has concluded for the season.
Please Join our Priority List to be notified when this program is available for registration.