Nike Boys Lacrosse Camp at Lakeridge High School
Nike Boys Lacrosse Camp at Lakeridge High School
10

Reviews
Average Rating
Stars
2023 Dates & Prices Now Available!
USSC and longtime Camp Director Frank Obiesie are excited to announce that the 2023 Nike Lacrosse Camp at Lakeridge High School, in Lake Oswego, Oregon, will once again offer a summer camp.
Lakeridge High School is one of the best playing surfaces in Portland and one of the nicest high school "FieldTurf" facilities in the Metro area. This type of field helps campers familiarize themselves with playing the game at a high speed, forcing greater anticipation and quicker mental reads, but with a feel that is more like grass.
Highlights Include
Youth Camp for ages 7-13
8:1 camper to instructor on field ratio
Daily emphasis on fundamentals, position training, drills and scrimmages
Team and sibling discounts available
Special goalie instruction and discounts available
Every camper receives a reversible Nike practice jersey
Nike and STX Prizes for outstanding play, sportsmanship and improvement
Camp Coaches
Camp Director

Frank Obiesie

Directing camp this summer youth is longtime director, Frank Obiesie. Frank grew up on the east coast and played Division II Lacrosse at Queens College (NY).

View Frank Obiesie's Bio

⟩
Camp Details
SECURE YOUR SPOT!
You can expect high demand for these first-come-first-serve camper spots, so please be sure to register early. This summer, we are offering a week long day camp (9:00am-3:00pm) for ages 7-13.

2023 OVERVIEW
Dates: June 26-29
Age Group: 7-13
Gender: Boys
Camp Type: Day Camp
Schedule: 9:00am-3:00pm, Monday-Thursday
Check-In: 8:30am-9:00am
Lunch: Lunch is not provided. Please bring a packed lunch.
Program: For the All Skill/Complete skill program at the Nike Boys Lacrosse Camp, our goal is to provide campers with the fundamental skills, position-specific training, and in-game tactical knowledge needed to enhance their skills.
CAMP ADDRESS
Lakeridge High School
1235 SW Overlook Dr
Lake Oswego, Oregon 97034
CAMP CHECK-IN/CHECK-OUT
Monday, June 26th to Thursday, June 29th
Check in Day 1: 8:30am-9:00am at the Athletic Fields
Check in Day 2, 3 & 4: 8:30-8:45am at the Athletic Fields
Check out: 3:00pm at the Athletic Fields
WHAT'S INCLUDED IN THE FEE?
Instruction: Morning and afternoon training sessions
Supervision: Campers are supervised by staff during camp hours.
Reversible Jersey & Prizes: Campers will receive a Nike Lacrosse Reversible Jersey and prizes.
INSTRUCTION, EQUIPMENT & FACILITY
Ratio: 1:10 staff-to-camper ratio
Groupings: Campers are grouped by age, ability, and experience.
Equipment Needed: Please bring your helmet, mouthpiece, cleats, lacrosse stick, gloves, and pads.
Facility: Lakeridge High School Athletic Fields
Medical Protocol: Most camps have an athletic trainer on-site to help with illness or injury. In case of an emergency, campers will be transported to the nearest hospital.
PREPARE FOR CAMP: COMPLETE YOUR PRE-CAMP CHECKLIST

To view your customer account, complete your mandatory forms, pay balance dues, and review important camp information, visit Pre-Camp Checklist. All necessary camp information is on this page. If there are any imperative changes prior to camp start, registered campers will be notified via email and this webpage will be updated!

CHECKLIST OF THINGS TO BRING
Below is a suggested list of clothes, equipment, and personal items. US Sports Camps is NOT responsible for lost or stolen articles or money.

Items:
Health & Release Forms (Online)
Cleats or Turf Shoes
Helmet and Mouthpiece
Lacrosse Stick, Gloves & Pads
Sunscreen
Water Bottle
Please Bring a Healthy Lunch and Snack Each Day
COVID PPE (as required by state/local guidelines)
TRANSPORTATION
Transportation is not provided. Campers are responsible for getting to and from camp on their own. There is no supervision before or after camp hours, so please arrange to pick up your child on time.
COMPANY POLICIES
For information regarding our cancellation policy and all other company policies, please visit USSC Policies.
NIKE LACROSSE CAMP FAQ
For general questions about our lacrosse camps please see our FAQ page.

Show Less

See More

Camp Details
Discounts Available
TEAM DISCOUNT: If five or more campers register together, each camper is eligible for a $25 discount. Please have a team contact reach out directly to the USSC office at 1-800-645-3226 to receive a discount code to identify your group. Campers may then register through the website at their convenience and apply the coupon code during check-out.
GOALIE DISCOUNT: To ensure each session has enough goalies for drills and scrimmages, all goalies automatically qualify for a special $50 discount. You can call 1-800-645-3226 to receive the goalie discount over the phone or you can indicate that you are eligible for the goalie discount in the "comments" field when registering via our secure website. Goalie discount cannot be combined with any other discount.
SIBLING DISCOUNT: $25 off each player. You can call 1-800-645-3226 to receive the sibling discount over the phone or you can indicate that you are eligible for the sibling discount in the "comments" field when registering via our secure website. Sibling discount cannot be combined with any other discount.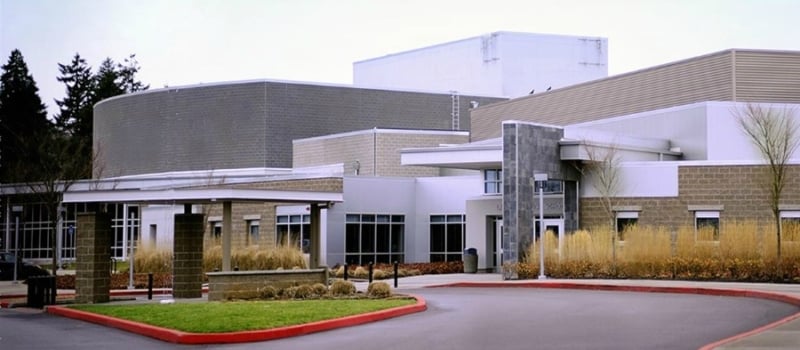 Lakeridge High School
Lakeridge High School is located in Lake Oswego, Oregon a suburb south of Portland.
Overall Average Rating
Stars
Can't Wait For Next Year!

July 24, 2019: He was exhausted on the way home every night but then as soon as we'd get home he wanted to go in the backyard and work on what he learned that day. He was even showing me the new shooting footwork in the kitchen. He had a great time. I'm sure we will be back next year.

— Rebecca B. Parent

Thank You!

June 28, 2018: This is my son's second year at this Nike Lacrosse Camp. He LOVES it so much. The coaches are incredible role models for the young boys in camp. Everyday my son was excited about what skill they worked on and cannot wait for lacrosse season to come back around to put these newly learned skills into action! Thank you Coach Frank and all the other coaches for another successful camp!

— Sarah S. Parent

Great venue/location!

July 22, 2017: My son had a lot of fun and learned new skills. The coaching staff was great, and it was great to see kids with proven skills happy to share with the group. Great venue/location.

— Melissa V. Parent
Show Less

See more

Reviews
So much fun!

July 14, 2017: It was fun, great counselors, great technique training. Learned alot about the D pole.

— Jim M. Parent

Thanks!

July 14, 2017: The camp was a great experience, my son is a goalkeeper and the coaches working with the goalies were great! They were encouraging and explained things very well. My son enjoyed his time when they were all practicing as just goalies.

— Monica R. Parent

Great quality camp.

July 9, 2016: My son has attended the camp for three years and always has a great experience. He has made friends with campers and staff. The staff have kept in touch with him and given him lots of role models to look up to.

— Todd G. Parent

Thank you!!

July 7, 2016: The camp not only teachers great Lacrosse skills, they teach youth how to be great role models and citizens.

— Megan C. Parent

Very impressed!

June 30, 2015: My son thoroughly enjoyed the lacrosse camp at Lakeridge. He was very impressed with the coaching staff and loved the competition. We will definitely be back!

— George N. Parent

Highlight of my summer.

June 30, 2015: Well run, great job with position work during the camp.

— Zach C. Camper

Great coach/camper ratio.

July 2, 2014: Coach Obiesie was great and had such a positive influence on my boys. They had a great time and learned so much. I especially appreciated that the number of campers was kept to a manageable size, so it allowed for a great ratio of coaches to campers. It was a great experience for them and they will definitely attend camp again.

— Nadia E. Parent
SECURE YOUR SPOT – CAMPS SELL OUT!
Last year over 650 Sports Camps sold out, leaving 7,000+ campers on the waitlist. Due to high demand, early registration for our first-come-first-serve camps is strongly recommended.
Camp Dates & Prices
Programs: Youth Camp
Age Group: 7 - 13
Gender: Boys
* Pricing is subject to change based on availability. Enroll today to secure current rates.
Programs: Goalie
Age Group: 7 - 13
Gender: Boys
* Pricing is subject to change based on availability. Enroll today to secure current rates.