June 07, 2022
Celebrating Our Top 10 Nike Golf Camp Directors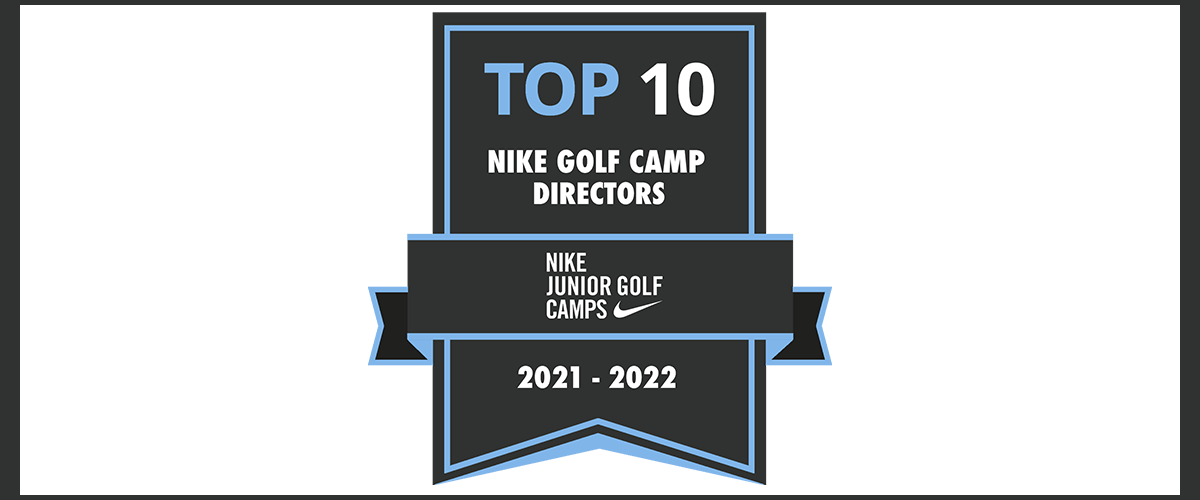 June 7th, 2022 – For the first time ever, Nike Junior Golf Camps is thrilled to announce its list of 2021-2022 Top 10 Camp Directors!

This list represents not only the lifeblood of the Nike Camp network, but also the lifeblood of junior golf on a national level. These coaches and teaching professionals host hundreds and even thousands of young players, many of whom have never held a golf club. In many respects, they represent the gateway to competitive golf for juniors and the industry is very lucky to have them.
If you're looking for the nation's best Nike Camps, look no further!
#1 – Kim Stevens, Owner, Silicon Valley Golf Performance Center
Kim Stevens has been a director for Nike Golf Camps since 2002 and is one of the longest standing partners in the network. Kim began her Nike Camp journey during her time as Director of Instruction for the former, Summitpointe Golf Club in Milpitas, CA. She now owns and operates her own academy, Silicon Valley Golf Performance, and is slated to have over 1,500 kids in her five Nike Camp locations from Palo Alto to Morgan Hill. Kim is an LPGA Class A professional and staffs her camps with over thirty amazing coaches each summer. She and her staff operate some of our most popular and highest-rated programs in the country.
#2 – Oliver Segal, Co-Founder, KOHR Golf
Oliver Segal is a relatively new camp director to the network but has made a massive impact since the beginning of our partnership with KOHR Golf in 2018. Oliver is the co-founder of KOHR Golf, a state-of-the-art practice facility in Natick, MA and has quickly grown their single location to one of the largest in our network. The local popularity they've driven around their Nike Camps is a testament to the amazing experience they provide. Oliver is supported by Dan Moran and Jud Milam who assist with the day-to-day operations of the programs.
#3 – John Miller, Director of Instruction, Raspberry Golf Academy
John Miller and Raspberry Golf Academy have been with Nike Junior Golf Camps since 2018 and have built an incredibly successful Nike Camp program in that short time, operating four camp locations with hundreds of juniors per year. John and his staff take great care over the curriculum of the programs, incorporating instruction for players of each skill level and supplementing course play to allow players to practice what they've learned.
#4 – Val Verhunce, Head Coach, Sonoma State University Men's/Women's Golf
Val Verhunce has been running Nike Camps since 2007, making him one of our longest tenured camp directors. Val operates highly popular camps at Peacock Gap Golf Club, Bennett Valley Golf Course and Tri-Valley Golf Center. Val's camps sell out faster than any other locations and tend to have the longest waitlists in our network, which speaks to the high-quality nature of the programs. Val's staff consists of college coaches, teaching professionals and passionate young players.
#5 – Seth Dichard, Owner, Seth Dichard Golf Schools
Seth, and his assistant, Jeff Drown, operate some of the most popular camps in the Northeast. Based in Canton, MA, their camps at Brookmeadow Country Club host 300+ campers per summer. Apart from the volume of their camps, they provide a truly exemplary camp experience. One of the few "full-day only" programs, Seth and Jeff pride themselves on offering abundant course play for campers to practice the skills learned throughout the week.
#6 – Jake Thurm, Director of Instruction, Fresh Meadow Golf Club
2022 will be Jake Thurm's 11th summer running Nike Camps at Fresh Meadow. In that time, Jake has built one of the most popular junior programs in the Midwest. Jake runs a variety of junior programs and clinics, but his camps have amassed one of the largest followings in the country, hosting six hundred juniors per summer with long waitlists. Jake's assistant Dan supports the day-to-day operations and is one of the nation's favorite co-directors among the campers.
#7 – Trish Hinze, Director of Instruction, Tilden Park Golf Course
Trish Hinze has been running Nike Junior Golf Camps at Tilden Park in Berkeley, CA since 1999, making her our longest tenured camp director. Trish is extremely detail-oriented, ensuring a top-notch, safe, and highly organized experience for her campers and their families. Trish has also drawn an incredible following to her programs as their Nike Camps often sell out with long waitlists.
#8 – Paul Killgallon, Director of Instruction, Highland Park Golf Club
Paul Killgallon has been hosting Nike Camps at Highland Park in Birmingham, AL since 2018 and has quickly become one of our favorite camp directors. Apart from running high-quality programs, Paul is also an incredibly kind person and a constant pleasure to work with. Paul is always up for trying new programs, offering camps for younger age groups and gender-specific programming. He has even added some unique new elements to the camps. Paul is also a certified U.S. Kids Golf instructor.
#9 – Courtney Mahon, Director of Instruction, Tour Striker Academy Midwest
Courtney Mahon is an LPGA Class A teaching professional and serves as the Director of Instruction for Tour Striker Midwest. Courtney was recently voted the 2020 LPGA Teacher of the Year and hosts hundreds of juniors in her programs each year. She is an extremely professional individual who takes great pride in the quality of her programs. Courtney is a phenomenal instructor and has a storied history with the Nike Camps as the former lead instructor for our flagship Nike Camp location in Pebble Beach, CA. We are very lucky to call her one of our own.
#10 – Will Heirtzler, Head Golf Professional, Bayou Oaks Golf Course
Will Heirtzler took over the role as Head Golf Professional at Bayou Oaks Golf Course in late 2020. Bayou Oaks is a municipal facility at City Park, which is located in the heart of New Orleans. Apart from his role as head professional, Will is also an outstanding Nike Camp Director. He is a constant pleasure to work with and has done a fantastic job managing our sizable Nike Camp business in New Orleans. Campers and parents love his camps because of the positive energy he and his staff bring to the game, and their highly organized and professional approach.
Share This