September 13, 2012
Get Better This Off Season with NIKE Softball Camps and Coach LeeAnn Taylor!
Nike Softball Camps announces fall hitting clinic in San Diego, October 5-6
San Rafael, CA (P.R. WEB) September 13, 2012 - NIKE Softball Camps is scheduled to host a fall hitting clinic October 5-6, 2012 at San Diego City College. This clinic is open for players ages 8-18 of all ability levels and gives them the opportunity to refine their skills during the off season.
"The fall is the time when players can focus in on what they need to improve and learn the correct fundamentals before the upcoming season" says Mike de Surville, Vice President of US Sports Camps. "The off-season is the foundation to one's success during the spring."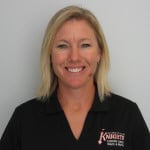 Directing the NIKE Softball Clinic is longtime Nike Softball Camp instructor and Head Softball Coach at San Diego City College, LeeAnn Taylor. Entering her 9th season as the Head Softball Coach at San Diego City College and entering her 16th in the 2013 season at the collegiate level, LeeAnn was named "Pacific Coast Conference Coach of the Year" in both 2006 and 2007 after leading her team to the 2007 Conference Championship.
NIKE Softball Camps and Coach LeeAnn Taylor's goal is to help each camper gain the edge, gain the confidence, and get better this off season!
About US Sports Camps
US Sports Camps (USSC), headquartered in San Rafael, California, is America's largest sports camp network and the licensed operator of NIKE Sports Camps. The company has offered summer camps since 1975 with the same mission that defines it today: to shape a lifelong enjoyment of athletics through high quality sports education and skill enhancement.
Players, Coaches, Parents and others interested in Nike Softball Camps can visit http://www.USSportsCamps.com/softball.
###
Share This