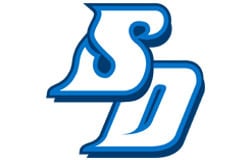 Nike Tennis Camp at University of San Diego
Nike Tennis Camp at University of San Diego
38

Reviews
Average Rating
Stars
Improve your game and have serious fun
at Nike Tennis Camps
A favorite Southern California tennis camp, the Nike Tennis Camp at USD boasts superior instruction, facilities, weather, food, and location. Our San Diego tennis camp focuses on sportsmanship, individual improvement, and having tons of fun!
The Directors of our SoCal tennis camp have over 70 years of combined camp and coaching experience and deliver an unparalleled program for kids of all skill levels.
Highlights Include
Instruction from USD Tennis Coaches Sherri Stephens and Ryan Keckley
5-6 hours of daily tennis
Low camper to staff ratio
Camp Coaches
Director

Ryan Keckley

Ryan Keckley led the Toreros to their third straight WCC Championship in his first year as Head Coach of the Men's tennis team at USD.

View Ryan Keckley's Bio

⟩

Camp Director

Nadia Abdala

Nadia Abdala was promoted to head coach in June 2022 after eight seasons as an assistant coach for the Torero women's tennis program. Abdala made an immediate impact with the program in the recruiting department helping the Toreros land some outstanding national and international players over the past eight seasons. Over her last three seasons as assistant coach, USD earned a trip to the NCAA Tournament three times and accumulated an overall record of 48-17 during that span.

View Nadia's Bio

⟩

Camp Director

Alex Funkhouser

The University of San Diego men's tennis team has announced the addition of Alex Funkhouser, who will serve as assistant coach. Funkhouser comes to USD from Cornell, and also spent time as the Lead Coach of the Collegiate Team for USTA Player Development.

View Alex's Bio

⟩
Camp Details
2023 CAMP DATES

Head Director: Ryan Keckley
June 18-23
June 25-30
July 2-7
Head Director: Nadia Abdala

July 9-14
July 16-21
July 23-28
USD Tennis
July 30-August 4 (this week of camp will be run by director, Alex Funkhouser)
CAMP PROGRAMS
We offer Full Day Camps (9:00am-4:00pm) for kids ages 10-18 with All skills, Tournament Training, and High School programs for all sessions.
All sessions are open to players of all abilities. Upon arrival, all participants are evaluated by the staff so that their own instructional needs can be addressed throughout the week.
All Skills Program: The All Skills program is designed for tennis players of any skill level and background. Campers will learn fundamentals and improve upon their game.
Tournament Training Program: The Tournament Training Program is geared towards tournament-level and ranked players looking to improve their tournament results, learn winning strategies, and work on mental toughness. Open to any and all players.
High School Program: The High School Program is geared towards players ages 13-18 currently on their high school team and wanting to move up the ladder or those planning on making the high school team.
CAMP SCHEDULE
Ryan Keckley Sessions

Check-In: All campers check in Sunday 9:15am-10:00am at the Cindy and Skip Hogan Tennis Center.
Check-out: Graduation is at 12:00pm on Friday at the Cindy and Skip Hogan Tennis Center. Check-out immediately follows at 12:30pm.
Day Camper Schedule: Sunday 10:00am-12:15pm, Monday-Thursday 8:30am-4:00pm, Friday 8:30am-12:30pm
Nadia Abdala Sessions

Check-In: All campers check in Sunday 9:30am-10:00am at the Cindy and Skip Hogan Tennis Center.
Check-out: Graduation is at 12:00pm on Friday at the Cindy and Skip Hogan Tennis Center. Check-out immediately follows at 12:30pm.
Day Camper Schedule: Sunday 10:00am-12:00pm, Monday-Thursday 8:30am-4:00pm, Friday 8:30am-12:30pm
WHAT'S INCLUDED IN THE FEE?
Instruction: Daily tennis training, morning and afternoon sessions
Supervision: Staff members provide optimal supervision and participate in all activities
Camp T-shirt & Prizes: All campers receive a Nike Tennis Camps t-shirt and prize
MEALS
Lunch will be provided at a minimum cost
INSTRUCTION, EQUIPMENT, & FACILITY
Ratio: 5:1 camper-to-coach ratio
Groupings: Campers are grouped by age, ability, and experience
Equipment Needed: All campers must bring a tennis racquet, tennis shoes, and a water bottle
Facility: Campers play on 8 courts at the Skip and Cindy Hogan Tennis Center, located on the West side of the USD campus.
Drop off/Parking: Drop off will be right in front of the steps to the facility. Counselors will be waiting for your campers arrival to greet you! If parents would like to park and watch for the morning or afternoon, please park in the guest parking lot as you enter USD on the west side of campus. You will pass a kiosk in which the guest parking will be immediately on your left.

Medical Protocol: Most camps have an athletic trainer on-site to help with illness or injury. In case of an emergency, campers will be transported to the nearest hospital
PREPARE FOR CAMP: COMPLETE YOUR PRE-CAMP CHECKLIST
To view your customer account, complete your mandatory forms, pay balance dues, and review important camp information, visit Pre-Camp Checklist. All necessary camp information is on this page. If there are any imperative changes prior to camp start, registered campers will be notified via email and this webpage will be updated!
CHECKLIST OF THINGS TO BRING
Below is a suggested list of clothes, equipment, and personal items. US Sports Camps is NOT responsible for lost or stolen articles or money.
Athletic, on-court tennis clothing

Tennis Racquet(s)

Tennis shoes (no running shoes)

Sweatshirt/warm-up jacket and pants

Water bottle*

Sunscreen**

Signed Health & Release forms and waivers (forms completed online do not need to be printed and turned in at camp)
COMPANY POLICIES
For information regarding our cancellation policy and all other company policies, please visit USSC Policies.

NIKE TENNIS CAMP FAQ
For general questions about our tennis camps please see our FAQ page
SWING VISION
Maximize your camp experience with SwingVision, an iPhone app that provides the following benefits when you record your play: watch a full match in 20 minutes with the dead-time automatically removed, view stats like shot placement, court positioning, shot speed, and consistency for each shot type, filter to particular shot or point types and easily create highlight videos of certain points or shots, access video analysis, and stats immediately after you finish recording, all on unlimited cloud storage.
USD Campus

The USD campus, built in Spanish Renaissance style, is situated on 180 acres of the mesa overlooking San Diego's beautiful Mission Bay. It has been rated as one of the most beautiful campuses in the country. The USD campus provides a safe, secure environment, and adds an exciting cultural dimension to the total tennis camp experience. We always incorporate a tour of the campus during one of our lunches, so that the kids have an idea of the size of the campus and the beauty they are surrounded by!

Camp Code: TNXRSY
Show Less

See More

Camp Details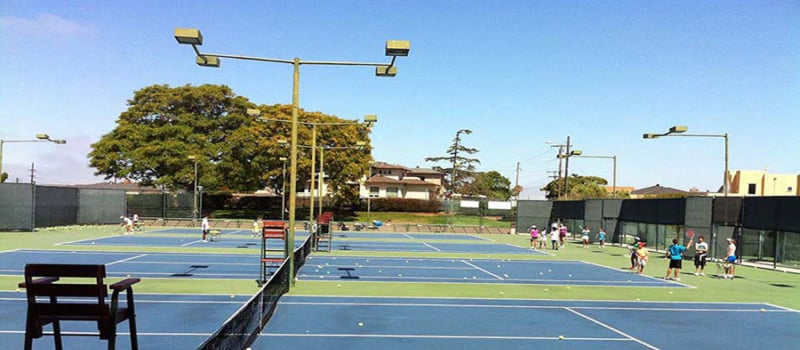 Camp Reviews
Overall Average Rating
Stars
July 8, 2023: My son had an amazing time competing for points!

— Anonymous

July 30, 2022: My daughter love the camp, Sherri is an amazing person and all the staff

— Anonymous

July 30, 2022: The staff and the director were wonderful ! Very nice and well prepared

— Anonymous
Show Less

See more

Reviews
June 24, 2023: Coach Ryan and his team are awesome, make it fun and teach them tons.

— Anonymous

July 15, 2023: They gave my child a new love of tennis and she wants to do more!

— Anonymous

August 4, 2022: The camp director personally advising my son to improve his serve

— Anonymous

July 1, 2023: Learning/improving skills, playing matches and making friends

— Anonymous

June 25, 2023: The drills and the fun games. Liked tournaments everyday

— Anonymous

July 8, 2023: Great coaches and director. My kid really enjoyed.

— Anonymous

July 29, 2023: The happy face on my kid and the skills she learned

— Anonymous

August 5, 2023: My son got a lot of tennis practiced and is begging to play tennis year round.

— Anonymous

July 18, 2023: Having the girls work on their technical skills

— Anonymous

June 25, 2023: Her ability improved and she enjoyed the games!

— Anonymous

July 2, 2023: My son loved all of the matches he got to play

— Anonymous

July 3, 2023: Location and how well organized it was

— Anonymous

July 22, 2023: feedback on skills and playing games

— Anonymous

July 8, 2023: The kids want to go back next summer!

— Anonymous

July 9, 2023: A safe and friendly atmosphere!

— Anonymous

July 8, 2023: Fun competitive environment

— Anonymous

July 30, 2023: She just had a really good time, while still learning tennis. I was surprised and really pleased. Very important at this age!!!

— Anonymous

July 1, 2023: It was so refreshing to have genuinely nice coaches and director. The group created a fun, welcoming environment where everyone was included. The written feedback provided on the last day by the coaches was thoughtful and and insightful and extremely meaningful. It was our first time doing the camp and we absolutely loved it and will definitely return. The coaching staff was really great.

— Anonymous

June 25, 2023: My 12 year old daughter didn't have a lot of experience competing against peers, so to be able to be on a team and compete against similarly skilled campers was a great highlight for her. She gained a lot of confidence and is excited to start competing in USTA tournaments!

— Anonymous

July 16, 2022: The fact that my daughter got to experience match play without a lot of pressure. The camp and coaches desensitized the processes and made her first competitive experience at such a you g age feel like less of a big deal.

— Anonymous

July 1, 2023: Coach Keckley and his staff were an outstanding group of coaches and counselors match play opportunities were a highlight and the passion and expertise of Coach Keckley were invaluable

— Anonymous

August 3, 2022: Location was ideal. Facilities were impressive. Staff was friendly and knowledgeable. cafeteria lunch was a highlight for my daughter. Skill improvement was evident.

— Anonymous

July 8, 2023: The highlight were the friendly and warm counselors and camp director, Ryan. They all did such a great job of making the kids feel welcome and included and capable.

— Anonymous

July 10, 2022: The director and coaches are positive, fun and high quality tennis professionals! Kids are in such great hands. Facility and staff is top notch!

— Anonymous

July 1, 2023: The counselors and director. All of them were friendly and fun and kind and encouraging and made the camp a welcoming and fun experience.

— Anonymous

August 13, 2023: Katie said that she had a ton of fun and was happy she got to play-she found a new fun sport that she wants to come back to next year!

— Anonymous

June 25, 2022: We got a player evaluation papers at the end of the camp. That was really helpful to improve my daughter's tennis skills!

— Anonymous

July 30, 2023: Excellent mentoring by Coach Nadia & her staff. They are welcoming and supportive to campers of all levels.

— Anonymous

July 22, 2023: It help my child to improve on tennis skills in a fun environment. The food at the cafeteria was great!

— Anonymous

July 3, 2022: There was lots of playing time. My daughter got to play many matches. The staff are very nice.

— Anonymous

July 8, 2023: Loved the warm and friendly coaches and the evaluations they provided on the last day.

— Anonymous

June 30, 2022: Everything is amazing, good tennis, good company and good food and excellent coaches!

— Anonymous

June 24, 2023: It was overall great. We are looking forward to tennis all summer to keep building.

— Anonymous

July 23, 2022: My kid really enjoy it! He was happy staying in the camp.. that says everything!

— Anonymous

Camp Staff were Knowledgeable and Encouraging!

— Anonymous
SECURE YOUR SPOT – CAMPS SELL OUT!
Last year over 650 Sports Camps sold out, leaving 7,000+ campers on the waitlist. Due to high demand, early registration for our first-come-first-serve camps is strongly recommended.
Camp Dates & Prices
This program has concluded for the season.
Please Join our Priority List to be notified when this program is available for registration.