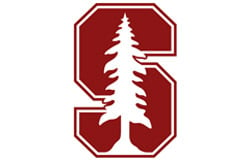 Stanford Adult Tennis School
Stanford Adult Tennis School
12

Reviews
Average Rating
Stars
Improve your game and have serious fun
at Nike Tennis Camps
A top adult tennis camp in California, the Stanford Adult Tennis School in the Bay Area is focused on helping players ages 18+ improve their game. This adult tennis clinic in Palo Alto offers beginner, intermediate and advanced programs.
Our adult tennis camp at Stanford is designed to address your specific needs, to increase knowledge of the game, and to move you to the next level without forcing you to make radical changes.


Stanford University COVID-19 requirements Update:
* As of Monday, April 10, Stanford University will no longer require - but will continue to strongly recommend - COVID vaccinations and boosters.
Highlights Include
Instruction from Brandon Coupe and his staff
Low student : camper ratio
Groupings for all skill levels
Camp Coaches
Co-Director

Brandon Coupe

Brandon Coupe enters his eleventh year as Assistant Men's Tennis Coach at Stanford University. During his time as an assistant coach on The Farm, Coupe has helped guide the Cardinal to a 162-88 record, nine consecutive NCAA Tournament appearances and four straight 20-win seasons from 2009-12.

View Brandon Coupe's Bio

⟩
Camp Details
2023 CAMP DATES

Stanford Cancellation Policy

If you cancel your session outside of 14 days prior to the start date, you are able to receive a refund of your camp tuition fee, less a $100 cancellation fee. No refunds if the cancellation is received inside 14 days of your sessions start date.
CAMP PROGRAM
The Stanford Adult Tennis School is open to all ability levels this year. Upon arrival, all participants are evaluated by the staff so that their own instructional needs can be addressed throughout the weekend.

This session includes progressive tennis instruction in:
Serve, return, serve and volley
Ball machine and feeding drills (groundstrokes and netplay)
Doubles play and strategy
CAMP SCHEDULE
Check-in: 9:00am at Taube Tennis Stadium each day
Check-out: 3:00pm at Taube Tennis Stadium each day
Day Camp Program: Saturday & Sunday 9:00am-3:00pm
MEALS
All campers are required to bring their own lunch, lunch is not provided. Lunch will begin at 12:00pm each day.
INSTRUCTION, EQUIPMENT, FACILITY
Instruction: Daily tennis training
Ratio: 6:1 camper-to-coach ratio
Groupings: Campers are grouped by age, ability, and experience
Equipment Needed: All campers must bring a tennis racquet, tennis shoes, and a water bottle
Camp T-shirt & Prizes: All campers receive a Nike Tennis Camps t-shirt
Facility: Campers play on 17 lighted courts at the Taube Tennis Stadium.
Medical Protocol: Most camps have an athletic trainer on-site to help with illness or injury. In case of an emergency, campers will be transported to the nearest hospital
PREPARE FOR CAMP: COMPLETE YOUR PRE-CAMP CHECKLIST
To view your customer account, complete your mandatory forms, pay balance dues, and review important camp information, visit Pre-Camp Checklist. All necessary camp information is on this page. If there are any imperative changes prior to camp start, registered campers will be notified via email and this webpage will be updated!
CHECKLIST OF THINGS TO BRING
Below is a suggested list of clothes, equipment, and personal items. US Sports Camps is NOT responsible for lost or stolen articles or money.
Athletic, on-court tennis clothing

Tennis Racquet(s)

Tennis shoes (no running shoes)

Sweatshirt/warm-up jacket and pants

Water bottle

Sunscreen

Signed Health & Release forms and waivers (forms completed online do not need to be printed and turned in at camp)
COMPANY POLICIES
For information regarding our cancellation policy and all other company policies, please visit USSC Policies.
NIKE TENNIS CAMP FAQ
For general questions about our tennis camps please see our FAQ page
Additional Tennis Camp Sessions offered at Stanford:
* Our camps are open to any and all entrants.
* Any athlete who has sufficient preparatory education to be academically eligible to enter college in the fall following the camp date will not be permitted to attend the camp.
* Drugs, alcohol and smoking are strictly prohibited and constitute grounds for immediate dismissal from camp.
SWING VISION
Maximize your camp experience with SwingVision, an iPhone app that provides the following benefits when you record your play: watch a full match in 20 minutes with the dead-time automatically removed, view stats like shot placement, court positioning, shot speed, and consistency for each shot type, filter to particular shot or point types and easily create highlight videos of certain points or shots, access video analysis, and stats immediately after you finish recording, all on unlimited cloud storage.

Camp Code: TNADSG
Overall Average Rating
Stars
Phenomenal Camp

August 14, 2019: It was fantastic. Phenomenal. That's all. And I don't usually review things. Looking forward to attending the next one.

— Ali A. - Camper

Enjoyed interacting with Stanford staff

August 21, 2019: Chances to interact with Stanford Assistant Tennis Coach and many enthusiastic college players was great. Rotating sessions. Multiple opportunities for individual instruction.

— Larry P. - Camper

Increase warm up time

July 11, 2017: Increase warm up time in the morning, including stretches and at least 1hr of hitting balls Provide camper with personalized diagnostic of areas to work on after the camp

— Frederic B. Camper
Show Less

See more

Reviews
Would have liked to stay at each "station" longer

July 14, 2017: Would have liked to stay at each "station" for a longer amount of time before "shuffling" to another station. The college-age staffers could have displayed more energy and been a little more informative; they could have been more engaging.

— Joan L. Camper

Had an incredible time

July 18, 2017: I had an incredible time at the Nike tennis camp at Stanford, and playing with the university coaches was really inspiring. Overall, I would definitely come back and have already recommended the Nike tennis camps to friends. My only critique is that some of the college-age coaches were less helpful in giving feedback. They were obviously amazing players in great college programs, but had less experience coaching/ translating what they know how to do to a beginner-intermediate player. It didn't detract from my overall high opinion of the program, but the variance in coaching experience court by court was very obvious.

— Emily H. Camper

amazing coaching!

August 28, 2016: My husband and I really enjoyed the summer camp and are appreciative to the staff and director for their amazing coaching!

— Sherry C. Camper

concepts were clearly explained

August 28, 2016: The instructors were good and the concepts were clearly explained. I would prefer to have a longer time in practicing specific strokes learned in each segment. A full-day program instead of half-day program should allow for that.

— Ignatius C. Camper

technical instruction was grea

August 20, 2016: Overall I thought the technical instruction was great. Some of the instructors offered more feedback than others, liked more feedback!

— Fracie B. Camper

A great experience overall

August 18, 2016: A great experience overall. The groupings seemed very well put together and all of the coaches were very encouraging. Some place to store valuables might be nice too. Thanks.

— Bruce K. Camper

fun!

June 30, 2016: Brandon keeps things light and fun; Lenny & Stephen are interactive, but not intrusively so; the college player/coaches are fun to be around, because of their youth and enthusiasm for tennis.

— Bill J. Camper

instructors were excellent

August 25, 2015: The instructors were excellent, particularly Vita, Lupe, and Vanessa.

— Jim F. Camper

would recommend

August 15, 2015: Overall, enjoyed it and would recommend.

— James M. Camper
SECURE YOUR SPOT – CAMPS SELL OUT!
Last year over 650 Sports Camps sold out, leaving 7,000+ campers on the waitlist. Due to high demand, early registration for our first-come-first-serve camps is strongly recommended.
Camp Dates & Prices
Programs: Adult
Age Group: 18 - 0
Gender: Co-Ed
* Pricing is subject to change based on availability. Enroll today to secure current rates.