Golf Tip
Golf Tip: How to Hit the Golf Ball Straight Consistently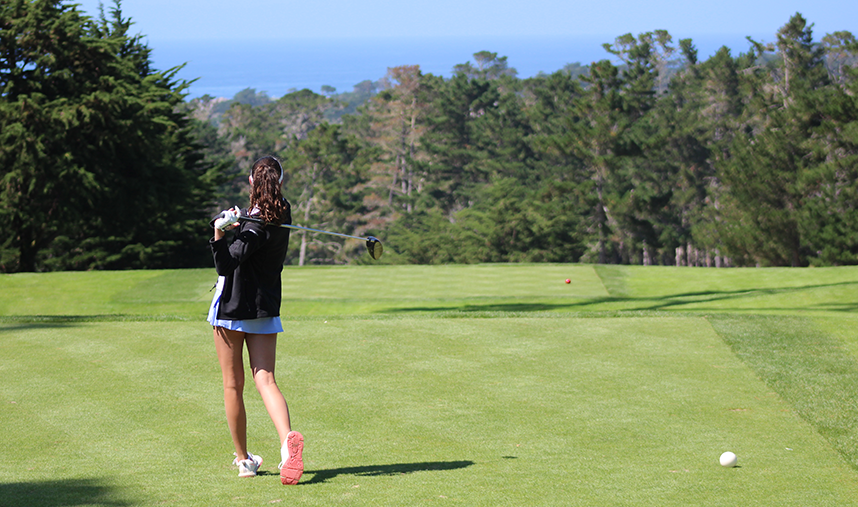 First things first, hitting the ball straight is not an easy task. For most golfers, it is difficult to consistently hit the ball straight and ensure an accurate shot every time. Therefore, some golfers opt-out for a draw or fade, in which the ball will tail to the left or right and land closer to the pin. In many cases, even pro golfers don't try to hit their ball straight, as they understand how difficult of a shot it can be. If you would like tips like this and more, check out our Nike Junior Golf Camps!
To consistently hit more straight shots, ensuring you're in a good position for the swing is very important. Your ball should be correctly lined up on the inside of your front foot for a drive, in between the center of your stance for an iron shot, and between the center and inside back foot for a chip shot. You should keep a good posture in an athletic stance with your legs shoulder-width apart, feet parallel, and knees slightly bent. It is also crucial to bend at the waist and keep your lower back straight throughout the swing. While holding the club, you should stand at a distance with your clubhead aligned with the ball. The ball and clubhead should be lined up with your target. If you want, you can lay your club down, line it up to the target, and align your feet so they are perpendicular to the club. This will allow for a straight line to your target.
Mechanics is VITAL to your golf swing. Whether that's the movement of your club, rotating of the shoulders, or overall swing; this can make or break your tee shot. In order to hit your ball straight, you must consistently follow these three steps. Making sure the clubface impacts the ball square, ensuring you have a consistent speed through the backswing and downswing, and hitting through the ball every time. Failure to follow these steps will result in a sidespin on the ball, which will make the ball tail to the right or left of your initial target. To many golfers, the most frustrating part is to see your tee shoot hook or slice. In most cases, you may need to sacrifice the power of your swing for a more accurate shot. This will allow you to slow down and focus on better mechanics.
Ultimately, it is important to understand that all factors come into play when trying to hit the ball straight. The most important factor is to trust your swing and stick to the mechanics.
About Nike Junior Golf Camps
Nike Junior Golf Camps is a division of US Sports Camps, Inc (USSC). Headquartered in San Rafael, California, USSC is America's largest sports camp network and the licensed operator of Nike Sports Camps. The company has offered summer camps in the U.S. since 1975 with the same mission that defines it today: to shape a lifelong enjoyment of athletics through high-quality sports education and skill enhancement. Nike Junior Golf Camps offers junior overnight and day camps, as well as advanced player camps at over 130 locations nationwide. Since 1994, more than 200,000 junior golfers have participated in the camps.
Share This