Tennis Video Tip
Presented by Lele Forood, Camp Director
Stanford University Nike Tennis Camp, Lele Forood Sessions
Tennis Tip: Fast Feet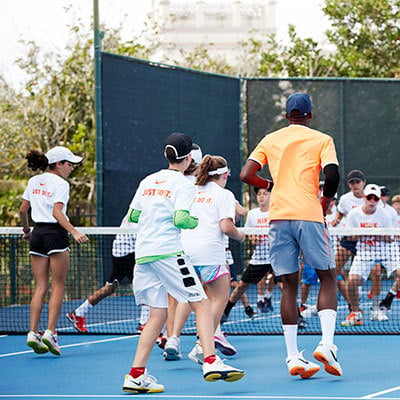 A Stanford Nike Tennis Camp favorite, this quick ball feed drill helps you work on fast feet along with both open and closed stance shots. Little steps are key, along with getting the racket back, loading and getting under the ball. Quick reactions and fast feet will allow you to cover the court better and be in position to hit any type of shot. If you're waiting in line for your turn, no need to sit around -- shadow and track the ball from behind!
For more great drills and tips, join Head Women's Tennis Coach Lele Forood, Associate Women's Coach, Frankie Brennan and their amazing staff this summer! These co-ed camps are geared towards players of all ability levels and ages 9-18.

Camp Dates:
June 12-15 (Full Day and Half Day options)
June 19-22 (Full Day and Half Day options)
June 25-30 (Overnight and Day Camp)
July 2-7 (Overnight and Day Camp)

For more camp information and details, visit https://www.ussportscamps.com/...
Share This