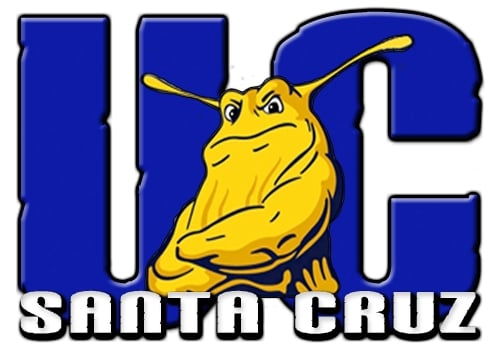 Nike 5meter Water Polo Camp at UC Santa Cruz
Nike 5meter Water Polo Camp at UC Santa Cruz
20

Reviews
Average Rating
Stars
2023 Dates & Prices Now Available!
The Nike 5meter Water Polo Camp at the University of California, Santa Cruz is designed to provide youth and high school water polo players with the fundamentals, latest drills, in-water scrimmages and position specific training (Divers, Shooters, Goalies and 2 Meter Offense & Defense) essential for improvement. Come join USA Water Polo Olympian Genai Kerr and get better this summer!
UC Santa Cruz is an easy drive from the Bay Area and beyond. The campus, defined by rolling meadows and towering redwoods, is a perfect environment for the Nike Water Polo Camp and has always been a camper favorite! Instruction will take place each day at the UC Santa Cruz pool.

Highlights Include
Position Specific Training for Divers, Shooters, Goalies and 2 Meter Offense & Defense
Directed by USA Olympians and College Coaches
Low camper to staff ratio and 24 hour supervision
Two daily water sessions; one daily dry-land session
Fun evening activities
Every camper receives a Nike Camp T-shirt
Camp Coaches
Camp Director

Genai Kerr

Genai Kerr is a USA Water Polo Olympian, coach, mentor, and true ambassador of the sport. Genai was a member of the United States Men's National Water Polo Team for 12 years and played in the 2004 Athens Olympics, 2003 & 2007 Pan American Gold Medal games, and multiple World Championships.

View Genai Kerr's Bio & Water Polo Tips

⟩

Camp Director

Blair MacDougall

Blair MacDougall enters his second season at Mercyhurst and his first as the head coach. He was previously the graduate assistant for the 2021-22 season before taking on the role of interim head coaching and helping lead the Women's Water Polo team to a record of 7-15.

View Blair MacDougall's Bio

⟩

Staff

Petar Momcilovic

On staff is Petar Momcilovic who will be the assistant coach for a NCAA Division I program from fall 2023. He was previously the Head Coach of Mercyhurst University. He is a Serbian native who began his coaching career in the United Kingdom.

View Petar Momcilovic's Bio

⟩
Camp Details
SECURE YOUR SPOT!
You can expect a high demand on these first-come-first-serve camper spots, so please be sure to register early. This summer, Santa Cruz is offering one session of overnight with a day camp option (9:00am-4:00pm) for ages 10-18. Upon arrival at camp, campers are placed in groups with other players having similar abilities and goals. Our camp staff will do their best to accommodate your needs, keeping in consideration your experience and desire to improve.
2023 OVERVIEW
Dates: July 31-August 3
Gender: Coed
Camp Type: Overnight, Day (commuter)

Check-In: Overnight and Day Campers check in at 9:00am at the Stevenson College Dorms **Please refer to Reminder Email sent on 7/27 for your camper's specific hours**
Check-out: Camp concludes at 4:00pm at Stevenson College Dorms **Please refer to Reminder Email sent on 7/27 for your camper's specific hours**
Meals: All meals are provided for Overnight campers. Lunch is provided for all Day (commuter) campers
Program: The Skills Camp program is designed for youth and high school players (Ages 10-18). This program focuses on advanced skills, position specific training for divers, shooters, goalies and 2 meter offense & defense, team concepts and an overall intense level of competition. Campers also have the opportunity to compete daily in games against each other.
CAMP ADDRESS
**Due to unforeseen circumstances at the UC Santa Cruz Pool, our in-water sessions will be taking place down the hill at the Santa Cruz High School Pool. Please refer to Reminder Email sent on 7/27 for your camper's specific hours and check-in location.****
UC Santa Cruz
1156 High Street
Santa Cruz, CA 95064
CAMP CHECK-IN/CHECK-OUT
Check-in Monday, July 31st
Overnight and Day Campers check in at 9:00am at the Stevenson College Dorms **Please refer to Reminder Email sent on 7/27 for your camper's specific hours**
Check-out Thursday, August 3rd
Camp concludes at 4:00pm at Stevenson College Dorms **Please refer to Reminder Email sent on 7/27 for your camper's specific hours**
2023 HOUSING
Dorm: Stevenson College Residence Hall
Number of Campers Per Room: 2 per room
Roommates: Rooms are assigned by age & roommate requests. Roommate requests must be mutual and received no later than 14 days before the start of camp. If you don't have a roommate request, you will be placed in a room with someone near your age. It will be a great opportunity to meet someone new!
Bathrooms: Shared
Linens: Not included. Bring linens or sleeping bag, pillow, pillowcase, and a towel.
Air Conditioning: No - dorms do not have A/C
SUPERVISION
The staff reside in the dormitories with the campers and participate in all activities. Drugs, alcohol and tobacco are strictly prohibited, and constitute, along with general misconduct, grounds for dismissal from camp without a refund.

WHAT'S INCLUDED IN THE FEE?
Instruction: Morning, afternoon, and evening training sessions
Overnight campers: Dormitory housing on campus and all meals are provided.
Day campers: Lunch is provided.
Supervision: Staff members reside in campers' quarters and participate in all activities.
Camp T-shirt & Prizes: Campers at multi-day camps will receive a Nike Water Polo Camps t-shirt and prizes.
INSTRUCTION, EQUIPMENT & FACILITY
Ratio: 1:10 staff-to-camper ratio
Groupings: Campers are grouped by age, ability, and experience.
Equipment Needed: Please bring your water polo suit, swim cap, and towel(s)
Facility: UC Santa Cruz Pool
Medical Protocol: Most camps have an athletic trainer on-site to help with illness or injury. In case of an emergency, campers will be transported to the nearest hospital.
PREPARE FOR CAMP: COMPLETE YOUR PRE-CAMP CHECKLIST

To view your customer account, complete your mandatory forms, pay balance dues, and review important camp information, visit Pre-Camp Checklist. All necessary camp information is on this page. If there are any imperative changes prior to camp start, registered campers will be notified via email and this webpage will be updated!

OVERNIGHT CAMPERS
Below is a suggested list of clothes, equipment, and personal items. US Sports Camps is NOT responsible for lost or stolen articles or money.

Checklist of things to bring:

Weather appropriate clothing for 3 nights/4 days
Dryland training Gear (running shoes, t-shirt, athletic shorts, sweatshirt)
Backpack
2-3 Water Polo Suits
Swim Cap(s)
Towels
Hat or Visor
Sunglasses
Sandals/flip flops
Water Bottle
Sunscreen
Spending Money ($50)
Linens (twin sheets & blankets or sleeping bag, pillow, pillowcase)
Pajamas
Bath Towel
Toiletries
Fan - dorms do not have AC
Signed Heath & Release forms and waivers (forms completed online do not need to be printed and turned in at camp)
DAY CAMPERS
Checklist of Things to Bring: We recommend that all Day Campers bring a daily pack with the following items: water polo suit, swim cap, goggles, towel, sunglasses, hat, sunscreen, sandals, water bottle, dry land gear (running shoes, t-shirt, athletic shorts, sweatshirt) and any other appropriate clothing for that day's activities which will be described to you on the first day of camp.
Camp Schedule & Meals **Please refer to Reminder Email sent on 7/27 for your camper's specific hours**:
Monday: Day Campers should arrive dressed and ready to play. You will be assigned a counselor and given a complete schedule of all events during the week. Day Campers stay until 4:00pm. Lunch is provided.
Tuesday-Wednesday: Day Camper Hours – 9:00am-4:00pm. Lunch is provided.
Thursday: Day Camper Hours - 9:00am-4:00pm. Check-out is immediately after the camp concludes. Lunch is provided
TRANSPORTATION
Transportation is not provided. Campers are responsible for getting to and from camp on their own. There is no supervision before or after camp hours so please make arrangements to pick up your child on time.
COMPANY POLICIES
For information regarding our cancellation policy and all other company policies, please visit USSC Policies.

Show Less

See More

Camp Details
OVERNIGHT CAMP AMENITIES
• 3 nights lodging • All meals
• Nightly recreational activities
• Nike Camp T-shirt

DAY CAMP AMENITIES
• Nike Camp T-shirt

Discounts Available
TEAM DISCOUNT: If five or more campers register together, each camper is eligible for a $25 discount. Please have a team contact reach out directly to the USSC office at 1-800-645-3226 to receive a discount code to identify your group. Campers may then register through the website at their convenience and apply the coupon code during check-out.
Sample Daily Schedule
7:30 AM

Breakfast

8:45 AM

Extended Day and Day Campers Arrive

9:00 AM

Camp Meeting

9:15 AM

Dynamic Water Polo Dryland Warm Up

9:45 AM

Pool Session 1

12:30 PM

Lunch

1:45 PM

Pool Session 2

4:00 PM

Day Campers Depart

5:00 PM

Dinner

6:30 PM

Pool Session 3 or Optional Grass Field Games

7:30 PM

Extended Day Camers Depart

8:00 PM

Supervised free time in Dorm

10:00 PM

Lights out!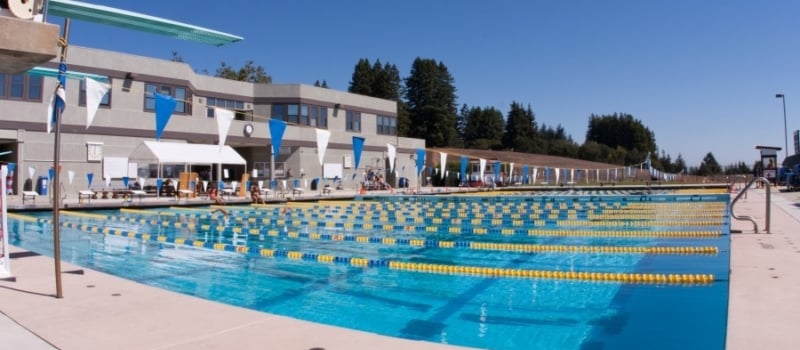 UC Santa Cruz
Campers will train each day at the UC Santa Cruz pool and reside on one of the most beautiful college campus in the country with it's ocean views, comfortable dormitories, and an excellent dining hall. Santa Cruz is located at the top of the Monterey Bay on the Central California coast, just south of San Francisco. Getting here is easy since several major highways run to Santa Cruz and the San Francisco, San Jose, and Monterey International Airports are all nearby.

Camp Reviews
Overall Average Rating
Stars
My son loved this camp!

— Anonymous

Loved camp!

July 16, 2015: In this camp, great food, experienced instructors, and tons of great water polo are all there is to find. You learn many new tricks, and you perfect your techniques, whether you are an advanced player, or just learning to throw the ball. I definitely recommend this camp to Water Polo players of all levels.

— Jackson H. Camper

Will definitely return next year!

July 8, 2014: My 12 yr old son enjoyed so much the overnight camp. Made new friends and learned a lot of water polo skills. UC Santa Cruz has a very beautiful campus and his first dorm experience was positive. Will definitely return next year to improve his skills.

— Jenna C. Parent
Show Less

See more

Reviews
Great Experience!

July 8, 2014: My son (14) loved the instruction from the Olympic coach!

— Cater W. Parent

Great instruction!

July 11, 2014: Great instruction and staff!! They diagram on the white board different waterpolo plays which is helpful in a game setting.

— Ellie H. Camper

Excellent!

July 9, 2015: Well worth it. My daughter loved the staff and especially learned a lot from the Olympian Genai Kerr. He was very inspirational!!

— Alyssa W. Parent

Safety was a high priority!

July 10, 2015: This was our first camp...I liked that safety for the children was a high priority. I liked that Day One assigned each child to a partner and instructions were given about the rules associated with going to dining hall etc...Always in "2's" I think the administrative and operational process was simple.

— Janelle M. Parent

Exceeded our expectations!

July 12, 2015: The Nike Water Polo camp exceeded our expectations. My son mentioned that he worked hard during the four day camp but had fun each day. As a parent I listened to the Day One introductory speech by Genai and the closing discussion on Day Four. What stood out in both of these discussions were advice on Nutrition, advice on techniques to stay focused and to continue to improve individual athletic skills, goal setting for Academic and athletic achievement, Motivational life examples and techniques to use in everyday life, the struggles and triumph of sticking with a sport that can lead to success through perseverance and hard work. Additionally, keeping things "real" by having fun each day during camp. Good job Nike Water Polo camp and Genai for being a good Mentor to these young athletes.

— Tatum S. Parent

Thanks!

July 15, 2015: Nike's Water Polo Camp was the highlight of my daughter's summer! Because she was only 12, we were a little nervous sending her to the overnight camp but the staff and counclers were so great, our apprehensions were gone the first day! She improved so much that her home coaches noticed a difference right away. I'd recommend this camp and we'll be back next year!

— Reis E. Parent

Fun, positive experience.

July 15, 2015: My daughter was apprehensive about going to camp because she had a "not so good" experience earlier in the summer. WOW, she was so impressed with the coaches, their kindness and instruction, and besides that, it was a whole ton of fun!!!! She can't wait to go back next year.

— Ted T. Parent

Overall a great camp!

July 20, 2019: My son loved learning new skills through drills and learning different ways to position himself to receive the ball. He really enjoyed when skills were taught by being broken down and demonstrated on deck for all of the campers, as well as the focus on game awareness. Overall, a great camp.

— Jim T. Parent

Highlight of the summer!

July 17, 2015: Last summer when my daughter was 12, she attended the Nike Water polo day camp, she was one of the younger players, but it didn't matter - the kids and coaches were awesome, and she couldn't wait to go back each day. Megan begged to go back again this summer and had the same awesome experience - thanks for making this the highlight of her summer!!

— Kiara T. Parent

Very rewarding!

July 6, 2016: My son attended the camp at UC Santa Cruz, summer 2016. He is 12 years old and has been playing Water Polo for 6 years - competitively for 3 years. He found the camp very useful and inspiring. He loved meeting the Olympian players and found the whole experience very rewarding. He will be back next year - for sure. Thank you for a wonderful time.

— Sharon B. Parent

Coaches really care about learning process!

July 7, 2016: Lovely environment, coaches really care about learning process. They teach the skills and techniques of the game very well. THey also help with strategy and understanding of the game.

— Clay R. Camper

I loved it!

July 7, 2016: It was my second year at UCSC and loved it. There are three sessions in the pool and Genai always gives great talks about the game and beyond. Like college and nutrition. It was my first year and I loved it. The coaches were really nice and helped me with my game. I definitely want to come back.

— Ethan W. Camper

I plan to return every year!

July 10, 2016: They pay great attention to you as a group, they work on individual and team skills. They also made sure that while they pushed you hard, they didn't push you too far to the point of injuring ourselves - safety and skills are both goals. I plan to return every year.

— John P. Camper

Loved it!

July 9, 2017: My daughter loved the drills and instruction...she definitely increased her sense of confidence in the pool and her skill level improved. She loved her head coach as well as the staff!

— Reagan W. Parent

Highly recommend!

July 23, 2017: I loved this camp and would definitely recommend it to my teammates! Highlight of the camp was meeting Genai, I really enjoyed his attitude and instruction. Learning offense and defense for 2 meter defenders and learning 6 on 5 formations with throwing was also great.

— Chloe P. Camper

Great First Experience!

July 1,2018: I would totally recommend this camp to anyone who is just starting water polo. Fundamentals are a main focus at this camp and I found that they made me a better player. The coaching staff was always there for the campers and always had a smile on their face. This was my first water polo camp and I really enjoyed it and I would definitely return.

— Jason L., Camper

Loved Camp!

July 19, 2019: I loved this camp because I was able to learn new techniques, built confidence, made new friends, and enjoy the college dorm experience.

— Amy H. Camper
SECURE YOUR SPOT – CAMPS SELL OUT!
Last year over 650 Sports Camps sold out, leaving 7,000+ campers on the waitlist. Due to high demand, early registration for our first-come-first-serve camps is strongly recommended.
Camp Dates & Prices
This program has concluded for the season.
Please Join our Priority List to be notified when this program is available for registration.