May 06, 2019
Presented by Zack Test, Academy Director
Presented by Ethan Willis, Co-Director
San Diego Legion and Nike Rugby Sports Camp Team Up to Offer Professional Player Coaching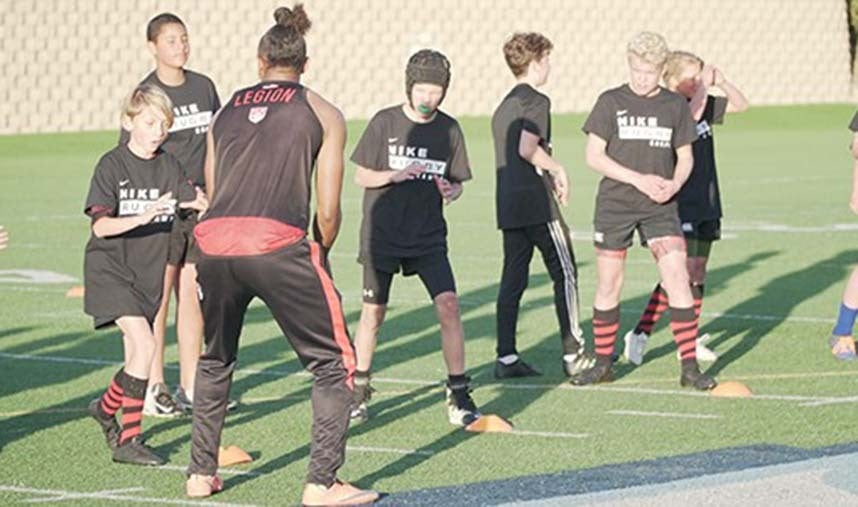 Nike Rugby Camps opens new relationship with San Diego Legion to bring in top professional talent as player coaches.
Article by Patrick Madden - New in 2019, Nike Rugby Camps is teaming up with San Diego Legion to provide young athletes with the chance to train with some of the nation's top rugby talent. Led by veteran Nike Camp Directors Ethan Willis and Ian Denham, and Legion Academy Director, Zack Test, players will receive hands-on instruction on all facets of the game in a fun learning environment.
Nike Rugby Camps has designed and coordinated one the finest rugby camp system in the nation, benefiting players of all ages and skill levels. Nike Legion Rugby Camps in San Diego offer overnight and day camp options for boys. The overnight camp includes key fundamental drills, fun match play, meals, housing and evening activities. Campers reside in dorms on the beautiful campus of University of San Diego, and all rugby activities take place at the USD athletic fields (Manchester Field). The day camp (9:00am - 4:00pm) includes all rugby instruction, match play and lunch. The boys' camps are split up into two groups on two different weeks, high school (July 21 - 24) and youth (July 28 - 31), to provide a tailored experience to each age level.
Nike Rugby Camps is proud to offer a new camp for girls also coming in 2019, for ages 10-18. This camp runs June 30 - July 2, from 9:00am-4:00pm each day and includes instruction on all facets of the game for girls of all skill levels.
Founder of Elite Rugby Camps in 2007, and now under Nike Rugby Camps, Ethan Willis has mentored and coached over 5000 young aspiring rugby players. The Nike branding and growth of the camps across the nation offer young players the opportunity to receive quality coaching and instruction. Willis has played a major role in the growth of rugby in the U.S., especially in Southern California.
"We are very excited about our partnership with Legion. Our goal at Nike Rugby Camps over the past decade has been to provide young players access to the best possible coaching from players and coaches at the highest level. Our partnership with Legion allows us to fulfill that promise," said Willis.
Long-time Nike Rugby Camp camper/counselor, and now a USA U20 and San Diego Legion Academy player, Ryan James, still reflects on the impact the camps had on his career.
"2012 was my first year ever playing rugby and these camps played a huge role in my development as a player. Being surrounded by other players that wanted to succeed in the sport drives you to become the best that you can be through fun competition," said James.
USA 7's stand-out, Zack Test, who currently serves as Academy Director and Backs Coach for San Diego Legion will assist in leading the Nike Legion Rugby Camps in San Diego.
"Many professional teams join forces with local camps in an effort to continue growth in the community. We have joined forces with Nike Rugby Camps because they are the best with player development for youth players in San Diego. The whole organization is run very well so that players always want to come back because they have a ton of fun and learn quality fundamentals and skills to enhance their game," said Test.
The Nike Rugby Camps staff is hosting three two-hour clinics before San Diego Legion matches in spring. The last clinic will be on June 2 before the Legion take on NOLA Gold in their last home game of the season. Each participant will have the opportunity to train on-site at University of San Diego. Each camper will also receive a Nike Legion Rugby Camp t-shirt and free admission to the game following the clinic, as well as being on the pitch for pre-match prior to kickoff.
"We want to make the players the best on and off the field. For Legion, we get to engage the community and identify players that could potentially be academy players after they graduate from high school," said Test.
For more information and to register, please see the link for Nike Legion Rugby Camps, San Diego.

Share This