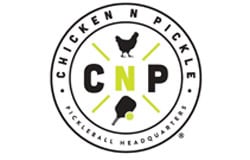 Nike Adult Pickleball Camp at Chicken N Pickle, Kansas City
Nike Adult Pickleball Camp at Chicken N Pickle, Kansas City
1

Review
Average Rating
Stars
Improve your game and have serious fun
at Nike Pickleball Camps
Join us for 3 action-packed days of pickleball training! Led by Chicken N Pickle's Director of Pickleball Jack Oxler, you'll be challenged with a range of fun and instructional pickleball activities!
This adult pickleball camp is designed to address your specific needs, increase your knowledge of the game and help you improve in a fun and friendly environment.
Highlights Include
Instruction from Certified Teaching Pros
15 hours of on-court time
Grips, stroke development, strategy, etiquette and more!
Groupings for all skill levels
Camp Coaches
Camp Director

Jack Oxler

Jack Oxler is the Director of Pickleball at Chicken N Pickle.
Camp Details
Our 3-day adult pickleball camps are open to players of all skill levels, ages 18+.

2022 CAMP DATES
Show Less

See More

Camp Details
CAMP PROGRAM
Beginner, Intermediate & Advanced skill levels

In order to maximize fun and enjoyment, assessment activities will be used at the start of the camp to group players with similar skill levels. This means you'll get to dink, drop, drive and smash your way with your peers, all while getting personal feedback from our instructors!
This camp features both cooperative and competitive elements, giving you a chance to put your new skills into action. All participants will also receive a comprehensive follow-up document to reinforce their on-court learning.
CAMP SCHEDULE
Check-in: 9:30am each day
Check-out: 3:30pm each day
Daily Schedule: 9:30am-12:30pm & 1:30pm-3:30pm each day
Please note: This is a Day Camp only and runs during the hours listed above. The camp tuition DOES NOT include housing. Campers are required to provide their own overnight accommodations.
WHAT'S INCLUDED IN THE FEE?
Welcome Package: All campers receive a Pickleball Camps t-shirt and prizes
Instruction: 15 hours of court time including instruction and match play
T-shirt & Prizes: All campers will receive a $15 CNP gift card, a CNP souvenir cup and a Nike Pickleball Camp t-shirt
INSTRUCTION, EQUIPMENT, & FACILITY
Groupings: Campers are grouped by age, ability, and experience
Equipment Needed: All campers must bring a pickleball paddle, athletic shoes and a water bottle
Facility: 8 Pickleball Courts at Chicken N Pickle, Kansas City
COVID-19 SAFETY & REGULATIONS
For more information on our Covid-19 safety procedures and regulations, please visit https://www.ussportscamps.com/covid-safety.
OVERNIGHT ACCOMMODATIONS
These are Day Camps and only run during the hours listed above. The camp tuition DOES NOT include housing. Campers are required to provide their own overnight accommodations.
CAMP INFORMATION PACKET
A detailed camper registration packet containing check in location, health/release forms, emergency contact info, and a list of things to bring will be emailed to all registered campers the camp start date. Our health and release forms do not require a doctor's signature and they will be collected on the first day of camp.
ADDITIONAL LOCATIONS
Check out our other Nike Adult Pickleball Camp locations with Chicken N Pickle here:

Chicken N Pickle, Grand Prairie
Chicken N Pickle, San Antonio
Chicken N Pickle, Oklahoma City
Chicken N Pickle, Overland Park
Chicken N Pickle, Wichita
Camp Code: PBADKC
Chicken N Pickle is a new and unique indoor/outdoor entertainment complex that provides great food, great facilities and a great atmosphere for pickleball players! Kansas City was the first Chicken N Pickle location and it is equipped with 8 total pickleball courts, 4 outdoor and 4 indoor courts. In addition to pickleball, this Chicken N Pickle includes a fast dining restaurant, a bar and entertainment space, food trucks, an outdoor game yard and a game room with ping pong and TV screens to catch your favorite games. Chicken N Pickle's mission is to create an environment that fosters fun, friendship and community for all ages! For more information on Chicken N Pickle, you can visit https://chickennpickle.com/. See Chicken N Pickle, Kansas City in action on Instagram at @chickennpicklekc!
Camp Reviews
Overall Average Rating
Stars
fun yet focused

— Anonymous
SECURE YOUR SPOT – CAMPS SELL OUT!
Last year over 650 Sports Camps sold out, leaving 7,000+ campers on the waitlist. Due to high demand, early registration for our first-come-first-serve camps is strongly recommended.
Camp Dates & Prices
New Camp Dates Coming Soon!
Please join the Priority List to be notified when this program opens for 2023 registrations.