Tennis Tip
Presented by Frank Polito, Camp Director
Nike Tennis Camp at Cleveland State University
3 tennis tips to improve your forehand and backhand from Coach Frank Polito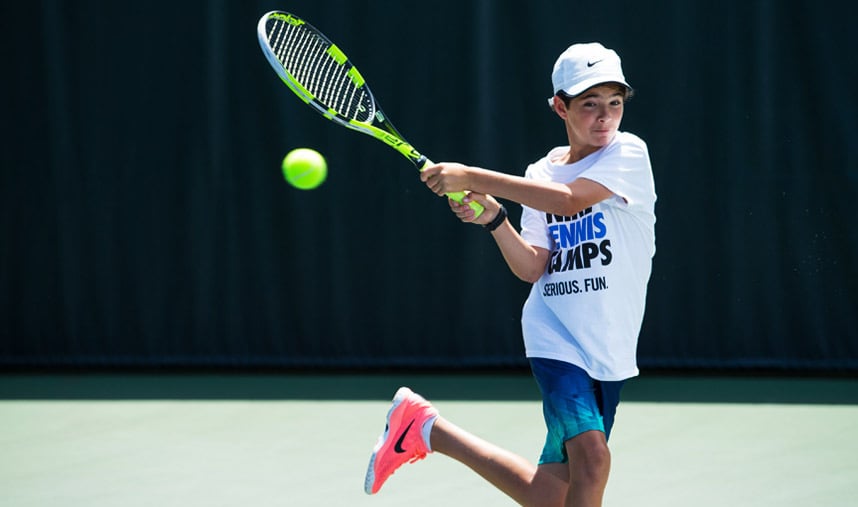 The forehand and backhand are critical to keeping a rally alive. Quite often, a killer forehand or backhand is what can win that point, game, set or match. Casual rallies to warm up are great, however, this part of the game can and should always be improved. From beginners, to college players to professional players, sound and technical forehand and backhand strokes are essential to improving each day. Below are 3 tips to help improve your groundstrokes from Director Frank Polito, the Head Women's Tennis Coach at Cleveland State University:
Start a warm-up with a partner cross court. Simply rally back and forth to a limited area on the court. Choose a service box and keep the balls landing on that side of the court. Begin rallies that only land on that side of the court. Start slow and as the rally continues, keep the consistency but increase the power behind each shot.
While on the court, get a partner and set up on opposite ends of the court. You and you partner must make 30 successful cross court strokes past each other's service line within 3 minutes. Any ball that falls short or goes out, stop the rally and start over. Once 30 has been successfully achieved, move on to 40 and then 50, so on and so forth.
With live feeds from a partner cross court, hit 3 levels of ground strokes to vary the distance of each shot. Start with a deep groundstroke, move up to a ¾ groundstroke and then a short groundstroke. Once all 3 ground strokes are all hit successfully in a row, take a sprint around the court and start again. Repeat this process to get 5 reps and then switch with your partner.
Coach Polito stresses the importance of improving your groundstrokes every practice. Each location that Coach Polito directs at, these fundamentals are taught and built upon as campers improve throughout the week. Be sure to learn from Coach Polito and his experienced staff at Cleveland State University, Xavier University and Ocean Reef Club.
For more great tennis tips go to our Coach's Corner page!
Share This