Questions? Call us! 1-800-645-3226

Premier Golf Academy Camps, San Diego
Premier Golf Academy Camps, San Diego
1

Review
Average Rating
Stars
SERIOUS TRAINING FOR SERIOUS GOLFERS - INDEPENDENTLY OWNED AND OPERATED BY PREMIER GOLF CAMPS
Premier Golf Academy Camps, San Diego is located at Premier Golf Academy's Tour Training Facility at Twin Oaks Golf Course. We offer weekly programs year-round for elite junior golfers looking for the highest level of training and coaching available. Our team includes the nation's top PGA professionals and athletic development instructors to produce the best camp experience in the world.

Spring/Summer Overnight Camps
The overnight option includes all weekly training, accommodations, meals and transportation. Students will stay at the Palomar Station Luxury Condos, just a five minute drive from our facility. Summer camp housing is college dorm style with 3 to 4 students per room. We do accept roommate requests for students coming to camp with a friend. Otherwise, players are grouped by gender and age. Students receive guidance and supervision 24/7 by resident Premier Golf Academy Staff who live on site and take on the responsibility of overseeing our students' daily lives. This program is for students 12 years of age and older. These camps are offered throughout the summer and during select winter break weeks as well!

Located in the beautiful golf mecca of North County San Diego, students have access to the best training facilities, golf courses, and safe, comfortable housing accommodations. Our experienced and passionate coaches are among the most respected and accomplished coaches in the U.S. and bring the perfect blend of serious training and fun to our program. Campers are encouraged to attend multiple consecutive weeks to get the most out of this great camp experience.

*Sign up for two or more weeks of camp and receive a $300 discount per session! If you are signing up for multiple weeks, please call us to register at 1-800-645-3226 and a US Sports Camps representative can assist you over the phone.
Non-Boarding Camps
Local players or those staying in separate accommodations with their families may choose the non-boarding program. This option includes all training and lunch each day. Players staying in separate locations must provide their own transportation to and from camp each day. However, daily pickup is available from our partner hotel, Residence Inn Marriott, San Marcos. Discounted room rates are available through Premier Golf Academy.

Beginner/Intermediate Players
For non-competitive junior golfers looking for local day camps, Premier Golf Academy offers programs for all ability levels at the following North County location: Nike Junior Golf Camps, Oaks North Golf Course.

Highlights Include
Instruction is tailored to student's age and skill level, and is provided by the top ranked PGA Professionals, College Coaches, and professional mental and physical trainers
Personalized improvement plan for each student
Student evaluations are done on the first day, and after evaluations a custom improvement plan is created for each golfer and they are places in the appropriate training groups
40 hours of structured training per week
Small group and 1-on-1 instruction with a low student/instructor ratio at 5:1
Premier Golf Academy's Nike amenity package - Polo, logo'd hat, Premier Golf Academy bag tag, drawstring bag, towel and sport band
Multi-week students are invited to sign up for weekend tournaments and training (not included in camp cost)
Weekend tournament packages available: includes tournament polo shirt, entry fee and tournament coaching
Camp Details
At Premier Golf Academy San Diego, each player is evaluated individually, allowing us to create a one of a kind training plan for each student. Within a small group setting, students work through their development plans with the Premier team on a daily basis. Students also receive weekly evaluations and one on one instruction time each week in our high tech center.

Note: US Sports Camps, Inc. and Nike, Inc. are not sponsors, co-sponsors, owners or operators of the Premier Golf Academy Camps. The Premier Golf Academy Camps are owned and operated by Premier Golf Academy. US Sports Camps, Inc. is a marketing and registration service for these camps and it and Nike have no control over the operation of the camps or the acts or omissions of Premier Golf Academy. Premier Golf Academy has its own cancellation policy that can be found here.

Show Less

See More

Camp Details
Information Packet
Detailed registration packets containing check-in information, health/release forms, golf school schedule, emergency contact info, and a list of things to bring will be emailed to all registered students.
Multi-Session Campers
If you are registering for more than two weeks of camp, please call 1-800-645-3226 and we will be happy to take your registration and discounts over the phone.
Weekend Stay: For campers signed up for multiple sessions, housing is included for the weekends between sessions along with transportation to and from the Tour Training Center for practice.
Discounts: Students who register for two or more weeks receive a $300 discount for each additional week!
Tournament Package
Campers registered in multiple weeks may also sign up for tournaments for an additional cost of $225 per one-day tournament and $450 per two-day tournament. Tournaments occur every weekend and the number of days depend on the given schedule.
When a camper stays two weeks or more they will have the opportunity to travel with our team and compete in Junior Tournaments. For older children wishing to pursue a college career, it is vital that they establish a record of competition and make the contacts they will need to pursue a university golf scholarship. Students will receive full tournament coaching including course management, mental preparedness, as well as create pre- and post-tournament improvement plans.
PGA Junior Development Tour (12 & under) - 9 hole beginner level
Future Champions Tour (8 to 18 years old) - 18 hole intermediate to advanced
PGA Players Tour (12 to 18 years old) - 18-36 hole Championship Events
AJGA Tour (12 to 18 years old) - 36-72 hole Elite Level Events
*Tournament Entry Fee is extra and includes Lunch, Transportation, and PGA
Uniform.
Location
Premier Golf Academy is located in one of the best cities on the West Coast and the best climates in the world. Set in Southern California, San Diego posses' unmatched weather with average highs in the winter months of 70 degrees and in the summer months of 78 degrees. Low rainfall, low humidity, and an average 283 sunny days per year make the area the best place in America to train and play golf.
San Diego area is considered the hotbed for golf in America and is headquarters to famous golf brands Taylor Made, Callaway, Cobra, Titleist, and Odyssey. The area has produced some of the world's best golfers including Tiger Woods, Phil Mickelson, and Ricky Fowler, who all call the area home. San Diego junior golf tours are the strongest in the USA, hosting events every week year round, including the three World Junior Championship events held each year in July.
Premier Golf Academy is located in the heart of this environment at Twin Oaks Golf Club in the San Diego suburb of San Marcos. Our Academy is perfectly located between San Diego and Los Angeles, just 30 minutes North of San Diego International Airport (SAN) and 90 minutes south of Los Angeles International Airport (LAX).
English Language Learning (ESL)
For international students ages 8-18 attending our Golf School, Premier Golf Academy offers ESL certified English courses for students wanting to improve their English skills while working on sports skills. Please call the academy directly if you would like more information about ESL.
Cancellation Policy
Premier Golf Academy has its own cancellation policy, which can be found here.
Sample Daily Schedule
7:00am

Breakfast

7:45am

Bus to Tour Training Center (non-boarding campers arrive)

8:00am

Sports performance training

9:00am

Short game exercises

11:00am

Full swing/video analysis

12:00pm

Lunch

1:00pm

Mental strength training and course management strategy

2:00pm

Supervised course play with the Premier camp staff

4:00pm

Depart from the golf course (non-boarding campers depart)

5:00pm

Free-time/relaxation

6:00pm

Dinner

7:00pm

Evening activity

10:00pm

Lights out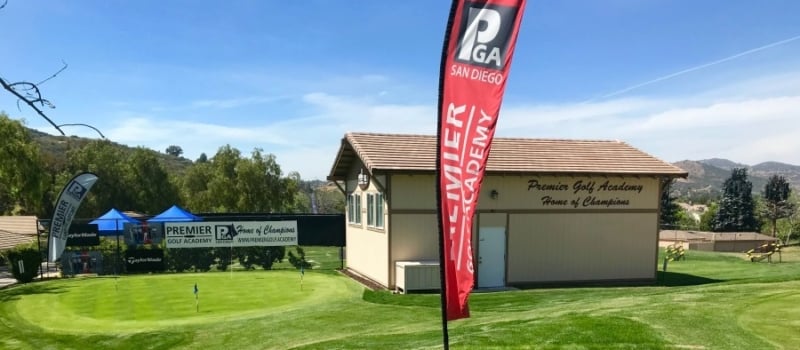 Premier Golf Academy - Tour Training Center
The Tour Training Facility at Premier Golf Academy is a world-class training facility custom designed to provide our students with best possible situation to learn, practice, and improve their golf. Our students are able to train with the most advance high tech equipment available in golf and practice in the conditions they will face in tournament play. Students play at Twin Oaks Golf Club, our Championship 18-hole golf course on-site, and have access to 8 other academy courses all within 30 minutes.
Our private practice area:

Dedicated grass driving range
4 putting greens
3 short game practice areas
Fairway and green-side practice bunkers
High Tech Indoor/Outdoor Teaching Studio
High Tech Indoor/ Outdoor Putting Studio
Taylor Made Fitting Studio
Twin Oaks GC and 8 other Courses for play
The High Tech Center at PGA:
Flight Scope X3
BodiTrak
Sam Putt Lab
V1 HD - 4 Camera Tour Video System
Focus band
KVests
Perfect Putting Machine
Arccoss 360
Blast Motion
Twin Oaks Golf Course
Located at Premier Golf Academy Head Quarters, Twin Oaks Golf Course is a picturesque Championship 18 hole golf course set in the rolling hills and valleys just 6 miles from the Pacific Ocean. At 6800 yards with narrow fairways and well-bunkered, fast greens, Twin Oaks offers a challenge to every level player. Twin Oaks is a popular golf course for the Junior Tours and host many elite level junior events including World Championship Qualifiers, Regional High School Championships, US Junior Amateur Qualifiers, and several College Golf Tournaments each year. Students have daily access to Twin Oaks as well as 8 other academy courses all within 30 minutes drive.
PREMIER GOLF ACADEMY COURSES
Twin Oaks Golf Course, Rancho Bernardo Inn, Carmel Mountain Ranch CC, Oaks North Golf Course, Welk Resort Golf Club, Encinitas Ranch Golf Course, Temecula Creek Inn Golf Course, Woods Valley Golf Course, and Reidy Creek Golf Course.
ACCOMMODATIONS
Premier Golf Academy owns two large condominiums across the street from Twin Oaks and the Tour Training Center. These condos are booked on a first-come/first-serve basis. All other students will be housed with our camp staff at the beautiful, Marriott Residence Inn across the street.
Camp Reviews
Overall Average Rating
Stars
​It was a great experience

— Anonymous
SECURE YOUR SPOT – CAMPS SELL OUT!
Last year over 650 Sports Camps sold out, leaving 7,000+ campers on the waitlist. Due to high demand, early registration for our first-come-first-serve camps is strongly recommended.
Camp Dates & Prices
This program has concluded for the season.
Please Join our Priority List to be notified when this program is available for registration.