Volleyball Tip
4 tips to improve your vertical jump in volleyball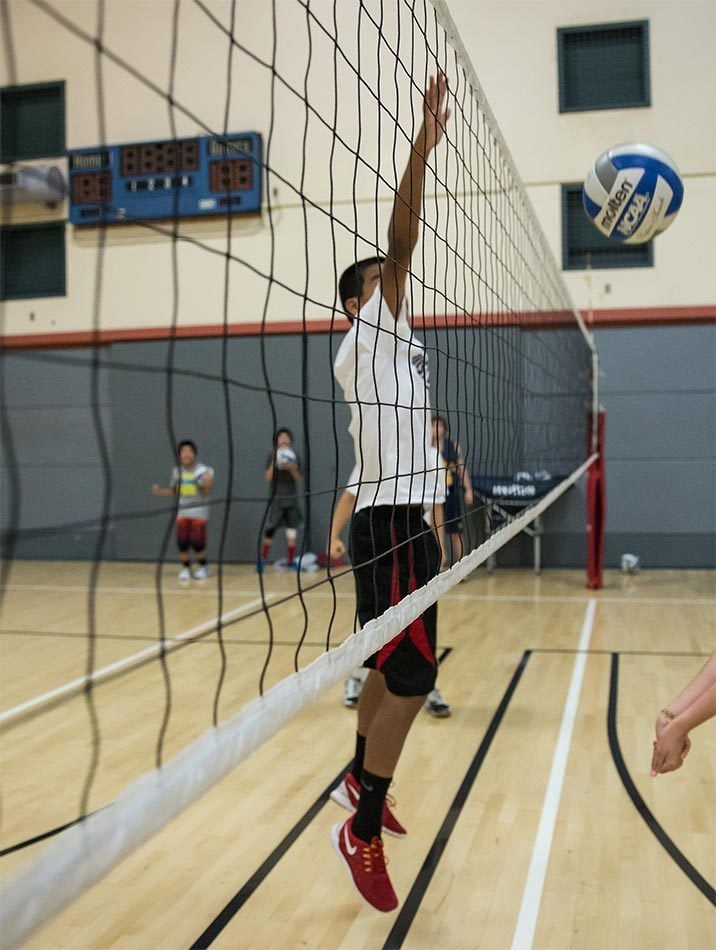 The ability to jump high is coveted in volleyball. To some, this comes naturally with height, but for others, this comes with hard work. With any new skills, improvements take time, so don't be dismayed if you don't see the results you want instantly. Here are some tips we teach at our volleyball camps to help you build up your vertical jump.
Tip #1: See what you are starting with. Start by standing next to a tall wall with a post-it note in your hand. Jump as high as you possibly can and leave the post-it note on the wall where you reach. Measure how high you reach from the top of the post-it note to the ground. Try to retest yourself every 2 weeks to gauge your progress.
Tip #2: Learn how to build explosive power. Start building up your muscle memory with exercises that enhance your ability to propel yourself higher. A good exercise to start with is by standing on a bench with one foot and hopping down from the bench landing with both feet. As you land, land in a squat and try to reverse your direction upwards into a jump. This exercise will help you learn to use the momentum you gained from jumping off the bench, to make your reverse jump up higher.
Tip #3: Build your lower body. Resistance training is a great way to increase your strength. A few exercises to start with are leg presses, Bulgarian split squats, calf raises, and deadlifts. As you train, try to use weights that allow you to do no more than 10 reps and no less than 5 reps, and as you get stronger gradually increase the weight. Do this training once a week and begin adding this slowly into your weekly workout to reduce your risk of injury.
Tip #4: Jump Rope. As simple as jumping rope sounds, it can be very effective. Jumping rope is great cardio and it also increases the size of your calf muscles. Add jumping rope as fast as you can for 30 seconds into your daily exercise to see major results.

Bonus Tip: One of the most efficient ways to make progress in improving your vertical jump is to stretch often and well. Stretching muscles like the hip flexors which can become tense and tight, restricting the ability for full muscle contraction, can drastically improve your progress. Including a warm-up and stretching plan is crucial to athletic endeavors of all kinds. Don't make the mistake of leaving stretching to only before and after competitions and practices, try to include it in your daily routine on and off of the court. Stretches like the butterfly, head to knee, sumo squat to stand, and a figure 4 stretch are all stretches that help to open up the hip flexors and the other muscle groups around the hips. A foam roller or lacrosse ball can be helpful tools for "digging" into specific areas of your body that are tight. Stretching is one of the most important and most overlooked actions an athlete can take in improving their overall skill set, strength, and injury prevention and in this case, in improving their vertical jump to win the point!
Check out more Nike Volleyball Tips and improve your game!
Share This