Volleyball Tip
Presented by Rob Machan, Camp Director
Nike Volleyball Camp at Sacred Heart University
Presented by Eric Snyder , Camp Director
Nike Volleyball Tip: Libero, a Defensive Specialist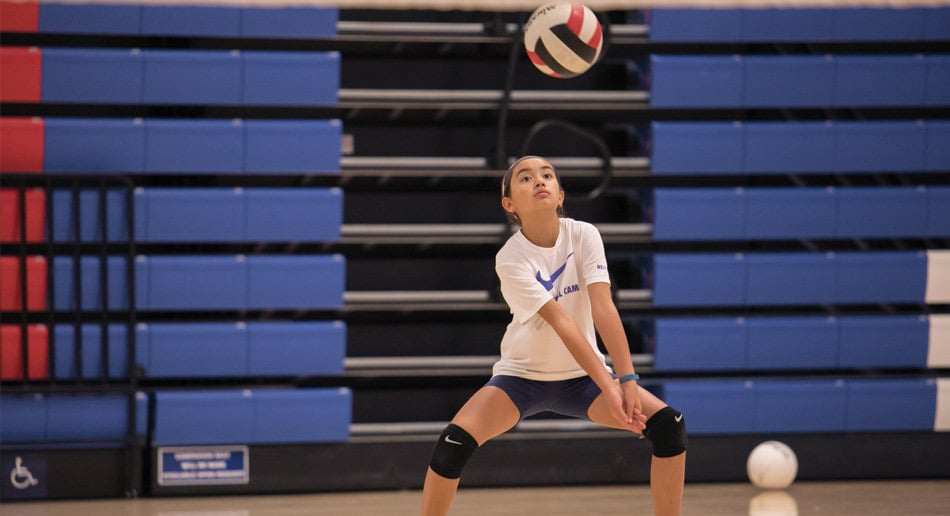 A libero, also known as a defensive specialist, is a position in indoor volleyball characterized as consistent, quick, and an excellent ball handler. Liberos remain in the game at all times, and are the only players on the court not limited by the number of rotations. They typically replace the middle blocker when it is their turn to go into the back row. Liberos also wear a different color jersey than their team so they can be easily identified. Below are the responsibilities and limitations of liberos and tips taught at our all skills volleyball camps.
Responsibilities:
On offense, the liberos number one job is ball control. During a play the libero is responsible for most of the passing, especially when returning a serve. Their primary goal is to make sure that the offense will have a controlled ball to work with, so they can maximize their team's chances of hitting or returning the ball.
On defense, it is their responsibility to get a hand on every ball so they can to keep the play alive. Liberos have no attack responsibilities, so it is their job to run after every ball. If the setter is the first to touch the ball or is too far away, the libero may be in charge of setting the ball for the hitters. Eric Snyder, Men's Head Volleyball Coach at Warner University advises to, "Learn to read and react to opponents serves and attacks - know what they are going to do ahead of time - study film."
Limitations:
Liberos do have some limitations. They are not allowed to block, set a ball for a hitter in the front of the court, hit the ball above the net, and serve (except in the NCAA). Even with the limitations of the position, every successful team has a great libero.
Bonus Tip:
Liberos must get comfortable getting low and diving for balls. It s important that every volleyball player looking to become a libero, gets comfortable hitting the floor. Players should practice getting low and digging up low hits!

Learn more about positions and exciting new volleyball tips this summer at a Nike Volleyball Camp.
Share This