Lacrosse Tip
Presented by Brian Lalley, Camp Director
Xcelerate Nike Boys Lacrosse PRE-SEASON Skills Clinic in Cleveland
Xcelerate Nike Lacrosse Tip: Odd-Man Offense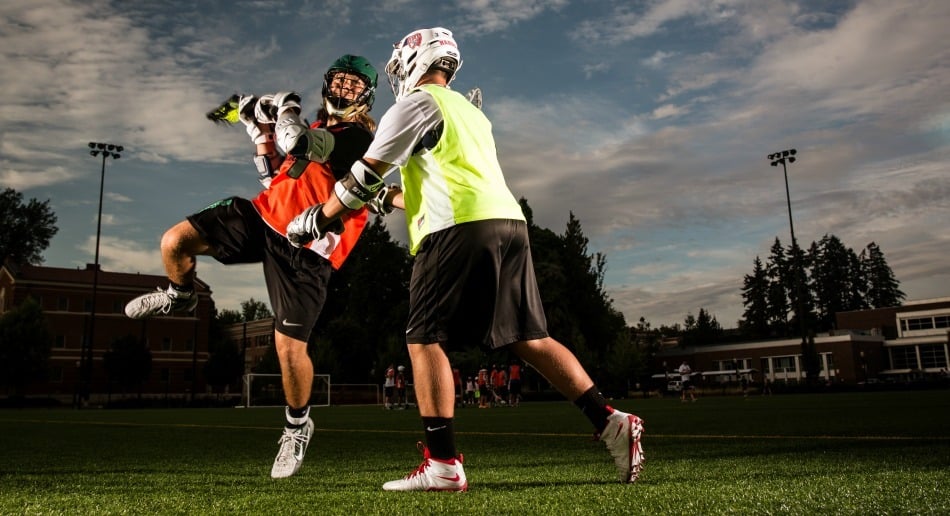 In the game of lacrosse, offense is either generated through even or odd-man situations. Odd-man situations can be 2-on-1, 3-on-2, 4-on-3, 5-on-4 or 6-on-5. These situations can take place off a ground ball, off transition from defense to offense, on the back side after an opponent's slide or a quick re-start.

Stick Work
First important part of taking advantage of odd-man situations is having good stick work. These are rooted in ball movement, so if we cannot pass and catch effectively with both hands, we're going to miss out on a lot of good opportunities.
Draw & Dump
Odd-man offense is a better opportunity than even because we have an extra guy. The most basic and general rule when it comes to having an extra guy is draw and dump. At some point, the defense has to respect the ball carrier and play him, leaving someone wide open. To draw the defense, the ball carrier must be looking to threaten the cage and not just look like he is passing.
Maximize Spacing
The more spacing the offense has, the more ground the defense has to cover. If we're tight, one defender can potentially cover two offensive players. Not only do we want to have good spacing, but we also want to make sure we're in a threatening position to score. A lot of time young players will drift into bad shooting angles. A defense is taught to slow play that player until he becomes a threat.
Catch Into Triple Threat
Getting yourself into space where you can catch stepping into triple threat with your hands free is very important piece. We define triple threat and having your hands and feet loaded with the ability to shoot, pass or dodge from the same position. As a player gets more and more reps in numbers situations, they will be able to read each scenario quicker and make faster triple threat decisions based on the position of the defense.
For more great tips like this join us this summer at one of our Xcelerate Nike Lacrosse Camps where your skill level and overall team play will dramatically improve over the course of the camp week. EVERY FIELD POSITION is covered in our camp: Attack, Midfield, Defense and Goalie. From the beginner to the elite lacrosse player, our camps provide a challenge to every camper.
Share This